Victoria Canada

Victoria Canada. Victoria BC illuminated - history, fascinating attractions, exciting events, and the best lodging and eateries in town, with links to more information.

Victoria. Busy, but British-ly genteel.

Victoria is truly amazing, she's magical, irresistible, delightful and wild, beautifully clothed in spruce, fir, and flowers, embraced by the sun and the Salish Sea. She's a city, a lady, worthy of her beauty.
And highly worthy of a side excursion as part of your vacation or visit to Port Angeles Washington in the USA!
---
Victoria Canada is situated on a calm inner harbor on the southern tip of Vancouver Island in British Columbia, Canada
This modern city is filled with Victorian and Edwardian architecture mixed with First Nations sculpture, buildings and totems. Nestled nearby are coffee bars, craft beer, and restaurants ranging from hip to funky to traditional. They vie for the attention of every flavor of foodie, serving tourists and locals alike.

Downtown Victoria BC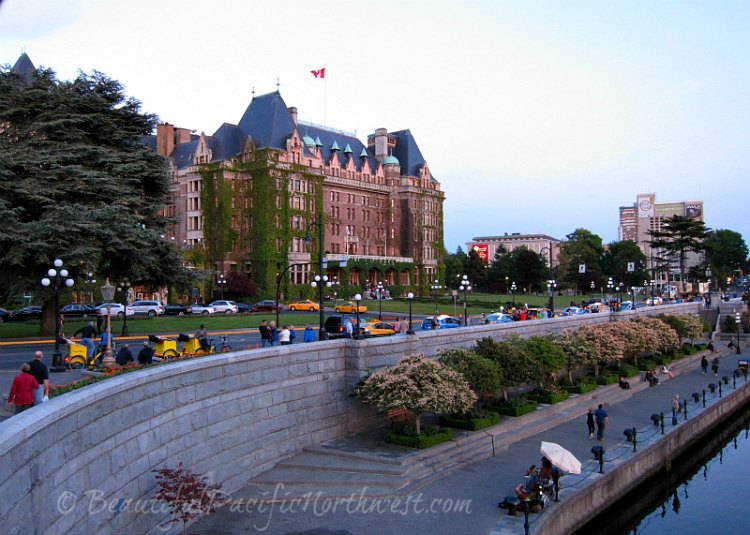 Bustling nightlife in downtown Victoria Canada during the summer, against the backdrop of the Empress Hotel and the Royal BC Museum
Downtown Victoria is fairly walkable and if it's shopping you're after, head up Government Street to the modern Bay Centre mall and Market Square, catching all the little stores, boutiques, and tourist shops along the way.

Don't forget the chocolate. Stop at Roger's Chocolates, take in the Victorian decor and take home decadent Victorian cream confections hand wrapped in pink foil.
Continue on to Chinatown, saunter through the Gates of Harmonious Interest, peruse the shops down Fan Tan Alley, but keep a firm grip on reality as you peer through the historical haze into yesteryear's gambling clubs and opium dens.
Just across the Inner Harbor in Esquimalt resides the Royal Canadian Navy with the Canadian Forces Primary Reserve brass and reed band. This band performs at various venues, parades, and ceremonies around the area in support of Vancouver Island's military community. For museum info go to NavalAndMilitaryMuseum.org/.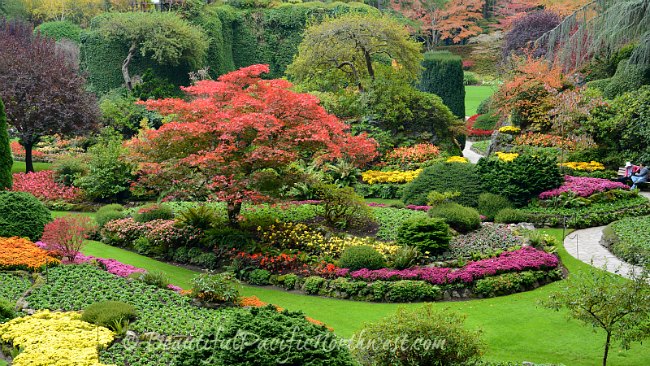 Butchart Gardens in Autumn stuns in Saanich.
If there's time for a drive (or bus tour), head up the Saanich Peninsula in auto or bus to Butchart Gardens and/or the Butterfly Gardens.
You'll see from our photo pages why we love Butchart Gardens enough to visit during all four seasons:
---
Demographics of Victoria BC Canada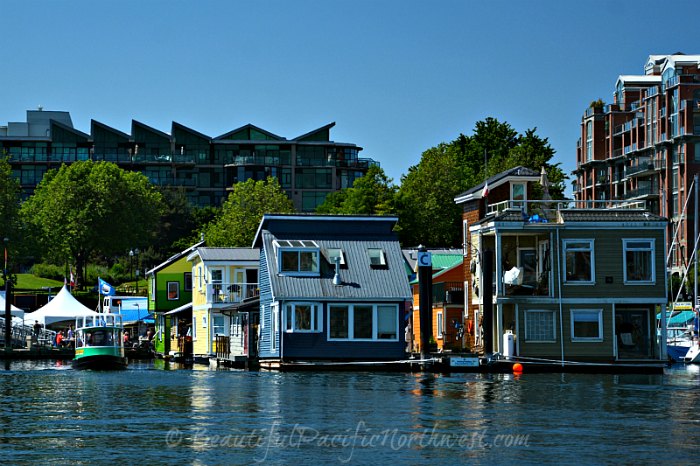 Boathouses at Fisherman's Wharf in Victoria BC's inner harbour
Since the discovery of this bountiful land, Europeans and Canadians have arrived to enjoy the easy lifestyle, pleasant climate and abundant beauty. Victoria itself embraces about 80,000 people, with a large population of retirees; the greater Victoria area, including her rural areas, total about 345,000 (Wikipedia).

Throughout the years diverse neighborhoods have sprung up in and around Victoria Canada:
James Bay is the oldest neighborhood. You'll find the Emily Carr house, Parliament Buildings, Empress Hotel, Fisherman's Wharf and lots of downtown shopping
Oak Bay: High-end gentility, shops, afternoon tea
Rockland/Fairfield offers the best ocean and mountain views in the city, mansions, Government House and gardens
Uplands: Explore amongst millionaire mansions, Edwardian street lamps and gate posts
Chinatown: colorful Gates of Harmonious Interest, narrow Fan Tan Alley, and of course Chinese cuisine
Each neighborhood has its own vibe. Get more Victoria Canada neighborhood information here.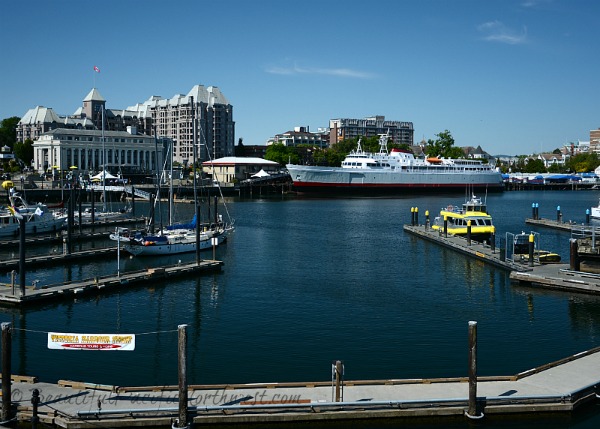 The Coho ferry boarding passengers in Victoria BC inner harbour
Getting to Victoria is fairly easy as is getting around the city. And it is oh so close  - just a short hop across a narrow strait from Vancouver BC, Seattle WA, and Port Angeles, where one can catch the Black Ball ferry for a 90-minute cruise to Victoria.

Here are a few excellent websites to peruse for more information:
---
Victoria Canada History
At its very beginning it was home to several communities of Coast Salish peoples: the Songhees, the Saanich, and the Sooke, who had been settled in the area for several thousand years. They were there to greet the first European explorers, Juan Perez from Spain in 1774, and British Captain James Cook in 1778.

In 1843, James Douglas established a Hudson's Bay Company trading post on a site the Coast Salish peoples called Camosack, or "rush of water." Originally naming it Fort Camosun, it was then briefly known as Fort Albert, and later became Fort Victoria in 1846, in honor of Queen Victoria.
During the 1858 gold rush in Fraser Valley, British Columbia, Victoria became the hub for the arrival of gold-fevered miners from all over the world, where provisions for and transportation to the gold fields could be acquired. The population blossomed overnight from 300 to over 5000. Victoria became the busiest seaport north of San Francisco, and the largest importer of opium from Hong Kong. (The opium trade was banned in 1908.)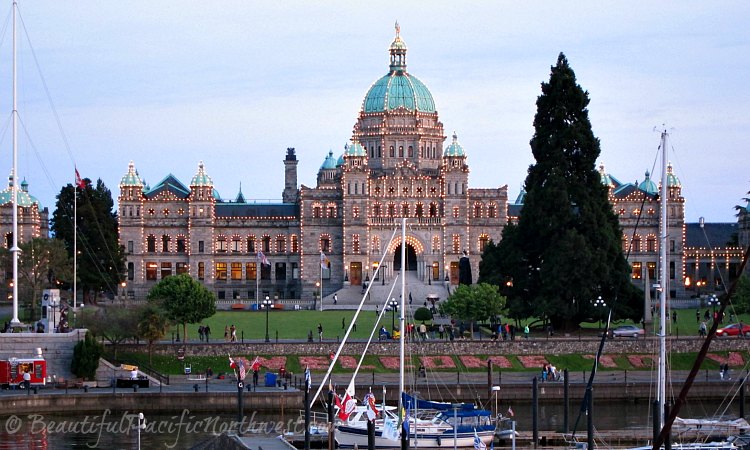 The BC Provincial Legislature building in downtown Victoria BC
Victoria Canada became the capital of the Province of British Columbia in 1871. As the city of Vancouver, on the mainland, rose to a more prominent role in shipping, manufacturing and commercialism, Victoria began to settle into her more genteel role as a seat of government, a popular tourist destination and a pleasant place to retire.

The Inner Harbor's wild scenery changed with the completion of the Parliament Buildings in 1897, and the Empress Hotel in 1908. The beauty and promise of the area also attracted industrious business men who left behind evidence of their legacies in such structures as Craigdarroch Castle, Hatley Park, Point Ellice House, Gatsby Mansion and Butchart Gardens.
Catholic nuns established the humble St. Ann's Schoolhouse
Dr. John Helmcken, Victoria's first doctor, left behind his Helmcken House
The area's beauty and mystery inspired Emily Carr to become one of Canada's most beloved artists and authors.
Victoria in the mid-1800s was not completely wild. According to the memoir written by Martha Douglas Harris who lived in Victoria Canada at the time, the challenges of life in the wild west were present, but so also were beautiful flower and vegetable gardens and fancy parties attended by ladies in high fashion silk skirts.
The Empress Hotel and Victoria's Inner Harbour as the afternoon sun rays lengthen.