Sekiu WA
Sekiu WA. Info on attractions, lodging and restaurants in the village of Sekiu in Clallam County on the Olympic Peninsula, plus a gallery of photos featuring the Sekiu area.
Sekiu and Clallam Bay WA are sister cities, each perched at opposite ends of the bay of water known as Clallam Bay. Clallam Bay is part of the Strait of Juan de Fuca. Sekiu is accessible either by water, or via Highway 112, which connects Port Angeles WA in the east with Neah Bay in the west.
About Sekiu WA
This Visitor Center serves both Clallam Bay and Sekiu WA
Sekiu is pronounced "SEE-cue"


According to Census Reporter: The 2017 estimate of Sekiu WA population stands at 50

.

(2010 census counted a population of 27)


Town size is 0.1 square mile


Population density is 390.7 people per square mile


Median age is 40.3. Ethnicity is mainly white.


The two towns of Sekiu and Clallam Bay are a scant 2.5 miles apart, are considered "sister cities," and share a Chamber of Commerce. 


Clallam Bay Visitors Center, 16753 WA-112, Clallam Bay, WA 98326
Phone: +1-360-963-2339. Check the website for fishing information and local fishing derbies and contests.


Find the Chamber's Visitor Information Center in "downtown" Clallam Bay on Highway 112 where the road bends sharply as it heads west.


Average rainfall in the area is 95 inches (241.3 cm) per year, most of it in autumn, winter, and spring.


Average year round temperatures range from 41 F (5 C) in the dead of winter, to just 58 degrees F (14.44 C) in mid-summer.
Check Today's Sekiu WA Weather
Click below to open a forecast for the next 24 hours in a new window.

SEKIU WEATHER
SEKIU WEATHER
Getting to Sekiu WA
Port Angeles is 52.2 miles (km) east of Sekiu. The drive will take approximately 1 1/4 hours. But, if your starting point is not Port Angeles, then:
Things to Do in Sekiu 
Go Fishing!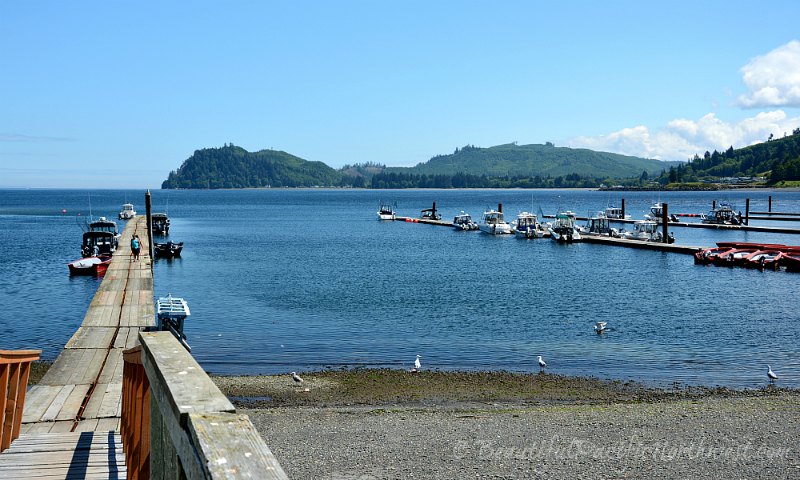 Sekiu Harbor gangway, complete with fish-cleaning sinks.
Charter fishing boats can help you with that. Fish for halibut, salmon, bottom-fish and more, out of Sekiu or Neah Bay. Captains have multiple years experience, can take up to six anglers usually, and also provide all the gear.

Sekiu Charters, 444 Front Street, Sekiu, WA 98381
+1-360-640-4857
www.sekiucharters.com
Excel Fishing Charters, 1562 WA-112, Sekiu, WA 98381
+1-360-805-1729
Website: excelfishingcharters.com

Go Hiking, Kayaking, Whale Watching, Beachcombing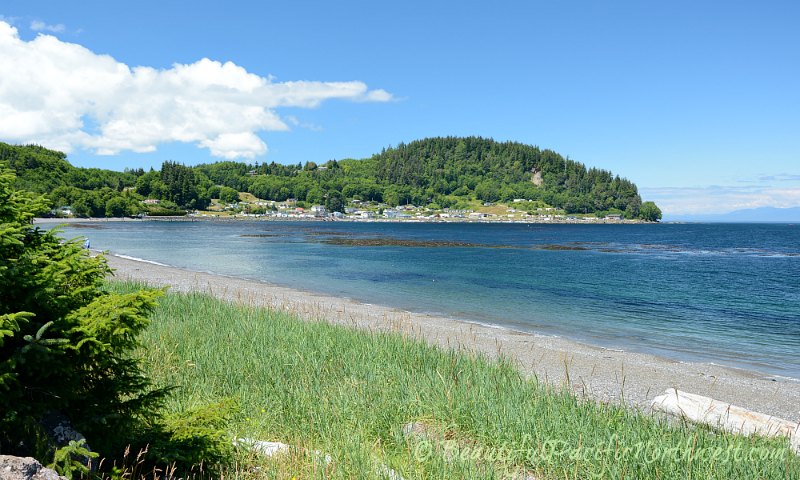 The village in the distance is Sekiu WA. The land visible at the horizon is Vancouver Island in Canada.
2 miles of Clallam Bay shoreline are open for the outdoor and water activities of your choice. The shoreline in the photo above stretches between Sekiu and the town of Clallam Bay out of the photo to the right.

Plus, there are multiple turnouts along Hwy 112 providing immediate access to the Strait of Juan de Fuca. One of these turnouts is at Shipwreck Point. Located just a few miles west of Sekiu at mile post 6, this 472 acre State Natural Resource Conservation park is secluded with three miles of tidepools, coves and views of sea stacks and old growth coastal forest rimming the water.
The Whale Trail includes Shipwreck Point. Perhaps as you  view and hike the area, you'll also catch sight of these mammoth mammals, whether orca whales, humpback, or other species. Shipwreck Point is open sunrise to sunset. Olympic National Park visitor's pass not needed. Several small pull-outs have access to the beach.
If it is whale watching you're interested in, go to Sekiu Overlook, binoculars in hand.
This is because whale watching from the vantage point of land is not always as advantageous as watching whales from the deck of a boat. 
Getting There: On Hwy 112 heading west, go past the turnoff into Sekiu (Front Street). Immediately after the junction is the overlook and parking area, which overlooks the Sekiu and its harbor. If you've timed your visit with the Chinook salmon spawn, you might get lucky as see orcas that have come right into the harbor.
Find more Whale Trail info at the Clallam Bay page.


Check out Points West or South
A number of attractions west of Sekiu WA may pique your interest:
Or, head south to the big town (relatively speaking!) of Forks Washington 


Restaurants in Sekiu WA
By the Bay Cafe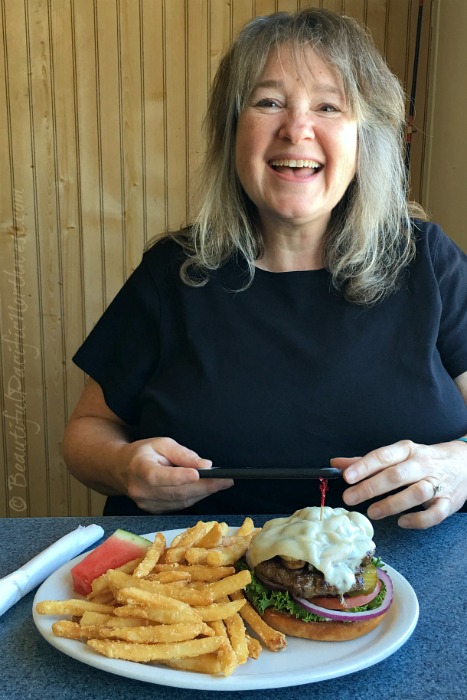 Good thing the food is delish!
By The Bay Cafe

343 Front Street, Sekiu, WA  98381
+1-360-963-2998
https://www.facebook.com/cafebythebay/
Tripadvisor Reviews of By The Bay Cafe in Sekiu, WA
Tripadvisor ranks this restaurant #1 of 1 restaurant. Yes, there really is just one restaurant in Sekiu. Nevertheless, my friend Candi and I ate very well here. The place is not big, but it has earned its "favorite" status with locals and visitors.
If necessary, check for restaurants in Clallam Bay, or head into Neah Bay, Forks, Joyce, or Port Angeles, depending where your travels take you next.


Lodging in Sekiu WA
All of the lodging in this area caters to fishermen and lovers of the quiet, rustic and simple. Here are a few selections: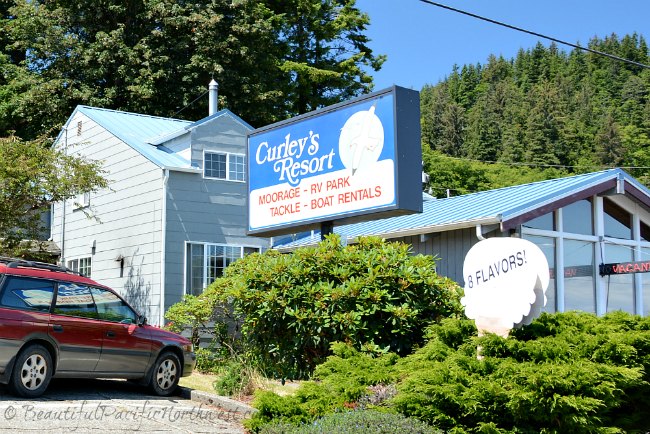 Curley's Resort in Sekiu, WA.
Curley's Resort & Dive Center

291 Front Street, Sekiu, WA 98381
+1-360-963-2281; +1-800-542-9680
Tripadvisor Reviews of Curley's Resort and Dive Center in Sekiu WA 
Basic motel rooms or cabins. Curley's offers dive and fishing information, boat/kayak rentals, and scuba equipment rentals/sales/supplies. See website for details and rates.


---
Straitside Resort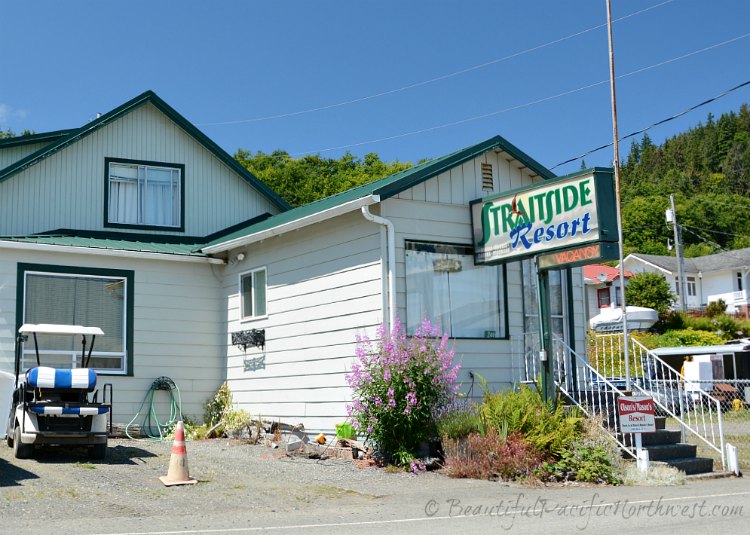 Straitside Resort in Sekiu WA.
Straitside Resort, 241 Front Street, Sekiu, WA 98381
+1-360-963-2311
https://www.facebook.com/straitside/
Tripadvisor Reviews of Straitside Resort in Sekiu WA
Straitside Resort provides lodging with a cottage flair. Motel rooms, some with kitchenettes.


---
Mason's Olson Resort
Mason's Olson Resort, 444 Front Street, Sekiu, WA 98381
+1-360-963-2311
https://olsons-resort.com/
https://www.facebook.com/MasonsOlsonResort/

Tripadvisor Reviews of Mason's Olson Resort in Sekiu WA
Great fishing location, rustic motel/cabins/camping sites, moorage also available.
Rates: See website for details.


Chito Beach Resort
Chito Beach Resort

7639 Highway 112, Sekiu, WA  98381
+1-360-963-2581
Tripadvisor Reviews of Chito Beach Resort in Sekiu WA
Chito Beach Resort is located 8 miles west of Sekiu. You can reserve one of six charming and rustic waterfront cabins. Each comes with a full kitchen with all supplies, linens, picnic table, charcoal grill, HDTV, wireless internet, and use of the grounds, including outdoor games. Open April through October.
Rates depend on cabin and season.
The grounds of Chito Beach Resort are pictured here. There's a reason why this facility has garnered 5 stars - beautiful grounds and excellent customer service.
Chito Beach Resort, Sekiu WA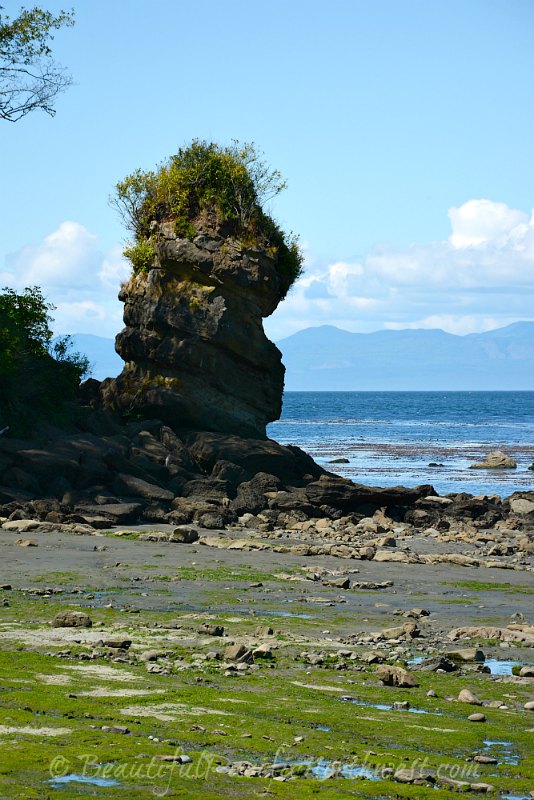 Sea stack at Chito Beach Resort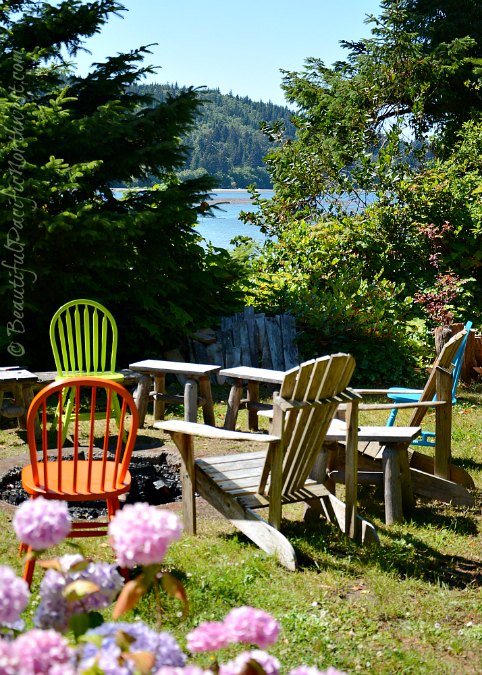 Chito Beach Resort, Sekiu WA
Related pages you may enjoy:

Gallery of Sekiu WA Photos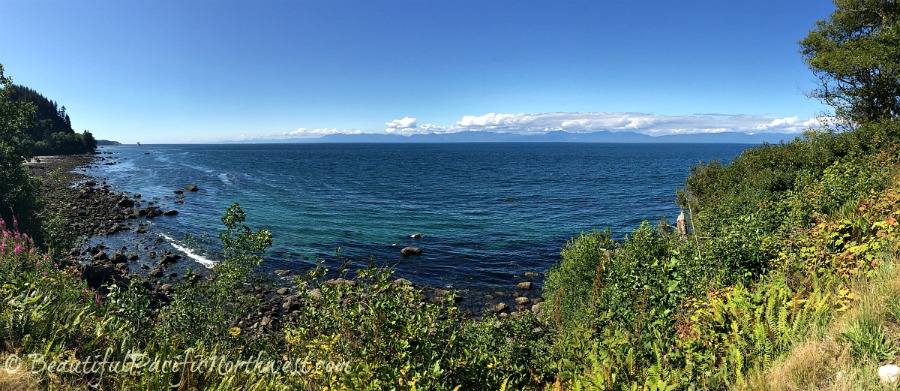 View of Strait of Juan de Fuca and Vancouver Island from Highway 112 not far from Sekiu WA
Sea stack at Chito Beach just west of Sekiu WA.
Beach and shoreline near Sekiu WA.
Clallam County Sekiu Chamber of Commerce