Port Townsend Washington

Come visit Port Townsend Washington, a Victorian seaport and cultural center with many diverse attractions, on the Olympic Peninsula in the Pacific Northwest near Port Angeles and the Olympic National Park.
The City of Port Townsend, Washington, is the Jefferson County seat and is situated in the famous Pacific Northwest rain shadow at the northeast tip of Jefferson County. (Google map is below.)
As the crow flies, Port Townsend is located about 41 miles northwest of Seattle. It looks across the Salish Sea toward Whidbey Island, Mount Baker and the Cascade Mountains, and on a clear day, even as far as the Canadian Cascades north of Vancouver, BC.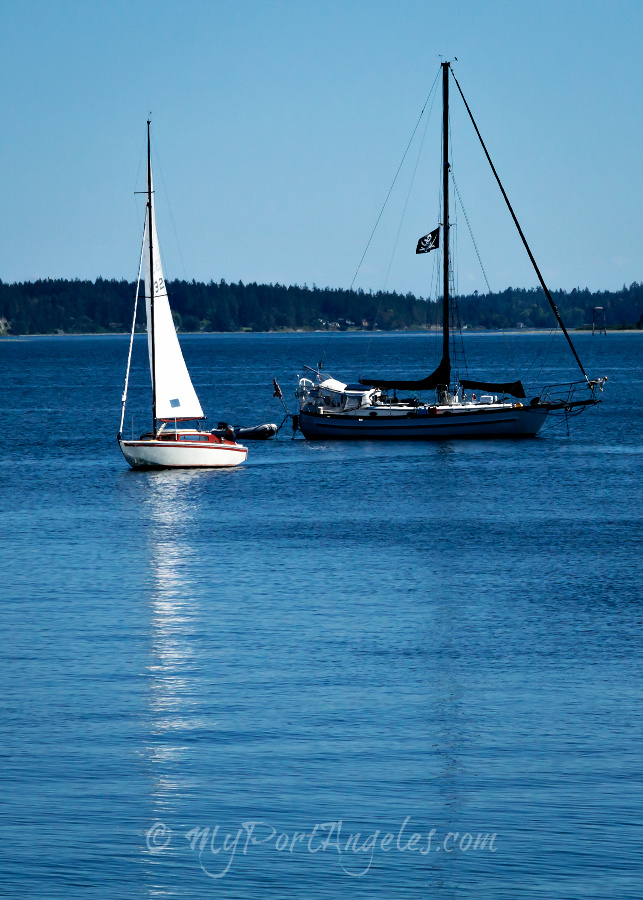 Two sailboats in Port Townsend Bay
Port Townsend is 48 miles (77.25 km) east of Port Angeles, a drive of slightly more than one hour. But, if Port Angeles is not your starting point, then:

Sequim WA is 31 miles (50 km) west of Port Townsend, a 42 minute drive by car.
Forks is 103 miles (166 km) west of Port Townsend, a 2 hour 10 minute drive by car.
Aberdeen WA is 122 miles (196.3 km) southwest of Port Townsend, a 2 and a half hour drive by car.
Seattle is 56 miles (90 km) east of Port Townsend, which will take slightly more than 2 hours via the Bainbridge Ferry depending on wait times.
Port Townsend Points of Interest
Port Townsend's picturesque setting and welcoming attitude make it an ideal host for numerous annual cultural events, such as:

---
Point Hudson Marina in Port Townsend WA.
Art shows
Blues and jazz festivals
Music and dance theatre
The Rhody Festival and Rhody Run
The annual Wooden Boat Festival
Writer's workshops and conferences
Opportunities abound for beachcombing, boating, sailing, bicycling, whale watching, hiking, fishing, shell-fishing, kayaking and much more.
Located nearby are the Olympic National Park and the Hood Canal.
Pacific Traditions Native Art Gallery in Port Townsend WA.
With two marinas, it is the perfect location for the recently developed Northwest Maritime Center, offering various maritime educational programs for adults and youth.

Spend a day or two along Water Street, where you can browse quaint bookstores, antique stores, clothing boutiques, and galleries featuring works by local and native American artists.
Relax in waterfront restaurants while you savor delicious dishes made from locally grown produce, and then obtain sweet creations from local bakeries.
For sips you'll find heavenly coffee shops, and local wineries, cideries and breweries. Catch a film at the Rose Theatre while the night is young (or at least still kicking), then retire to your comfy hotel or B&B.
For whatever piques your interest, floats your boat or gets your creative instincts flowing, Port Townsend Washington will satisfy a yearning for culture, nature and art, in you and your family.
Port Townsend Ferry
Port Townsend Ferry heading out to Coupeville, on Whidbey Island in WA, which is visible in the near background. The snow-capped Cascade Mountain Range is also visible.
The Washington State ferry terminal is located right downtown, making it easy to catch the ferry to Coupeville on Whidbey Island, and onwards to points north and east. Ferry reservations are highly recommended.

Additionally, depending where you'd like to travel next, visitors to Port Townsend Washington might instead catch a ferry at Kingston (to Edmonds), Bainbridge Island or Bremerton (both to downtown Seattle Washington). Walk-on passengers to Seattle pay one way. The fare TO Seattle is free. Traveling on the ferry by car will cost you both ways.
---
Port Townsend Washington Weather
The Olympic Mountain rainshadow plays a significant role in influencing Port Townsend weather and rainfall totals. Air that blows in over the nearby Olympics has already been stripped of its moisture. Its considerable burden of rain has already fallen in Forks or Hoh, in the temperate rain forest.
This is why in the midst of the typically rain-sodden Pacific Northwest, Port Townsend receives a typical annual total rainfall of only 19.3 - 23 inches (49 - 58.42 cm). 
See Port Townsend Weather for today's forecast and additional details and statistics. 
Port Townsend Washington History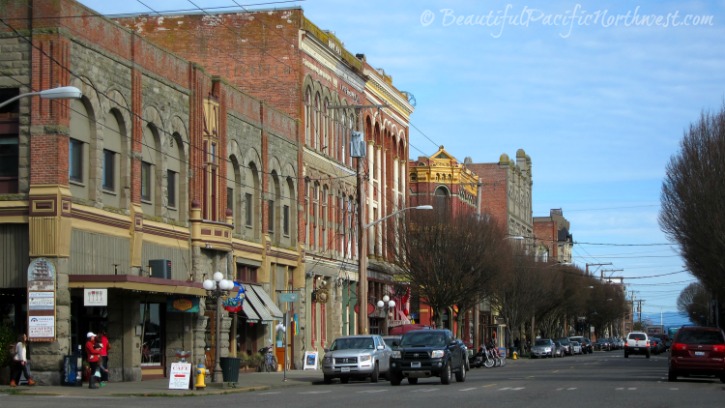 Downtown Port Townsend Washington along Water Street, 1 block from the water, and a few blocks from the ferry terminal
Originally named "Port Townshend" by Captain George Vancouver in 1792, for his friend the Marquis of Port Townshend, this waterside town was incorporated in 1851.

In addition to newly arrived European-Americans, numerous Native American tribes lived in the area: the Chimakum, Hoh (a group of the Quileute), Klallam, Quinault and the Kilcid band known as the Twana, or Quilcene.
Port Townsend was also called the "City of Dreams," with the hope that it would be the west coast's largest harbor, and it did enjoy a great deal of commerce with overseas vessels frequenting its port for the shipping of goods and timber harvested from the area.
The town grew into a booming shipping port and a major city.
One of many beautiful Victorian buildings in Port Townsend.
However, by the late 1890's, when plans for the northwest extension of the Northern Pacific Railroad failed to materialize, Port Townsend experienced a rapid decline in population and the boom was over.

Decades passed with Port Townsend just maintaining its economic stability, buoyed by the development of artillery fortifications at Fort Worden.
When the Port Townsend Paper Corporation built the mill south of town in the 1920's, Port Townsend's fortunes began looking up. By the 1970's, new residents with fresh ideas began to arrive, giving the town a new vision.
Because the area's economy had declined so rapidly, the lack of industry preserved Port Townsend's now iconic Victorian buildings for nearly 100 years.
In 1976, its downtown area became the Port Townsend Historic District and was listed on the National Register of Historic Places. In 1977, downtown Port Townsend WA was designated a National Historic Landmark District.
Today, Port Townsend Washington is one of only 2 preserved Victorian ports in the USA.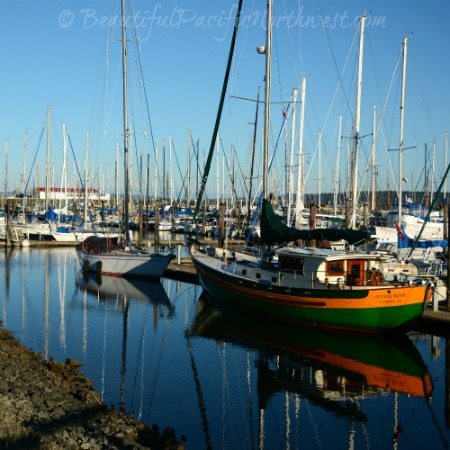 Port Townsend Marina.
---
See Port Townsend City Tourism Website for more info

TripAdvisor Links to Port Townsend