Port Townsend Ferry
Port Townsend Ferry connecting to Coupeville WA on Whidbey Island. Plus, this page lists various Washington State ferry routes and schedules convenient to travelers from Port Townsend WA.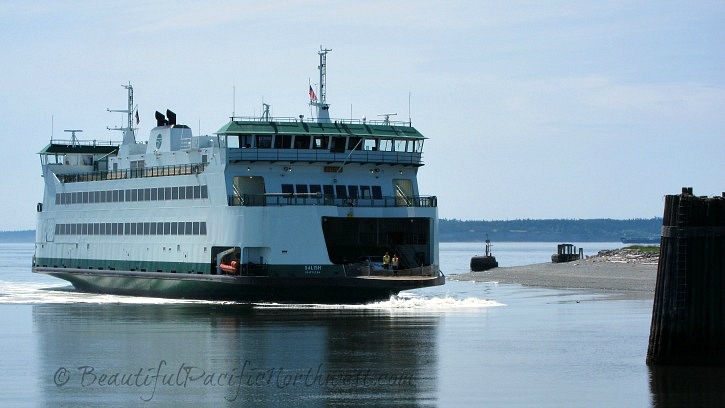 Port Townsend ferry approaching the Coupeville ferry dock on Whidbey Island in WA
Port Townsend Ferry to Coupeville on Whidbey Island
Port Townsend Ferry Terminal Address:
1301 Water Street, Port Townsend, WA 98368
Washington State Ferries – Main Page

Getting There: As you drive into Port Townsend on WA State Route 20, the road becomes Water Street. You'll find the terminal on the right hand side of the road. Signs guide you clearly to the pay booths.
Current Fares, Schedule, Reservations for Port Townsend Ferry
Port Townsend is the terminus for the Port Townsend-Coupeville ferry route connecting to Coupeville on Whidbey Island. This route is managed by the Washington State Ferries. 

Click here to check current fares (fares vary with the four seasons)
Click here for the Pt Townsend - Coupeville Ferry Schedule
Make a Washington State Ferry Reservation
This is the quickest and easiest way to travel north from Port Townsend.

From Coupeville, one can travel north on Whidbey Island, across the scenic Deception Pass Bridge toward Anacortes WA, and then east onto the mainland without the need for another ferry.
Or, take the turnoff to Anacortes and catch a ferry to the San Juan Islands. From Friday Harbor, ferries run to both Sidney and Victoria in BC, Canada.
Port Townsend Ferry headed to Coupeville, with the Cascades in the distance.
Other Washington State Ferries for Port Townsend Area Travelers
The WA State Ferry system is fairly extensive in order to negotiate the water bodies of the Strait of Juan de Fuca, the Salish Sea, and the Puget Sound.

You can certainly travel east to Seattle by car from either Port Townsend or Port Angeles if you don't mind traveling south, crossing the Tacoma Narrows bridge (toll), and then north to Seattle. This is cheaper than paying the ferry toll, but it is also a pain for both your backside and the time in your vacation schedule.
Instead, drive by car to Bainbridge Island or to Bremerton, and catch ferries to Seattle or points east from either of these towns. They both dock at the downtown Seattle terminal.
Another ferry to use if your destination is east and north is the Kingston to Edmonds ferry.
NOTE: Foot passengers traveling from the Olympic Peninsula to Seattle travel for free; toll is required for the return trip. Motor vehicles pay both ways.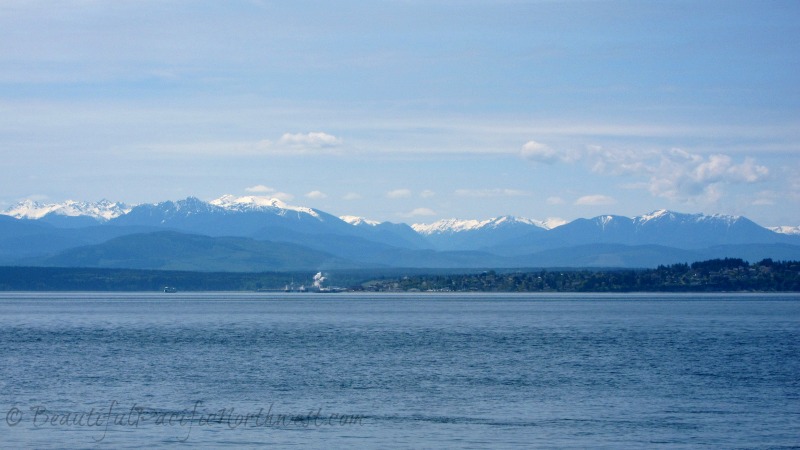 On the Coupeville ferry returning to Port Townsend WA. On a clear day the views of the Olympic Mountain Range are glorious.
What are Some of Your Favorite Ferry Travel Experiences?
Share Your Ferry Travel Stories and Photos Here!
Whether you're a local who has lived here for years, or you've come as a visitor to our area, we'd love to hear from you! Do you have a great story, a favorite experience, and exceptional photos about your ferry travels? Please, share it with us and give us your reviews!

We're happy to ensure professional and amateur photographers get credit for their work. Leave us your name in the form below, and means of contact, website, or FB page info so we can link back to you.