Butchart Gardens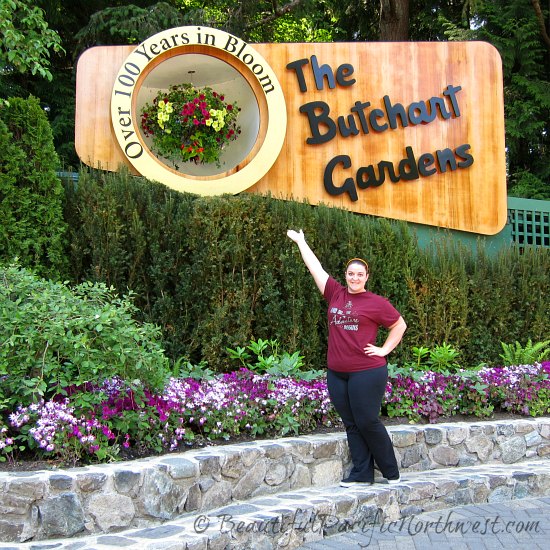 The Butchart Gardens entrance sign makes for an excellent photo opp.
Butchart Gardens: What, where, when, and how to get there, and photos. Plus, why these gloriously beautiful gardens near Victoria may just heal your soul.

Escape from the humdrum and envelop your soul in the vibrant colors, rich earthy and floral scents, and sheer glory of Nature. Bees, birds, breezes fragrant with perfume from bowers of overflowing flowers, expansive greenery, mossy rocks, carpets of leafy gold.

Photo Tours of the Gardens:
---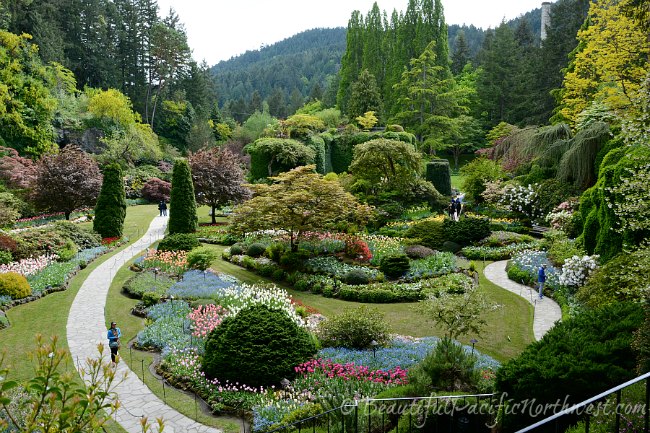 This is likely to be your first dramatic view into the Sunken Gardens.
---
Butchart Gardens: 800 Benvenuto Ave., Central Saanich, British Columbia, Canada
Phone: +1-250-652-4422
Website: www.butchartgardens.com 
Hours: Daily 9:00 a.m. - 10:00 p.m.
Tripadvisor Reviews of Butchart Gardens, Vancouver Island BC
Yelp Reviews of Butchart Gardens
Quick Links to Info on This Page:
Keep Reading for full details!
4 Seasons throughout Butchart Gardens
Each season at Butchart Gardens is its own brand new experience.

Spring: March springtime sprouts vibrant and fresh from tulip bulbs by the thousands. Flowers carpet the garden floor while blooming, fragrant crabapple and cherry trees explode overhead. Camellias, rhododendrons, azaleas and more fill the space in between, making spectacles of themselves.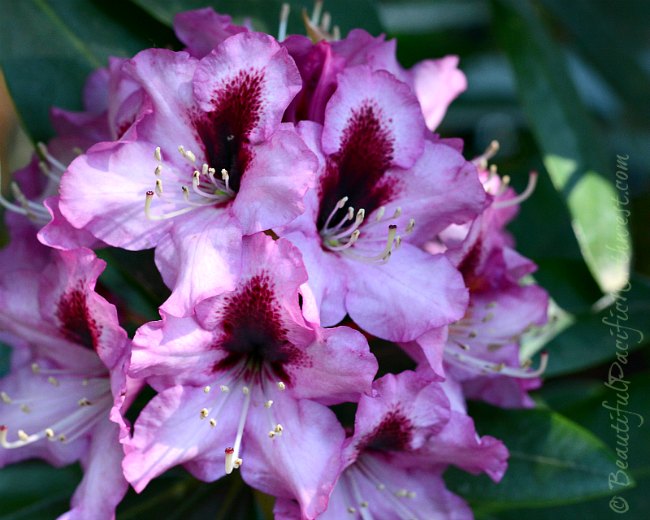 Nearly every Pacific Northwest garden includes showy rhododendrons
Summer: The gardens in May warm to longer days of summer springing forth bowers of blooming roses, fuchsias and begonias, butterflies and swallows bearing musical notes from garden concerts, the firework showers of nighttime sky-flowers.

Autumn: Exuberant and colorful, beds of daisies, pansies, cyclamen, dahlias, chrysanthemum and more, arrive in late summer to welcome autumn bringing the warm crimson, red and gold of Japanese maples to contrast with the cool mossy, ever-green of a 100 year old forest.
October-chilly days and frosty nights send bright azaleas inside to cheer the Blue Poppy Restaurant.
Winter: All is still bright with crocus and primrose, heather and snowdrops and evergreens dressed with the light of Christmas to illumine evening paths. Trimmed plants and leafless branches catch snowfall and frost to reveal the structure of winter while January witch hazel stands guard to await the greening once again.
Enjoy a 1:38-minute overview of the various seasons at the gardens, or continue watching for a nearly 40 minute tour.
Late May groundcover plantings in the Sunken Garden
The entire estate is comprised of 130 acres. The Gardens themselves cover 55 acres. The Butchart family still own the estate and are supported by a great deal of talent and muscle in order to maintain its beauty. They gladly carry on Jennie's vision by sharing it with nearly a million visitors a year.

In 2004, Butchart Gardens was designated a National Historic Site of Canada.
The Various Gardens that Comprise Butchart Gardens
Sunken Garden
The Sunken Garden was created from the retired quarry and is filled with exuberant annuals, shrubs and trees, complete with Ross Fountain and the Bog Garden. Catch a wonderful overview from the Lookout.

The Concert Lawn Walk area contains the Children's Pavilion with the Rose Carousel where you'll find 30 hand-carved wooden animals to choose from. Two totems are carved by local First Nations peoples.

The Rose Garden is filled to the brim with hundreds of rose plants from floribunda to hybrid tea and surrounded by Pacific Giant delphiniums and overflowing hanging baskets. Walk along the pathways and discover the frog fountain and the wishing well.  

The Japanese Garden is accessed through a Torii gate to lead you down serene paths, over bridges and along streams and ponds shaded with maples and beeches. Be sure to make time for the boat tour of Tod Inlet, which leaves from the wharf at the bottom of the garden.
The Italian Garden was formerly the Butchart family's tennis court. Now a beautiful garden surrounds a cross-shaped pond and a statue of Mercury, bookmarked by two lovely arched entrances.

The Mediterranean Garden is a small garden tucked away by itself near the visitor's parking area. You wouldn't think of a Mediterranean garden in the Pacific Northwest, but the mild climate here supports a number of drought resistant plants that share a similar climate. 

---
Numerous ponds, lagoons, and streams are scattered throughout each of the different gardens. Some with fountains, such as the Ross Fountain in the lagoon in the Sunken Garden, created in 1964 by grandson Ian Ross; Star Pond, near the Italian Garden, where Mr. Butchart kept his exotic ducks; Frog Fountain and Sturgeon Fountain near the Rose Garden and the child and fish fountain in the cross-shaped pond in the Italian Garden.
Large pond in the Sunken Garden
Butchart Gardens Restaurants
Choose from three restaurants:

The Blue Poppy Restaurant is located in a beautiful, lush and light-filled conservatory and offers a seasonal menu created with local, fresh ingredients.
The Coffee Shop near the front entrance is where one can go for coffee, tea, sandwiches, pastries and items to go. During various seasons look for other spots around the garden for hot dogs, ice cream, gelato or sandwiches.
The Dining Room, where one enjoys formal fine dining, located in the former Butchart Family residence. Its views of Tod Inlet and Italian Garden or the Private Garden make the perfect setting for a celebration or private, romantic dinner for two. High Tea, Afternoon Tea and Lunch are also available in the Dining Room, which was a recipient of the Open Table Diner's Choice Award for 2015. Reservations are recommended. Please call +1-250-652-8222, or reserve online.
Please note that admission to the Gardens is required to dine at any of the restaurants.
Gifts and Souvenirs
The Seed & Gift Store is loaded with an amazing assortment of high quality gifts and souvenirs. It offers Canadian made items, calendars, books, jewelry, clothing and hand-packed seeds direct from the Butchart's own Gardens.

Seasonal Activities at Butchart Gardens
Winter:

Historical Display of the Butchart Family home
Ice Skating - December 1 - January 6
Spring Prelude in the Blue Poppy Restaurant Conservatory - January 15 - March 31
Summer:
Fireworks - 10 Saturdays in summer
Boat Tour - Tod Inlet and Brentwood Bay
Night Illumination - the Garden colorfully lit at night
Take a Greenhouse Tour: Saturdays and Sundays in November. Reservations are required, window for placing requests starts in mid-October. Costs nothing beyond admission to the Gardens.

On one of our visits to Butchart Gardens, we planned our trip to arrive in mid-afternoon so we could stay for both the day-time and night-time display of the Ross Fountain in the Sunken Garden and then catch the Fireworks in the evening.

At night The Garden is filled with thousands of lights perfectly arranged to highlight individual plants throughout. It's a completely different place at night, spectacular, enchanting, a little bit mysterious.
Star Pond, part of the Italian Garden, blooming in April with tulips
Summer Saturday Fireworks
Every summer Saturday night, for 10 consecutive Saturdays, spectacular fireworks choreographed to show tunes light up the sky. Bring blankets to sit on in the grassy area and jackets, as summer evenings can get cool. There are designated areas if you want to bring chairs, and a limited number of seats available in the VIP section, so reservations are recommended for these. Call (250) 652-4422 x 320, Monday through 3:00 p.m. Friday. Reservations are not accepted on Saturday.

Saturday admission to the Gardens includes the Fireworks show. Transportation is available from Victoria to The Gardens through BC Transit, with return to Victoria after the show. For details call BC Transit at 250-382-6161.
Each summer brings concerts and various other entertainment options. Click here for a complete schedule of summer concerts and entertainment in the Gardens.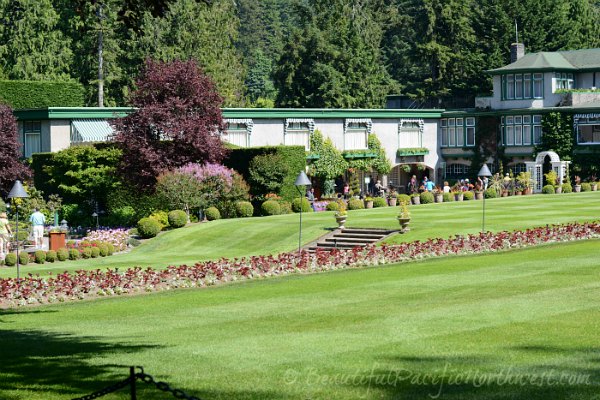 Expansive Lawns
Admission Fees
Rates vary by season. Prices are in Canadian Dollars:

$19.35 - 34.80 for adults (18+ yrs.)
$11 - 17.40 for youth (13-17 yrs.)
$2 - 3.00 children (5-12 yrs.).
Group rates are also available for 25 or more visitors. Click here for current admission prices.
12-Month Pass: Butchart Gardens does not accept 3rd party coupons but if you will have the opportunity for multiple visits during the year, check out the 12-Month Regular Pass and the 12-Month Fireworks Pass. The investment may be worth it for your family and pass-holders receive discounts at Butchart Gardens restaurants, gift store and boat tours.


Cities Near Butchart Gardens
Victoria BC: 19.7 km (12.25 miles) (approx. 26 minutes)
Port Angeles via the Black Ball Ferry:  37.2 miles (approx. 2.5 hours)
Sidney BC: 15.6 km (9.7 miles) (approx. 19 minutes)
Vancouver BC: 103 km (64 miles) (approx. 3.2 hours)
Seattle: 66 miles (approx. 2.25 hours)
Getting There


A Short History of
Jennie Butchart's Gardens
Pool and Ross Fountain located in the old quarry pit
In 1904, Robert Pim Butchart started a limestone quarry and cement plant at Tod Inlet in Central Saanich on Vancouver Island. The family built a home nearby, with gardens groomed by Robert Butchart's wife Jennie's green thumb. After the limestone deposits were exhausted, Jennie made plans to beautify the scarred and barren pit.

Over the course of a few years and many tons of topsoil hauled in by horse and cart, the sunken pit was transformed into the Sunken Garden. The deepest part is now filled with a lovely pool, accessorized by dancing fountains of water, dressed at night in lights of changing colors.
Between 1906 and 1929, during their extensive world travels, the Butcharts collected many exotic plants and birds. After World War II, grandson Ian Ross, who had been gifted with The Gardens, worked hard to restore the family home. He enhanced and added features to the already popular estate and assembled the extensive gardens we enjoy today.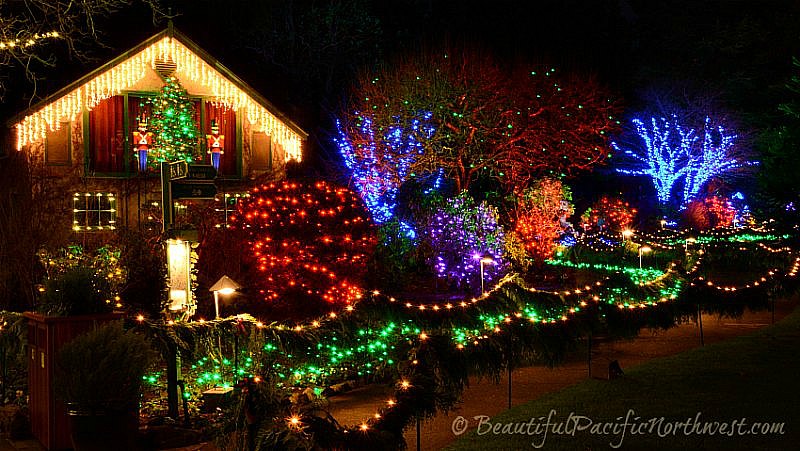 The Fifth Season: Butchart Gardens presents its Christmas Lights Display from early December to early January.