Victoria Whale Watching
Victoria Whale Watching in Victoria BC. Info and photos on six excellent whale watching tour operators for guaranteed whale watching satisfaction.

Welcome to Victoria BC, one of the best whale watching areas in the world!
Options for whale watching in Victoria, BC, are many, varied, and very popular. And no wonder, being smack in the middle of prime whale watching country.
The waters surrounding Victoria and the greater Vancouver Island teem with sea life. Whales cackle, whistle and squeek; porpoises escort boats, seals bask and sea birds float, fly, and flutter by the thousands. It's a playground.
But the majesty and sheer power of a whale breaking the surface of the water is indescribable. It's hard to imagine that a 25' long, 6 ton creature lives and moves freely under the surface, since we usually see only the ripples and waves atop the water.
Choose your Victoria Whale Watching Tour Operator
Your exciting adventure is just a choice away! Here are three top-rated whale watching tour companies, and info and links to three others (whose rankings are not far behind).

Please note that most companies do not recommend the wild zodiac tours (in the smaller but very speedy open boats) for folks with health concerns, back or neck issues, pregnant women or small children.
Eagle Wing Tours
Eagle Wing Tours
1 Dallas Road, Victoria, BC V8V 0B2
Fisherman's Wharf Pier #2, Victoria, BC, Canada
Toll-Free: +1-800-708-9488
Direct Line: +1-250-384-8008
Website: www.eaglewingtours.com
Tripadvisor: Tripadvisor Reviews of Eagle Wing Tours 
(#1 on TripAdvisor since 2007 - 5* Certificate of Excellence)
See website for tour and sunset tour schedules and rates.
Eagle Wing Tours guarantees adventure and transformative marine experiences on the Salish Sea. Explore the Salish Sea out of the Victoria BC, home port, learning about killer whales, grey whales, minke whales and humpback whales, as well as seals and sea lions, porpoise and sea birds. An added enrichment of your Victoria whale watching tour is listening to the professional underwater hydrophones provided on all the Eagle Wing Tours vessels.
They are determined to go the extra mile (or 50!) in order to give guests an amazing wildlife experience. 
Eagle Wing Tours operates four custom-built vessels. They provide multiple daily departures, comprehensive tours, and longer tour times. Each 3.5 - 4 hour tour includes a marine biologist or specialist on board to answer your questions. 
Environmental stewardship and sustainability are core values of their family-owned, award-winning company. They are Canada's first 100% carbon-neutral whale-watching company, are certified Platinum with Green Tourism Canada, and they support 1% for the Planet and other conservation initiatives that directly benefit the Salish Sea and its inhabitants.
Ask about their whale sighting guarantee.

---
B.C. Whale Watching Tours
B.C. Whale Watching Tours

Seattle Float Plane Wharf, 1234 Wharf St., Victoria, BC, Canada V8W 3H9
+1-250-590-5030
Email: info@bcwhaletours.com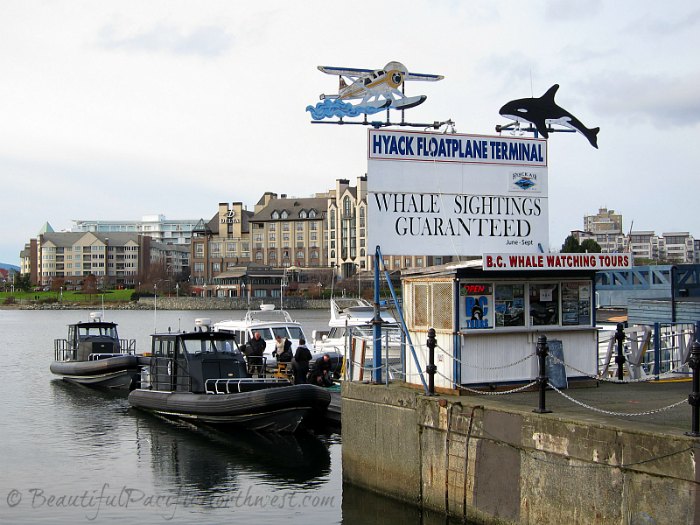 Tripadvisor reviews of B.C. Whale Watching Tours
Certificate of Excellence
B.C. Whale Watching operates four boats which were designed by Captain Harold himself (President and Owner), offering either indoor/outdoor or open outdoor seating, and washrooms. Each tour is accompanied by marine biologists and naturalists.

They also offer a variety of Eco-friendly tours for whale and wildlife viewing, sunset whale watching, private charters and tour packages including a West Coast tour that could include zip lines, rainforests and/or lodging. Captain Harold also offers a 6 day/5 night 360 degree tour of Vancouver Island which explores historic sites, a grizzly bear sanctuary, fjords, glaciers and more.
If whales are not sighted, they offer a 20% cash refund off initial ticket costs and a free second trip on a standby basis on tours between June 1 - September 30.
---
Spring Tide Whale Watching and Eco Tours
Spring Tide Whale Watching & Eco Tours
1119 Wharf St., Victoria, BC, Canada V8W 1T7
+1-800-470-3474; local: +1-250-384-4444
Email: info@SpringTideCharters.com
Tripadvisor Reviews of Spring Tide Whale Watching and Eco Tours
Certificate of Excellence
See their website for tours, private chargers, whale watching packages, and rates.
Owners Dan and Joanne offer 21 years of whale watching experience, taking folks to all the hot-spots for whale watching, marine wildlife tours and sport fishing. Choose from their comfortable indoor/outdoor cabin cruiser with washrooms, hot beverages and warm outdoor wear; or an exciting outdoor ride on their zodiac.

A naturalist or biologist will be along for each 2.5 - 3 hour tour to answer questions. They also offer private charters for any sort of celebration or corporate event; and package tours that include transportation by air or ferry from Vancouver, B.C., or other spots on the mainland, to Victoria along with their whale watching tours.
Their "It's a Fluke" program offers a free second trip if you're "skunked" on the first one.
---
Prince of Whales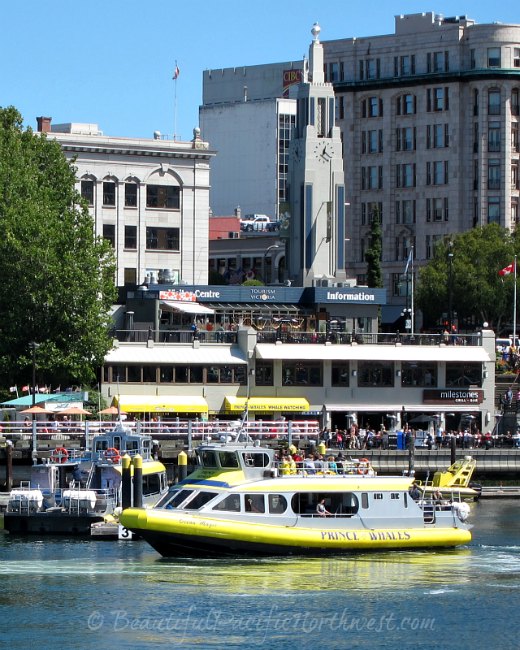 Prince of Whales
812 Wharf St., Lower Causeway Level, Victoria, B.C., Canada
+1-888-383-4884; local: +1-250-383-4884
Email: info@princeofwhales.com
Tripadvisor Reviews of Prince of Whales
Certificate of Excellence
Prince of Whales operates all year long, and offers a year-round whale sighting guarantee.
I have used this Victoria whale watching tour, and loved it.
Note: Prince of Whales also operates out of Vancouver BC. See their website for details.

---
Orca Spirit Adventures
Orca Spirit Adventures
Coast Victoria Harbourside Hotel, 146 Kingston St.,Victoria, B.C., Canada V8V 1V4
Westcoast Air, 950 Wharf St., Victoria, B.C., Canada V8W 1T3
+1-888-672-6722; local: +1-250-383-8411
Email: whales@orcaspirit.com
Tripadvisor Reviews of Orca Spirit Adventures
Certificate of Excellence
---
Five Star Whale Watching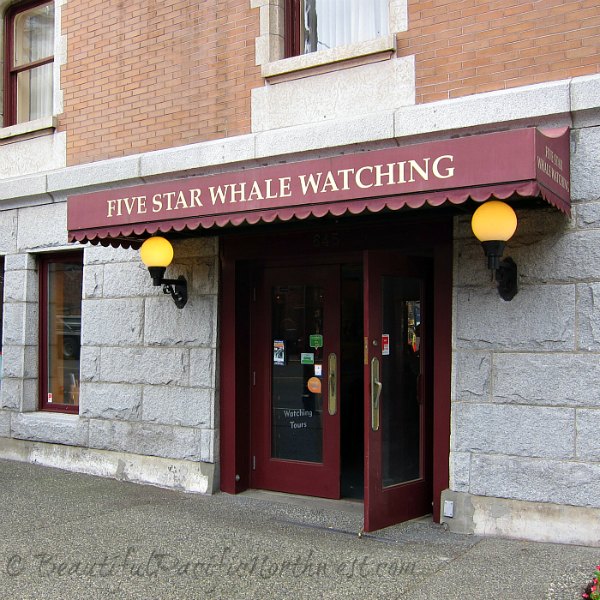 Five Star Whale Watching
645 Humboldt St., Victoria, B.C., Canada V8W 1A6
+1-800-634-9617; local +1-250-388-7223
Email: orcas@5starwhales.com
Tripadvisor Reviews of Five Star Whale Watching
Certificate of Excellence
---
We think the tours above will more than deliver on their promises and guarantees.

Enjoy your Victoria whale watching!
(History of Whale Watching per Wiki)
Have you Gone Whale Watching?
Please Share Your Stories and Photos With Us!
Whale watching can be a spectacular, awe-inspiring experience! We'd love hearing about your whale watching happenings here on our website. Please share your stories along with some exceptional photos if you have them. We know that other visitors will enjoy these stories and seeing the photos as well!

Just click into the title box below and go from there. When published, you'll have "your own" page on MyPortAngeles which you can share with friends or anyone who asks!

We're happy to ensure professional and amateur photographers get credit for their work. Leave us your name in the form below, and means of contact, website, or FB page info so we can link back to you.