Coho Ferry
The Coho Ferry (Black Ball Ferry Line) sails daily from Port Angeles to Victoria BC inner harbor and back. Summer and winter schedules vary – check below.
The MV Coho is black, white, red, and gray, 341.6 feet long, 72 feet wide, and can carry 1,000 people and 116 vehicles at the same time, all while sailing under a black ball flag.

The ferry company is the Black Ball; the ferry itself is named the MV Coho. The Coho has only one route: Port Angeles WA to Victoria, Canada, and back again.
Appropriately named after the Coho species of Pacific salmon, the Coho Ferry dodges orcas, dolphins, fishing boats, sea-mountain sized container ships and submarines as she faithfully plies the waters of the Strait of Juan de Fuca.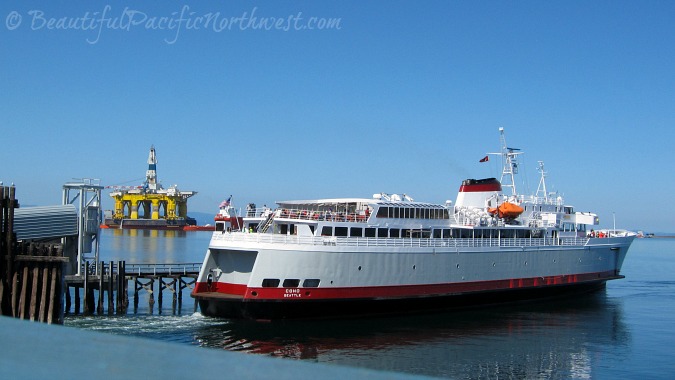 The Coho ferry has just left the Port Angeles WA dock headed for Victoria BC
Black Ball Terminals
Catch the Coho at these terminals:

Port Angeles, WA, USA:
101 East Railroad Avenue, Port Angeles WA 98362
Phone: +1-360-457-4491
General Info, Toll Free: 1-888-99-FERRY (33779)
Coho Ferry viewed from the Port Angeles WA Pier.
Important Coho Ferry Travel Tips
A few important travel notes:

What to Expect on the Coho Ferry Between Victoria BC and Port Angeles WA
Passengers on the MV Coho are preparing to sail from Port Angeles WA to Victoria BC
Ferry passengers can enjoy the beauty of the Pacific Northwest in the warmth and comfort of the inside cabin. Or, the intrepid ones may dare to stare nature in the face outside on one of her expansive outer decks or under the covered solarium.

It'll take 90 minutes for the crossing, but no worries, there's a cafeteria for chowing down on Ivar's clam chowder, as well as pastries, sandwiches and coffee; there's also a gift shop and a duty free shop to browse when the spectacular views become unbearable.
Any visit to Port Angeles should include a ferry experience! It's a huge part of travel thanks to the many waterways creating the Olympic Peninsula in the Pacific Northwest. And the Coho is a must-do, if at all possible.
Yes, it takes a couple hours to get to Port Angeles from Seattle, and you can also take the fast ferry, the Clipper, which will still take almost 3 hrs from Seattle to Victoria (see www.clippervacations.com). A regular ole' plane will work too, but if you're going to Victoria anyway, why not take the Coho?
Okay, so it's not real fancy but it's leisurely and comfortable with plenty of room to roam or stretch out for a nap, much more than on the express ferry or a plane. It's the experience, there are a zillion photo opportunities, and you can even bring your car.
There's nothing like feeling the bone-deep blast of the horns just before pulling away from the dock, watching the land fade away behind the stern and then eventually reappearing in front of the bow, and new anticipation arising for the bump indicating the Coho has nudged the dock at the end of the voyage.

We've arrived.
The Coho Ferry is an icon. The voyage is well worth it and highly recommended, even if you spend only a few hours in Victoria BC or Port Angeles WA.
Coho Ferry - A Bit of History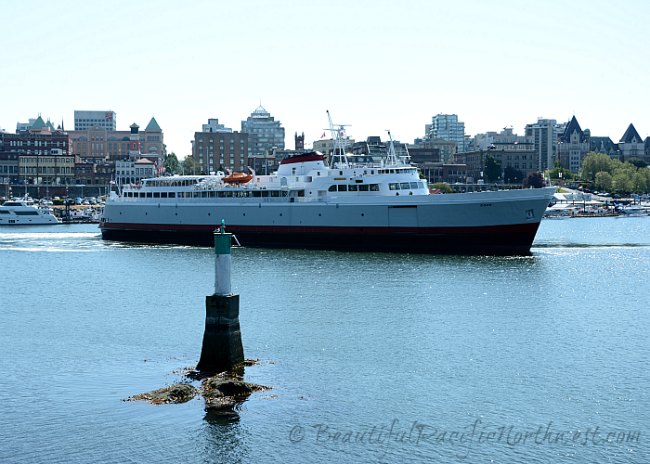 MV Coho steaming into the Inner Harbour of Victoria, BC, Canada.
Designed by Philip F. Spaulding & Associates, and built by Puget Sound Bridge & Dry Dock in Seattle, WA, the M.V. Coho took her maiden voyage on December 29, 1959, leaving Port Angeles WA for Victoria, BC, Canada.

With daily sailings, aside from a two week break each January for a thorough check-up and fresh coats of paint - at six decades of age, she's taken good care of herself - the Coho has carried over 22 million passengers and 6 million vehicles between Port Angeles and Victoria.
Other Links you may enjoy:

Things to Do in Victoria BC
Butchart Gardens in Victoria, BC
The Coho Ferry is stationed in Port Angeles WA. Other nearby towns are:
Victoria BC: 90 minutes by Black Ball Ferry from Port Angeles, WA
Sequim: 17 miles (27.35 km), approximately 30 minutes by car
Port Townsend: 47 miles (75.6 km), approximately 1.04 hours by car
Forks: 56.3 miles (90.6 km), approximately 1.1 hours by car

Seattle: 82 miles (132 km) via the Bainbridge Ferry, approximately 2.38 hours if the wait times are reasonable.


What are Some of Your Favorite Ferry Travel Experiences?
Share Your Ferry Travel Stories and Photos Here!
Whether you're a local who has lived here for years, or you've come as a visitor to our area, we'd love to hear from you! Do you have a great story, a favorite experience, and exceptional photos about your ferry travels? Please, share it with us and give us your reviews!

We're happy to ensure professional and amateur photographers get credit for their work. Leave us your name in the form below, and means of contact, website, or FB page info so we can link back to you.