Beautiful Olympic Peninsula


Travel Guide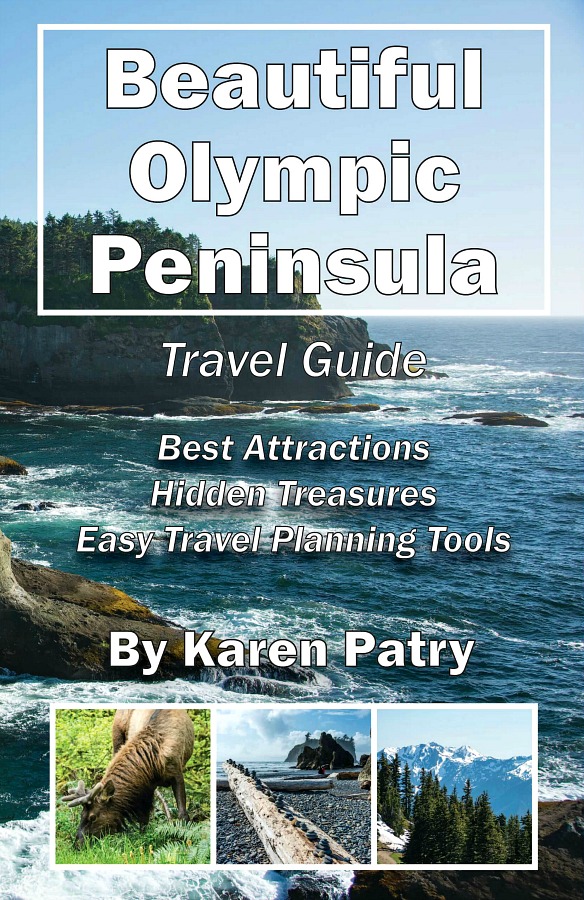 Ready for a Dream Vacation on the Olympic Peninsula?


Beautiful Olympic Peninsula Travel Guide may be just what you need.
Author Karen Patry, long time Port Angeles resident, has explored Port Angeles at length. Over the last 15 years, she has also traveled extensively throughout the Olympic Peninsula photographing its beauty, sampling its wares, and documenting every corner of the area.

She put it all into her very well received travel guide.
Beautiful Olympic Peninsula Travel Guide presents to you in both detail and full color photos the attractions, restaurants, and lodging options that are most likely to make your vacation a resounding success.
Perhaps you too will find the book as helpful as did the individuals whose genuine, unsolicited comments are recorded below.
Get an Autographed Copy of Beautiful Olympic Peninsula Travel Guide by Purchasing from MyPortAngeles!
It is also available from Amazon.com and other book retailers and tourism centers, of course.

Get it in Paperback or Kindle versions, or both.  
My Port Angeles also offers an electronic PDF version, if you prefer.
"Thank you for providing the book about the Olympic Peninsula.
We used it a lot to guide us around the Olympic National Park." (Nathan from Utah, submitted to the owner of his AirBnB)
Unique Attractions Surround Port Angeles and the Olympic Peninsula
Why visit the Olympic Peninsula? Because there is so much natural beauty so close at hand!
The Beautiful Olympic Peninsula Travel Guide covers all of it, serving as both your research assistant and your travel guide throughout the Olympic Peninsula and even Victoria BC.
Discover:
Several temperate rain forests cloaked in moss and clothed in gigantic Sitka Spruce, Douglas Fir and Big Leaf Maple
Herds of Roosevelt Elk that take shelter and browse the brambles and bushes of the rain forests
Depending on seasons and tides, see spawning salmon and tide pools brimming with life and color
Dramatic beaches with sea stacks, tide pools, and drift logs
Stunning vistas reminiscent of Switzerland
Boating, kayaking, river fishing and deep sea fishing, whale watching, easy hiking or hardcore hiking are some of the recreational activities just waiting for you
Backpacking and camping, whether along the shores of the Olympic National Park or within its mountainous interior
Photographic opportunities abound
The new world of Victoria BC is nearby, too close to ignore!
In the midst of mossy and wild natural beauty are centers of culture and the arts, for example, Victoria, BC or Port Townsend, WA
Visit a world-class museum featuring the indigenous Makah people of Neah Bay. The Elwha Klallam tribe also has a Heritage Center in Port Angeles with displays and history, including the removal of the Elwha and Glines Canyon Dams on the Elwha River.


"Love, love, love this book!!! I cannot say enough good things about it!
Absolutely amazing in all the details! You should name it the Ultimate Vacation Guide to the Olympic Peninsula" (Anastasia B, Sequim WA)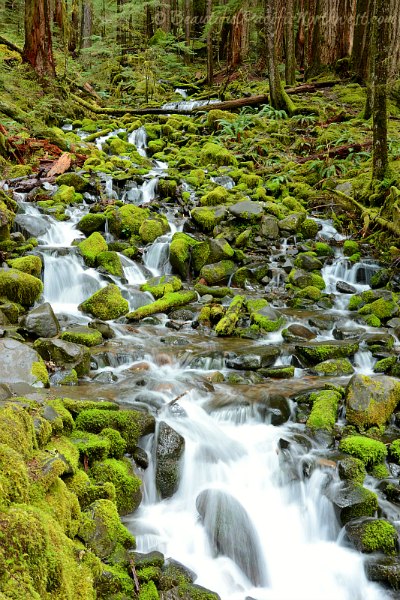 Mossy cascading creek near Sol Duc Falls
Autumn in Sol Duc Valley, Olympic National Park
The Beautiful Olympic Peninsula Travel Guide:
Reduces the research phase of trip preparation by half or more. Yes, you COULD scavenge the internet, study hundreds of reviews for scores of hotels, restaurants, activities, and attractions. Everyone does at least a little of that. But instead, I've already done the lion's share for you, provided multiple choices for logistics, like ferries and recreational pass information, plus hotels, restaurants, attractions, even mileage to the next fuel station (which might save you some grief if you forget to pay attention to the fuel gauge).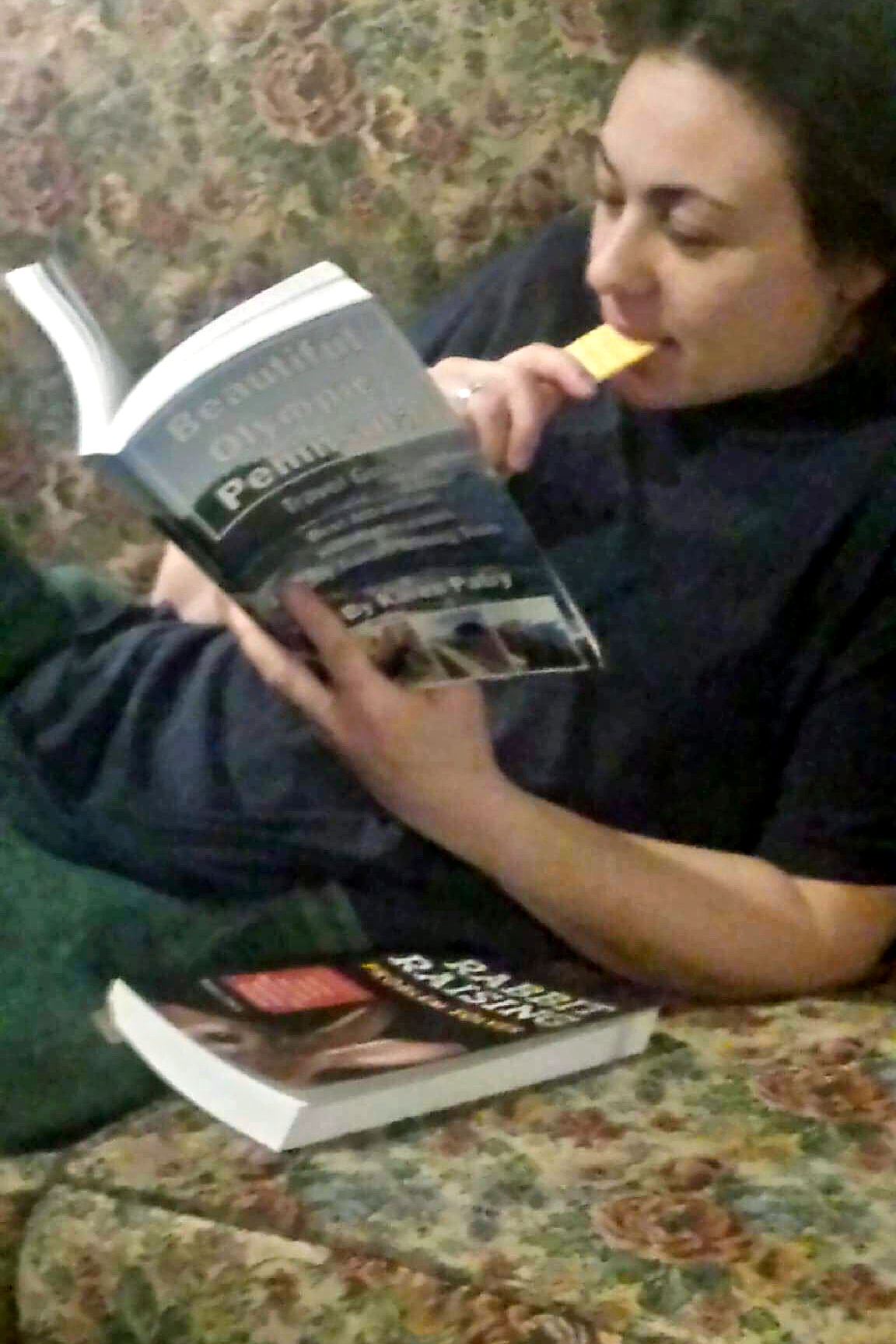 This photo was sent to us by a happy customer after her paperback copy of Beautiful Olympic Peninsula Travel Guide arrived.
Offers detailed descriptions of all must-see attractions and many others that you might enjoy if the timing of your vacation is right. Since we left no stones unturned, you won't have to worry about missing something really cool.



Never been here? Not sure what to expect? Wondering how to navigate all the water channels? No problem. I was once new here myself, so Beautiful Olympic Peninsula Travel Guide anticipates your questions and provides answers to concerns you may only think of once you get here. Descriptions, directions, emergency contact info, photos, maps, it's all provided.


Additionally, we'll help you get to really know the Peninsula, its history, flora and fauna, and the regional characteristics that result in its unique and beautiful rain forests.


Has full color gorgeous photos throughout - of course!


Comes with a No Risk Money Back 100% Guarantee! 
Buy Beautiful Olympic Peninsula Travel Guide now. Peruse it to your heart's content for a full 45 days. If you decide it isn't for you, simply drop me a note and we will issue a full and quick refund. More info on our guarantee at the bottom of this page. 



The Olympic Peninsula Offers Rare Beauty Distinct to Other Environments in the United States
---
Beautiful Olympic Peninsula Travel Guide Contents
The book contains 369 full-color pages divided into 6 parts, as follows:
Part 1: First, create your own itinerary
Do you want to focus your vacation on the Olympic National Park? Would you like to drive the Highway 101 Loop? Does it feel right to you to choose a region or two on the Peninsula and truly soak in the beauty? Beautiful Olympic Peninsula Travel Guide will help you make choices that are right for you, with additional tools like:

Sample 1-day and multiple-day itineraries
Chart of all destinations, including the amount of time you may need at each attraction
A list of my Top-Twenty Attractions

"I love the way you write, it's truly excellent. I
like the guide book way, the friend in the car with me talking and telling me the details. Now I'm looking forward to visiting here and there on the Peninsula. It is a wonderful read, all the things I want to know"
(Belinda D, Port Angeles WA)



Part 2: Tips and info for Planning your Itinerary
Now that Part 1 has given you an idea of where you might like to go and what you most wish to see on the Peninsula, Part 2 of Beautiful Olympic Peninsula Travel Guide will help you plan out all the fun stuff you'd like to see and do while on the Olympic Peninsula, like finding a place to rent a kayak, learning the regulations on beach clamming, or discovering whether there are any local festivals during the dates of your visit.

Best times to visit the Olympic Peninsula
Cuisine, music, theater, and the arts as main attractions
List of Olympic Peninsula festivals and when they are held
Professional tour guide companies on the Olympic Peninsula
Recreational activities on DNR-managed land
Main Forest Service and National Park Campgrounds and more
Where to rent kayaks, canoes, bicycles, surf gear
Fishing, shellfishing, and professional fishing guides
Hiking and walking opportunities on the Peninsula
Advance Preparations



Part 3 covers all the general travel information for the Olympic Peninsula:
While you are most likely to need the Part 3 information during the planning phases of your vacation, it might also come in handy if you decide to change course at a later date, and then need ferry or entrance fee info, for example.
Getting here, and then getting around
SeaTac Airport Car rentals
Consider renting an RV
Washington State Ferries
The Coho Ferry in Port Angeles
National Park and Recreational Pass Information
List of Information Centers throughout the Olympic Peninsula (and one in Victoria)
Suggestions for maps you can take with you, since the internet isn't available in all areas of the Peninsula.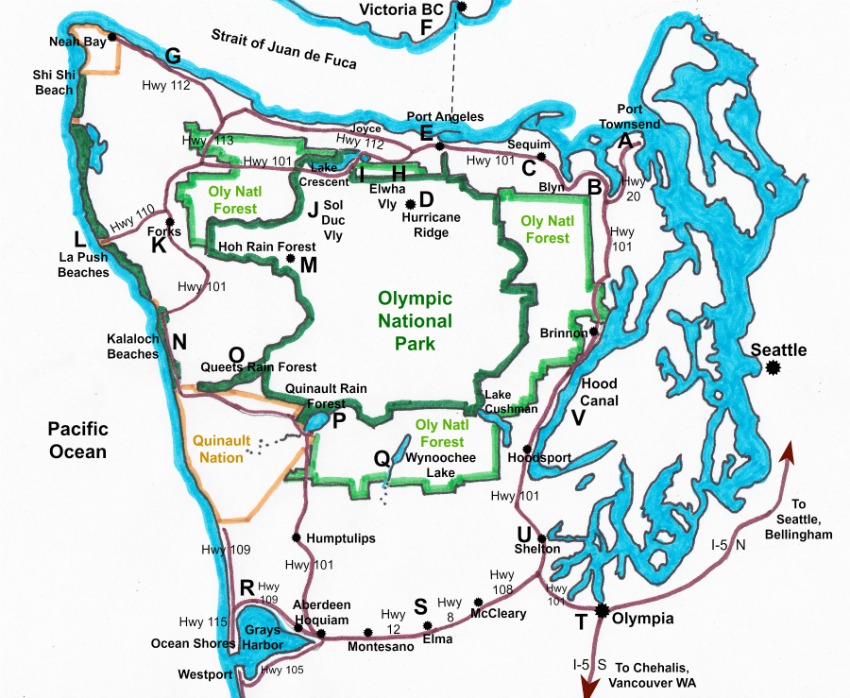 Olympic Peninsula Map: All 22 destinations are indicated with a letter

Part 4 is the main Olympic Peninsula Travel Guide
Part 4, the section that guides the reader from destination to destination, contains 22 modules in 278 pages.

The Olympic Mountains sit in the middle of the Peninsula, resulting in only one main road between destinations – Highway 101. Hwy 101 connects all the destinations in some fashion, like pearls on a necklace.

I have presented the destinations in the order in which you will find them if you drive onto the Peninsula from Seattle heading northwest. But nothing says you have to USE the book this way. The information is modular; before and after each module are directions to and from the next module. So jump into the guide wherever you like, and enjoy your vacation!
Port Townsend
Discovery Bay and Blyn
Sequim and Carlsborg
Hurricane Ridge in Olympic National Park
Port Angeles
Victoria BC in Canada
Strait of Juan de Fuca and Hwy 112 to Neah Bay and Cape Flattery
Elwha Valley in Olympic National Park
Lake Crescent in Olympic National Park
Sol Duc Valley in Olympic National Park
Forks WA
La Push and the nearby Beaches via Highway 110
Hoh Rainforest in Olympic National Park
Kalaloch Beaches in Olympic National Park
Queets Rain Forest in Olympic National Park
Quinault Rain Forest in Olympic National Park
Wynoochee Lake and Humptulips
Grays Harbor: Aberdeen, Hoquiam, Ocean Shores, Westport
Montesano, Elma, McCleary
Olympia, Capitol of Washington State
Shelton
Hood Canal
Home Again


Port Angeles Marina

Part 5: Tools as you Travel
"I really enjoyed Beautiful Olympic Peninsula Travel Guide!
I love the paperback version which I can hand out to house guests (preferably autographed copies)" 
(Kim H, Port Angeles, WA)
This section is here to help you during your travels. God forbid you should need auto repairs or emergency services, but the info is here just in case. Plus, the following additional info is likely to come in very handy:

Road Conditions
Motion Sickness Aids
Law enforcement/Emergency Services
Weather Forecasts
Tides, Tide Charts, Tide Chart Apps
Automobile Repair and Service
Highway Mileage Charts (in miles and kilometers)
Rainfall Averages for 11 towns (in inches and centimeters)
"It's been about a month since I ordered your book and I wanted you to know that I appreciate your book so much! 
"I have a few books about hikes in the area but your book is unique. I love how you include maps, online resources, restaurants, places to stay, and on and on. 
"Plus, your writing is professional yet personal.  Our neighbors just moved to Washington and have been trying to explore the local area. I recommended this book to them.  They bought it on the spot!
"Thank you for the time and effort you put into making a much needed book.  I have lived here most of my life;  with your book, I feel like I'm discovering where we live through a new lens. It's simply wonderful." (Cristy, Port Orchard, WA)


Part 6: Index
The content in the Beautiful Olympic Peninsula Travel Guide is extensively indexed so you can easily look up towns, attractions, features, and more.

The PDF contains Bonus Information: Knowing the Olympic Peninsula
The beauty is unique, the area is unique, and the flora and fauna are also often unique. Beautiful Olympic Peninsula Travel Guide familiarizes you with the nature of the Olympic Peninsula in order to enhance your enjoyment of the region:
History of the Olympic Mountains
Olympic Peninsula Weather: Rainshadows and Rainforests
Pacific Northwest Rain Forest Flora
Iconic Pacific Northwest Fauna
---
About the Author, Karen Patry
Karen Patry
Karen Patry is also the owner, author, webmaster, and photographer of MyPortAngeles.com. Much of her story is published at our About Us page. 
"I can hardly believe how detailed this book is!
I have already purchased another copy for a family friend." 
(J. Schiess, Montreal, QC, Canada)
---
Beautiful Olympic Peninsula Travel Guide is Much More than You Expect

It is a travel book worthy of the title, "guide."
Three Years Later!
Hard to believe it, but Beautiful Olympic Peninsula Travel Guide has been in print for three years. In that time span, things are bound to change a little, especially with openings and closures of restaurants. 
This travel guide remains remarkably current! Nevertheless, I do know of a few restaurants that have closed or changed hands. So, I've created a list of these changes. It's quite short.
We will include this list with each book that we mail out from MyPortAngeles.
If you get your copy from Amazon or other retail location, feel free to click on this link and download a free copy of the updated restaurant information.


No Risk Money Back Guarantee
My policy is to always OVER-deliver on value, which is why your purchase is fully covered by our No-Risk Money Back Guarantee.

Go ahead - purchase this e-book now and take it for a test drive. Read every page of it if you like. I am confident you will love all the helpful details, the many photos, the links to more information, and the fun and easy-to-read descriptions.
If you aren't completely satisfied that this e-book is worth double, even triple the price you paid, just drop us a note within 45 days, and we'll refund you the entire cost quickly and courteously.