Olympic National Park Visitor Center

Here are Olympic National Park Visitor Center locations and information, including details about Olympic National Park ranger stations and wilderness Info Centers.
There are three different Visitor Centers located in the 1,442-square-mile Olympic National Park (ONP), all of them on the north and west sides of the Park which get the lion's share of visitors.

Here are those Olympic National Park Visitor Centers, with information on ranger stations and visitor information centers below.
Olympic National Park Visitor Center in Port Angeles
Olympic National Park Visitor Center
3002 Mount Angeles Road, Port Angeles, WA 98362
+1-360-565-3130
Open every day year round, except for Thanksgiving and Christmas
Hours are seasonal - call the above phone number for current hours.
Olympic National Park Website
Olympic National Park Basic Info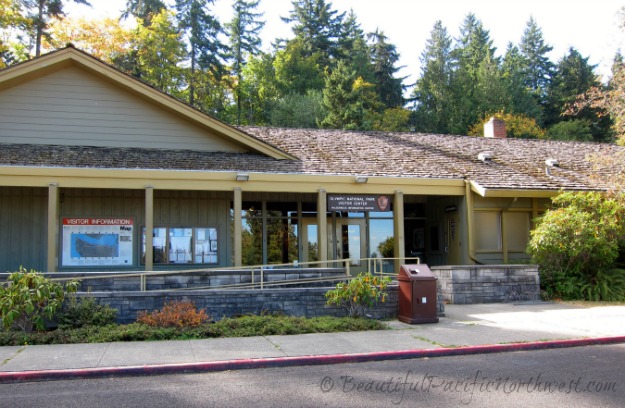 Olympic National Park Visitor Center and Park Headquarters in Port Angeles WA
TripAdvisor Reviews of ONP Visitor Center in Port Angeles WA

The Olympic National Park Visitor Center in Port Angeles is a destination in itself. You'll find loads of local information, including resources such as books, souvenirs and posters which you can purchase.
The visitor center in Port Angeles contains:
Exhibits on salmon, mountain lions, Roosevelt elk, and aboriginal tribal life
Info on backpacking and trip-planning, including trail reports, safety and weather
"Discovery Room" for children
"Mosaic of Diversity," an award-winning 25-minute film that can be viewed upon request
2 fascinating nature trails through the 38 acre campus
Go adventuring with the kids in the hands-on "Discovery Room," where you'll have as much fun as they will learning about the plants and animals in the area.  They can try on a real ranger hat or troop around in a park volunteer coat.
Learn about the numerous activities for teens in the ONP.  This can include adventures such as backpacking, hiking, and white-water or sea kayaking.
It can also include educational ventures, such as the Natural Resources Elwha River Field Course. This is a three-week summer course which gives high school students the opportunity to work within, and learn about, a local eco-system.
For fun and education for all ages, check out the ranger-led programs, campfire programs and ranger guided interpretive walks that are available throughout the summer at various destinations and campgrounds throughout the Olympic National Park.
The Olympic National Park Visitor Center in Port Angeles is also host to a Wilderness Information Center (Backcountry Permit Office)
All contact information is the same as for the Visitor Center above.
See WIC below for much more info on Wilderness Information Centers.
Click here for ONP Wilderness Travel Basics, which can also be printed.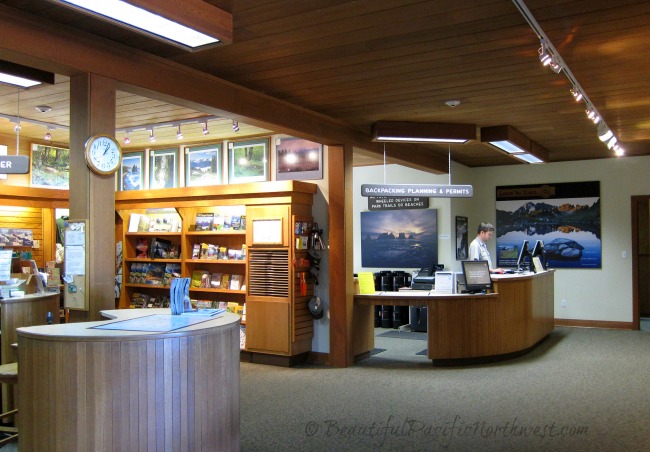 Wilderness Information Center offering "Wilderness Planning and Permits" inside the Park Visitor Center in Port Angeles.
Olympic National Park Visitor Center at Hurricane Ridge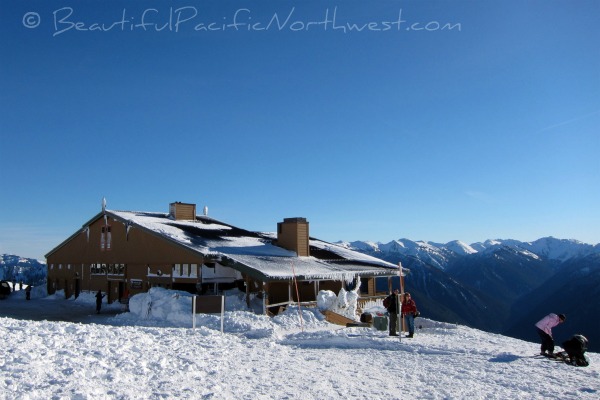 ONP Hurricane Ridge Visitor Center in January.
Hurricane Ridge Visitor Center

Located at Hurricane Ridge just seventeen miles south of Port Angeles on Hurricane Ridge Road, and a mile high, Hurricane Ridge greets you with expansive 360-degree vistas, meadows filled with wildflowers (when not snowy!), distant glaciers and gnarly alpine forests. The Visitor Center is open daily and easily reached by Hurricane Ridge Road, which is open 24 hours a day from mid-May through mid-autumn.
This is a very fun Olympic National Park Visitor Center!

During winter months, depending on weather and road conditions, the road is scheduled to be open from 9:00 a.m until dusk, Friday through Sunday, holidays falling on Mondays, and additional days during the Christmas season.
Hurricane Ridge has exhibits on Olympic's mountain habitats, including a 20-minute orientation film.
Nature trails are the best way to see the area. Each one has its rewards, from easy to challenging. Summertime offers opportunities for ranger-led programs most days but only on weekends in winter.
Check out the gift shop, get a snack at the snack bar on the lower level and enjoy a picnic in one of the picnic areas located nearby. Or, just be satisfied with the spectacular scenery.
Olympic National Park Visitor Center - Hoh Rain Forest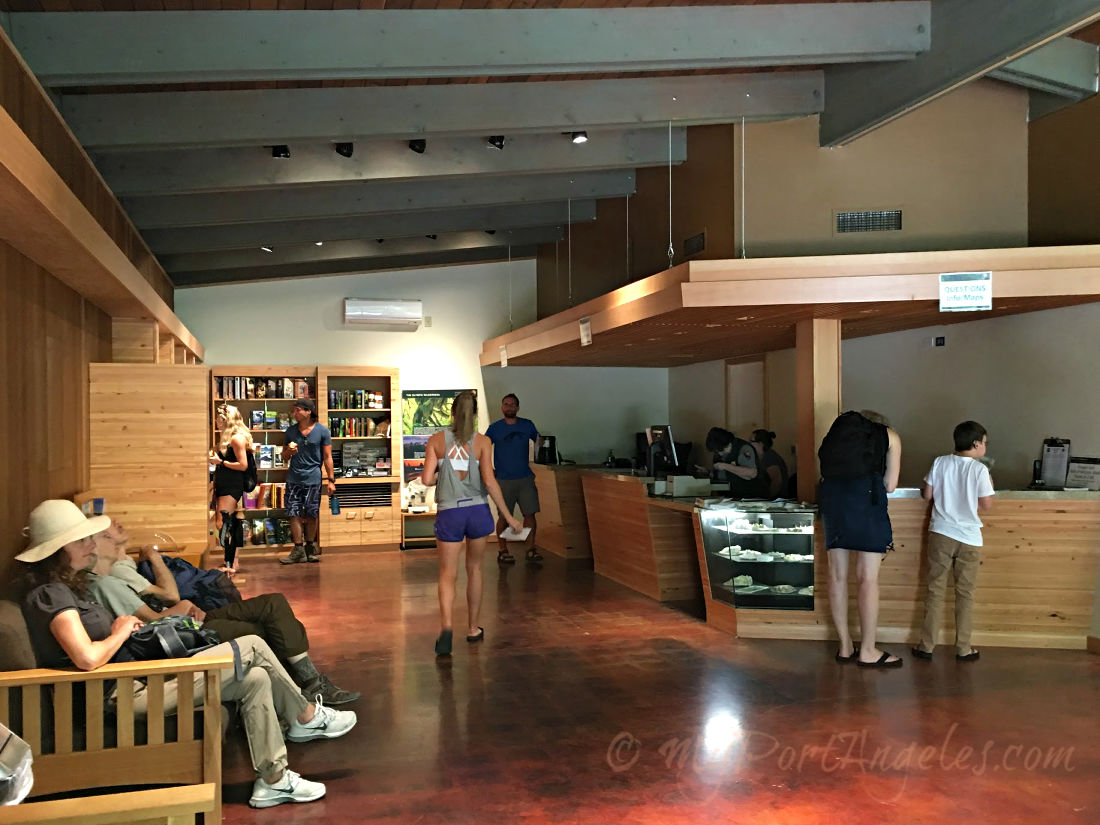 Beautiful new Hoh Rainforest Visitor Center provides all the info a visitor could request.
Hoh Rain Forest Visitor Center
18113 Upper Hoh Road, Forks, WA 98331
Phone: +1-360-374-6925
Getting there: Approximately 87.5 miles (141 km) west of Port Angeles, and 31 miles (50 km) south of Forks. From Highway 101, turn east on Upper Hoh Road, and go to the end of the road.
Hours: Open daily in summer; open Friday-Sunday through the remainder of the year. Hours vary according to season, call for specifics. The rangers at this visitor center are highly knowledgeable about the temperate rain forest and the flora and fauna here.
Moss creeps over rocks and fallen trees. Deep and dark and green is the Hoh Rainforest. 
Experience the beauty of this temperate rain forest on self-guided nature trails. Wilderness use permits, animal resistant food containers and additional information are available at this visitor center.
Olympic National Park Ranger Stations
Ranger stations in the Olympic National Park are either standalone buildings, such as the Storm King Ranger Station (pictured below), or they can also be a counter manned by a park ranger within a Visitor Center, such as at Hurricane Ridge, Port Angeles, or the Hoh Rain Forest.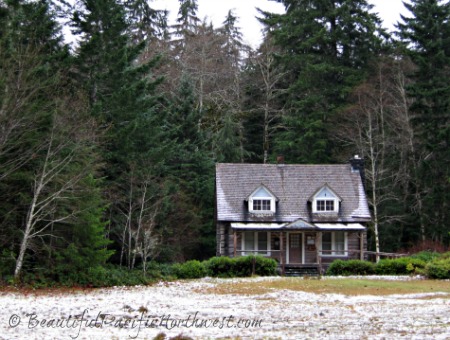 Storm King Ranger Station in the Olympic National Park, WA. Lake Crescent is a stone's throw from the front of the Station.
The ranger station is the designated location where park rangers can be found to answer questions about the park and the area, from road and trail conditions, to what wild animals to watch out for, to "where can I find a restroom, please?"

Here's where you can find other ranger stations in the Olympic National Park:
Deer Park Ranger Station
Contact info same as ONP Visitor Center in Port Angeles (above) 
NPS Deer Park Area Brochure


Dosewallips Ranger Station
Currently unstaffed due to road wash-out. More on the Dosewallips Area here.


Eagle Ranger Station
Sol Duc Road, Beaver, WA 98305
+1-360-327-3534


Elwha Ranger Station
Located in the Elwha River Valley at the junction of Olympic Hot Springs Road and Whiskey Bend Road (approx. 12 miles/35 minutes from Hwy 101)
More info: Visiting the Elwha Valley



Kalaloch Ranger (and Info) Station
Near the Kalaloch Lodge, Forks, WA 98331
+1-360-962-2283
Brochure on the Kalaloch Area


Mora Ranger Station
Located on Mora Road at the Mora Campground, Forks WA 98331
+1-360-374-5460
More info on the Mora Area


Ozette Ranger Station
Located at the end of Hoko-Ozette Road (Jct at Hwy 112 is a few miles west of Sekiu WA).
More on the Ozette Area. 


Quinault Rain Forest Ranger Station
902 North Shore Rd, Amanda Park, WA 98526
+1-360-288-2444
(Details about visiting the Quinault Rain Forest)


Quinault USFS/Nat'l Park Service Ranger Station
353 South Shore Rd, Quinault, WA 98575
+1-360-288-2525
Hours: 8:30-4:30, except for federal holidays
On South Shore Road 2 miles from Hwy 101, next to the Lake Quinault Lodge.
Wilderness Information Center: 360-288-0232 (More on the Quinault Rain Forest)


Storm King Ranger Station
Located at Lake Crescent, WA
+1-360-928-3380
More on the Lake Crescent area. Lake Crescent WA


Staircase Ranger Station
Hoodsport WA: from Hwy 101 take Hwy 119 (North Lake Cushman Road) past the far tip of Lake Cushman (road name changes to Staircase Rd.)
+1-360-877-5569. More on Staircase
Contact the Port Angeles Visitor Center with any additional questions.


Olympic National Park Wilderness Information Centers
If you have plans to hike and camp in the back country of the Olympic National Park, you'll need a permit and possibly additional information, all of which can be had at a Wilderness Information Center.

They provide:
Back-country permits for the entire Olympic National Park
Advance reservations for limited use wilderness areas
Any sort of planning assistance for your camping expedition into the back country, including trail info and conditions and any safety questions you may have
Bear canisters on loan ($3 donation requested to help with educational programs)
Free tide charts
Topographic maps, guide books, and field guides for sale
Wilderness Information Centers can be found at these locations:
Olympic Park Visitor Center in Port Angeles
Quinault Rain Forest (South Shore Ranger Station)
Staircase Ranger Station
ONP Wilderness Permits Information
More information about Wilderness Information Centers here
Getting Around: Mileage Chart for the Olympic National Park
Other links you may like:

Have You Been To Any Of The Olympic National Park
Visitor and Info Centers?
Tell Us About It and Share Your Photos!
Have you been to any of the Visitor and Information Centers Olympic National Park? How was your experience? Do you have a great story or an interesting experience to share? We'd love to hear about it! Feel free to share it in the form below. Be as wordy and as descriptive as you like. Include photos as well, if you have them; there is plenty of room for it all on our website.

Just click into the title box below and go from there. When published, you'll have "your own" page on MyPortAngeles which you can share with friends or anyone who asks!

We're happy to ensure professional and amateur photographers get credit for their work. Leave us your name in the form below, and means of contact, website, or FB page info so we can link back to you.