Hoodsport Washington
Hoodsport Washington is one of a few small population centers along the Hood Canal in Washington State.

Located toward the southwestern end of of the Hood Canal, Hoodsport curves around the waterfront with quaint buildings accenting the blue water.
Cities Near Hoodsport Washington
Hood Canal and the Hoodsport pier
Port Angeles WA is 83.2 miles (134 km) northwest of Hoodsport, WA, or approximately 1 hour 43 minutes by car.
But, if Port Angeles is not your starting point, then...

Brinnon WA is 24.3 miles (39.1 km), or approximately 30 minutes away
Port Townsend WA is 61.5 miles (99 km), or approx. 1 hour 19 minutes away
Sequim WA is 67.3 miles (108.3 km), or approximately 1 hour 22 minutes away
Aberdeen WA is 60 miles (96.6 km) or approximately 1 hour 11 minutes away
Seattle WA is 96 miles (154.5 km) or approximately 1 hour 40 minutes away by car (no ferry needed)
---
Check Today's Hoodsport Washington Weather
HOODSPORT WEATHER IN F
HOODSPORT WEATHER IN C
---
Hoodsport Washington Activities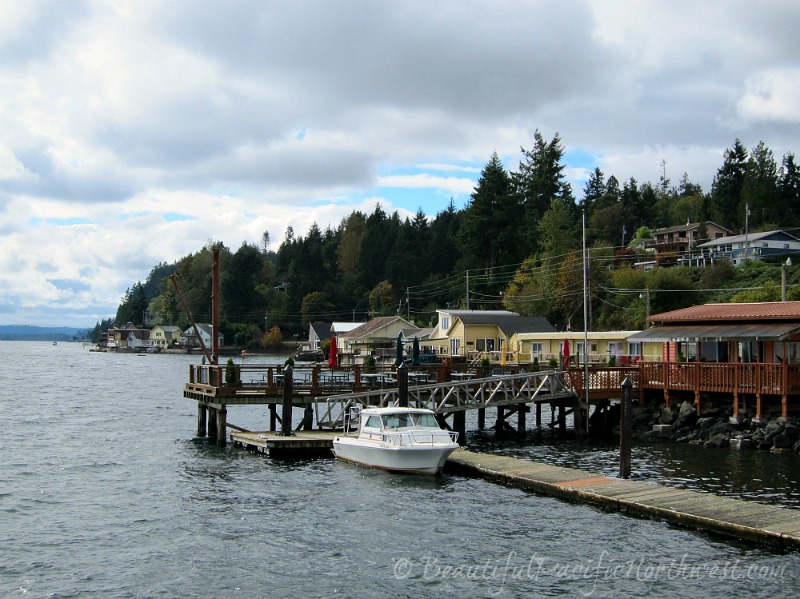 Hoodsport WA as seen from the Hood Canal
Scuba Diving in Hood Canal

Along Highway 101 with its normally steep slopes, this particular stretch of land eases its way into the water, making for easy access to scuba divers exploring the Hood Canal amongst anemones, wolf eels, octopus, starfish, clams, shrimp and crabs.
Sund Rock Conservation Area is considered a diver's Mecca for all sorts of sea life and is just a short drive north of Hoodsport. For additional excellent dive locations and information ask the folks at Hoodsport 'N Dive Shop on the Highway in town, or consult their website: https://www.hoodsportndive.com/
Recreation at Nearby Lake Cushman

Drive about 5 miles east on State Route 119, to Lake Cushman for fresh water boating and fishing. While you're at it, enjoy hiking, camping and swimming. 
Staircase Ranger Station and Hiking Trails
You can also drive farther inland to the Staircase Ranger Station. Park your car, find the trailhead, and then hike the Staircase Rapids Trail, 1.9 nearly level miles round trip amidst beautiful scenery along the north fork of the Skokomish River. Or, if you're ambitious, you can amplify the hike to 4.0 miles roundtrip. (Not as level!) This link provides additional detail: https://www.wta.org/go-hiking/hikes/staircase
Hoodsport Winery

The Hoodsport Winery, established in 1978 and located at the south end of town, is a great spot for wine tasting with a view of the Hood Canal and Olympic Mountains. Soak in the majesty while enjoying their award winning wines, coffee, chocolate wine truffles, jams and more. For special deals and more info, see their website: http://www.hoodsport.com/ or phone: +1-800-580-9894.
Hoodsport Festivals
Shrimpfest in May and Celebrate Hoodsport over July 4th, are just two of the many events happening throughout the year in Hoodsport and the surrounding areas. Swimming, waterfront walks, wine tasting, and dining on local seafood are all favorite things to do.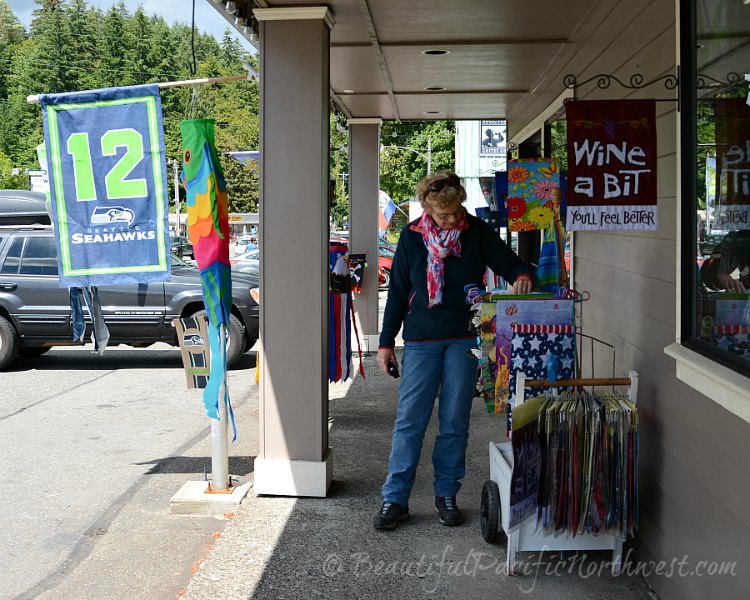 Lots of opportunity to shop for souvenirs in Hoodsport WA
Relax and Enjoy the Area

No matter when your plans bring you through Hoodsport, you can always stop in town, inhale deeply of the briny air, stroll the sidewalks, or browse in the shops. Grab some coffee, a snack, or an ice cream cone. Walk down to the water or out on the pier, or just rest awhile and unwind from the many miles already traveled.
Visitor Information Center

Just a few blocks from Hwy 101 is the Hoodsport Information Center, where you can gather many more details about the area and the options for recreation, food and lodging.
Address: 150 N. Lake Cushman Road, Hoodsport, WA 98548
Phone: +1-360-877-2021
Hours: Every day, 9a-4p
---
Dining in Hoodsport Washington
There are enough places to snag some grub in or near the village of Hoodsport that you may actually get to do some serious choosing.

Hoodsport Coffee Company
Grab a coffee, sandwich and scoops of ice cream at the Hoodsport Coffee Company

Address: 24240 US Hwy 101, Hoodsport, WA 98548
Phone: +1-360-877-6732
Hours: Every day, 5:30a - 9p
Tripadvisor Reviews of Hoodsport Coffee Co in Hoodsport WA

If you're hankering for raw or ultra-fresh seafood such as oysters or clams, you'll find the perfect ticket 11 miles north at the Oyster Bar, an offering of the Hama Hama Oyster Company. See Hood Canal WA. 

Otherwise, enjoy the good cooking at any of the following eateries:

The Tides
The Tides

Address: 27061 US-101, Hoodsport, WA 98548
Phone: +1-360-877-8921
Hours: Every day, 7a-3p
Facebook: The Tides

Tripadvisor Reviews of The Tides in Hoodsport WA

Burger Stand
Burger Stand
Address: 24311 US-101, Hoodsport, WA 98548
Phone: +1-360-877-6122
Hours: Every day, 11a-7p
Facebook: Burger Stand
Reviews of Burger Stand in Hoodsport WA
Model T Pub & Eatery
Model T Pub & Eatery

Address: 24281 N US Highway 101, Hoodsport, Washington 98548
Phone: +1-360-877-9883
Hours: Every day, 11a-11pm (till midnight on Fri and Sat)
Facebook: Model T Pub n Eatery
Tripadvisor Reviews of Model T Pub and Eatery in Hoodsport WA
El Puerto de Angeles
El Puerto de Angeles - On the waterfront, Mexican fast food with a fabulous view.
Address: 24080 US-101, Hoodsport, WA 98548
Phone: +1-360-877-5920
Hours: Every day, 11a-9:30pm
Facebook: El Puerto de Angeles

Tripadvisor Reviews of El Puerto de Angeles in Hoodsport WA
---
Lodging Within a 10-mile Radius of Hoodsport
---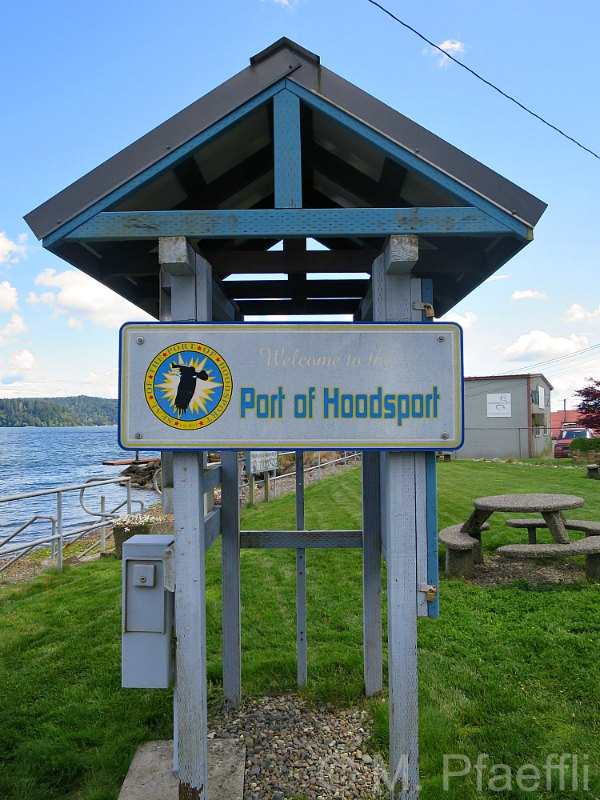 Not many choices for lodging in Hoodsport proper when you're not just passin' through. Glen Ayr Resort is in Hoodsport; the next two lodging options are 10 miles to the south in Union WA.
Glen Ayr Resort

Address: 25381 N. Hwy 101, Hoodsport, WA 98548
Phone: +1-360-877-9522
Website: glenayr.com/
Tripadvisor Reviews of Glen Ayr Resort in Hoodsport WA; 4.5*
Situated on the water, this resort offers motel lodging/suites and RV sites, a deep water dock w/moorage for 10 vessels, fishing, crabbing, diving, hot tub, guest laundry area, clubhouse, picnic areas. Rates are around $100/night for motel rooms; check website for rates for RV/Boats/1 or 2 bdrm Suites.
Robin Hood Village Resort

Address: 6780 State Route 106, Union, WA 98592
Phone: +1-360-898-2163
Website: www.robinhoodvillageresort.com/
Tripadvisor Reviews of Robin Hood Village Resort in Union WA; 4.5*, Certificate of Excellence
Historic resort built in 1934. A collection of unique and charming cottages, some on the water, some with hot tubs, some with full kitchens some with kitchenettes. Restaurant/pub on site, walking distance to additional restaurants. Rates are between $140-$340/night.
Alderbrook Resort and Spa

Address: 10 E. Alderbrook Ave., Union, WA 98592
Phone: +1-360-898-2200
Website: https://www.alderbrookresort.com/
Tripadvisor Reviews of Alderbrook Resort Spa in Union WA; 4.5*, Certificate of Excellence    
Located in Union, WA, open since 1913, and probably the most historic and iconic of resorts on the Hood Canal. The complete opposite of camping with elegantly appointed hotel rooms, 1 & 2 bedroom cottages and classic Pacific Northwest grounds. Alderbrook Resort offers a variety of workshops for the artist or writer, an x-box game room, and bookings for special event cruises aboard the Lady Alderbrook. Dining offers a creative menu featuring local produce, seafood, cheese and wine.
Camping

Also consider camping (including RVs) at Lake Cushman. If not at the lake, then at Skokomish Park or at the Staircase Campground in the Olympic National Park. Note that during the summer, camping spots fill up fast at all locations.
http://www.campgroundreviews.com/regions/washington/hoodsport


---
Hoodsport Washington History
Hoodsport was first settled by Captain G.K. Robbins, who hauled lumber along the Hood Canal, and who also started the Hama Hama Oyster Company, now run by his descendants. At that time Hoodsport depended mostly on farming and logging, though in the late 1800s, mining also played a part with the manganese mines near Lake Cushman and copper being located nearby. Mining eventually proved unprofitable and faded away in the early 20th century.

The area's greatest assets now include bounty from the sea such as oysters and clams, and the many outdoor activities enhanced by the sheer beauty of the surrounding forests, lakes, and rivers.
---
More Photos of Hoodsport Washington
Weathered pier pilings are all that remain of a long-ago fishing industry in the Hood Canal near Hoodsport Washington
---