Port Angeles Washington
Port Angeles Washington – gateway for visits and vacations on the Olympic Peninsula, and from the location of Port Angeles, the main connecting point to and from Victoria, BC, Canada.
If you're going to, or coming from, the north Olympic Peninsula, you'll likely stay in, stop at, or pass through Port Angeles.

Why Visitors Enjoy Port Angeles WA
Laurel Street, in Port Angeles Washington, ends at the ferry terminal. The Coho Ferry has just left the Port Angeles dock headed to Victoria BC.
Port Angeles Washington has lots to offer visitors and vacationers:
Port Angeles is surrounded with Nature's glorious beauty, which is inescapable throughout the Olympic Peninsula. What an opportunity to fill your senses, and your digital camera, with permanent memories.


Port Angeles is a main hub for dozens of nearby destinations, activities, and recreation opportunities. Using Port Angeles as your vacation 'home base' can maximize the fun you will experience during your vacation, and My Port Angeles will link you to everything.


Depending on the timing of your visit, you might also take in a Port Angeles Philharmonic concert, a Theater play, or one of several annual local festivals.


---
Directions to Port Angeles WA
WA State Highway 101 runs through Port Angeles, which can be reached from the east, west and south. See Washington State Transportation.

From Seattle WA take the ferry to Bainbridge Island. Follow Hwy 305 through Poulsbo. Take Hwy 3 north to the Hood Canal Bridge. Turn left and cross the Hood Canal on the Hood Canal Bridge, which is also Hwy 104. Continue west on Hwy 104, which will end by merging with Hwy 101. Follow Hwy 101 north and west. ETA once you pass Fat Smitty's at Discovery Bay (at the junction of Hwy 20 to Port Townsend) is just 50 minutes.
From Edmonds WA and north: Depending on your location in the greater Seattle area or north of it, the Edmonds-to-Kingston ferry is a convenient alternative to the downtown Seattle ferry to Bainbridge Island. Exiting the Kingston ferry puts you directly on Hwy 104. Take 104 west. Hwy 104 will take you over the Hood Canal and onto to Hwy 101, which will bring you all the way to Port Angeles.
The Coupeville to Port Townsend ferry is also an easy route, especially if you're coming from Bellingham WA and the surrounding towns. Secure a reservation on this ferry ahead of time (the other ferries mentioned do not require a reservation). See Washington State Ferries.
From Astoria Oregon or parts south: Take the Astoria Megler Bridge across the Columbia River and turn left (west) on Hwy 101. Follow Hwy 101 north and east into Port Angeles.
From the I-5 (if you're south of Olympia WA):
Option 1: Head north. At Olympia, take exit 103, which is the Hwy 101 exit, and follow it all the way to Port Angeles. This is a rural drive along the Hood Canal. If you like "scenic," take this route. If you need to conquer the road, opt for the route below. 


Option 2: Head north. At Tacoma, take Hwy 16 west. Cross the Tacoma Narrows Bridge. (This is a toll bridge, however northbound traffic is free.) Hwy 16 will eventually turn into Hwy 3, which will end at the Hood Canal Bridge. Turn left and cross the Hood Canal Bridge, following the Hwy 104 signs, and continue as per the directions from Seattle above. Estimated time of arrival to Port Angeles from the Hood Canal Bridge is 1.0 hour.
Check Seattle Weather before Flying into Seattle-Tacoma International Airport.


Get active in Port Angeles Washington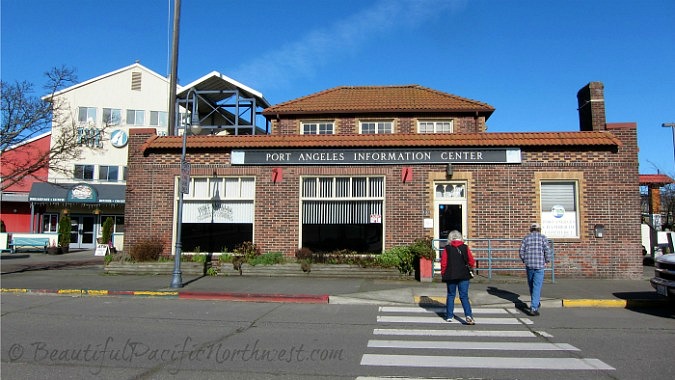 The Port Angeles Information Center is located on Railroad Street just to the east of the ferry terminal.
Port Angeles Information Center
121 East Railroad Avenue (cross street is Lincoln Street), Port Angeles, WA 98362.
Phone: 1+360-452-2363.
The Information Center is sponsored by the Port Angeles Chamber of Commerce. Stop in and ask questions if you're still unsure exactly how you wish your time in Port Angeles and the Olympic Peninsula to unfold. The good folks there are a wealth of information.

We've listed many other Port Angeles attractions here.
Towns, Villages, and Attractions Near Port Angeles Washington
In an area so rich in natural beauty, the recommendations for tourism abound not only in Port Angeles but additionally in areas surrounding the Port Angeles area. 
To the East of Port Angeles:
To the South of Port Angeles: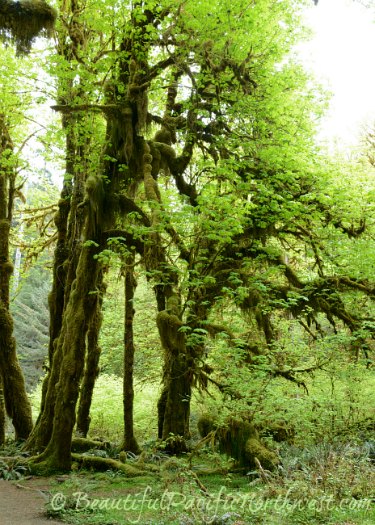 A day-trip to the Hoh Rainforest is not likely to be regretted!
Visit the Olympic National Park, to the south of Port Angeles:
Olympic National Park Visitor Center is in Port Angeles Washington
Must-See: This enormous and remarkable National Park offers experiences for all tastes, including dramatic beaches, herds of Roosevelt elk, and the rare temperate rain forest biome. 
The Olympic NP's Hurricane Ridge is almost due south of Port Angeles in the Olympic Mountains, at an altitude of 5,242 feet (1,598 meters). Hurricane Ridge offers a

Visitor Center

, wildlife including deer, grouse, and the unique Olympic marmot, 360-degree views, and hiking trails for all ages and capabilities.

To the south of the Olympic National Park at the southwestern corner of the Olympic Peninsula is Grays Harbor and the following towns. This is as far afield from Port Angeles Washington as this website will reach: 
To the West of Port Angeles:

Visit one or all of the Olympic National Park attractions that are west of Port Angeles Washington and/or on the Pacific Coast:

Visit Clallam County's West End, the villages along Hwy 112 west of Port Angeles, and those inland near the rain forests. So beautiful!
To the North of Port Angeles:

A day trip to Victoria BC in Canada is one of our very favorite day trips. The Coho Ferry carries passengers and vehicles between Port Angeles WA and the inner harbour of Victoria BC. A one-way trip takes 90 minutes on a usually smooth sail.
Click here for Coho Ferry details and schedule.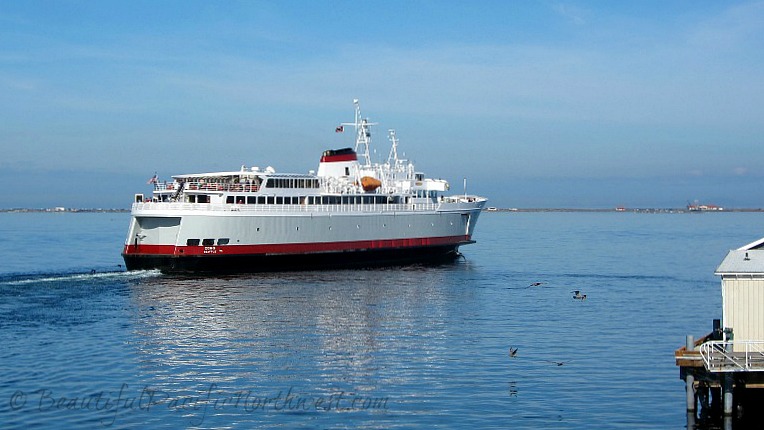 Coho Ferry leaving Port Angeles WA, heading to Victoria BC.
Arrive mid-morning in Victoria, spend a half-day exploring and enjoying, and then catch the last ferry back to Port Angeles Washington.

If you tend to get motion-sick, we suggest stocking up on capsules of ginger herb whether sailing the Coho or the Express. (Ginger is known to have anti-nausea effects. The Coho is usually not too rough, for us anyway, but the Express ferry might be another story! Ginger capsules can save the day by eliminating the nausea without causing drowsiness.)
Impressive views of Mt. Baker from many of the San Juan Islands.
Make it a 2-day side trip! Spend a second day in Victoria at Butchart Gardens, a truly world-class botanical gardens.


Also to the north, the San Juan Islands are just across the Salish Sea from Port Angeles, and a seagull's flight from Victoria or Sidney BC. Whale watching or island-exploring make great excursions during your Port Angeles vacation.
---
Current Port Angeles Washington Weather
PORT ANGELES WEATHER
PORT ANGELES WEATHER
---
Additional Port Angeles Washington Services and Information
City-Sponsored Tourism Website: VisitPortAngeles.com
Port Angeles Newspaper: Peninsula Daily News
Port Angeles Airport: William R. Fairchild International Airport (CLM)
Port Angeles Ferry: MV Coho Ferry, operated by Black Ball Ferry Line
Port Angeles Zip Codes: Mid-town to east Port Angeles - 98362, mid-town to west Port Angeles - 98363 (Forks WA: 98331, Sequim WA: 98382)
Port Angeles Webcams: Glimpse downtown Port Angeles in real time, along with Cedars at Dungeness Golf Course, Hurricane Ridge, and Lake Crescent
Map

Port Angeles History
The indigenous Klallam peoples have lived on the North Olympic Peninsula for millennia. Some historians suggest the Klallam have lived here for over 2,700 years. Their territory stretched from the Hoko River west of the town of Sekiu, to the areas around Discovery Bay east of Port Angeles Washington. 
Two native villages are important to the history of the indigenous Klallam people. Tse-whit-zen was located at the base of Ediz Hook to the west of Port Angeles Harbor, while the village of I'e'nis was situated east of the harbor at the mouth of Ennis Creek, the name Ennis being an Anglicized pronunciation of I'e'nis. 
It is unclear which European explorer actually "discovered" the Strait of Juan de Fuca. Apostolos Valerianos, who also went by the name, Ioannis Phokas, was a Greek mariner in the service of Phillip II, King of Spain. He was widely known by his Spanish-translated name, Juan de Fuca.
De Fuca claimed to have located and sailed at length along what he identified as the "Strait of Anian" in 1592. This Strait was thought to be part of a Northwest Passage, and was located between the 47th and 48th latitudes.
The reports of his travels were not generally believed until 1787, when the English Captain Charles Barkley, commanding the Austrian East India Company ship Imperial Eagle, found the Strait right where de Fuca said it was. Barkley, therefore, named the passage after its apparently original discoverer: the Strait of Juan de Fuca. 

Captain Francisco de Eliza of Spain arrived in the Port Angeles region in 1791, and named the sheltered harbor Puerto de Nuestra Señora de los Angeles. A year later in 1792, this mouthful was shortened to the more manageable Puerto de los Angeles, perhaps by the next naval captain to arrive, a British mariner named George Vancouver.
The name Puerto de los Angeles was later scrapped in favor of "False Dungeness," comparing Ediz Hook to the Dungeness Spit. But who wants to live in a town described as "false?" The name "Cherbourg" was subsequently tried on for size. The connection to the town of the same name in France apparently didn't click strongly enough with most.
Settlers began arriving in greater numbers in the 1850's. In June of 1862, the townsfolk agreed to call the town by an anglicized form of its original name: Port Angeles. This has been its official name ever since.
Find many additional details of Port Angeles Washington history in the book, Beautiful Olympic Peninsula Travel Guide, page 111. 


Share Your Own Story or Photos about Port Angeles!
Do you have a great story or exceptional photos about your experiences in Port Angeles? Share it here!
(We're happy to ensure professional and amateur photographers get credit for their work - leave us your name and means of contact or website or FB page info.)