Clallam Bay Washington

Clallam Bay Washington. Info on attractions, lodging and restaurants in Clallam Bay, plus photos, and links to its sister city Sekiu across the bay.
The towns of Clallam Bay and Sekiu are located on the Strait of Juan de Fuca in the west end of Clallam County WA, where they straddle the crescent of sand and water known as Clallam Bay. They are accessible either by water, or via Highway 112, which connects them to Port Angeles WA in the east and Neah Bay in the west.


Port Angeles is 50 miles (80.47 km) east of Clallam Bay. The drive will take approximately 1 hour 7 minutes. But, if your starting point is not Port Angeles, then:
About Clallam Bay Washington
Per CensusReporter.org, Clallam Bay Washington population is currently estimated to be 366 (2017). (It was 363 in the 2010 Census.) 


The town occupies 0.6 square miles, with a population density of 647 people per square mile. 


Clallam Bay is considered to be twin towns with Sekiu which sits across the bay in view of the town of Clallam Bay. The two towns share a Chamber of Commerce. Check the website for fishing information and local fishing derbies and contests.
Clallam Bay Washington Visitor Center, serving both Clallam Bay and Sekiu WA.
Clallam Bay Visitor Center, 16753 WA-112, Clallam Bay, WA 98326
Phone: +1-360-963-2339. Website: Clallam Bay Visitors Center


Highway 112 will take you right past the area's Visitor Center (pictured). Look for it in "downtown" Clallam Bay Washington where the road bends sharply. 



The area receives an average rainfall of 95 inches per year. July and August tend to be much drier than the rest of the year, with less than 8 inches falling during the 3 months of summer. Winter, spring, and autumn rainfall ranges on average from 23.79 inches to 37.95 inches per 3 months. (That's a LOT of rain....)


Average temperatures in Clallam Bay range from 41 degrees F in December to 58 degrees F in August. Being right on the water, the weather CAN be chilly throughout the summer, although maximum temperatures can certainly reach into the low 80's for a few days in July.


The area is at least partially dependent on tourism. Logging and fishing contribute to local industry. Clallam Bay is the location of a county prison.


Check Today's Clallam Bay Weather
CLALLAM BAY WEATHER
CLALLAM BAY WEATHER
---
North edge of Clallam Bay, with the town of Clallam Bay partially visible.
Things to Do in Clallam Bay Washington
Fishing is a popular pastime in this area!
Head west on Hwy 112 toward Sekiu, just 2.3 miles west of Clallam Bay Washington, and check in with Excel Fishing Charters or Sekiu Charters.
Excel Fishing Charters, 1562 WA-112, Sekiu, WA 98381
+1-360-805-1729
Website: excelfishingcharters.com
Sekiu Fishing Charters, 444 Front Street, Sekiu, WA 98381
+1-360-640-4857
Website: www.sekiucharters.com
Fish for halibut, salmon, bottom-fish and more, out of Sekiu or even Neah Bay. The skippers have many years experience, can take up to six anglers, and provide all the gear.


Hiking, kayaking, whale watching, beachcombing and tidepool exploring!
2 miles of Clallam Bay shoreline are open for the outdoor and water activities of your choice.

Clallam Bay State Park: http://www.clallam.net/Parks/clallambayspit.html
Public access to Clallam Bay State Park is located at the sharp bend to the west in Hwy 112 near Sunsets West Coop. At the bend, bear right, not on Frontier Road, but turn into the driveway immediately following Frontier. You'll see a sign guiding you to the Public Access area.

You'll find a large sandy spit adjacent to Clallam Bay, a path and a bridge to the spit, and acres of space in which to beach-comb, watch for birds or whales, enjoy a picnic, and more.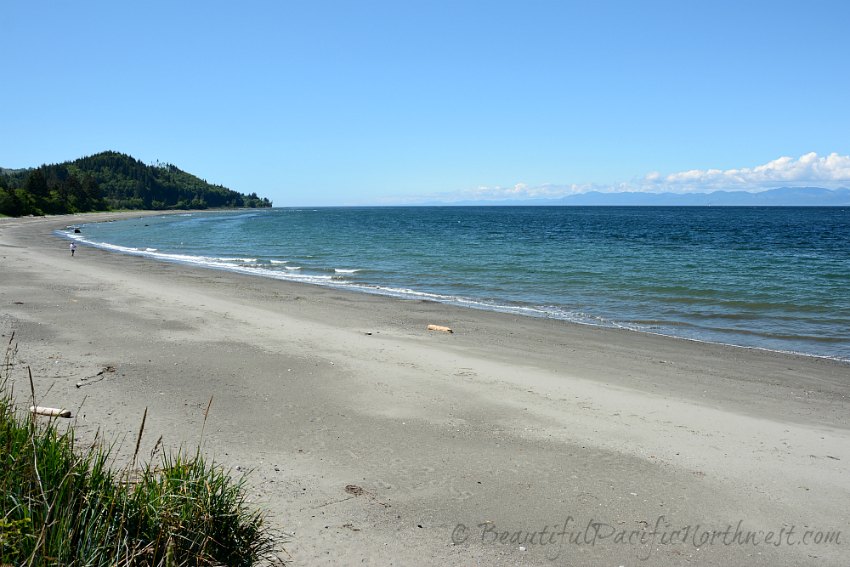 Long sandy beach next to Highway 112 not far from Clallam Bay and Sekiu WA. The land visible in the distance is Vancouver Island in Canada.

The Whale Trail
Whale Trail: Website: TheWhaleTrail.org
The Whale Trail passes near Clallam Bay. You could visit any of these nearby Whale Trail points:
Cape Flattery in Neah Bay
Shipwreck Point west of Sekiu
Sekiu Overlook in Sekiu WA
Salt Creek Recreation Area in Joyce. 
At each of these points is a large placard indicating details about the whales you are more likely to see in the area. Perhaps as you view and hike the areas of your choice, you'll also catch sight of these mammoth mammals, whether orca whales, humpback, or other species of whale and other marine life such as bald eagles, otters, seals. (You'll no doubt see a seagull or 10!)
Shipwreck Point: Located just a few miles west of Sekiu at mile post 6, this 472 acre State Natural Resource Conservation park is secluded with three miles of tidepools, coves and views of sea stacks and old growth coastal forest rimming the water. Shipwreck Point is open sunrise to sunset, and offers a Whale Trail placard. Olympic National Park visitor's pass not needed. Several small pull-outs have access to the beach.

---
Restaurants in Clallam Bay Washington
Sunsets West Co-op

16795 Highway 112, Clallam Bay, WA 98326
+1-360-963-2189
Website: SunsetsWestCoop.weebly.com/
Tripadvisor Reviews of Sunsets West Co-op in Clallam Bay WA
Sunset's West Co-op offers a local selection of natural, whole foods, hot foods, and grocery, plus local crafts and art. They are open every day, 10 am - 7 pm, and are friendly and nice on a regular basis, I'm told.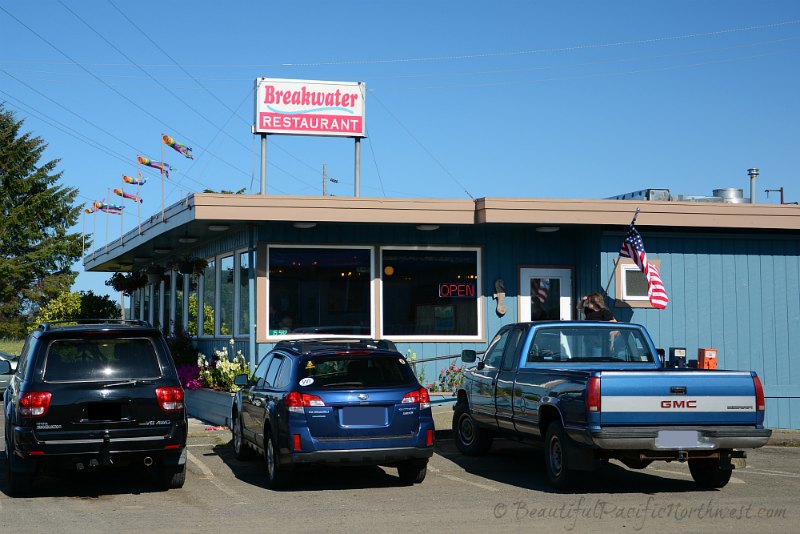 Breakwater Restaurant in Clallam Bay Washington.
Breakwater Restaurant

15582 Highway 112, Clallam Bay, WA 98326
+1-360-963-2428
Hours: Sun-Mon & Wed-Thur: 8am-9pm; Tues 11am - 9pm; Fri-Sat: 8am-10pm
Tripadvisor Reviews of Breakwater Restaurant at Clallam Bay WA
American food, breakfast, lunch, dinner; sandwiches, burgers, steaks, seafood, salad. Breakwater Restaurant is right on Highway 112 and a stone's throw from the water's edge, resulting in great views as you dine.
Coffee Kiosk
---
Lodging in Clallam Bay Washington
Bay Motel
Bay Motel

15562 Highway 112, Sekiu, WA 98381
360-963-2444
www.sekiubaymotel.com
Tripadvisor Reviews of Bay Motel in Sekiu WA

The address is Sekiu, but the location is Clallam Bay. Basic motel rooms, rustic feel, some rooms with kitchenettes. Free wi-fi, non-smoking, no pets. Bay Motel is located across the parking lot from Breakwater Restaurant, close to the water, and with easy access to Highway 112.

Call for information on rates.
Winter Summer Inn B&B

16651 Highway 112, Clallam Bay, WA 98326
+1-360-963-2264
Website: www.wintersummerinn.com
Tripadvisor Reviews of Winter Summer Inn B & B in Clallam Bay WA
This is a traditional bed and breakfast in a charming home with a view of the Strait of Juan de Fuca. Gourmet breakfast is included. Some rooms have a private bath, others have a half-bath and shared shower. Rates are reasonable.
More Lodging in Nearby Sekiu WA
Mason's Olson Resort, and Chito Beach Resort are all lodging options in nearby Sekiu. Go to Sekiu WA for all the details.
Related pages you may like:

Gallery of Clallam Bay Photos
Along Hwy 112 between Joyce and Clallam Bay....
Wiki on Clallam Bay Washington


Have You Explored Clallam County?
Tell Your Story and Share Your Photos With Us!
Some places have it all - interesting attractions, quaint charm, and natural beauty, abundant wildlife... Whether you're a local or a visitor, do you have a great story or an interesting experience that took place in Clallam County? We'd love to hear about it! Share your story with us, and please include your photos, in the form below. Be as wordy and as descriptive as you like. There is plenty of room for it all on our website.

Just click into the title box below and go from there. When published, you'll have "your own" page on MyPortAngeles which you can share with friends or anyone who asks!

We're happy to ensure professional and amateur photographers get credit for their work. Leave us your name in the form below, and means of contact, website, or FB page info so we can link back to you.