Hood Canal Washington
Hood Canal Washington. Explore this 70-mile long fjord and get tips on food, lodging, and recreation in and around the shores and villages of the Hood Canal.

The 70-mile-long Hood Canal is technically a fjord, one of only two in the lower 48 states.
The roads along either side of the sparkling Canal weave together forest, quaint towns, ideal fishing spots and state parks. Names like Potlatch, Lilliwaup and Hamma Hamma add to the aura of Native mysteries with waterfront, vine-draped, and fairy tale dreams.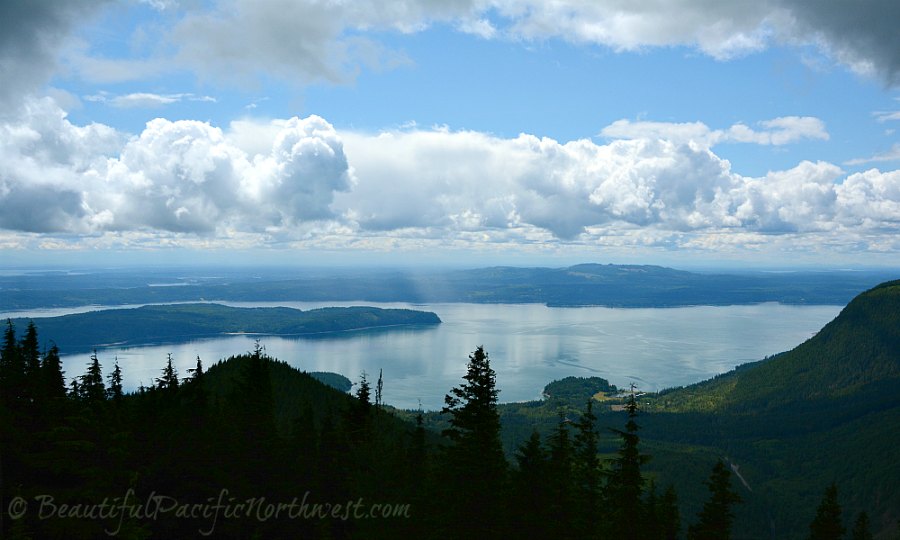 View from the South Viewpoint atop Mt. Walker. The clouds hovered just overhead.
In actual fact, there is enough to do in and around the Canal to satisfy many a dreamer's dream. The Hood Canal's fish-hook shape should be a hint as to what is one of the most popular activities in these waters: salmon fishing, crabbing, clamming and oyster harvesting.
The Hood Canal feels very remote, despite being a part of the Highway 101 Olympic Loop Scenic Drive and being situated about an hour and a half from Seattle. It contains several wonderful staging spots from which to go camping, biking and hiking along the trails that wind throughout the area and up into the Olympic National Park. Kayaking, boating, scuba-diving, fishing and other outdoor sports are abundantly available.

But additionally, you can sample award winning wines and hand-crafted spirits at several wineries and distilleries. Or, graze your way along the highway enjoying everything from pizza, Mexican food, burgers and you guessed it, the most incredibly fresh seafood possible.
And what are food and spirits without a bit of music? Local venues offer everything from blue grass to classical, karaoke and local bar bands, even the occasional superstar headliner.
Cities Near Hood Canal Washington
The Hood Canal is 59 miles (95 km) southeast of Port Angeles Washington, or 1.1 hours away. Port Angeles is also 52 miles (83.6 km) from the Hood Canal Bridge, or approximately 1 hour away.
But, if Port Angeles is not your starting point, then...
Port Townsend WA: 38 miles (approx. 49 minutes) to Brinnon on the Hood Canal, or: 26 miles (approx. 38 minutes) to the Hood Canal Bridge
Sequim WA: 43 miles (approx. 49 minutes) to Brinnon, or: 36 miles (approx. 40 minutes) to the Hood Canal Bridge
Seattle: 96 miles or 154.5 km (approx. 1 hour 40 minutes) to Hoodsport (no ferry needed), the nearest population center on the Olympic Peninsula side of the Hood Canal


Hood Canal Washington - Towns along the East Shore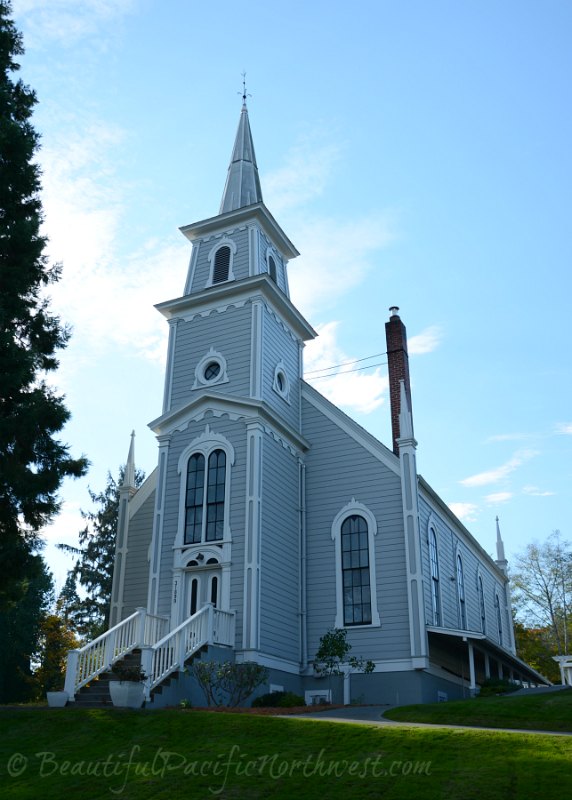 Historic church in Port Gamble
The east shore is less accessible, but these three towns along the east shore may call to you:

Port Gamble
Port Gamble, which sits very near the Hood Canal bridge along Hwy 104,  is a US National Historic Monument District. See also Wiki on Port Gamble. Many of the homes were built as replicas of New England homes and buildings, and have since been tastefully renovated and turned into quaint shops and eateries. Port Gamble boasts less than 1,000 residents, but that doesn't mean they won't take good care of you, with food, lodging, recreation, and fuel.


Seabeck
At Seabeck is an original 1856 Seabeck General Store, and public pier. The nearby Scenic Beach State Park boasts waterfront camp sites and majestic views of the Olympic Mountains.


Belfair
Belfair straddles the Union River, which widens and then becomes the headwaters of the Hood Canal. Among the tiny villages along the Hood Canal, Belfair is the largest, offering multiple options as to food and lodging. Belfair State Park sits on the north side of the Canal's distal hook along Hwy 300. 
From Belfair, take the very scenic East State Road 106 which hugs the southern shore of the Hood Canal before passing through Union and then connecting to Hwy 101 at the Skokomish Indian Reservation.
Hood Canal Washington Along Highway 101
The stretch of Hood Canal Washington along Highway 101 is as delightful as it is scenic. Your first stop along this stretch of Hwy 101 north of the Skokomish Indian Reservation might be Potlatch State Park, a convenient stop for leg-stretching and waterside photo-ops. It's also a great camping spot.

Potlatch
With a creek named No-Name nearby, you'll not be surprised that Potlatch is little more than a hiccup on the highway. Nevertheless, you'll find some good coffee there, and possibly a gift or two.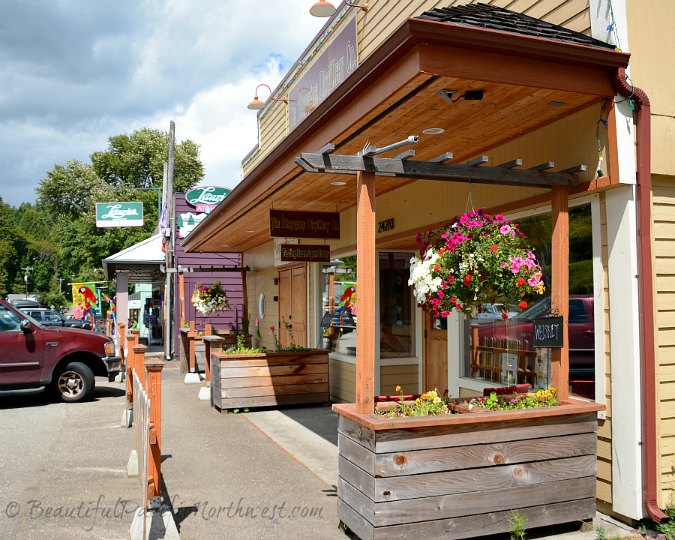 Hoodsport along Hood Canal Washington
Hoodsport
Just north of Potlatch is Hoodsport, offering wine tasting and spirits sampling, scuba diving and all sorts of water sports, though maybe not all at the same time. Browse the shops in cute original buildings.
Lake Cushman is a short drive into the mountains with additional water sport opportunities and camping. Add to your summertime fun by celebrating the Hoodsport Festival with the locals in July and the Hood Canal Salmon Derby in August.
As you continue traveling, keep an eye out between communities for perfect spots to stop along the way and enjoy long views both up and down the Canal.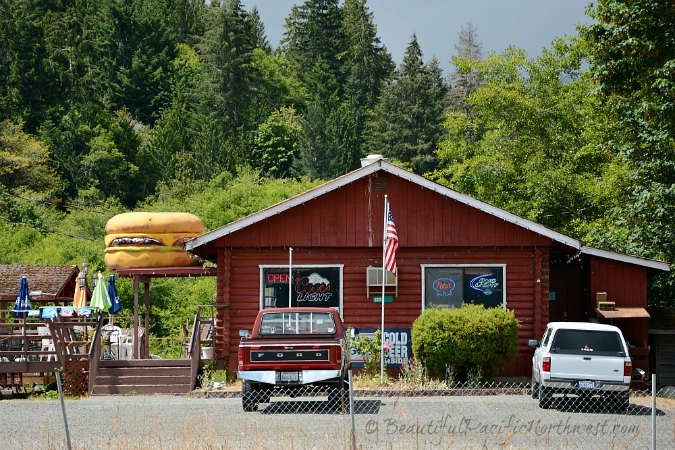 Eagle Creek Saloon
Lilliwaup
The small town of Lilliwaup is basically a post office and a country store. It was almost famous in the 1920s, with reports of movie stars "almost" buying homes there. Nowadays, with the nearby fish hatchery, it's a great place for salmon fishing and, of course, oyster shucking. But more than anything, I just like the name and its quaint, old-west buildings tucked away into the folds of the bay.
The Eagle Creek Saloon is located at Eagle Creek and Hood Canal Washington in the middle of nowhere, north of Lilliwaup and south of Hamma Hamma.
---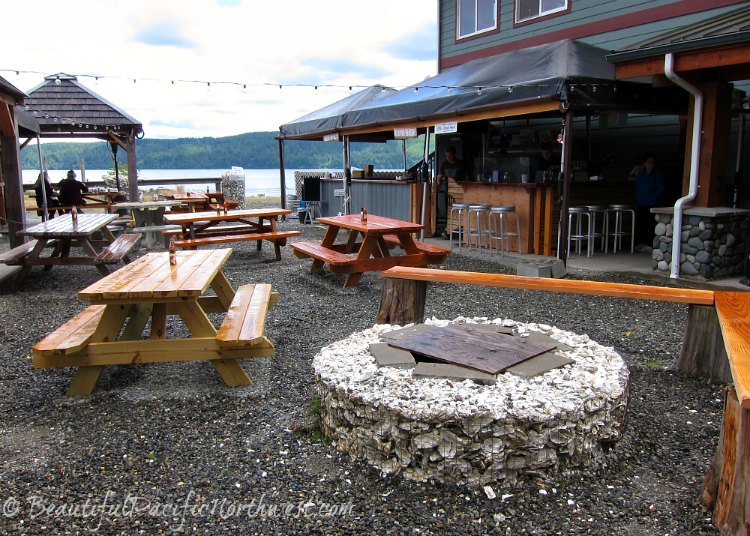 Oyster Saloon offering ultra-fresh seafood caught on-site by Hama Hama Oyster Co. Note the fire pit made of oyster shells in a wire frame.
Hamma Hamma
Stop at the Hama Hama Oyster Shop and Saloon, in Hamma Hamma, near Eldon (south of Brinnon). They've been around since 1922, have a great family story and an unbeatable location. Here's their website for hours and information: https://www.hamahamaoysters.com/
"The first one is on us," said Mitch at the Oyster Saloon, since I had never eaten an oyster in my life, much less a raw one. Gotta say, with a squeeze of lemon...tasty, as far as oysters go, of course. I followed up the first with a half-dozen grilled ones. Really delicious!
---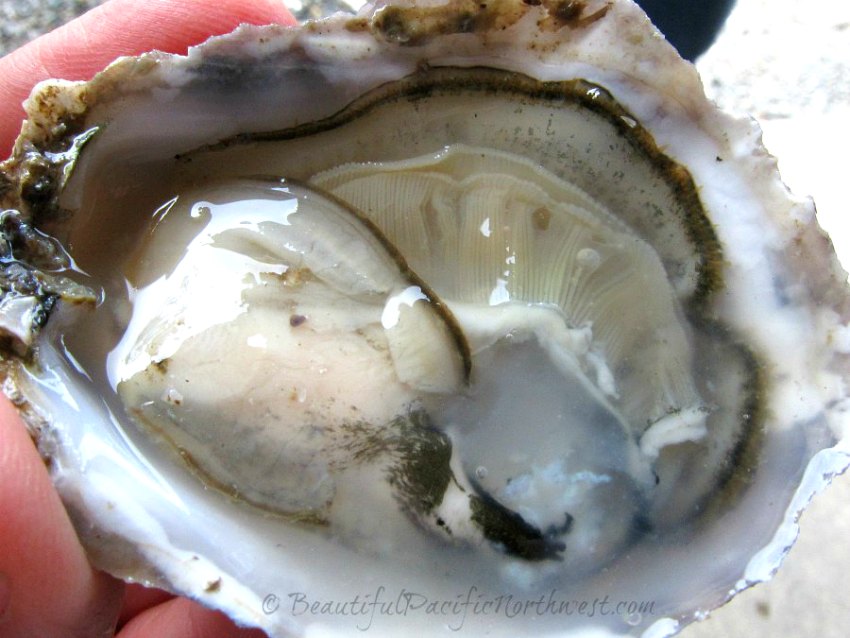 Raw oyster served at the Oyster Saloon in Hamma Hamma.
Eldon
Eldon is nothing more than a name on a map, but a modern gas station and pit-stop store marks the spot on this long stretch of near-empty road. Remember this should you find yourself running low on fuel, water, or snacks.

Brinnon
Near the northwestern end of the Hood Canal, right on the water, lies Brinnon. A springtime visit will reward you with spectacular rhododendrons in full and profuse bloom at Whitney Gardens and Nursery. See WhitneyGardens.com.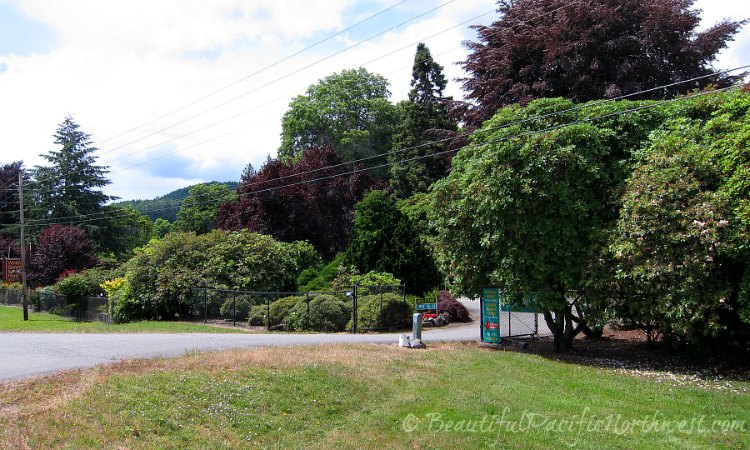 Whitney Nursery in Brinnon WA
While in Brinnon, enjoy a burger with hometown familiarity at the local Geoduck (pronounced "Gooey-Duck") Tavern in Brinnon, along with gorgeous, wide-open water views.

Geoduck Restaurant and Lounge, 307103 US-101, Brinnon WA 98320
+1-360-796-4430 - Facebook.com/thegeoduck/
Hours: 11am - Midnight
---
Nearby Dosewallips State Park, with its combination of saltwater canal and freshwater river frontage, is a beautiful place for camping, hiking and water activities.

Port Ludlow
Technically speaking, according to the map, the Hood Canal ends at Port Ludlow and Port Gamble just beyond the Hood Canal Bridge, where it joins up with Admiralty Inlet and Puget Sound, however some would insist it continues further north. And since you've come this far, you may as well enjoy the adventure and history of nearby Port Townsend.
Hood Canal Washington Lodging
Lodging options along the Hood Canal include a cozy, tucked-into-a-forest feel or wide open views steps from the water. They range from cabins, resort lodges, B&Bs, motels and rugged camping. See Hoodsport or Brinnon pages for more details.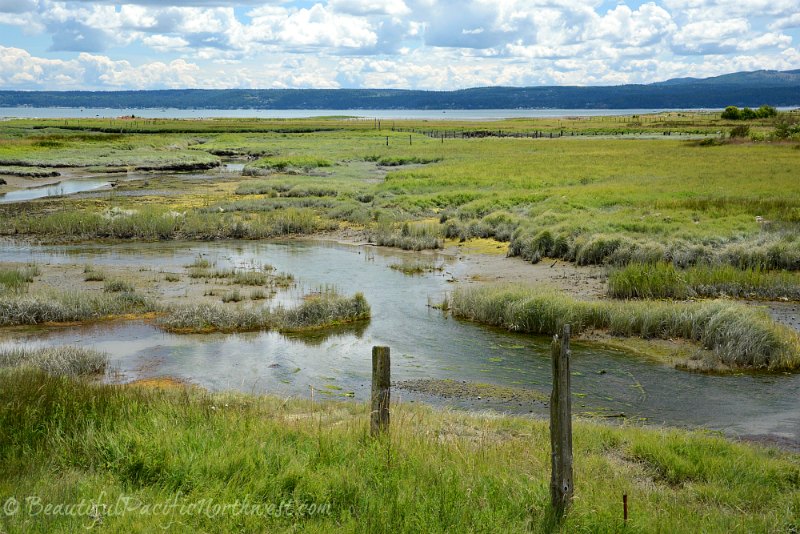 Duckabush estuary at low tide, at Brinnon WA
What Else to Do Near Hood Canal Washington
Either hike or drive to the top of Mount Walker! (Both are possible.) The summit is only 12 miles (19.3 km) from Brinnon, and 55.6 miles (89.5 km) from Port Angeles. On a clear day the gorgeous views include Mount Rainier to the east and the full stretch of the Olympic Mountain Range to the west. See photo below.

For history buffs, check out the Mason County Historical Society in Shelton. Learn how this area was built on timber, shellfish and farming. See their website for details about hours and location: http://www.masoncountyhistoricalsociety.org/

If gaming is your thing and you're feelin' doubly lucky, there are 2 nearby casinos:
Oysters, mussels, clams, crabs and salmon can all be harvested seasonally. For more information about open seasons, see the WA State Department of Fish and Wildlife shellfishing regulations.
For a website dedicated to the Hood Canal: ExploreHoodCanal.com

For RV'ers: www.rvparkreviews.com/regions/washington/hoodsport
There's so much to see and do along the Hood Canal, it's impossible to mention it all. Just come, enjoy, design your own adventures, and discover for yourself.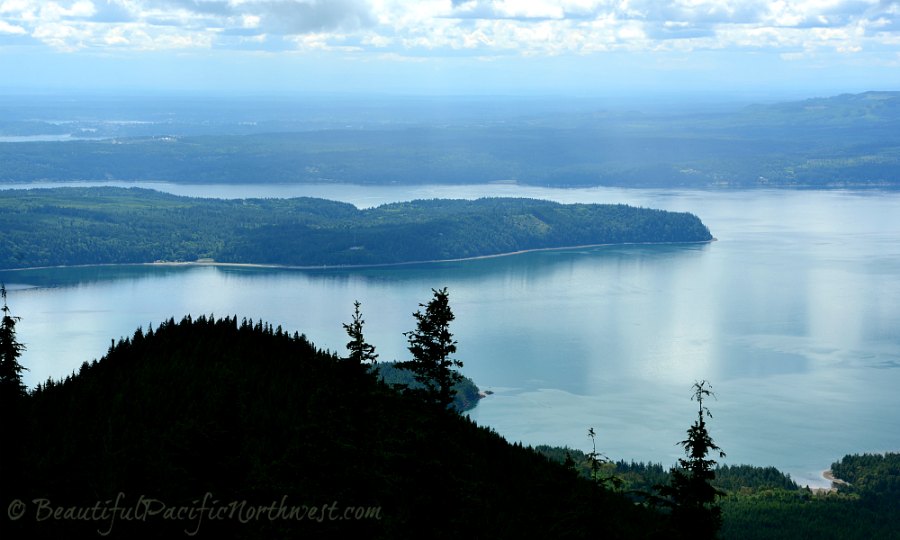 The views of Hood Canal from Mt. Walker are pretty amazing. In the distance one can see parts of the Puget Sound, and if the weather were clear, Mount Rainier larger than life.
More Photos of Hood Canal Washington
What are Your Favorite Attractions In This Lovely Area?
Share Your Stories or Photos About Your Experiences Here!
What are some of the attractions that you have enjoyed here? Do you have a great story, a favorite experience, a special spot, and exceptional photos about what you've seen and done here? Whether you're a local who has lived here for years, or you've come as a visitor to our area, we'd love to hear from you!

Please share your stories and your photos with us here in the form right below. Be as wordy and as descriptive as you like. And please include photos if you have them! There is plenty of room for it all on our website. Just click into the title box below and go from there. When published, you'll have "your own" page on MyPortAngeles which you can share with friends or anyone who asks!

We're happy to ensure professional and amateur photographers get credit for their work. Leave us your name in the form below, and means of contact, website, or FB page info so we can link back to you.