San Juan Islands Washington

San Juan Islands Washington State: Overview of the San Juan Islands archipelago with history, transportation to and from, photos, and island attractions.

Come visit the beautiful San Juan Islands!
Located between Vancouver and Seattle on the northwestern coast of the United States near the Canadian border, the San Juan Islands are comprised of several larger islands with population centers in the thousands of persons, as well as hundreds of small islands and rocks.
The archipelago is located about twenty miles northeast of Port Angeles as the crow flies, and sixty-five miles northwest of Seattle.
As access to the San Juan Islands is limited to boat, ferry or airplane, the travel distances will be considerably longer. Nevertheless, a side trip to any of the San Juan Islands in Washington will be a very pleasant experience.
San Juan Islands Transportation can help you plan your travels.
---
With hundreds of miles of shoreline, more than any other county in the U.S., the beaches of the archipelago provide ample opportunity to explore local wildlife. Hiking, cycling, boating and kayaking are all popular activities on the islands. The area is largely rural with small towns at ferry ports on San Juan Island, Orcas Island, Lopez Island and Shaw Island.

The San Juan Islands do not receive as much rain as Seattle because they are located within the rain shadow of the Olympic mountains. With over 200 days of sunshine per year on average, temperatures on the San Juan Islands reach a comfortable 70 degrees Fahrenheit during the summer and drop to the low 40s during the winter months.
San Juan Islands Washington

The Main Islands in the San Juan Island Archipelago
The Washington State Ferry System services all four of the main San Juan Islands:

In addition to these four islands are possibly thousands of little islands, some of them no more than a rocky outcrop a few feet above high tide, and others big enough to support a State Park or a small airport (or both). These will be accessible only by small plane, private boat, or kayak.
The islands are known for stunning year-round natural beauty and a relaxed atmosphere fostering all sorts of activities. They draw thousands of visitors a year who enjoy the rural culture, the arts, fresh seafood, boating, whale-watching, fishing, historical sites, and golfing, all amidst the backdrop of breathtaking scenery.

Whether you arrive during the popular season between April and September, or the quieter season for a slower-paced schedule, the San Juan Islands Washington have much to offer visitors of every age and interest.
Transportation To and From the San Juan Islands 
---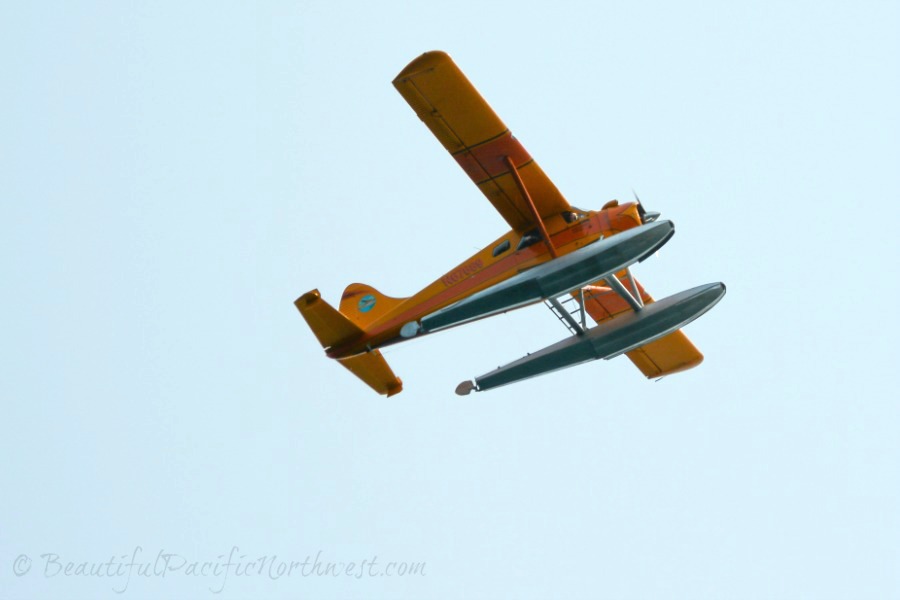 Sea plane servicing the San Juan Islands.
With no bridges to San Juan Islands Washington, all travel to the islands is either by water or air. Whether you arrive by passenger boat, plane, or ferry you're guaranteed a ride with a view.

Get there via Washington State Ferries. The main WSF terminal is at Anacortes, WA, on Fidalgo Island (not part of the San Juan Islands)
Various bus services will pick you up from Sea-Tac International Airport and connect you with the transportation option you have selected
Between May and early October, seasonal passenger-only ferries provide another option, and you may be able to combine passage with whale-watching
A half-dozen airlines regularly service the San Juan Islands, originating in Seattle, Bellingham, Oregon, Victoria BC, and elsewhere.
Car or moped rental and inter-island transportation are available
San Juan Islands Transportation gives you a comprehensive look at all your options.
San Juan Islands WA Attractions and Points of Interest
Orca whale in Canadian waters quickly reached from the San Juan Islands. This hungry orca is actively hunting harbor seals.
The San Juan Islands Washington are a popular vacation spot for families, boaters, art aficionados, foodies, fishermen, and historians.

The San Juans are a prime destination in North America for whale watching. See San Juan Islands Whale Watching.
The islands are also home to the highest concentration of bald eagles in the contiguous United States.
State parks, nature reserves, wildlife sanctuaries, beaches, tide pools and reefs are home to all kinds of wildlife that can be seen while hiking, kayaking or cycling around the islands.
Go to San Juan Islands Vacation Activities for details on the many attractions of San Juan Island Washington, with links to the other islands as well.
Go to Orcas Island Activities for details on the many Orcas Island attractions
History of the San Juan Islands Washington
Prior to European settlement, the San Juan Islands (WA) were inhabited by Native American peoples, including the Songhees, Nooksack, Klallam, Samish and Lummi. The area was colonized by British and Americans by the late 1770s. The Spanish explorer Francisco de Eliza explored and mapped the San Juan Islands Washington in 1791. Within a year, George Vancouver of Britain also explored the area. Charles Wilkes led American explorations in 1841 and named many of the islands for distinguished US naval officers, several of which remain today, such as Shaw, Blakely, and Decatur.
Bald eagle in the San Juan Islands WA
The 1846 Oregon Treaty established that all of Vancouver Island would remain under British control, but failed to specify where the boundary between the U.S. And Canada would be just southeast of Vancouver Island, where the San Juan Islands are located. Both British and American settlers lived and worked on the San Juan Islands Washington and each group claimed the area for their country.

Ten years after the treaty the uncertainty about the border resulted in a commission to try and resolve the issue but the results of discussions were inconclusive.
In 1859, direct conflict between an Irish pig rancher employed by The Hudson's Bay Company and an American potato farmer quickly escalated. After the pig was found eating the farmer's potatoes, the farmer shot it, and the rancher demanded compensation. The farmer refused to pay and British authorities threatened to arrest the farmer, who then called for military protection from the U.S. Insults between British and U.S. Soldiers were exchanged for several days, but fortunately no shots were fired.
Joint military occupation continued for over a decade until the U.S. and Canada agreed to international arbitration when it was decided that the San Juan Islands Washington would become part of the United States.
Today the San Juan Islands are home to many historical sites (eventual link to the SJIW points of interest page) such as San Juan Island's English Camp, The Pig War Museum, Roche Harbor Mausolelum, Port Stanley Schoolhouse, Robert Moran's Rosario Museum and the historic observation tower on Mt. Constitution to name a few. There are also several historical walking tours and living history presentations.
Enjoy a great Visit to the San Juan Islands!
Enjoy your wonderful visit to the San Juan Islands!

And when you do, please feel free to share your favorite photos and stories of your trip. 
Have You Traveled Around the San Juan Islands?
Share Your Travel Stories and Photos Here!
Whether you're a local who has lived here for years, or you've come as a visitor to our area, we'd love to hear from you! Do you have a great story or an interesting experience while in the San Juans? What was your means of transportation? And what about reviews? Did you take any exceptional photos taken during your travels around the San Juan Islands? Please, share your stories and photos with us!

We're happy to ensure professional and amateur photographers get credit for their work. Leave us your name in the form below, and means of contact, website, or FB page info so we can link back to you.