Neah Bay Washington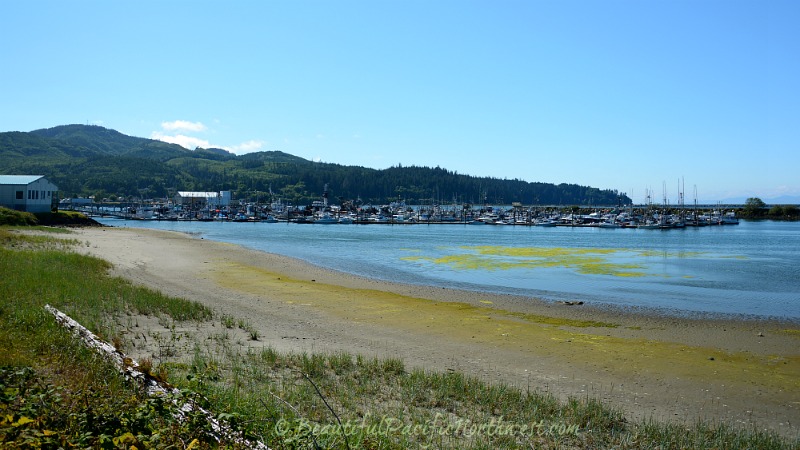 Neah Bay Washington: Info and photos featuring Neah Bay, restaurants, lodging, camping, and things to do including Cape Flattery and Tatoosh Island. Neah Bay itself is the main population hub of the Makah Indian Reservation which includes the entire northwest tip of the Olympic Peninsula. (See Google Map below.)
Because Port Angeles is a scant two hours away, we highly recommend adding a visit to Neah Bay and Cape Flattery during your visit to the Olympic Peninsula. 
Neah Bay is located at the farthest northwestern coastal edge of the state of Washington. Maybe you didn't think about Washington having a north coast? This area of the Olympic Peninsula might be the wildest, most remote location on the Washington State map, sitting on the edge where the Strait of Juan de Fuca meets the Pacific Ocean, and embodying all the beauty of a temperate rain forest. It's a spectacular place.

---
Towns near Neah Bay Washington

Port Angeles is 70.4 miles (km) east of Neah Bay WA, a drive of approx 1 hour 45 minutes. If your starting point isn't Port Angeles, then:

NOTICE:

The Makah Reservation is Closed to Tourism until at least January, 2022
Just as I'm making excited plans to return to Neah Bay and Cape Flattery after a year-long Covid closure, we have learned that the Elders are continuing the closure of the entire Makah Reservation, including Neah Bay, Cape Flattery, and Shi Shi Beach, until January, 2022. The tribe will reevaluate the political climate at that time. We understand, but.... Bummer!
Check the current status here.
We're sorry you won't be able to visit this fabulous area during the 2021 tourist season! But for now, you can at least scroll down and check out the info and photos on this page and on the Cape Flattery page.
<<< Pictured at left: The dramatic cliffs of Cape Flattery with the Pacific Ocean in the background. Cape Flattery is located within the Makah Reservation on the northwest tip of the Olympic Peninsula.
---
Check Today's Neah Bay Weather Forecast
Clicking below will open hourly forecasts for the next 24 hours.

NEAH BAY WEATHER
NEAH BAY WEATHER
Neah Bay Washington Details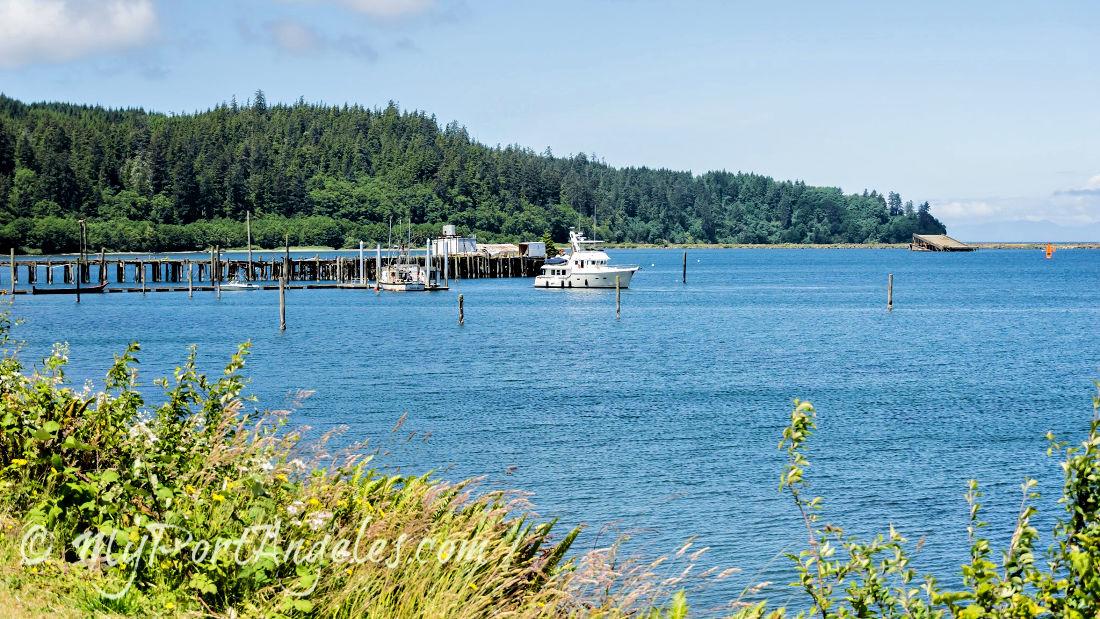 Old pier in the Neah Bay Washington harbor, along with a decidedly newer boat.
Neah Bay Washington population as of 2020 was 1,049. Neah Bay WA is located in the Makah Reservation at the northwest tip of Washington State.
The Makah Reservation Website is: www.makah.com.
The town is named for Chief Di-ah, which is pronounced Nee-ah in the Makah tongue.
Neah Bay Chamber of Commerce represents both tribal and private businesses at the west end of the North Olympic Peninsula. Get a (simple) map of the area here.
Highway 112 takes you right into Neah Bay, turning into the town's main drag, Bay View Avenue.
Fishing and tourism support the local economy.
A visit to the Makah Indian Reservation requires a Recreational Permit, one permit per vehicle, which remains good for the entire year. Cost is US$10.00. Visit as many times as you like for the next 365 days.
The US Coast Guard has a presence in Neah Bay. The Coast Guard also has a cutter named "Neah Bay," which is stationed (of all places) in Cleveland, Ohio (Wiki on Neah Bay)
Average rainfall in Neah Bay is a cool 100 inches per year. Yes, we check the weather forecast before trekking out to the beginning of the world (read Neah Bay), or we come prepared with rain gear.
See the Makah Cultural and Research Center Online Museum for fascinating historical detail.

FYI about marijuana use on the Makah Reservation (including Neah Bay).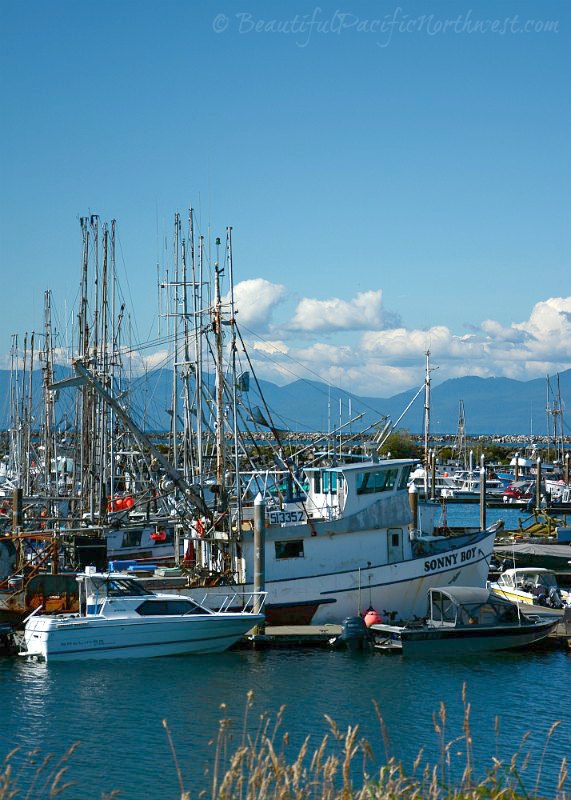 Neah Bay Marina
It may take some effort to get to Neah Bay but it's more than worth the trip.
Blankets of misty fog shroud the tree covered rocky tip where Neah Bay nestles into the cove that protects the Makah Marina. Filled with fishing vessels, encircled with homes and businesses, the Makah Marina is the central point in town, as fishing is an essential activity in this community, with whaling and canoeing being a part of the Makah Nation's tribal identity. 

Dense tree stands cover the land, while sea stacks stand guard amidst the churning waves. Sea birds skim along while orcas and porpoises play in the ocean waters. On a clear day, the view across the Strait of Juan de Fuca to the north reveals Vancouver Island, Canada.

This remote village of Neah Bay is considered "the beginning of the world," according to "the Cape People," the Makah. The Makah people have occupied these parts for longer than anyone can remember. 
---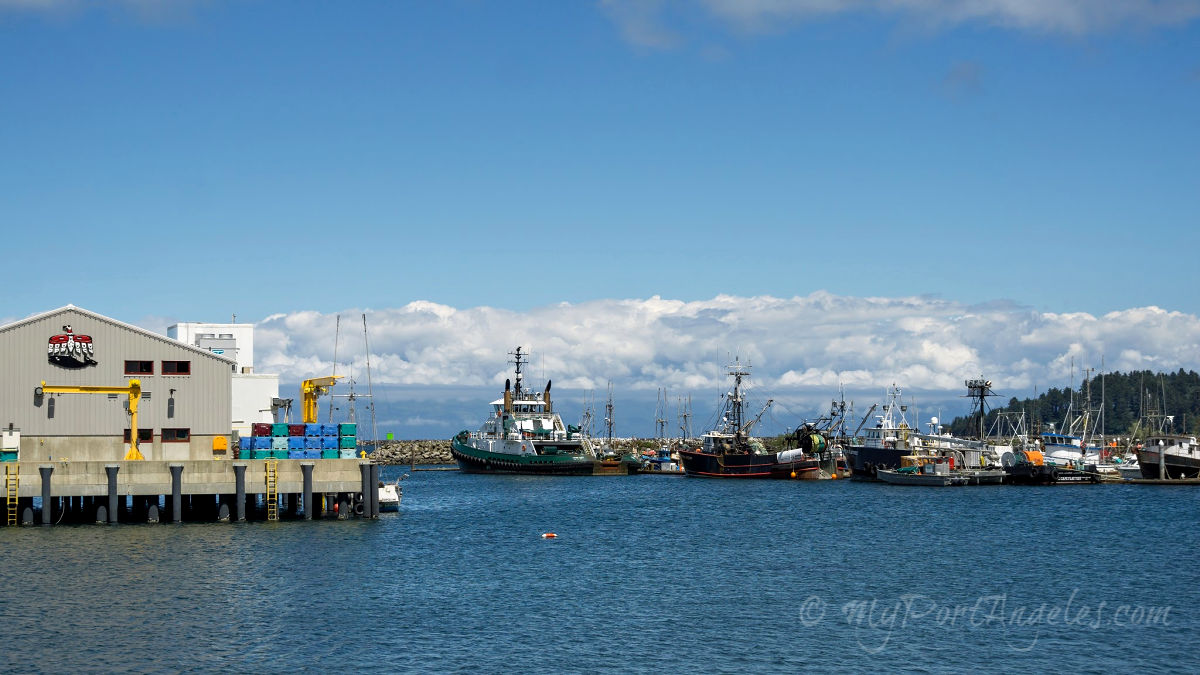 Neah Bay fishery and fishing vessels in the Neah Bay marina.
Neah Bay offers wonderful options for recreation, but dining and lodging choices may be fewer than you are used to...

Things to Do in Neah Bay Washington
Purchase a Makah Recreation Pass ($10) which is required for recreational activities and attractions inside the Makah Indian Reservation. Passes are good for an entire year, and can be obtained at the locations listed here.
Makah Museum and Makah Cultural & Research Center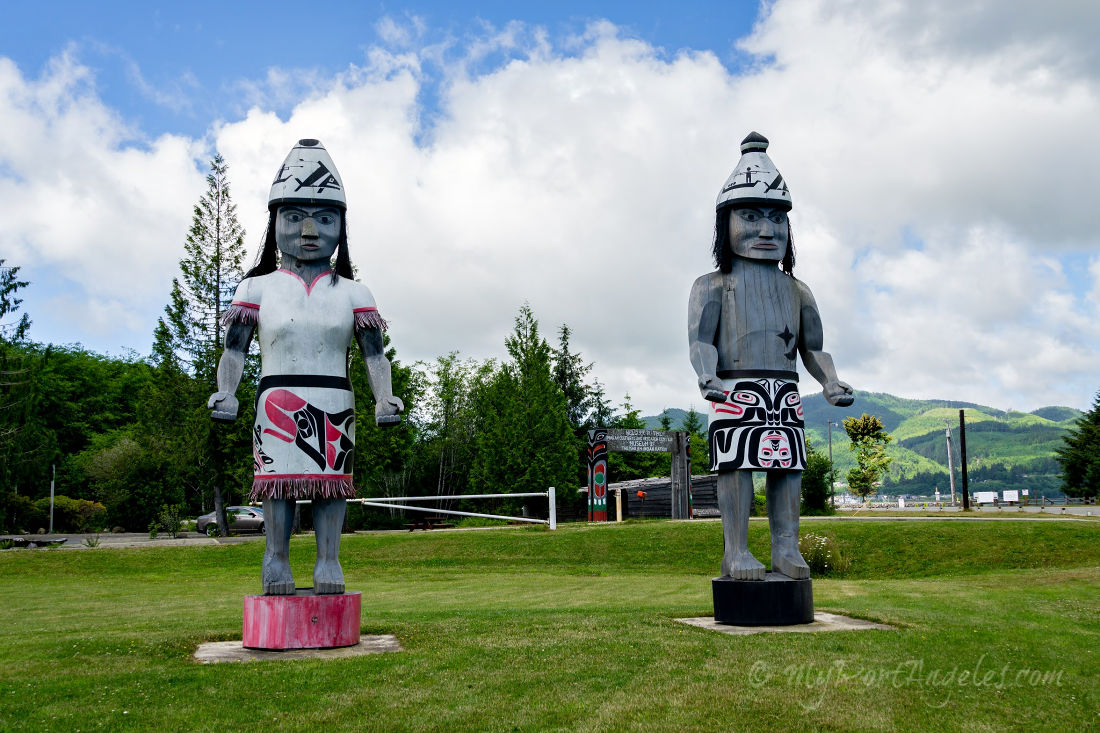 Large statues outside the Makah Museum in Neah Bay Washington
Makah Museum and Makah Cultural and Research Center
1880 Bayview Avenue, Neah Bay, WA 98357
Phone: +1-360-645-2711
Hours: Every day 10 am - 5 pm; closed New Year's Day, Thanksgiving and Christmas and possibly during the worst inclement weather.
Website: MakahMuseum.com
Tripadvisor Reviews of Makah Cultural and Research Center in Neah Bay WA
The Makah Museum is on the left just before you roll into Neah Bay proper. It is a must-see, a world-class museum depicting life in a long house, and other aspects of Makah life in the past, such as hunting, fishing, plying the waters of the Pacific in long canoes. A revolving exhibit includes photos, carvings, clothing and baskets. So many things to see!
The Makah Museum is also home to ancient artifacts dating back 500 years, recovered from an archeological site of a Makah village in Ozette, WA. The ethnobotanical garden has been developed containing many native plants and outdoor exhibits.
Of course, they also offer a wonderful gift shop. 
Entrance Fee: Adults $6.00; Senior Citizens (62 and older), Students and Military $5.00; children 5 and under are free.
---
Makah Days: Neah Bay Washington Festival in Late August
If you plan to visit Neah Bay Washington in late August, consider including Makah Days in your itinerary!
Makah Days is an annual event occurring on the weekend closest to August 26, which is the anniversary of the date the American flag first flew in Neah Bay.
During this festival, tribal members and their returning loved ones, along with any and all guests and visitors, gather to remember the ancient and traditional ways of the Makah people, and to commemorate the anniversary of becoming citizens of the United States. All are welcome, and neighboring tribes from Washington State and Canada join in the festivities. For details follow the link above.

---
Cape Flattery WA
Cape Flattery Trail to the Tip of Cape Flattery WA

Tripadvisor Reviews of Cape Flattery Trail in Neah Bay WA
Yelp Reviews of Cape Flattery in Neah Bay
A Makah Recreation Pass is required to park at the trail head.
Cape Flattery makes my Top Ten Attractions on the Olympic Peninsula List at number 3. The trail winds its way 3/4 mile (1.21 km one way, takes 20 - 30 minutes) through quintessential Pacific Northwest temperate rain forest. The hike is moderately easy, passing through various sections of boardwalk, packed earth (read "puddles") and steps, winding through cedar, fir and fern. 
At the far end, you will have arrived at the westernmost point of the lower 48 states. From an elevated platform, you are rewarded with a panoramic view from southwest to northwest, taking in the Pacific Ocean and Tatoosh Island.

See Cape Flattery WA for much more info and tons of photos of Cape Flattery and Tatoosh Island.
Click on either Cape Flattery photo to go to the Cape Flattery WA Photo Gallery.
---
Shi Shi Beach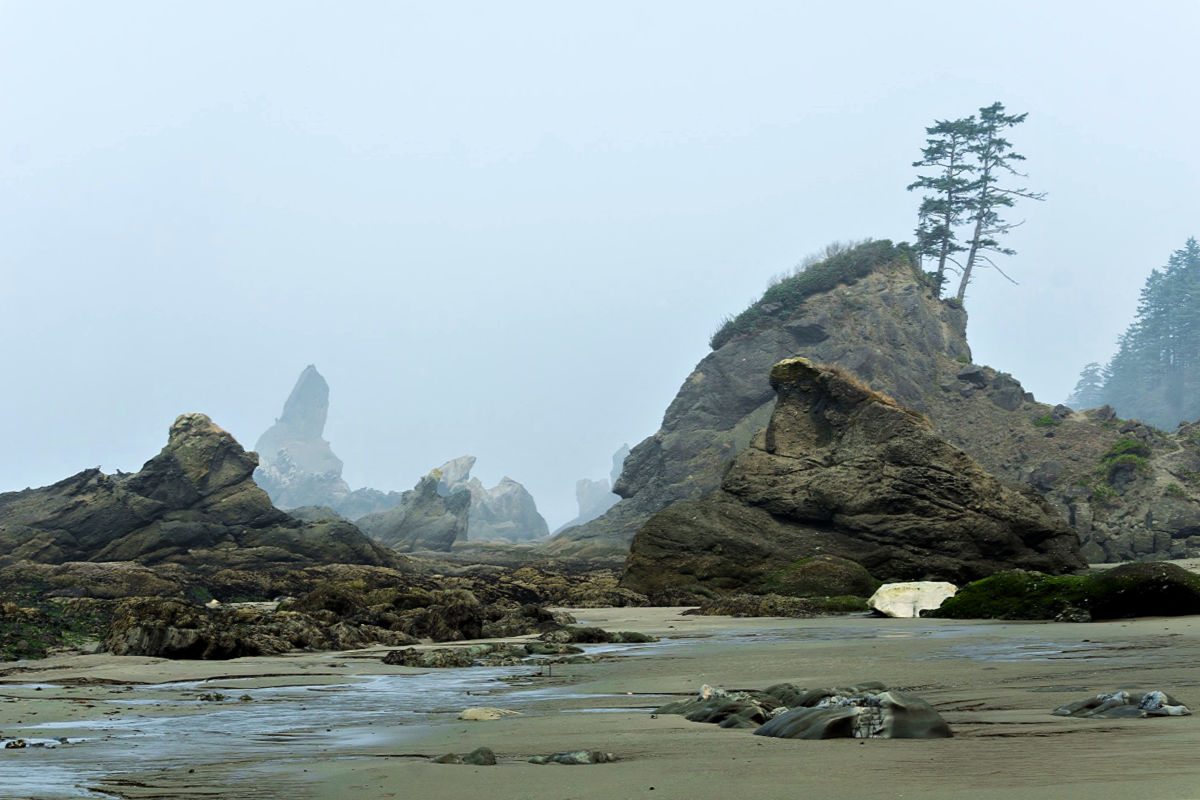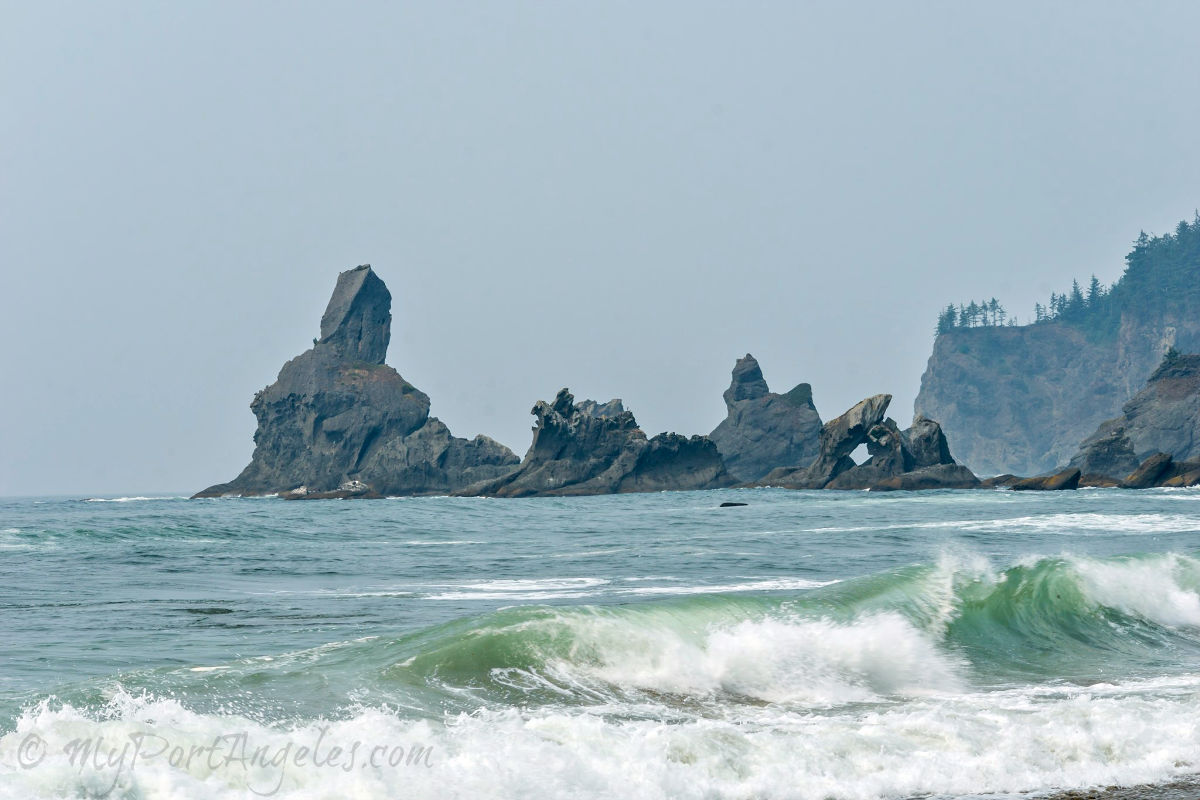 Shi Shi Beach is immediately south of Neah Bay Washington, and definitely worth the 2 mile hike (3.2 km one way) and visit. Shi Shi is the northernmost beach of the Olympic National Park, but it is accessed through Neah Bay and the Makah Reservation.

---
Neah Bay Restaurants
Several restaurants in Neah Bay Washington offer a variety of food options: Steaks and seafood, Indian tacos, ice cream, sandwiches, pizza, coffees and other hot drinks. There's also a variety store and grocery store if you're staying in a cabin and need to do some shopping.

Linda's Wood Fired Kitchen
Linda's Wood Fired Kitchen
1110 Bay View Avenue, Neah Bay, WA 98357
+1-360-640-2192
Hours: Tues-Sun 7-9 am; Wed-Sun 10-8 pm. Closed Mondays.
Website: Linda's Wood Fired Kitchen on Facebook
Tripadvisor Reviews of Linda's Wood Fired Kitchen in Neah Bay WA 
Linda's Wood Fired Kitchen is well received. They serve Italian, American, pizza, soups, salads.
---
Pat's Place
Pat's Place
1111 Bay View Avenue, Neah Bay, WA 98357
(No phone )
Hours: Tue, Wed, Fri: 12-6 pm; Thu, Sat: 12-5:30 pm; Closed Sun-Mon
Website: Pat's Place on Facebook
Tripadvisor Reviews of Pat's Place in Neah Bay WA
Pat's Place serves Indian fry bread tacos along with other Mexican and American cuisine. You may even get pie for dessert.
---
Warmhouse Restaurant
Warmhouse Restaurant
1431 Bayview Avenue, Neah Bay, WA 98357
+1-360-645-2077
Hours: Every day 8a - 8p
Website: Warmhouse Restaurant on Facebook
Amazon Reviews of The Warmhouse in Neah Bay WA
The Warmhouse offers American cuisine for breakfast, lunch, and dinner, including seafood, steaks, burgers.


---
Neah Bay Lodging
There are plenty of options for camping with a tent or RV, depending on the amenities you require. You'll find tent and RV sites, cabins and motels, some with kitchens, moorage at the Makah Marina. The Neah Bay website offers lots of information here.

Below are a couple very nice options, but please note: Reservations fill up quickly! Plan waay ahead, and consider calling in early JANUARY to book your preferred dates no matter when they occur in the rest of the year.


Hobuck Beach Resort
Hobuck Beach Resort
2726 Makah Passage, Makah Indian Reservation, Neah Bay, WA 98357
+1-360-645-2339
www.hobuckbeachresort.com
Tripadvisor Reviews of Hobuck Beach Resort in Neah Bay WA
Hobuck Beach Resort is located just south of Neah Bay along Hobuck Beach, with easy beach access and spectacular views. You'll find tent camping, full hook-up RV sites and a variety of fully supplied cabins, plus free showers, picnic tables and wireless internet. Go hiking, beach combing, bird, whale and wildlife watching. Go surfing or cycling, or simply chill in the view of a brilliant sunset. On the other hand, you might even get to do some storm watching.
The resort is close enough to town for shopping, restaurants and visiting.
Tent Camping: $25/night
RV Sites: $40/night base rate
Cabins: $110 - $200/night


---
Cape Motel and RV Park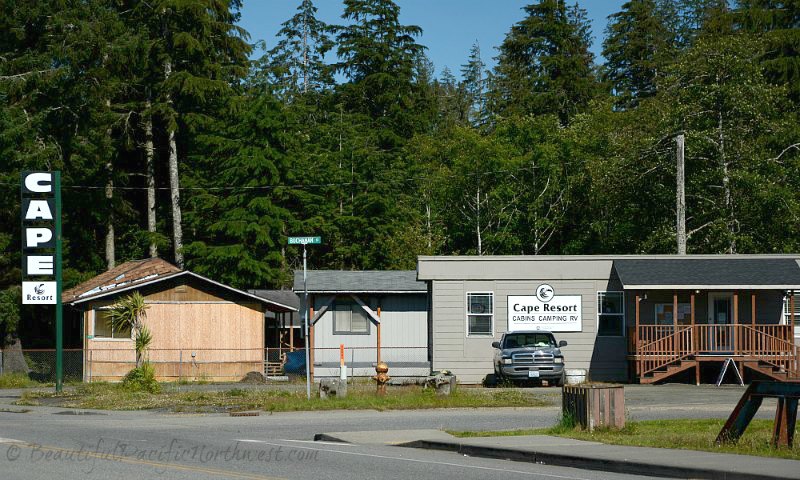 Cape Resort and RV Park, Neah Bay Washington
Cape Resort and RV Park
1510 Bay View Avenue, Neah Bay, WA 98357
+1-360-645-2250
https://cape-resort.com/
Tripadvisor Reviews of Cape Resort and RV Park in Neah Bay WA
Cape Resort and RV Park is located close to everything in downtown Neah Bay. It overlooks Makah Marina, and is a scant 15 minute drive to Pacific Ocean beaches and other sites.
You'll find fully-supplied cabins, tent camping sites, and full-hookup RV camping. Two bunkhouses are available, sleeping 8, though bring your own supplies and bedding. They provide fire rings, propane, and wireless internet, as well as coin-operated showers and laundry.
Cabins: $95-$115/night, seasonally
Bunkhouses: $50/night/2 people; $5.00/night/for each extra person
RV Sites: $40/night with hook-ups; $25/night without hook-ups. Book by phone only.
Tent Sites: $25.00/night
Boat Trailer Parking: $5/day
Pet Fee: $25/per stay/non-refundable
Click here to check availability and pricing, or call the office to make your reservation.


More Neah Bay Washington Photos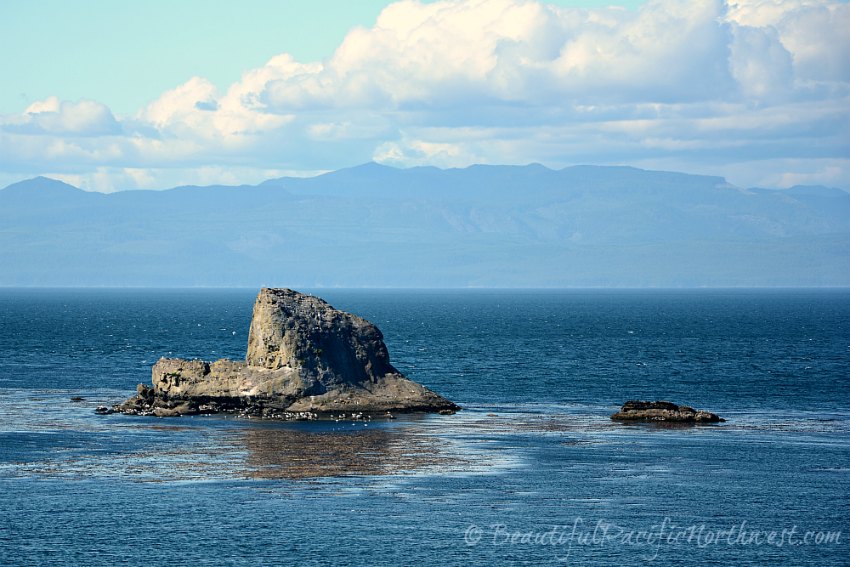 Seal Rock and Sail Rock, sea stacks in the Strait of Juan de Fuca just east of Neah Bay. Vancouver Island, BC, Canada, is clearly visible in the distance.
---
Check these pages for more information on the areas surrounding Neah Bay Washington: