Rainshadow Effect:
Washington State's "Banana Belt"
Rain Shadow Effect. How the Olympic Mountains near Port Angeles in the Olympic Peninsula cause a small semi-arid region in the rainy Pacific Northwest.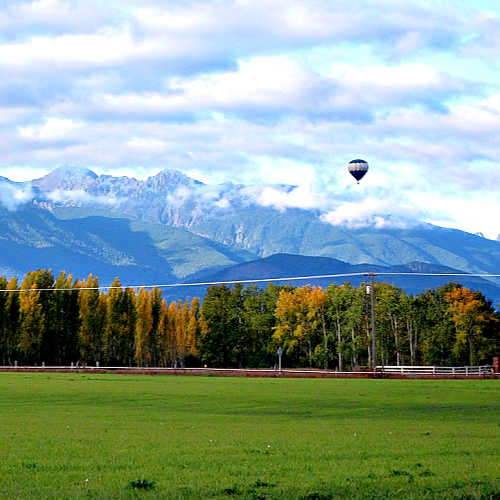 Partly cloudy over Sequim-Dungeness in November
Sequim, Port Townsend, and to a lesser extent Port Angeles, are located in what is referred to tongue-in-cheek as the banana belt of Washington State.

This is not because of the climate, which on average is cool-to-chilly, but because of the relative lack of rain.
While it's raining buckets in Forks, Bremerton or Olympia, there may indeed be blue sky over Sequim caused by the Olympic Peninsula rain shadow. In fact, this condition is so frequently reliable, they call it the Blue Hole.
Depending on the prevailing weather system, that blue hole may be over Sequim, Port Angeles, or Port Townsend; or it might be open enough to brighten all three towns, the southern parts of the San Juan Islands, and Victoria BC.
These fields in the Olympic rain shadow between Sequim and Port Angeles needed to be irrigated prior to harvest.
Rain Shadow Effect in Sequim Washington
The blue hole is actually the result of a rain shadow effect caused by the Olympic Mountains directly to the south of Sequim Washington. The Olympic mountain range captures much of the incoming rain which falls heavily on the west and south slopes of the mountains.
Rain Shadow Effect
As the air rises over the Olympic mountain peaks, the air quickly cools, triggering 100% relative humidity and then rainfall on the side of the mountains facing the prevailing winds. The weather that flows over the peaks to the lee side of the Olympics (facing north and east) has lost its moisture and is usually dry. See the graphic (Credit: Wikipedia).

The rain shadow robs the region to the north and east of the Olympic Mountain Range of rain.
View a map of the Olympic rain shadow region here.
The Blue Hole
The following three photos were taken within minutes of each other on an early spring evening in Sequim-Dungeness.

Though the horizon was literally ringed with storm clouds, on this evening the Blue Hole over Sequim Washington prevailed.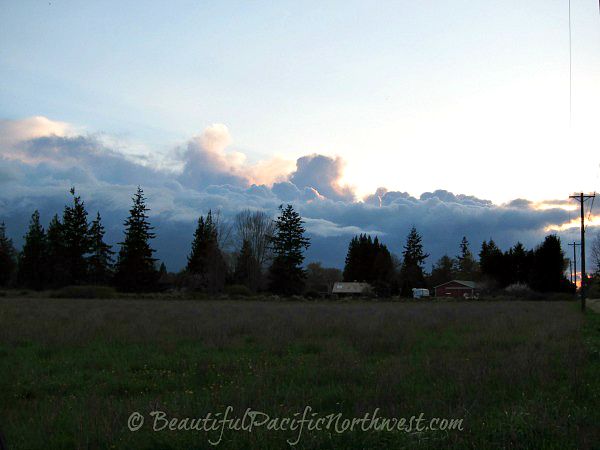 Storm clouds to the west, blue sky above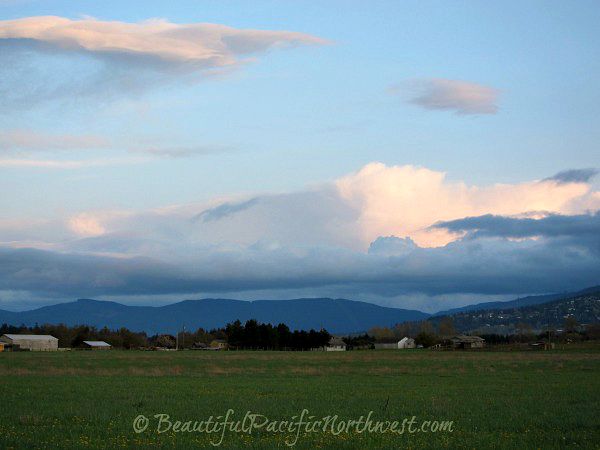 Storm clouds to the south, blue sky above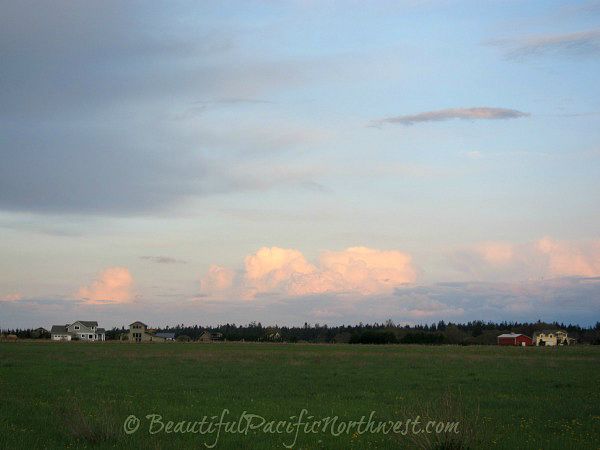 Storm clouds to the east, blue sky above
Rainfall Averages in Sequim Washington and the Nearby Pacific Northwest

Average yearly rainfall in...

These Pacific Northwest towns are not in the rainshadow:
Bellingham WA: 35 inches

Seattle WA: 38 inches

Olympia WA: 50 inches

Quilcene WA: 54 inches

Bremerton WA: 56 inches
Towns on the west and southwest slopes of the Olympic Mountains bear the brunt of the precipitation. Average yearly rainfall in...
We enjoy the rain shadow but when it does rain we don't begrudge the sky.
Without the rain one would never know the beauty of the Pacific Northwest including its nearby temperate rain forests.