Washington State Ferries
Washington State Ferries: All important details to navigating the Pacific Northwest on the WA State Ferry system - including fares, schedule, reservations, pet info, tips.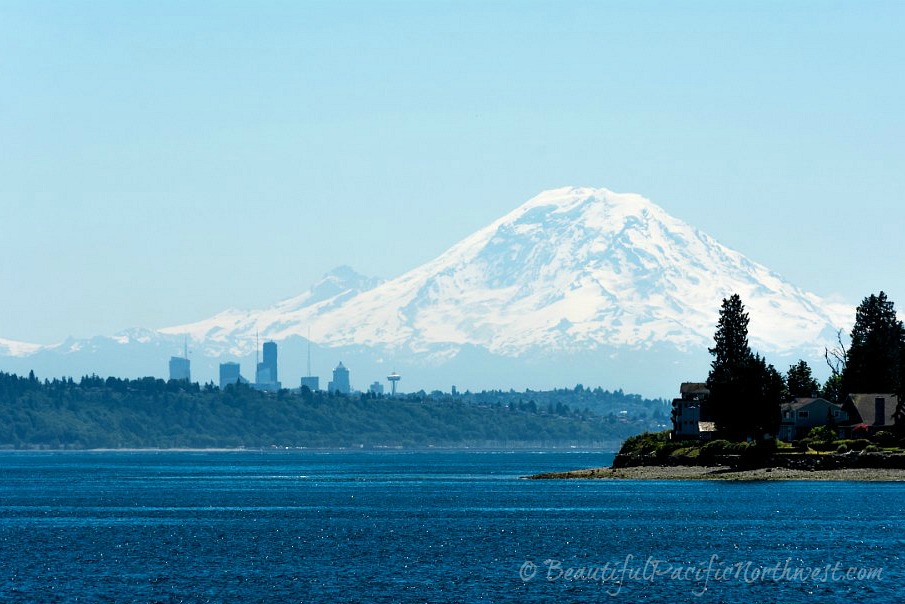 Mount Rainier and Seattle WA view from aboard the Seattle-to-Bainbridge Island Ferry.
The Washington State Ferry (WSF) is a very fun way to traverse the Puget Sound area. Every ferry comes equipped with restrooms, snack bars, and places inside and out to relax and enjoy the view. You can take your car - and even your dog - with you.
The ferry is sometimes the only way to get where you need to go. Other times, the ferry is the most efficient way to arrive at your destination. Taking the ferry might trim an hour or more from your travels.

And how else are you going to see views like this...?
---
Port Angeles is not directly connected to the WSF System.
But, there are several WSF routes that are extremely helpful for navigating to and from the Olympic Peninsula.
If you're coming to Port Angeles from the Seattle, WA, area, the most efficient way to get here is to cross the Puget Sound by ferry on one of these three routes:
We'll list all the ferry routes below, but these three are the ferries I've ridden the most in order to travel from Port Angeles on the Olympic Peninsula to the greater Seattle area on the mainland, and then back again.
NOTE: Foot passengers traveling from the Olympic Peninsula to Seattle travel for free; toll is required for the return trip. Motor vehicles pay both ways.

If you choose not to use a ferry to travel to Port Angeles from Seattle, your only other option for getting to Port Angeles by car is to drive south through Tacoma, then take the Tacoma Narrows bridge (no toll if headed west) onto the Kitsap and Olympic Peninsulas.
(Travelers headed to Port Angeles from Olympia WA and points south won't need a ferry; they can take Hwy 101 west from Olympia along the west shore of the Hood Canal all the way to Port Angeles.)


WSF Routes, Schedule, Fares
(Reservations are possible for only a few routes - the Reservations link is here and below)


Ferries run between these locations:

Anacortes to San Juan Islands (Shaw Island, Lopez Island, Orcas, Friday Harbor (San Juan Islands). All San Juan Island fares are round-trip (pay going west includes the return fare).
Anacortes to Sidney BC Canada (this route is seasonal)
Bainbridge Island to Seattle
Puget Sound and San Juan Islands Regions Served by Washington State Ferries

Also available at the WSF Schedule link:
Schedule formatted for viewing on a smart phone
PDF of the entire current schedule for download
Schedule per your choice of date
Reservations
Make a Reservation: http://www.wsdot.wa.gov/Ferries/TakeaFerry/

Reservations are HIGHLY recommended for these routes:
Port Townsend to Coupeville (on Whidbey Island) and back
Anacortes to the San Juan Islands (Shaw, Lopez, Orcas, and San Juan Island) and back
Anacortes/San Juan Island to Sidney and back
Reservations are for vehicles only. Walk-on passengers never need a reservation.
Other routes other than the above are operated with larger ferries; reservations are not available. (Nevertheless, traveling during high traffic times may result in wait times of an hour or more.)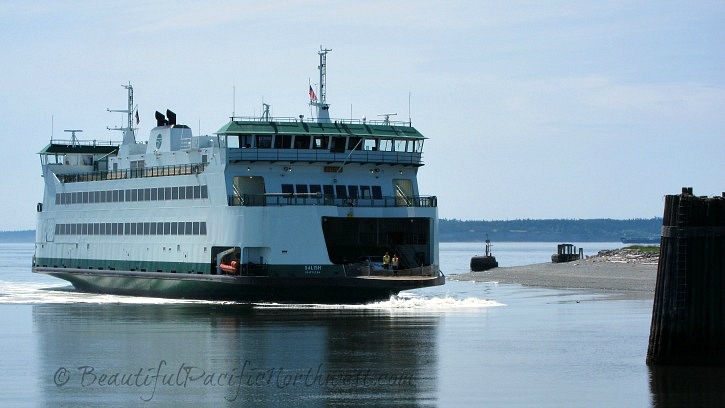 Port Townsend ferry is approaching the Coupeville dock on Whidbey Island
Washington State Ferries Webcams
Take a peak at the ferry wait area of your choice in real time...

http://www.wsdot.wa.gov/ferries/vesselwatch/cameradetail.aspx
Tips for Traveling on the Washington State Ferries
Route times change with the seasons. Ferries sail more frequently during busy long summer days, and make fewer crossings during short winter days.


Secure reservations for the routes between Port Townsend/Coupeville and Anacortes/San Juan Islands.


High winds very occasionally result in sailing cancelations until the wind dies down sufficiently. The Port Townsend/Coupeville ferry is the route most likely to be affected, though cancelations may not be limited to this one route. Thankfully shut-downs are very rare, but they DO happen every few years. The Washington State Ferry posts travel alerts here.


Your pet CAN sail with you on the ferry, with restrictions. Pets in kennels are allowed in the interior passenger areas. Pets, restrained, are allowed on the car deck with owner present; and in outside area shelters and decks on leash with owner present. Leashed pets and their owners are allowed to move through interior passenger areas on their way to outside deck areas. Leashes or kennels are always required. Read the WSDOT pet policies here.


Fares also vary drastically according to how many people are traveling, their ages, vehicle particulars, route, and direction. Generally, fares run between several dollars for a walk-on passenger up to twenty dollars; vehicles run from less than fifteen up to several hundred dollars. (See the Fares link above. At that link, you can download a PDF of the Current Fares list available in every ferry terminal.)
Washington State Ferries: Transit and Wait Times
Ferry transit times are typically 30 - 40 minutes (occasionally longer) between points in and around Seattle to their destination points.

Ferry wait times are most likely to affect those boarding in vehicles. Walk-on passengers can board the next ferry (though this is rarely if ever required; there is almost never wait times for walk-on passengers), whereas vehicles travel on a first-come, first-served basis. Summer and weekends are highly traveled, especially if it's summer AND a weekend. Wait times can vary from, "It's your lucky day," to "Come back tomorrow - early." Meaning, a 15 minute wait, or a wait time of several hours or more.
If you pull up late at night and encounter a ferry wait line that is still very long, you may be spending the night in your car, as the ferries stop running for the night.
Sometimes you can "drive around," as we say, depending on where you are headed. If you are traveling from the Seattle area to the Kitsap or Olympic Peninsulas, for example, you can drive down to Tacoma, take the Tacoma Narrows Bridge, and then make your way to your destination.
DO experience a ride on the Washington State Ferries, if possible!
Ferry delivers vehicles and passengers to Shaw Island
Washington State Ferries are a very typically Northwestern mode of transportation throughout the Puget Sound and San Juan Islands. Ferries are necessary, but they are also very enjoyable!

The perspective of the surrounding land as viewed from the water is special, and it's a fairly cheap way to snag a boat ride through some of the best boating waters in the U.S.
The Washington State Ferry (WSF) System is a division of the Washington State Department of Transportation.


COVID-19 NOTICE from the Washington State Department of Transportation
The Covid-19 pandemic complicates the Washington State Transportation system. The following bullet points contain the main highlights of the WA State DOT's COVID-19 announcement. See the notice in its entirety here.
Disinfection: WSF is routinely disinfecting all common-touch areas. This will help you, but please also take responsibility for your own actions and keep your hands washed, just in case. 


Masks: Passengers are required to wear face mask aboard ferries.


Scheduling: All WSF ferries are operating on their current sailing schedules until further notice. Schedules may also change in response to the pandemic. Click here for sailing schedule. Passengers may also subscribe to travel alerts by email.


Purchasing Tickets: WSF encourages everyone to purchase your tickets online through wave2go.com. This will reduce your exposure to both people and possibly contaminated money. 


Refunds: WSF offers several situations for which refunds may be offered. Additionally, they will waive no-show fees on those routes needing reservations (Port Townsend-Coupeville, Anacortes to San Juan Islands). Nevertheless, please do cancel your reservation if you know you will not be using it. (That allows the WSF to offer reservations to others.) 


Practicing Social Distancing on the Ferry: First, stay in your car. Second, the ferries are large – large enough to provide room for people to keep their distance. Lastly, restrooms will be sanitized regularly. Do use the restroom sinks and soap dispensers as needed for hand-washing. 


International Travel: The San Juan ferry route goes as far as Sidney BC. This destination is canceled indefinitely, or until the US-Canadian border reopens. (The border has been closed since early 2020, and the goal-posts continue to move relative to a possible re-open date.)


Food and Drink on the Ferry: All galleys are closed until further notice, including vendors at the Anacortes terminal. This means you need to bring your own coffee and snacks onto the ferry.


---
What are Some of Your Favorite Ferry Travel Experiences?
Share Your Ferry Travel Stories and Photos Here!
Whether you're a local who has lived here for years, or you've come as a visitor to our area, we'd love to hear from you! Do you have a great story, a favorite experience, and exceptional photos about your ferry travels? Please, share it with us and give us your reviews!

We're happy to ensure professional and amateur photographers get credit for their work. Leave us your name in the form below, and means of contact, website, or FB page info so we can link back to you.