Clallam County WA
Clallam County WA is the north Olympic Peninsula. Here are town descriptions, aerial views, photos, many attractions, eatery and lodging tips, and links to all the details, especially of the sparsely populated "West End." 

State Highway 112 runs along the north Olympic Peninsula coast between Port Angeles and Neah Bay. The beautiful area boasts all kinds of restful spots where you can pull over and hang out for as long as you need or want to.

Take the time to walk on any of many little beaches, gather driftwood, have a picnic and watch the birds, wildlife, and marine life, including bald eagles, orca whales and humpbacks.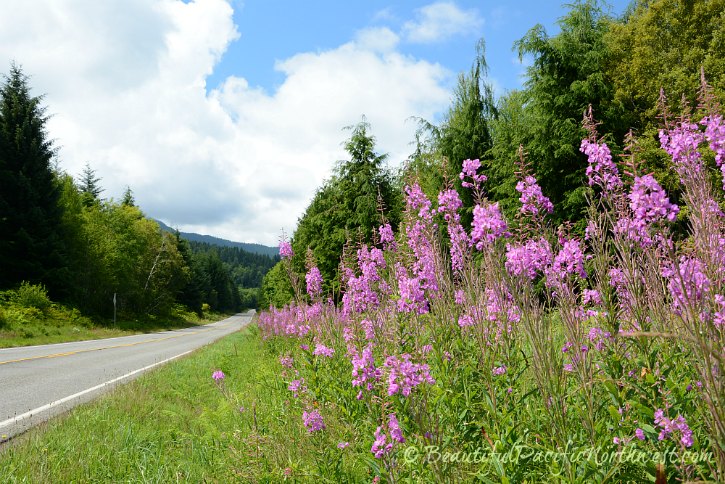 In July, fireweed blooms profusely along Highway 112 west of Joyce, Washington.
Clallam County WA Towns and Villages
Clallam County is shaped like an elongated rectangle. A large chunk of the population resides in the east half of the county, in Port Angeles, Sequim, and the surrounding areas. Port Angeles is also the seat of Clallam County government.
The Clallam County WA population in 2017 was 75,474; populations of Port Angeles and Sequim total a little less than 28,000, which doesn't include the many folks living nearby but outside the city limits.
That leaves the entire west end of Clallam County (logically known as the "West End") with a number of very small population centers. 
The rest of this page is devoted to the West End.
I love visiting these little towns!

---
West End Clallam County WA Attractions
There is almost NOTHING along Highway 112 west of Port Angeles. Well, almost nothing, if it is New York City you're comparing it to.
What you WILL find are
2 museums: the Joyce Depot Museum and the world-class Makah Indian Museum
Spectacular Nature at its very finest
Multiple recreational activities and opportunities amidst God's creation
Small communities happy to provide food and lodging for their visitors
About that food and lodging, you may need to plan ahead a bit. Because there really aren't many modern amenities around each next bend in the road.
Olympic Peninsula Camping lists campgrounds throughout the Olympic Peninsula.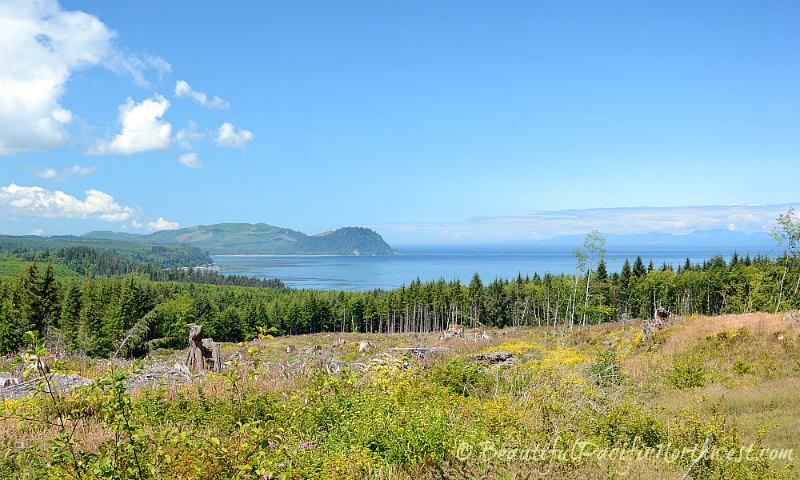 View of the Clallam County WA shoreline along the Strait of Juan de Fuca from the vantage point of a recently logged hill.

Notable Towns and Attractions in Clallam County WA's West End...
Freshwater Bay
Freshwater Bay is just 10 miles to the west of Port Angeles, WA. On its shore is the 21-acre Clallam County WA Park known as Freshwater Bay. Calm and protected, it's a great spot for whale watching, kayaking, and also has a boat ramp for small boats.

Freshwater Bay County Park Website
Freshwater Bay, Freshwater Bay County Park

Getting there: From Hwy 112, turn right onto Freshwater Bay Road. The Park is located at the far end of Freshwater Bay Road, 2.3 miles (3.7 km) from Hwy 112.

Freshwater Bay is also a stop on the Whale Trail. It's not uncommon to see orcas and other marine mammals here. Enjoy a picnic at the tidelands, comb the beaches, and enjoy hiking, fishing, crabbing, bird and wildlife watching.
Beware the tides for boat launching as Freshwater Bay is relatively shallow and the ramp can be completely exposed at low tide.
East side of Freshwater Bay: If your only intent is walking, rock-hounding, or picnicking, you can also access the shores of Freshwater Bay east of the park by turning north from Hwy 112 onto Place Road and taking the road toward the shore. Turn right on Elwha Dike Road, go a little farther, and then pull over and park. You get to do the last quarter mile (0.4 km) on foot. It's a lovely walk, and the beach is refreshing. We saw bald eagles up close the last time we picnicked at Freshwater Bay.
---

Salt Creek Recreation Area
Salt Creek Recreation Area
3506 Camp Hayden Road, Port Angeles, WA 98363-8702
1+360-928-3441
http://www.clallam.net/Parks/SaltCreek.html
Tripadvisor Reviews of Salt Creek Recreation Area, Port Angeles WA
You'll find the Salt Creek Recreation Area 16 miles west of downtown Port Angeles, WA. You can drive the distance in approximately 23 minutes.
Salt Creek is a Clallam County recreation area encompassing 196 acres. It is open all year. Formerly a World War II camp known as Camp Hayden, it still features two large casements and other explorable military structures. The adjoining campground contains almost 100 campsites; some of them have killer views of the Strait of Juan de Fuca.
Recreation opportunities include baseball and basketball courts, horseshoe pits, picnic areas, hiking, swimming, kayak tours, and more, with views of Vancouver Island, BC, Crescent Bay, and the rocky coastline and sandy beaches. If the tide is out, there are tidepools that will provide a wonderful experience for kids and adults alike.
As for the shore itself, the grade is so gradual that the shallow water becomes quite warm in summertime, thanks to the summer sun. Not until the bottom begins dropping does the water become Pacific-Northwest-chilly.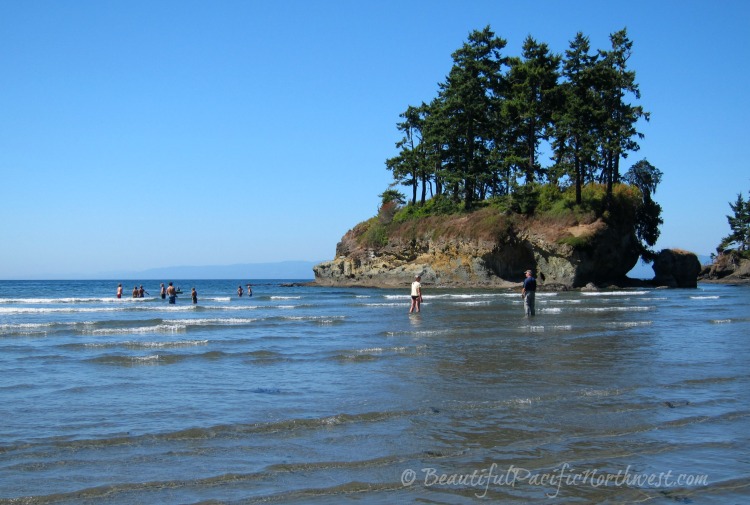 Salt Creek Recreation Area in Clallam County WA. The people in the distance are still only knee-deep.
---

The Village of Joyce WA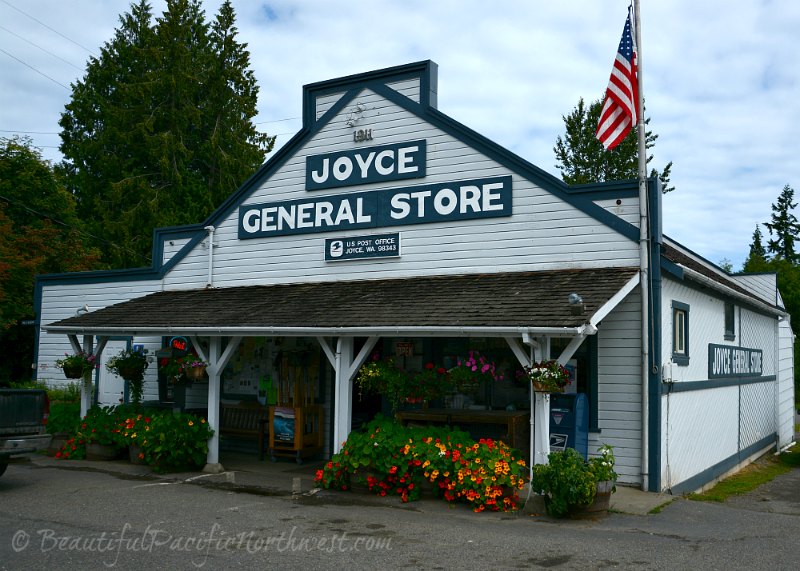 Joyce General Store, Post Office, and gas station in Joyce Washington.
Eighteen miles (29 km) west of Port Angeles along Highway 112 is the village of Joyce WA.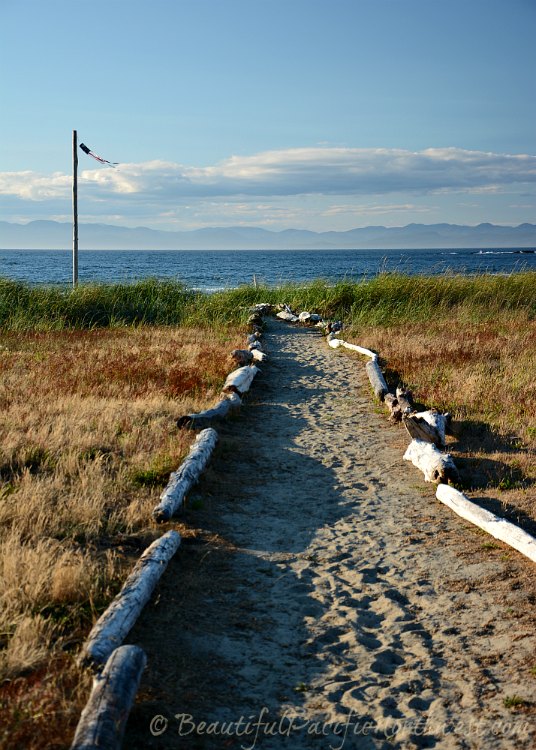 Short path to Crescent Beach
The road doesn't widen, and there are no stop signs. You'll find a gas station and country store (pictured above), the Joyce Depot Museum (interesting!), a fire station, and the Family Restaurant (pretty good). The population of Joyce are scattered into the surrounding countryside.

The first Saturday in August is when Joyce, Washington comes alive. The town hosts Joyce Daze Wild Blackberry Festival, a nearly all-day festival featuring fresh homemade blackberry pies, a parade down main street, booths filled with artisanal goods for sale, live music and dancing, and games and competitions.
Joyce is also where you catch the road to nearby Crescent Beach and RV Park, owned by Weyerhauser. Pull up and spend the night in your RV, or hang out as long as you care to for the day. A day use fee applies.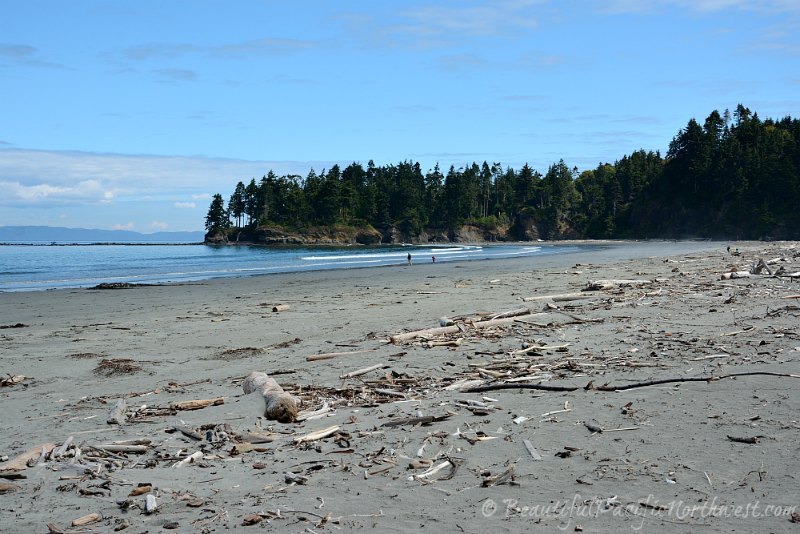 Crescent Beach
---

Sister Villages of Clallam Bay and Sekiu WA
Sekiu Washington Harbor
The (small) villages of Sekiu and Clallam Bay are located about 50 miles (80.46 km) west of Port Angeles, which will still take you 1 1/4 hours to drive by car. The two towns hug opposite ends of the sandy crescent beach surrounding the body of water known as Clallam Bay.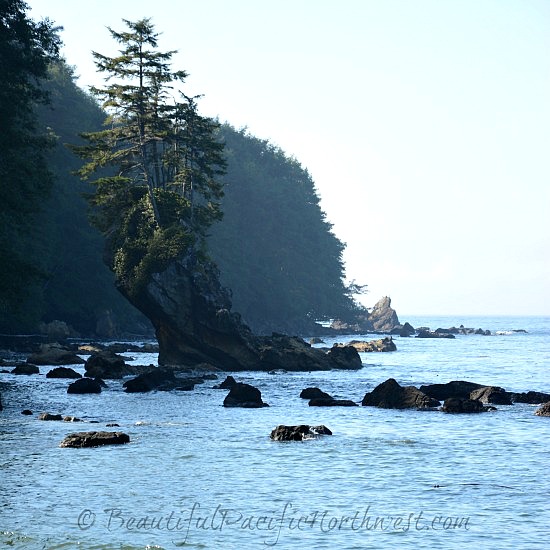 Clallam Bay is the working man's town, being right on Highway 112, while Sekiu is almost entirely about fishing. If you haven't come for the stellar fishing, the area is still lovely for picnics, beach combing, hiking, biking, bird watching, scuba diving, and kayaking.

Pictured at right: Not far from Sekiu, and close to the road, is this dramatic sea stack like a needle with full-grown trees perched atop.

Click the links for lots more information about Clallam Bay Washington and sister village Sekiu WA.
---

Neah Bay
Highway 112 and the North Olympic Peninsula both end at the town of Neah Bay, within the Makah Indian Reservation. Makah is pronounced MahKAW.

The most northwesterly corner of the lower 48 states is here at Cape Flattery and Tatoosh Island. The trail to Cape Flattery will take you 20 - 30 minutes on varying terrain or boardwalk. The hike is well worth the effort. Tatoosh Island is clearly visible from Cape Flattery. You are also likely to see whales, seals, and many species of sea birds depending on the season of your visit.
For much more information on Neah Bay Washington, visit this page.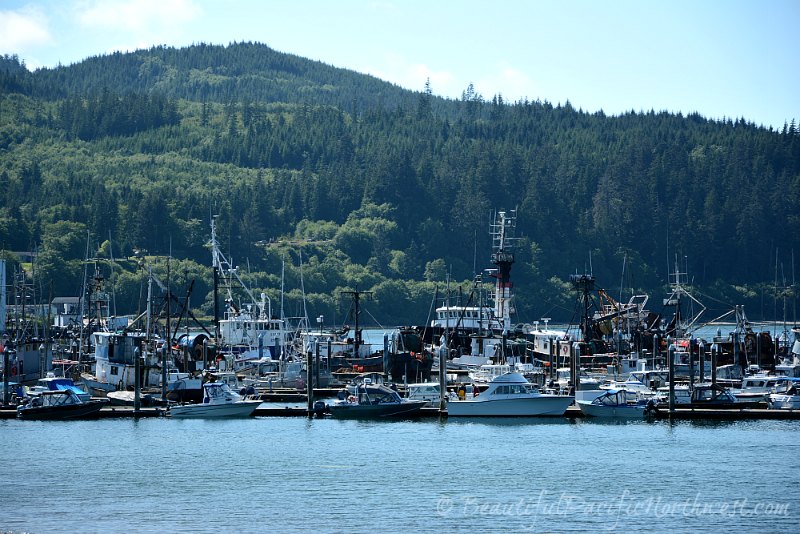 Neah Bay Harbor, on the Makah Indian Reservation. Clallam County WA, and the lower 48 states, end here, though the Makah will tell you this is where it all begins.
---
More Clallam County WA Photos of the North Olympic Peninsula
Cliffs at Cape Flattery, Neah Bay WA
---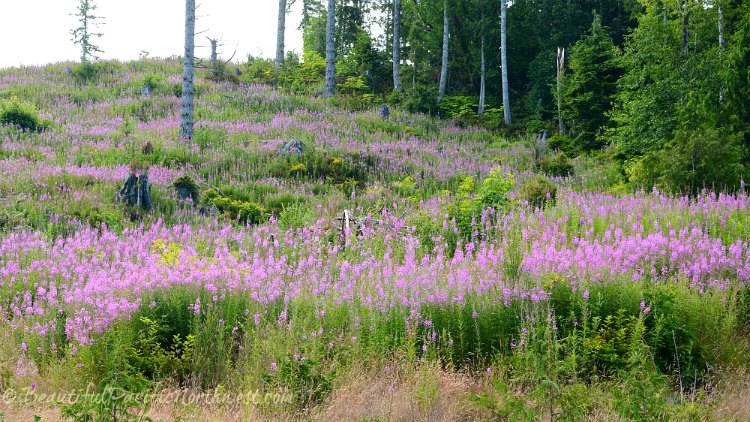 In the summer, Entire logged hillsides might light up with fireweed. This hillside is along Hwy 112 in Clallam County WA. (The trees have been growing since this photo was taken; I'll have to find fireweed on another hillside next time I travel along Hwy 112.)
Chito Beach near Neah Bay, Washington
Sunset where the beach meets Hwy 112 west of Joyce, WA

Clallam County WA, Then and Now
The area along the north coast of Washington state through which Highway 112 now runs was traditionally home to the Klallam and Makah peoples.

As Europeans began to filter into the area, most communication and travel were done via steamboats which regularly served the north Olympic Peninsula communities, bringing homesteaders, lumbermen, explorers and other hardy individuals.
As more people arrived, roads were built which were little more than wide hilly trails skirting the rugged coastline and occasionally dipping inland. Over the course of a couple hundred years, the meager foot trails and wagon roads gave way to train tracks hauling lumber from newly-built lumber mills.
The main road connected the small towns such as Port Crescent, Gettysburg, Twin and Pysht, which were thriving villages during the early years. These towns have now receded into very small communities or become ghost towns. Many have earned a mention in the area's historic literature.
Highway 112 is still a two-lane road that wends its way along the contours of the land, several times following hair pin turns to the very shores of the Strait of Juan de Fuca. Today, the logging industry moves by truck.
You may find that some log-truck drivers seem to be in an all-fired hurry. Which is just fine, of course. When one is on vacation, one sometimes forgets that others are still hard at work; so please don't hold it against them. Simply pull over and let these hard-working drivers go about their business. Then you can keep right on sight-seeing at whatever pace is ideal for you. Because the sights are definitely worth seeing!
The continuing wild remoteness of the west end of Clallam County WA in the North Olympic Peninsula means that you can still revel in its nearly pristine wildness.
Get a taste of the area by watching this 4-minute video tour presented by Highway112.org.
Have You Explored Clallam County?
Tell Your Story and Share Your Photos With Us!
Some places have it all - interesting attractions, quaint charm, and natural beauty, abundant wildlife... Whether you're a local or a visitor, do you have a great story or an interesting experience that took place in Clallam County? We'd love to hear about it! Share your story with us, and please include your photos, in the form below. Be as wordy and as descriptive as you like. There is plenty of room for it all on our website.

Just click into the title box below and go from there. When published, you'll have "your own" page on MyPortAngeles which you can share with friends or anyone who asks!

We're happy to ensure professional and amateur photographers get credit for their work. Leave us your name in the form below, and means of contact, website, or FB page info so we can link back to you.