Brinnon Washington
Brinnon Washington, population 803, is a small town that hugs a good stretch of the northwest shore of the Hood Canal. With reason Brinnon bills itself the "Emerald Town of the Hood Canal." Emerging from the encompassing green forest makes the open blue water and sky seems all the more spectacular. But additionally, the Hood Canal is lined with multiple emerald tidelands amongst the thousand creeks, rivers and rivulets running from the nearby mountains into the sound.
Brinnon is not much more than a wide spot in the road, but you'll get some of the best Hood Canal views available. For a spectacular "aerial" view of the region, head just a few miles north of Brinnon to the Mount Walker lookouts. On a clear day you can see beyond Mount Rainier.
Port Angeles WA is 60 miles (96 km) northwest of Brinnon WA. Brinnon to Port Angeles WA is a drive of one and a quarter hours.
But, if Port Angeles WA is not your starting point, then:
Sequim WA is 43 miles (69.2 km), or 50 minutes to the north.
Port Townsend WA is 37.7 miles (61 km), or 49 minutes to the north.
Forks WA is 115 miles (185 km), or 2 hours 14 minutes to the west.
Aberdeen WA is 84.5 miles (136 km), or 1 hour 40 minutes to the southwest.
Olympia WA is 60.7 miles (97.7 km), or 1 hour 11 minutes to the southeast
The area now known as Brinnon Washington was first settled by Elwell P. Brinnon in 1860 on a land claim. It eventually became home to the oldest Boy Scout Camp west of the Mississippi, Camp Parsons.
Nearby is Dosewallips State Park and the Olympic National Park where you can camp, hike, and go boating, fishing, clamming, crabbing and more.
Duckabush River also drains the Olympic Mountains through Brinnon, offering great fishing and shellfishing along the river and tidelands.
Things to do in Brinnon Washington
Whitney Gardens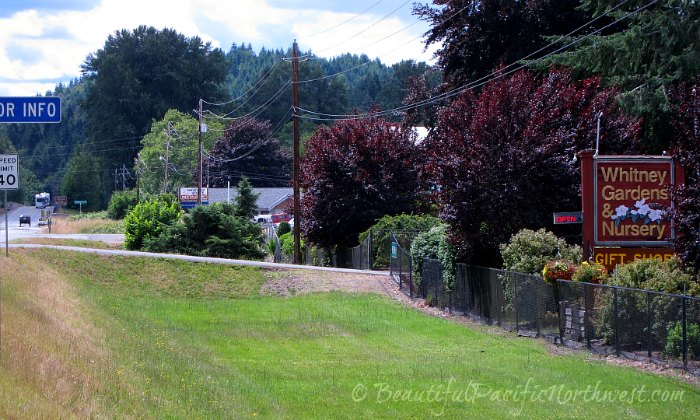 Whitney Gardens & Nursery has to be the springtime highlight in Brinnon. Seven acres of gardens, ponds, rhododendrons, azaleas, maples and more show off with perfect blooms. Plants are also available for purchase. http://www.whitneygardens.com/

Hike to Two Brinnon Waterfalls
Take Dosewallips Road into the hills for an easy hike up to the 229-foot-tall Rocky Brook Falls. Or, Duckabush Road will bring you to an old logging road. From there, a shady stroll will bring you to Murhut Falls.
Rocky Broom Falls - Google Map 
These are just two of many hiking options with delightful rewards at the other end.
Mount Walker Summit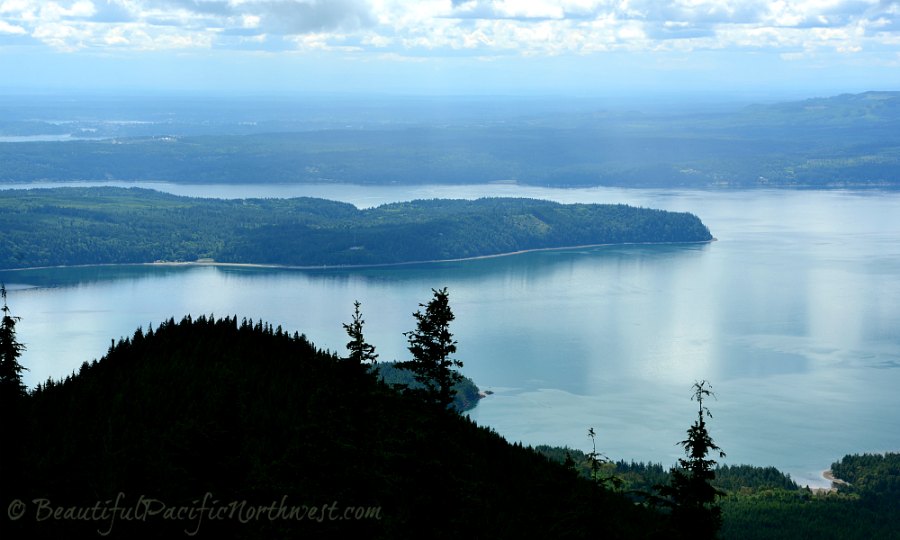 On clear days, Mount Walker summit views stretch from Mt. Rainier to the Olympic Mountains.
Despite having an altitude of only 2804 feet (855 m), Mount Walker towers over its surroundings allowing amazing views in all directions. It is south-facing, and has both a road and a hiking trail to the summit.
On clear days, enjoy spectacular views for miles, from Mount Rainier to the east, to the Olympic Mountains to the west.
---
Unique Shopping on the Hood Canal in Brinnon Washington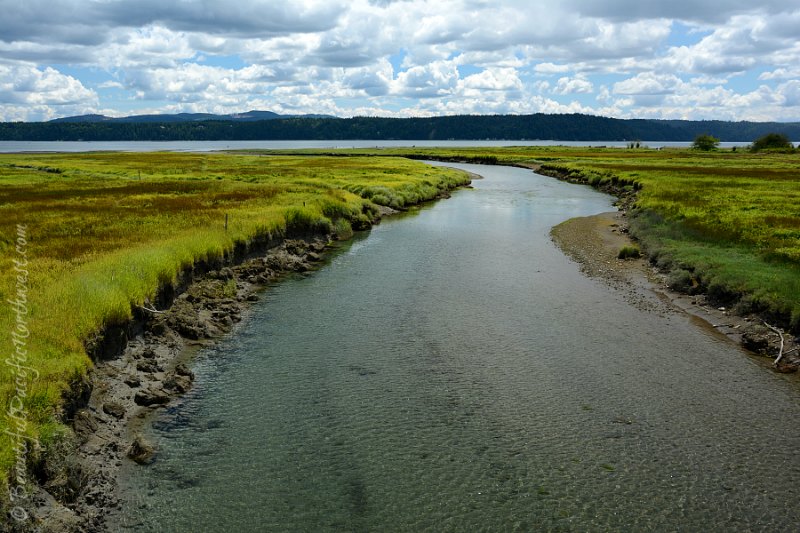 Duckabush River meets the Hood Canal at Brinnon WA
Boone Trading Company, in the true old west style, carries bone art, jewelry, ivory gifts of all sorts, antiques trade beads, pistol grips and more. They request that you call to schedule an appointment and to check if what interests you is in stock. Call or check their website:
Phone: +1-800-423-1945
Website: http://www.boonetrading.com/.
Walker Mountain Trading Post, located just north of Brinnon, shaded by evergreens is a quirky antiques and collectibles shop. Check them out via Facebook: Walker Mountain Trading Post
Dining on the Hood Canal in Brinnon Washington
There are a few dining options in Brinnon, but a popular one is the Geoduck Restaurant and Lounge (Tavern) located near the mouth of the Dosewallips River. You'll find it hometown friendly, with a wide open view of Hood Canal to enjoy burgers, fries, and seafood.

Geoduck Restaurant and Lounge (Tavern)
Address: 307103 Hwy 101, Brinnon, WA 98320
Phone: +1-360-796-4430
Hours: Every day 11a-9p (till 10p on Fri and Sat)
Facebook: https://www.facebook.com/thegeoduck/

TripAdvisor Reviews of Geoduck Restaurant and Lounge
'771rose' had this to say in a TripAdvisor review of Geoduck Tavern:
"Geoduck Tavern isn't much to look at from the outside but the great food and service more than make up for it. Another plus was being entertained by the hummingbirds at the feeders just outside our window and the lovely view of Hood Canal. Would definitely visit again if in the area."
Halfway House Restaurant and RV Park
Halfway House Restaurant and RV Park serves up homemade pies and good food. Mmmm!
Address: 41 Brinnon Ln, Brinnon, WA 98320
Phone: +1-360-796-4715
Hours: 7a-7p (till 8p on Fri and Sat)
Facebook: Halfway House Restaurant and RV Park
TripAdvisor Reviews of Halfway House Restaurant
Oyster Saloon
Oyster Saloon
Just 12 miles (19 km) south of Brinnon Washington is the Oyster Saloon, which serves oysters on the half shell and fresh seafood dishes. And it's all right on the water with ciders, ales, and wines, embraced by the view and the breezes. Call for hours.
Address: 35846 N US Hwy 101, Lilliwaup WA 98555
Phone: +1-360-877-5811
Hours: 12 noon - 5:30 pm, Friday, Sat, Sun (winter hours)
Website: Oyster Saloon
Lodging in Brinnon Washington
Though camping offers the most options in and around Brinnon by far, you might also find a few B&B's, cabins, guest houses and other vacation rentals. Check this website for details.

Here is a notable option:
Elk Meadows Farm
Address: 3485 Dosewallips Road, Brinnon, WA 98320
Phone: (360) 796-4886
Email: elkdog12@gmail.com
Website: https://elkmeadowswa.com/lodging/
Tripadvisor Reviews of Elk Meadows Farm in Brinnon WA
Elk Meadows Farm offers traditional B&B lodging (at $105/night), a rental cabin and tent camping. Alongside the river, this beautiful farm-stay retreat features orchards, vegetable and flower gardens, nursery houses, fields, a farm stand offering seasonal, local produce, and they even grow their own beef.
Campgrounds
Thankfully, there are a number of camping options along the Hood Canal, some more primitive than others. Three government-maintained campgrounds near Brinnon are:
Details for these and other Olympic Peninsula Camping are here.


More Brinnon Washington Photos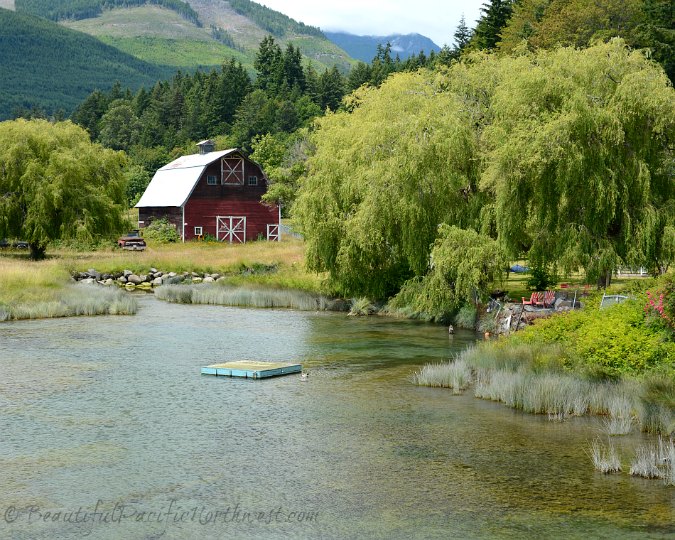 Scenic homestead near the Duckabush estuary
Oyster shells litter the shore near Brinnon Washington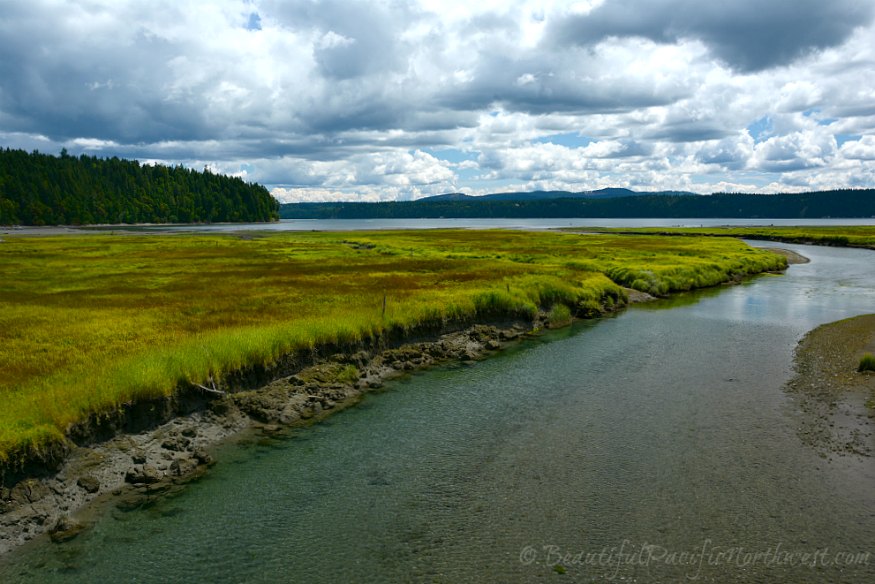 Brinnon is well worth the time to stop and browse around.
Enjoy your visit! Slow down and meander a while. Breathe deeply of cedar and brine scents. Enjoy the quiet and take notice of the way the land and trees meet the water.