MyPortAngeles.com

Port Angeles, Washington, is the main town on the Olympic Peninsula. It is also my hometown, and an ideal home base for travelers and vacationers to the Olympic National Park and the surrounding areas and nearby towns.
Port Angeles is a paradise of sorts, being immersed in the great beauty of the Olympic National Park, plus the friendly hospitality of the surrounding towns of Sequim, Port Townsend, Forks, and beyond!

Is it even possible in a single visit to experience the width and breadth of the natural beauty that surrounds Port Angeles? 

I'm not sure I have an answer to that question that is right for you. (For me, the answer is: "Nope!")
Nevertheless, My Port Angeles will provide for you all the necessary info and resources needed for you to thoroughly plan, enjoy, and then savor your Port Angeles or Olympic Peninsula dream vacation for years to come.
---
Make Excellent Plans for your Visit to Port Angeles
Port Angeles WA is the main hub of the Olympic Peninsula. Most visitors to the Peninsula are likely to stop, stay, or pass through Port Angeles. If you're heading this way, we'll help you make your plans. 
Here are some of the details provided by MyPortAngeles:

Favorite attractions and activities (and hidden ones too) throughout Port Angeles and the Olympic Peninsula.


Lodging and dining info - hotels and restaurants in and around Port Angeles and Sequim (only 15 miles away), and also some of the best lodging and food choices around the Peninsula.


Suggested Itineraries - depending on the time you have available and your main interests, we have some great ideas about how best to plan out your days. Take the best of these ideas to piece together a schedule that is perfect for you.
Olympic Peninsula Events - the Peninsula hosts more than two dozen festivals and a variety of events, at least five of which are right here in either Port Angeles or Sequim. Might the dates of one or more of them coincide with your vacation plans?


"Official" tourism websites - the northwest corner of Washington State is a popular destination area. At our pages for each location, we'll link you to the several "official" websites dedicated to that area's tourist attractions.


Thoroughly Enjoy Each Day in and Around Port Angeles
The sights, smells, expansive vistas and immersive beauty in the top left corner of the USA are very nearly unrivaled.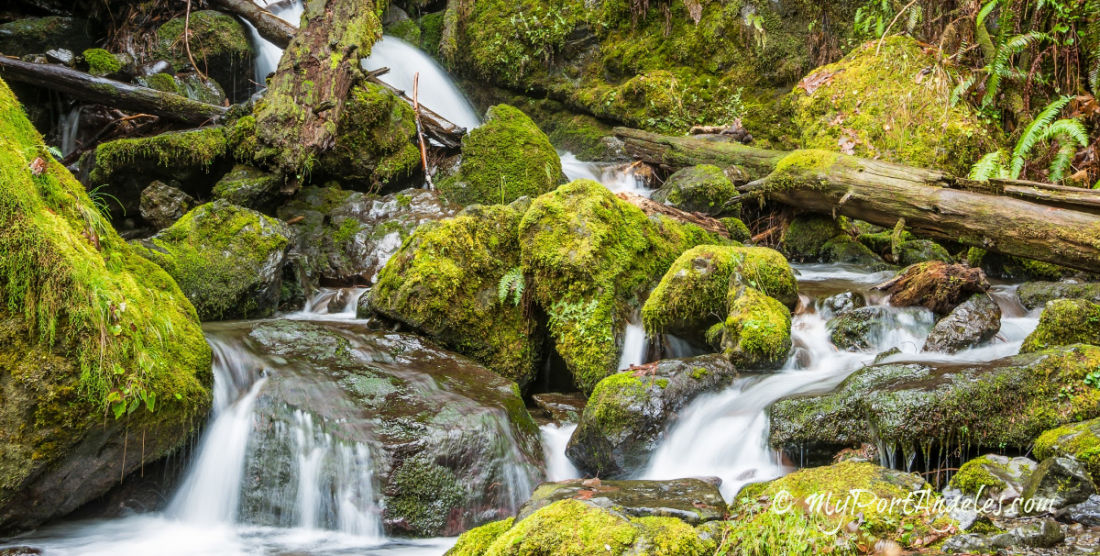 This little unnamed creek meanders its way around and over green marshmallow rocks in order to empty itself into Barnes Creek and Lake Crescent.
Go...  Do...  Experience...!

Go on guided tours or whale watching cruises

Attend any of many local festivals

Fishing or kayaking, hiking or biking
Day-picnicking or overnight camping

Visiting the nearby Olympic National Park is a must
Drive the Hwy 101 Loop, or deeply experience the locales of your choice to the fullest


---
Towns and Attractions Near Port Angeles
We know you might like to travel a bit and visit around while you're in Port Angeles. MyPortAngeles will help you with that too.
Towns and more on the Olympic Peninsula. Each of these pages links to specific information for its town. You'll find out about restaurants, hotels and attractions.
Off the Olympic Peninsula but nearby. As above, each link connects to much more info:

Distinctively Pacific Northwest:
Featured Port Angeles Photographer: 

Finally, tips on getting around:
Washington State Ferries: Getting to the Olympic Peninsula with WA State Ferries
Washington State Transportation: Getting from there to here and back via ferry, airplane, car rentals, bus, shuttle.

---
Retain The Best Memories of your trip to Port Angeles and nearby Destinations
During a vacation on the Olympic Peninsula, you're sure to eventually find yourself surrounded by natural beauty literally worthy of fine art. 
Sure, you can snap a selfie. And in fact, perhaps you will snap dozens of selfies. And then the phone crashes, or you perform an operating system update and lose all your treasured photos. (Yes, this has happened to a family member.)
If you're satisfied with your cell-phone-quality photos, great! Cell phones are certainly taking excellent photos these days, especially with the newest mobile phones. 
But if you'd like to do better, we can help. One of our photographer teams can capture your moments live, in professional quality still photos or in video. Contact us for more information.


This Olympic Peninsula Travel Guide Can Also Help!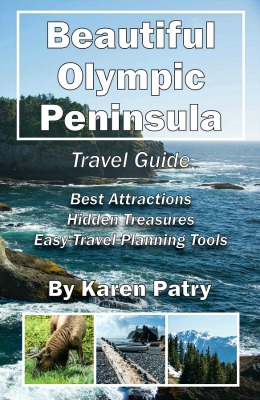 Check out our Beautiful Olympic Peninsula Travel Guide, and bring your copy with you when you come visit! (Available in paperback, Kindle, and PDF.)
This travel guide takes the info on this website, plus much, much more, and keeps it at your fingertips. When enjoying the natural beauty of the Pacific Northwest,  wifi signals are not always reliable, especially in our remote areas. Beautiful Olympic Peninsula Travel Guide will keep you on track so you won't miss out on anything. 
Relish the journey!
Any questions? Contact Us.
---
A Few Photos of Port Angeles and Surrounding Areas
Which of these scenes interests you most?
^  Visit Port Angeles Attractions  ^
^  Visit Olympic National Park Beaches  ^