Togas Soup House
Togas Soup House: Brunch and lunch restaurant catering to specific dietary needs with excellent homemade soups and sandwiches. Details, photos, reviews.
Togas Soup House Info
Togas Soup House Deli and Gourmet
122 W Lauridsen Blvd., Port Angeles, WA 98362
Phone: (360) 452 - 1952
Email: tlhertzog4 @ msn. com
Pinterest: https://www.pinterest.com/pin/40532465366184249/togos
Website: https://www.togassouphouse.com/
Menu: https://www.togassouphouse.com/menu-1
Facebook: https://www.facebook.com/Togas-Soup-House-122732157781195/
Hours: Mon-Fri, 8am-3pm , closed Sat-Sun.
Toga's also offers a drive-up window for convenient coffee and food to go. Enter the drive-through on West Motor Drive behind the restaurant. 
TripAdvisor: Toga's Soup House Deli Gourmet in Port Angeles, WA
Yelp: Toga's Soup House in Port Angeles, WA
Member of the Port Angeles Chamber of Commerce
(Updated 19May2023)
About Togas Soup House
Toga and Lisa Hertzog have been preparing delicious meals in Port Angeles since 1995. Their first establishment was called 'Togas Northwest and International Cuisine.' Togas served as a fine dining experience for visitors to the area and a popular place to celebrate special occasions and date nights for locals. It exuded a romantic ambiance, and was featured in magazines such as 'Sunset' and 'Northwest Lifestyles' as well as travel guides such as 'Forbes' and 'AAA.'
In 2009 after 14 years, Toga and Lisa decided to change things up in order to spend more time with their kids. They reopened as Toga's Soup House in June of 2009. Instead of being a fine dining establishment, it now had the face of a casual breakfast and lunch hangout, featuring soups, salads, and sandwiches as the restaurant's main focus. With this change came a professional baker from Seattle, who hand makes all of Toga's freshly baked goods. 
Food-Related Events at Toga's: Will Any Fit into Your Schedule?
Over the years, Togas has expanded beyond just the menu, delicous as it is. They offer cooking classes and occasional events at their restaurant such as wine nights, jagerstein nights and nights where you can prepare your own food on 500 degree granite stone hot plates. Check the Special Events tab on their website for events and details.

Togas also celebrates Oktoberfest at the end of September, using "Seattle's Famous Uli Lengenberg Famous Sausage," along with a variety of German bratwursts, with homemade sauerkraut, fresh in-house baked pretzels and German draught Paulaner Beer from the city of Munich. 
Togas also takes part in Port Angeles's Crab Festival in mid-October, serving 150 gallons, give or take, of their homemade soups, including, clam chowder, tomato bisque, and fresh Dungeness crab bisque. 
Toga is a great chef and you will love his food, plus he is always hospitable and provides great ambiance for his customers to ensure that everyone will have an excellent dining experience at his restaurant.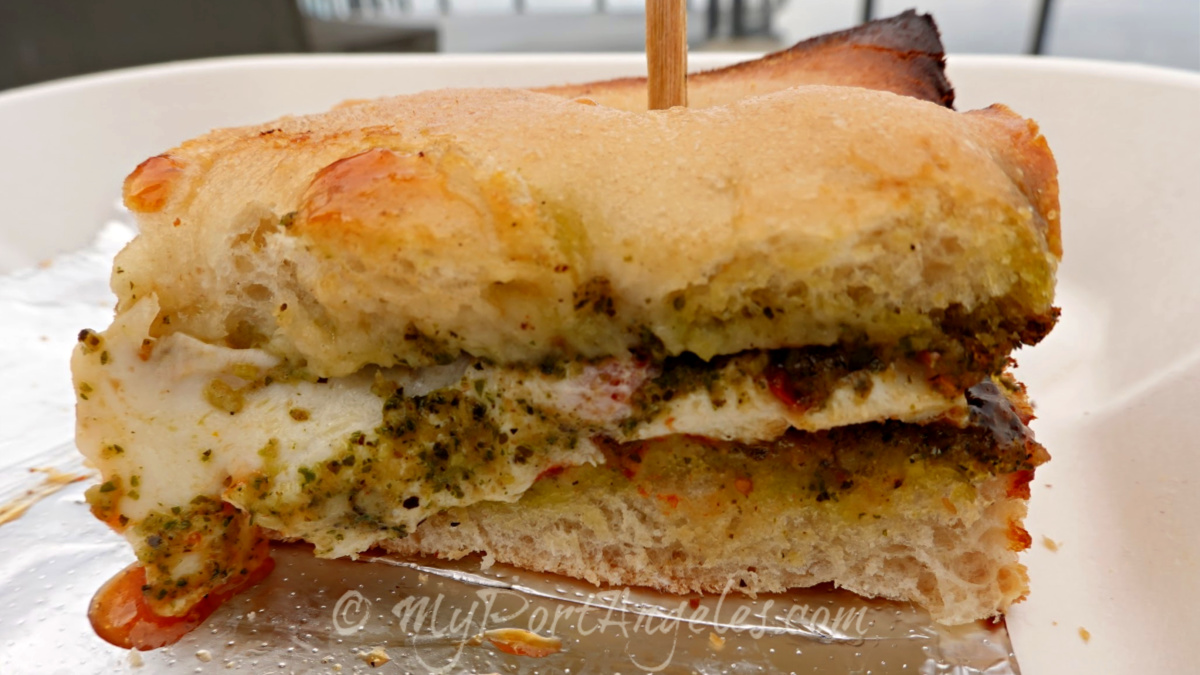 One-quarter left of the "Caprese" Baked Foccacia Veggie Panni. Delicious!
Toga's Espresso
In January 2015, an espresso menu was added to Toga's drive through window, located at the rear of the main restaurant. Access is easy-in, easy-out with a circular drive. Turn south on Laurel Avenue, and in one block, turn right on W. Motor Avenue.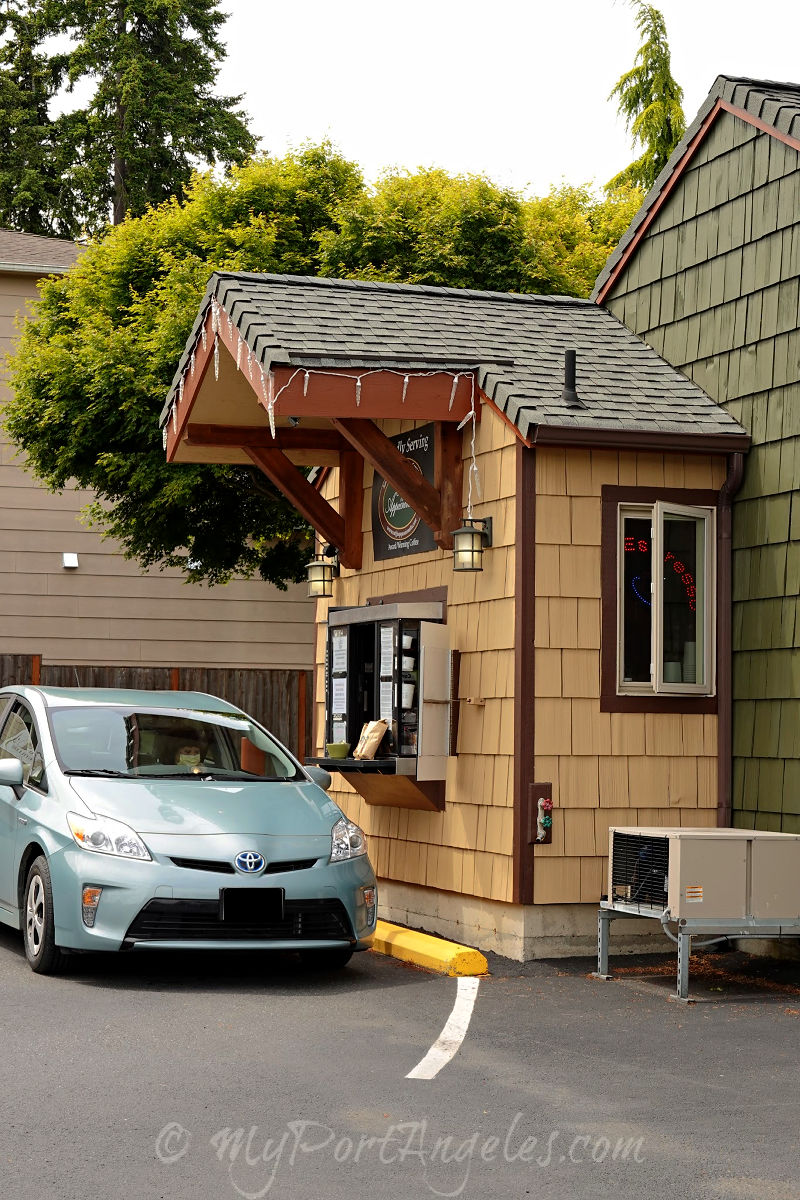 Toga's Espresso, located at the rear of the main restaurant in Port Angeles, WA.
During the season of Covid, while the restaurant itself is closed for in-house seating, the full menu is available from this drive-up window. Call ahead, place your order, and then pick it up. A good friend and I did this recently, and then took our lunches to the Port Angeles waterfront, eating while catching up with events in each other's lives.

Attira's review for Togas Soup House 
I visited Togas Soup House during the Covid-19 pandemic, so sadly I could not experience the atmosphere of the restaurant properly. However, I had one of their half sandwich meals, the 'Ultimate Reuben' and a small salad with blue cheese dressing. They were both delicious, and I would definitely recommend the 'Ultimate Reuben' sandwich if you like Reuben sandwiches as much as I do. The service was also very good, the girl who was working the drive up/walk up window was really nice. The owner's wife brought out the food quickly and she was also really friendly.
I am looking forward to a next time! I want to try the Greek salad and one of their soups, they looked equally amazing as what I had during my recent visit. 
What Customers Think About Togas Soup House
Out of 208 Reviews on Trip Advsior, 138 of them rate Togas Soup House as excellent, and 46 of them rate the restaurant as very good. 
One customer, while on vacation in Port Angeles, was recommended toward this restaurant by another restaurant, for their vegetarian friendly dietary needs and is their new go-to place when in they are in town. They ordered the caprese panini and Caribbean black bean soup that they agreed with their companion, was the best that they had ever had. They also thought that the food was reasonably priced for how high the quality was. They enjoyed talking with the other friendly customers, their server and the chef, who took the time to give them hiking suggestions in the area. 
One customer commented how welcomed they felt by the entire staff and how fabulous the food was along with high quality of the ingredients of their food. They said that this a great place to relax and enjoy an afternoon meal. 
One customer said that Togas has great handmade soups and sandwiches, after their meal of the ultimate Reuben sandwich, which they said was excellent, and their spouses meal of hearty beef and barley soup, which they said was delicious.  


Have You Eaten Here?
Do you have a great story or experience at this Port Angeles restaurant? Feel free to share it below! Be as wordy and as descriptive as you like. Include photos as well, if you have them; there is plenty of room for it all on our website.

Just click into the title box below and go from there. When published, you'll have "your own" page on MyPortAngeles which you can share with friends or anyone who asks!

We're happy to ensure professional and amateur photographers get credit for their work. Leave us your name in the form below, and means of contact, website, or FB page info so we can link back to you.

Page updated on July 13, 2021.
Washington State Covid-19 Status
As of July, 2021, Washington State is now generally open. However, current state mandates require masking for all indoor activity outside of ones own home. Additionally, there is a state mandate requiring restaurant patrons to provide proof of vaccination for indoor dining. Due to logistical difficulties, some restaurants are still open only for takeout/drive thru. HIPAA guidelines about privacy for medical information regarding indoor dining does not permit enforcement of covid mandates.