The Strait Slice Pizza Company
The Strait Slice Pizza Company is a small, casual pizzeria in downtown Port Angeles, a local favorite with its Neapolitan style crispy crust pizza featuring delicious fresh ingredients. Order locally brewed sodas, ciders, and ales with your pizza!
It has a relaxed informal atmosphere with a great view of downtown and the waterfront in the background. 
Strait Slice Pizza Company in downtown Port Angeles, WA.
The Strait Slice Pizza Company Information
Strait Slice Pizza
Location: 136 E 1st St, Port Angeles, WA 98362
Phone: +1 (360) 504 - 2430
Directions: Corner of First and Lincoln, right downtown. (See map below.)
Parking: Very limited on street or lots. Grab a parking spot if you see one, even if it means walking.
Website: https://www.straitslice.com
Facebook: The Strait Slice Pizza Company
Instagram: Strait Slice On Instagram

Hours:
Monday - CLOSED
Tuesday - CLOSED

Wednesday - 11:00 am - 7:00 pm
Thursday - 11:00 am - 7:00 pm
Friday - 11:00 am - 9:00 pm
Saturday - 11:00 am - 8:00 pm
Sunday - 3:00 pm - 7:00 pm


The Strait Slice Pizza Company
"Strait" Slice??
The owners gave a clever head nod to the location of the Strait Slice Pizza Company, riffing on the fact that Port Angeles, and this pizzeria, are located right on the Strait of Juan de Fuca.  


Leia's Review of The Strait Slice Pizza Company
(Click on any of the photos on this page to view it in full size!)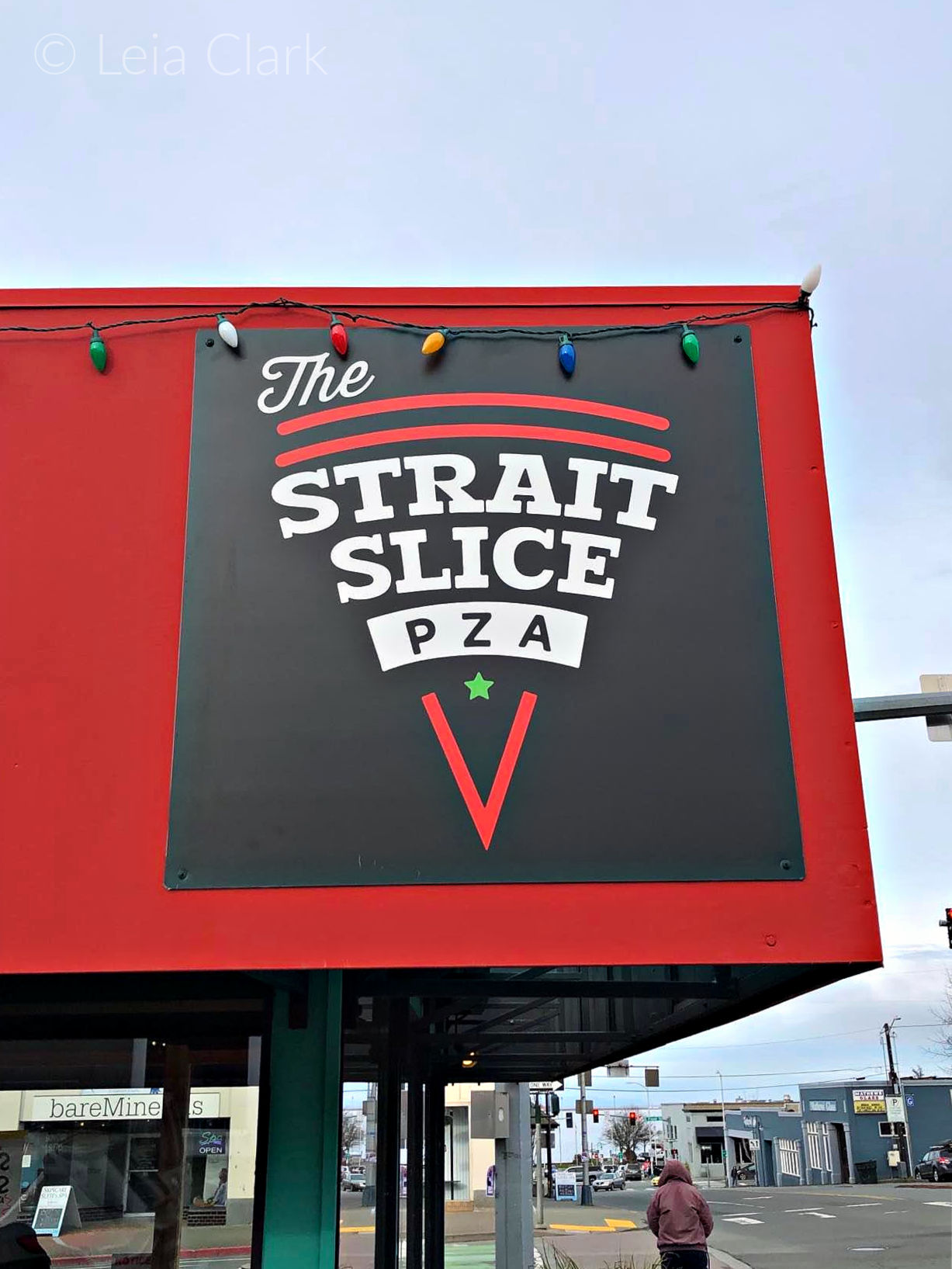 For great Italian style pizza, The Strait Slice Pizza Company in downtown Port Angeles is the place. They specialize in the thin crispy style crust and fresh ingredients from the old country. It also offers local brew beverages that are the perfect compliment. Stop by for a quick lunch or enjoy dining out with friends.
Strait Slice has moved from its little storefront downtown to a bigger and better location at the busy intersection of Lincoln and First Streets. This corner restaurant used to be a Chinese eatery. The new owners converted the location to this quaint pizzeria with the unique feel of the Pacific Northwest.
Parking at the restaurant itself is even less than minimal, so just plan on using the parking lot located diagonally across the intersection.
Pictured below: The interior of Strait Slice. The closest parking lot is visible from inside the pizzeria.
---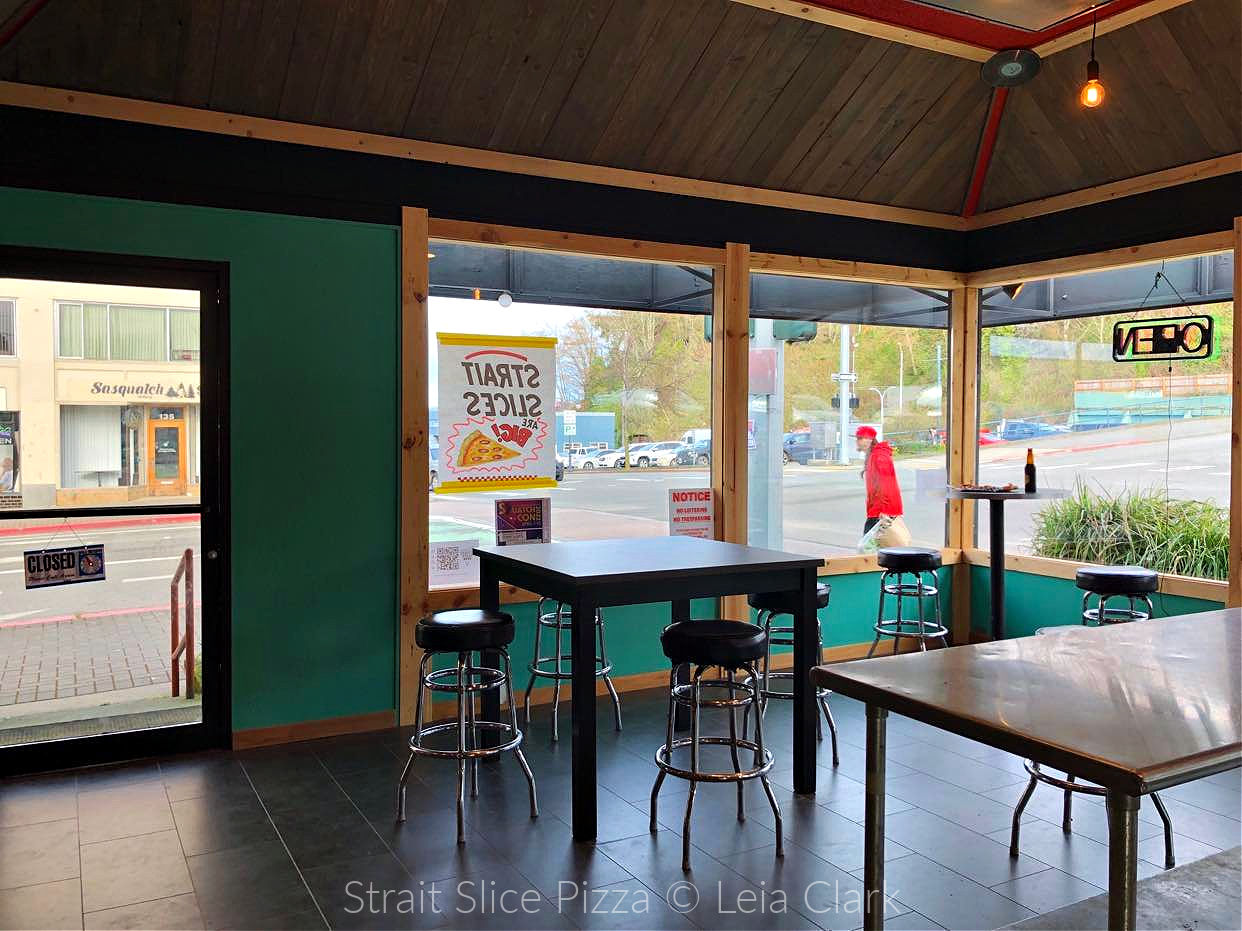 The building has lots of windows letting in cheerful light, and when the door opens you can smell the briny salt air from the nearby waterfront. The inside is basic décor, black metal and dark wood tables and chairs with specials on large chalk boards.
You order at the counter then have a seat.
The pizza crust is Neapolitan style - thin and crispy. All the better to taste all your choices of fresh toppings.
Besides pizza, there are also calzones and salads. The menu is simple and informal, but does have some unique ingredients like homemade sausage. If you need a cheap, quick grab-and-go lunch, they have pizza by the slice that they quickly oven heat for you.
They also sell local brew sodas and alcoholic drinks to go with your entree.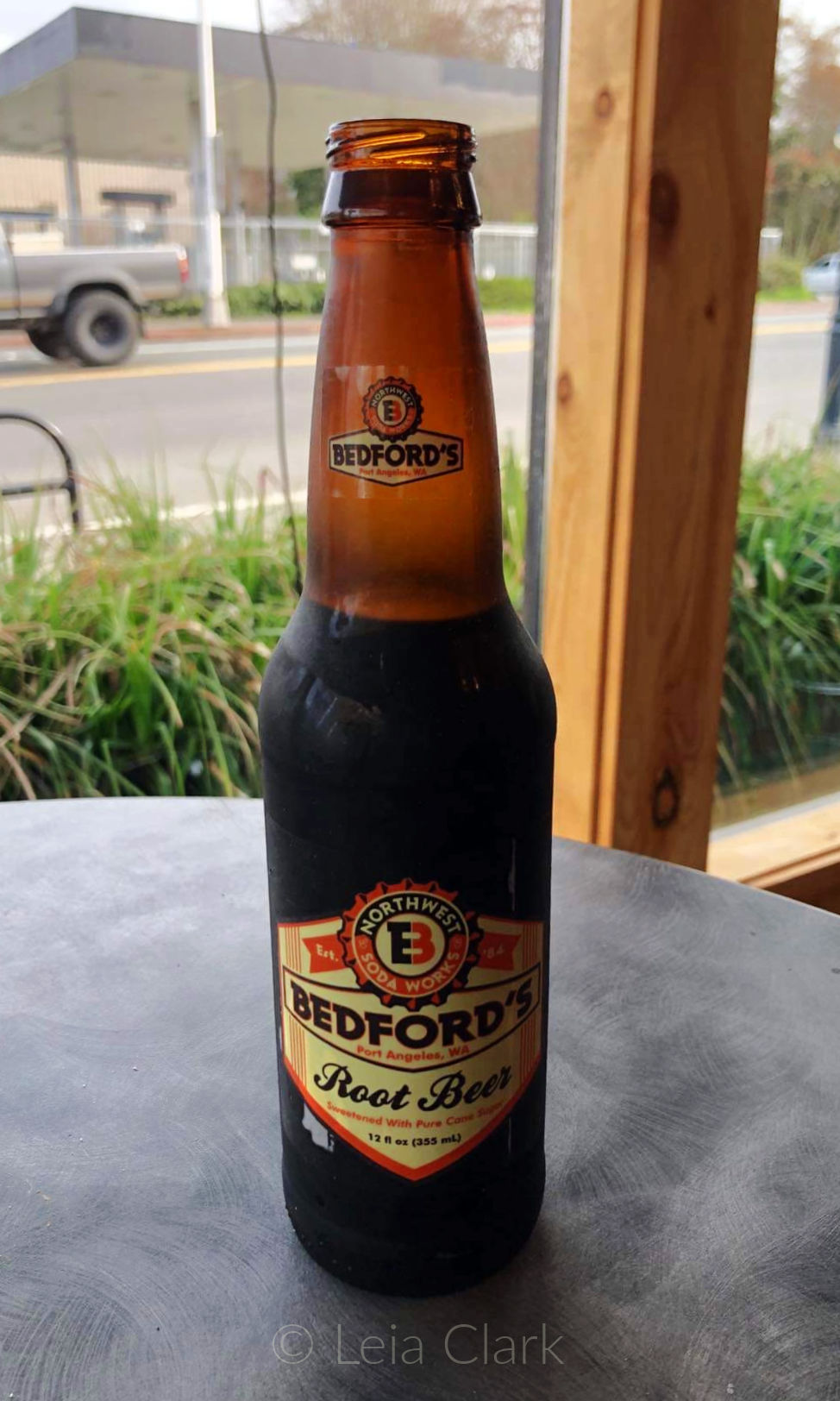 Locally brewed Bedford's Root Beer.
The meal I enjoyed included two slices of their pepperoni pizza and a bottle of root beer from our local Angeles Brewing Company. The pizza had good flavor with their crispy crust.
On the root beer spectrum, the beverage was much closer to the sweetness of A&W than to the bite of Barq's. It's definitely a good meal if you're hungry, but you'll want to go for a third slice if you're famished.
Downtown Port Angeles has lots to see, do, and eat! There is a great variety of cuisine available, so when you make a day trip to downtown, the Strait Slice Pizza Company is a perfect place to stop for a quick bite, fueling your explorations of the hub of Port Angeles and beyond.

---
Have You Eaten Here?
Do you have a great story or experience at this Port Angeles restaurant? Feel free to share it below! Be as wordy and as descriptive as you like. Include photos as well, if you have them; there is plenty of room for it all on our website.

Just click into the title box below and go from there. When published, you'll have "your own" page on MyPortAngeles which you can share with friends or anyone who asks!

We're happy to ensure professional and amateur photographers get credit for their work. Leave us your name in the form below, and means of contact, website, or FB page info so we can link back to you.