Songoku Hibachi and Sushi
Songoku Hibachi and Sushi: Entertaining and unique Japanese restaurant. Enjoy hibachi food prep performances, sushi, and more. Details, reviews, photos.
Songoku Hibachi and Sushi Info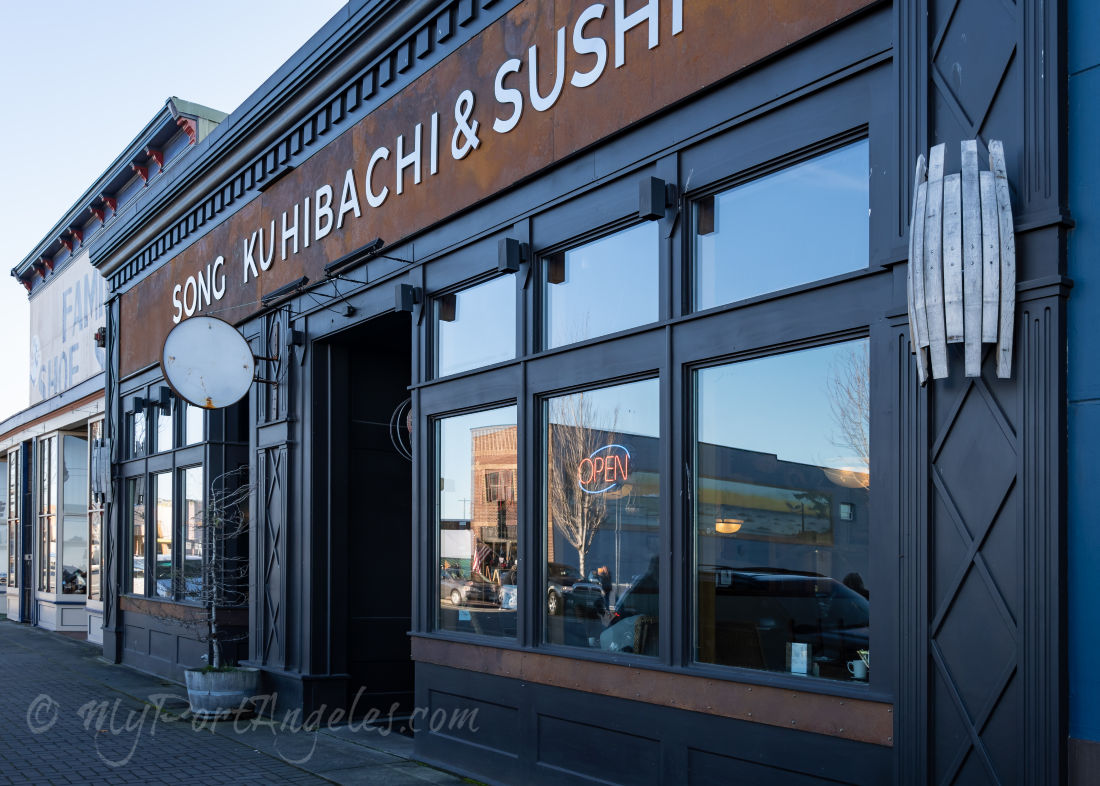 Songoku Hibachi and Sushi Info
Location: 134 W Front St, Port Angeles, WA 98362-2607
Phone number: +1 360-477-4315
Facebook: https://www.facebook.com/pages/Songoku/441020429792268
Menu: https://zmenu.com/songoku-port-angeles-online-menu/
Hours: Every day, 11am-8:30pm
Tripadvisor: Tripadvisor Reviews for Songoku Hibachi and Sushi in Port Angeles WA
Yelp: Yelp Reviews for Songoku Hibachi and Sushi in Port Angeles WA
Songoku Hibachi and Sushi
---
About Songoku Hibachi and Sushi
Songoku Hibachi and Sushi is located in the building that was previously the home to a widely popular Japanese restaurant (Soho Hibachi). Songoku is becoming increasingly popular with Sequim and Port Angeles locals, as well as with travelers that visit Port Angeles and the surrounding attractions.
Songoku Hibachi and Sushi is located on Front Street in downtown Port Angeles. As you enter downtown Port Angeles from the east, Songoku will be on the left between Laurel Street and Oak Street.
If you're coming from the west, Highway 101 enters Port Angeles and becomes Lincoln Street. Continue toward the water on Lincoln, then turn left on Front Street. 
TIP: We've eaten here and enjoyed it very much! But we haven't (yet!) provided photos of every menu item. If you'd like to explore photo representation of their food, check Songoku's Facebook page, especially if you love sushi. Expect your mouth to start watering....

Attira's Review of Songoku Hibachi and Sushi
I have been there one time so far and I would definitely go back!

I ordered a sushi roll, the "Green Dragon Roll," which has shrimp tempura, spicy 'krab' (imitation crab) topped with eel, avocado and eel sauce. Also on my plate was some of the chicken hibachi left over from the meals of the other two people I was with. The Green Dragon Roll was amazing and the chicken hibachi was super yummy as well.
The Hibachi "performance" was really interesting also, I had never seen anything like it in person before so it was definitely an experience. It was fascinating to watch the process of how they cook fried rice and how they cook the chicken and vegetables just right. 
There was one part of the performance that was my favorite. The chef stacked onion rings on top of one another and then made fire shoot out of them like a volcano. It was definitely a memorable experience.
It was quite amazing watching the food preparation presentation, because the artistic part of making the food really makes a person appreciate the art of cuisine and sometimes even puts the desire to learn the art of cuisine. I thought this was a really memorable thing from our visit to this restaurant. 
- Update on July 2nd 2020 - 

I visited Songoku again with my mom, brother and friend, and it was, again, very delicious. I had the Salmon Hibachi which was incredible and part of the Dynamite and Spicy Tuna Rolls which were amazing. I still highly recommend this restaurant, not just for the food but for the excellent service as well. 
What Customers Think About Songoku Hibachi and Sushi
Out of three reviews on Trip Advisor, all three of them rate Songoku Hibachi and Sushi as excellent. 
One customer said that the food was really good, and that they enjoyed sitting at one of the hibachi tables to watch their food be prepared, and were very happy that their kids ate every morsel of their food. 
Another customer enjoyed their sushi and sashimi platter, and were very happy with the fresh fish, presentation and friendly service that they received. They will definitely return!
Another customer said that they love this restaurant because of the fresh and amazing food and the quick and pleasant service whenever they visit. They recommend this restaurant for any occasion. 


Have You Eaten Here?
Do you have a great story or experience at this Port Angeles restaurant? Feel free to share it below! Be as wordy and as descriptive as you like. Include photos as well, if you have them; there is plenty of room for it all on our website.

Just click into the title box below and go from there. When published, you'll have "your own" page on MyPortAngeles which you can share with friends or anyone who asks!

We're happy to ensure professional and amateur photographers get credit for their work. Leave us your name in the form below, and means of contact, website, or FB page info so we can link back to you.

Washington State Covid-19 Status
As of July, 2021, Washington State is now generally open. However, current state mandates require masking for all indoor activity outside of ones own home. Additionally, there is a state mandate requiring restaurant patrons to provide proof of vaccination for indoor dining. Due to logistical difficulties, some restaurants are still open only for takeout/drive thru. HIPAA guidelines about privacy for medical information regarding indoor dining does not permit enforcement of covid mandates.