Fast Burritos
Fast Burritos in Port Angeles is an amazing Mexican fast food restaurant offering both eat-in and drive through service. The food is fast, fresh, authentic, affordable, and extremely delicious.
As fast food goes, the traditional Mexican food served here is very nearly second to none.
The restaurant is located conveniently on First Street just east of Race Street (see map below). Whether you live locally or are just passing through, you can hardly go wrong to swing by Fast Burritos for some hearty Mexican cuisine.
Eat in and enjoy the vibrant ambience of Mexico, or grab and go so you can get quickly to the next stop on your vacation itinerary.


Fast Burritos Contact Information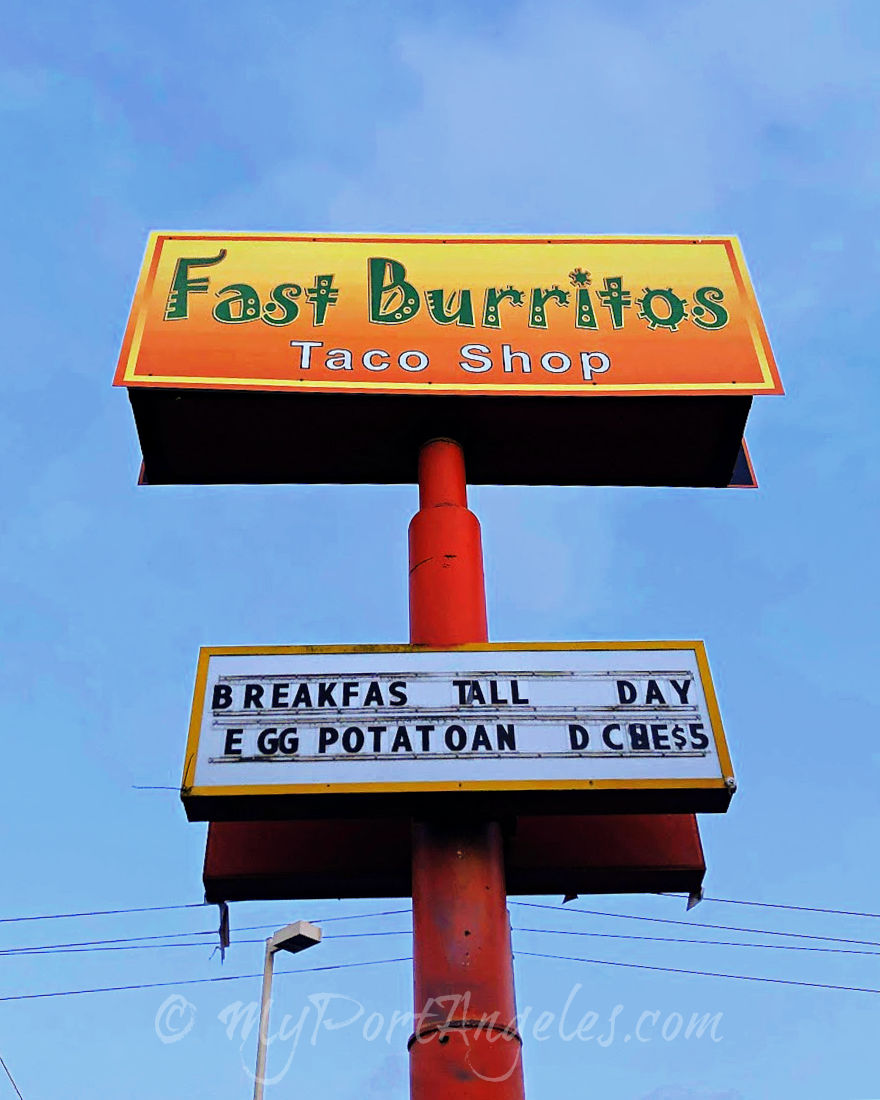 ---
Fast Burritos in Port Angeles, WA
---
Fast Burritos Restaurant in Photos
Below: Every vibrant color of the rainbow is amply represented, no matter which booth or a table is open for seating!
In our opinion, Fast Burritos offers cuisine that rivals that of many of the excellent Mexican restaurants on the Olympic Peninsula.
A fancy sit-down experience you will not get, but Fast Burritos makes up for it in colorful, latino decor. On a gray day, these surroundings will brighten your outlook on life! 
Other Mexican Restaurants in Port Angeles include Fiesta Jalisco and Sergio's Hacienda and Cantina which are both very good and at which you can sit down and enjoy a traditional dining experience. Mexican Fast Food outfits Taco Time and Taco Bell round out the rest of Port Angeles Mexican cuisine. 
Below: Brightly painted carved tabletops covered in glass.
Leia's Review of Fast Burritos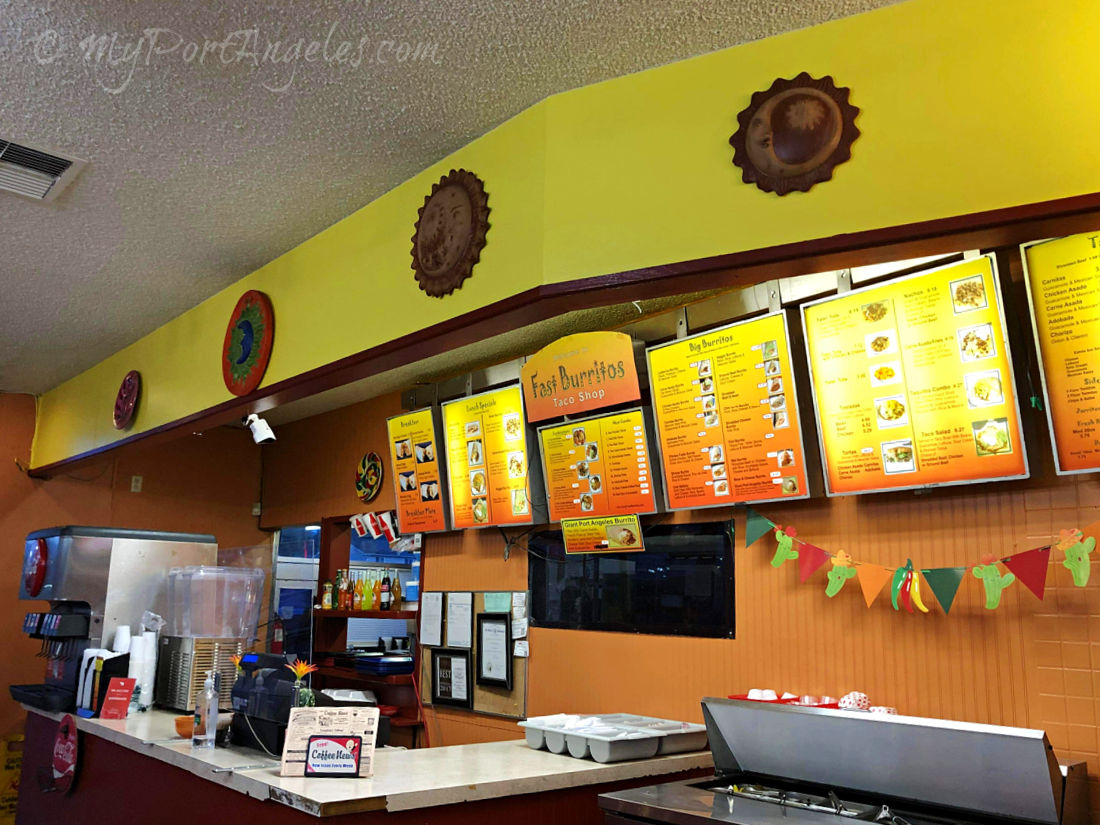 "Order here."
If you're in Port Angeles and want good Mexican food at a good price, Fast Burritos hits the spot. If you're in a hurry or on lunch break, you can even cruise through their drive thru.
But when you'd like a leisurely sit down meal, the cheerful décor inside gives a great Old Mexico feel. The furniture itself is art, with carved relief scenes of tropic wildlife and festive people in bright colors.
It's very casual, with the Spanish conversations of the kitchen staff and traditional accordion music adding to the ambiance. Wall medallions, burnished overhead light fixtures, and live tropical plants make this humble establishment very inviting.

Beef taco salad, delicious as always.
The menu is ample, with the restaurant being open for breakfast, lunch, and dinner. The lunch/dinner entrees are generously portioned, often sufficient for 2 good meals. The food itself has good flavor, while very mild on heat to suit the mellow palate of the Pacific Northwest.
But if you want spice and fire, Fast Burritos can accommodate with sauces and a fresh salsa bar. The green sauce is very mild, but wait… it does have a little kick that will sneak up on you. If you prefer robust heat, their red sauce is the way to go.
The sample entrée was a beef taco salad, delicious as always. 

---
Salsa bar.
The warm beans and meat perfectly complimented the cold lettuce, cheese and sour cream. While guacamole doesn't appeal to everyone, their guacamole is the perfect accompaniment to any of their dishes. The flour taco shell was nice and crispy, being the perfect finishing touch to the salad.

Besides the usual entrees and sides, Fast Burritos also offers a variety of breakfast burritos, churros and other mild sweets, and popular cane sugar Mexican sodas in the glass bottles. Whether in the mood for a quick snack or a feast, swing by Port Angeles' favorite Mexican fast food, Fast Burritos.
Below: Fanciful and colorful latino artistry is seen throughout the dining room, including these high bench backs.

Attira's Review of Fast Burritos
I have dined in at Fast Burritos once, and have had takeout from there about half a dozen times, maybe more. I have had their Carne Asada Burrito and a Shrimp Burrito, both of which are good, however the Shrimp is my favorite and has been my usual for awhile now. I highly recommend this restaurant as a reasonably priced option for a family dinner, not to mention it's really yummy and tastes completely authentic. 
What Customers Think About Fast Burritos
Out of 20 reviews on Trip Advisor, 10 of them rate Fast Burritos as Excellent, and 4 of them rate Fast Burritos as Very Good. 
One customer said that they took their family here for lunch one day and instantly fell in love with it due to the amazing food and how affordable and filling the food was. 
One customer said that they like going here because of the great food, affordable prices and the Fast Service. 
One customer from New Mexico really enjoyed all aspects of this restaurant, including the service, food, atmosphere and portion sizes.


Fast Burritos in Port Angeles, WA. Delicious Mexican Fast Food!