Sol Duc Hot Springs Resort
Sol Duc Hot Springs Resort, west of Lake Crescent in the Olympic National Park. Stay, eat, swim, soak in hot springs, and relax in a temperate rain forest. 
Twelve miles deep into the Olympic National Park along the Sol Duc River Valley lies Sol Duc Hot Springs Resort.
---
Sol Duc Hot Springs Resort
12076 Sol Duc Hot Springs Road, Port Angeles, WA 98363
Reservations: +1-866-476-5382

Rates: Lodging ranges from $196 for a cabin w/o kitchen, up to $395 for accommodations that sleep up to 14 and overlooks the river. The resort is open seasonally between approximately March and October. Check the website for exact dates and road conditions.

Campsites are also located nearby with water and electrical hookups. Reservations are recommended at these sites and entry to the pools is extra.
A stay at the resort includes entry to the hot pools. Campers or day visitors can purchase access to the pools. Tickets are priced for children and adults, or purchase a season pass. Check the website or call for current pricing information.
Getting to Sol Duc Hot Springs Resort
Sol Duc Hot Springs Resort
Sol Duc Hot Springs Road connects to Highway 101, which circumnavigates the Olympic Peninsula, just a couple miles to the west of Lake Crescent.

Drive 12 miles approximately. Follow the signs and turn right into the resort, crossing over a branch of the Sol Duc River.
Port Angeles is 41 miles (66 km) to the east of Sol Duc Hot Springs Resort, which should take about a one-hour drive. But, if Port Angeles is not your starting point, then...
Port Townsend is 88.1 miles (141.8 km) to the east, about 2 hours by car
Sequim is 58 miles (93.3 km) to the east, about 1.5 hours by car
Forks is 39.7 miles (64 km) to the west, about 52 minutes by car
Aberdeen WA is 147 miles (236.7 km) to the south, about 3 hours by car
---
Why Stay at the Sol Duc Hot Springs Resort?
First, the resort is in the midst of an absolutely beautiful, temperate rainforest wilderness, with photo-ops and memories to be made literally everywhere. In the Sol Duc River Valley you will encounter nature hikes, rugged mountaineering (if you wish), waterfalls, hot springs, and, depending on the season, spawning salmon leaping up cataracts in the Sol Duc River. It's all near the Sol Duc Hot Springs Resort.

Secondly, with just one exception, the drive to any other hotels or restaurants involves more than an hour's drive either to Port Angeles or to Forks WA. Why spend several hours of your precious vacation commuting back and forth when you can stay on site for every waking moment? You commute plenty in real life - no need to stare at pavement throughout your vacation if you don't need to.
(The exception would be a stay at Lake Crescent Lodge which is only 30 minutes away, and a wonderful alternative lodging choice, especially if you appreciate the openness of the lake and are heading that direction anyway.)
Amenities at Sol Duc Hot Springs Resort
On-site restaurant and cafe
Gift shop
Grocery store
The highlight: hot springs pools, long known by local native peoples for their healing properties. With one freshwater pool and 3 mineral pools with temperatures ranging from 50 - 104 degrees, resistance is futile. Sink into the luxurious mineral waters, soak in the warmth and feel every muscle relax.
The Resort does not have a full spa but does offer massages for between $55-100.
Note: Amenities do not include electronics: No TV, no radio, no telephone, and no internet are provided in cabin rentals. All the better for full relaxation.
Nearby Activities
The Sol Duc River Valley is a destination in its own right. This is a 15-mile long isolated valley containing many excellent representations of a temperate rainforest.

Hiking: Lover's Lane is an easy hike from the resort to Sol Duc Falls. The Mink Lake hike is a not-too-challenging trek to an incredibly beautiful high mountain lake. Or, start here and pack in for miles and miles of hiking throughout the vast expanse of the Olympic National Park. (Permit needed for overnight hiking/camping.)


Waterfall: Visit the Sol Duc Waterfall and bridge at the end of Sol Duc River Road. This will involve a 0.8 mile simple hike one-way.


Spawning Salmon: Salmon Cascades are at mile 6 of Sol Duc River Road


Temperate rain forest: Stroll through the Ancient Grove at approximately mile 7.5 of Sol Duc River Road.
If you'd like to range a little farther afield:

---
Springs Restaurant at the Sol Duc Resort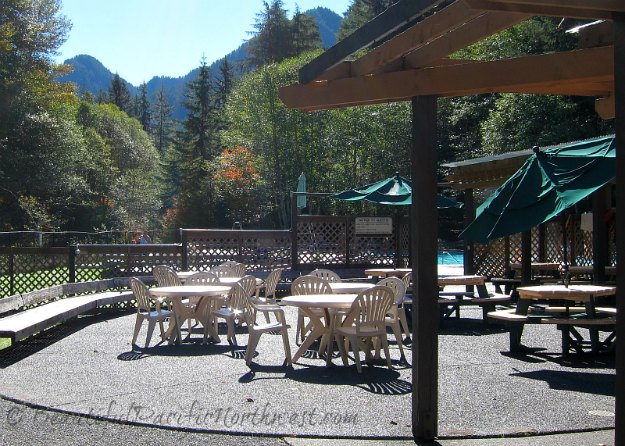 Poolside Deli at Sol Duc Hot Springs
Springs Restaurant has you covered for all three meals:

Breakfast is served 7:30 - 10:00 am
Eat lunch at poolside from 11:30 am - 4:30 pm
Eat in style for dinner from 5:30 pm - 9:00 pm
Check the website for menu choices. Enjoy!
Overview of all Olympic National Park Restaurants


---
Brief History of the Sol Duc Hot Springs Resort
The therapeutic hot springs were introduced to an early settler, Theodore Moritz in the 1880s. He homesteaded the area and spread the word about these amazing waters.

Seeking relief from his own ailments, timber baron Michael Earles visited the hot springs, considered himself cured, and decided to make a worthy investment in the healing of others. In 1910, Earles purchased the property and poured a half-million dollars into his new 4 story, 164-room hotel and resort.
After its opening in 1912, it became known as one of the best spas in the United States. Heated by steam from the hot springs, it contained the latest in modern amenities such as electric lights and telephones; even a bowling alley, billiard room and theater. The gardens were luxurious with fountains and tennis courts, golf links and croquet grounds. Vegetables, cattle and chickens were grown on-site for use in the resort's restaurants.
Folks came from all over the country, even as far as Europe, to soak in this luxury. At only $2.50 per day, it was considered very reasonable, despite the two-day journey to get there.
Four years later in 1916, a fire started in the roof of the main lodge and spread quickly, completely destroying it within a few hours. It took a few years to rebuild, but a more humble structure rose from the ashes.
Much later, in 1966, the Resort was purchased by the National Park Service. Problems with the thermal springs in the 1970s were overcome and the Sol Duc Hot Springs Resort gained fresh new life in the 1980s. Today it is a rustic and quiet retreat providing respite from mainstream life.
Telephones have disappeared from the premises, along with television, internet and radio. The better for the relaxing sounds of nature and the burbling river to cleanse and heal your soul.
Have You Stayed Here?
Tell us Your Story and Share Your Photos!
Have you had a relaxing, enjoyable stay at this accommodation here in the Olympic National Park? Do you have a great story or an interesting experience to share? We'd love to hear about it! Feel free to share it in the form below. Be as wordy and as descriptive as you like. Include photos as well, if you have them; there is plenty of room for it all on our website.

Just click into the title box below and go from there. When published, you'll have "your own" page on MyPortAngeles which you can share with friends or anyone who asks!

We're happy to ensure professional and amateur photographers get credit for their work. Leave us your name in the form below, and means of contact, website, or FB page info so we can link back to you.