Port Townsend Whale Watching
Port Townsend Whale Watching: Take a whale watching tour leaving from Port Townsend for short transit times and long whale watching enjoyment.
The beautiful, calm inland waters of the Strait of Juan de Fuca play host to five types of whales: gray, minke, southern resident orca, transient orca, and humpback; not to mention a wide variety of marine birds, such as puffins, loons, mergansers, harlequin ducks, bald eagles, and many more. Other marine life thrive here, such as porpoises, harbor seals and steller sea lions. Viewing all of these additional species in their natural habitats is a bonus to the whales you are likely to see.

Port Townsend Whale Watching Tours
Puget Sound Express
Puget Sound Express
227 Jackson St., Port Townsend, WA 98368
Phone: +1-360-385-5288
Contact: info@pugetsoundexpress.com
Tripadvisor Reviews of Puget Sound Express - 4.5* including Certificate of Excellence
Rates: between $65 for a child to $135 for an adult, depending on the tour; infants are free. Some tours require a minimum of 15 passengers. 
Rates for 3-day 2-night tours: $850/double-$925/single. This includes 2 nights at Roche Harbor Resort, plus cruising around the Strait of Juan de Fuca and the San Juan Islands.
Glacier Spirit, Puget Sound Express whale watching boat
This is a family owned, three generation company operating since 1985. Pete and Sherri Hanke offer a variety of whale and wildlife watching tours between Port Townsend, Friday Harbor on San Juan Island, and Edmonds/Seattle, departing from two locations: Port Townsend and Edmonds/Seattle. They also partner with the Port Townsend Marine Science Center and the Olympic Peninsula Audubon Society hosting special bird watching tours.

They have three fast and comfortable boats. 
The Puget Sound Express whale-watching boat, Glacier Spirit, pictured above, is large and comfortable, has a wrap-around viewing deck, hydrophones, restrooms, snack bar and full galley. They've thought of everything!
They also operate the Redhead, and the Chilcat Express (pictured below), a high-speed foilboat that can travel 40 mph, making maximum use of your whale-watching experience. Each is equipped with on-board amenities like snack bars, restrooms, and great viewing areas.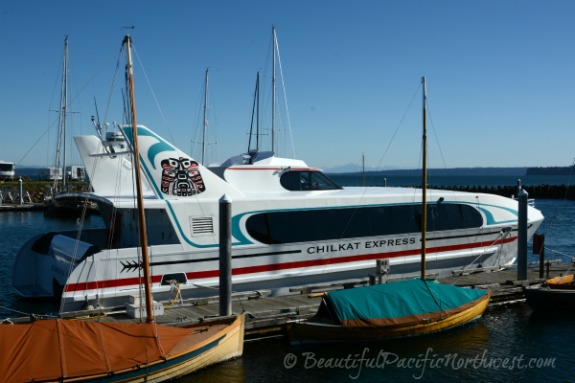 ---
Peninsula Sportsmen Guide & Outfitting Service
Peninsula Sportsman Guide & Outfitting Service
PO Box 763, Port Townsend, WA 98368
Phone: +1-360-379-0906
Contact: info@PeninsulaSportsman.com
Rates: $425/1-2 people per 3-4 hours. Additional persons are $50/each (4 adult max); children under 14 are free. Contact their office for more information.
Description: Owners David and Tiffany Drewry offer whale, wildlife and bird watching, in addition to water fowl hunting, fishing and private charters around the Port Townsend waterways and the Protection Island National Wildlife Refuge.
---
Port Townsend Marine Science Center Cruises
Port Townsend Marine Science Center hosts wildlife cruises out to Protection Island, where you will view a multitude of species of marine wildfowl. Depending on time of year, they offer two kinds of 3-hour cruises:

Bird Migration Cruises in April
Puffin Cruises in June - August
In the process of the cruise, you may also see whales.
See their website for details: https://ptmsc.org/cruises


Whale Watching From the Washington Coast
The Olympic Peninsula coast along the Pacific Ocean is a main thoroughfare for migrating whales. The best viewing spots are at the Kalaloch, Rialto and Shi Shi beaches. The Whale Trail website offers a great reference chart for when and where to spot them.
If for some reason you want to see whales, the timing is right, but a Port Townsend Whale Watching tour is not available, a drive to the coast might work for you. Or, check to see if a Port Angeles whale watching tour is available.
Enjoy your whale watching excursion!


Have you Gone Whale Watching?
Please Share Your Stories and Photos With Us!
Whale watching can be a spectacular, awe-inspiring experience! We'd love hearing about your whale watching happenings here on our website. Please share your stories along with some exceptional photos if you have them. We know that other visitors will enjoy these stories and seeing the photos as well!

Just click into the title box below and go from there. When published, you'll have "your own" page on MyPortAngeles which you can share with friends or anyone who asks!

We're happy to ensure professional and amateur photographers get credit for their work. Leave us your name in the form below, and means of contact, website, or FB page info so we can link back to you.
What Other Visitors Have Said
Click below to see contributions from other visitors to this page...

Got lucky first time out! Not rated yet
Went on an orca-watching cruise on board the Chilkat Express out of Edmonds, back in 2016. I'd never been on a whale-watching cruise before, but had heard …