Port Angeles Whale Watching Tours
from the Olympic Peninsula

Port Angeles Whale Watching Tours from the Olympic Peninsula: Leave from Port Angeles or even Sequim for short transit times and long whale watching times.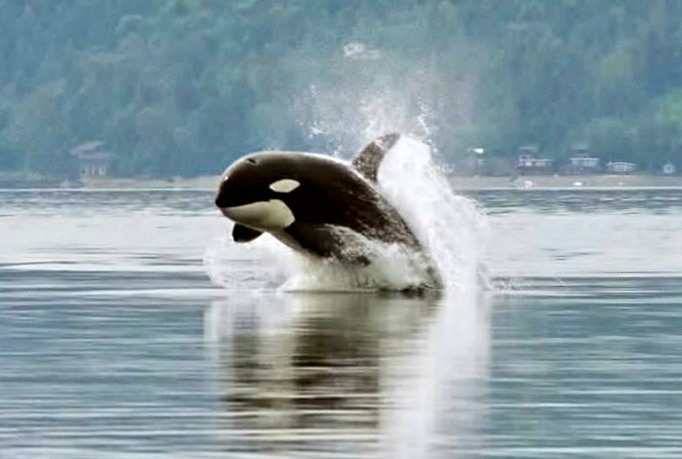 Orca whale porpoising in waters off the Olympic Peninsula. Photo Credit: Wiki.
Majestic Olympic Mountains soar to the south. Vancouver Island rises to the north and west. The San Juan Islands dot the Salish Sea to the north and east. Calm waters and beautiful scenery make the perfect backdrop in an area known for excellent whale watching and wildlife viewing opportunities.

Here, the beautiful, calm inland waters of the Strait of Juan de Fuca play host to five types of whales: gray, minke, southern resident orca, transient orca, and humpback; not to mention a wide variety of marine birds, such as puffins, loons, mergansers, harlequin ducks, bald eagles, and many more. Other marine life thrives here, such as porpoises, harbor seals and stellar sea lions.
Two humpback whales feeding through baleen strainers
Photo credit: Flickr user Rick Berg under Creative Commons 2.0

The Pacific Northwest resident orca whales can be seen throughout the year, but the best times to spot them are March through November. They can be seen traveling singly, in pairs, mother and baby, or in pods of up to 50 individuals. 
Whale Watching Tour from Port Angeles WA
Each of the following whale watching tour companies has very good TripAdvisor ratings, experienced and knowledgeable crews, and comfortable amenities.

Port Angeles Whale Watch
Port Angeles Whale Watch
Located at Boat Haven, Marine Dr., Port Angeles, WA 98363
Phone: +1-360-293-4215
Contact: whales@islandadventurecruises.com
Tripadvisor Reviews of Port Angeles Whale Watch Company - 5*
Certificates of Excellence from 2012 - 2015
Fares range from $29/children to $99/adults, children 2 and under are free; check the website for current schedules, fares and discounts.
Port Angeles Whale Watch is a subsidiary of Island Adventures Whale Watching.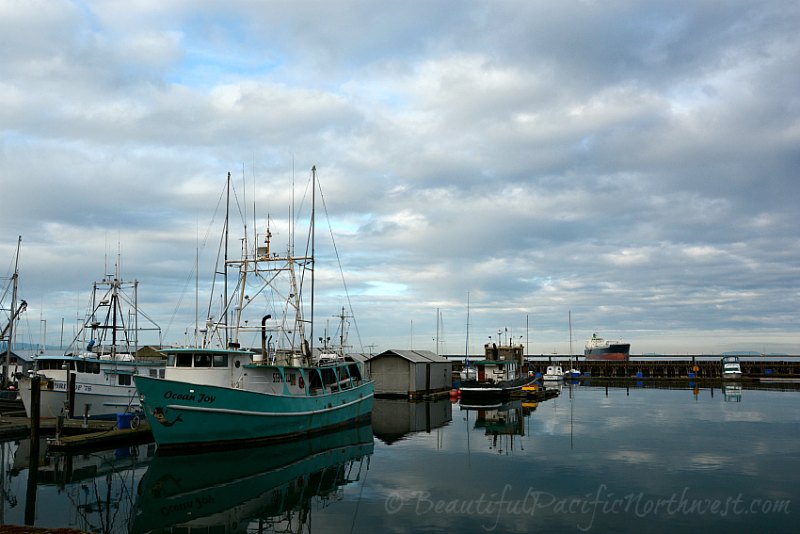 Fishing vessels in the Port Angeles marina
Evening Magazine voted this Port Angeles whale watching tour company #1 in the Pacific Northwest from 2010 through 2015. With three locations in the PNW, Port Angeles, Everett, and Anacortes, Port Angeles Whale Watch offers a variety of tours between March through November.

Their 85-foot (26 m) Island Explorer 4 is fast enough to get you to where the whales are; has a wrap-around viewing deck with full upper deck, hot food and drinks, restrooms and indoor heated cabin. The company offers 4-5-hour whale watching tours from May to November. See their website for details about their locations in Everett and Anacortes.
Best of all, their success rate in finding the whales is unmatched. If your tour fails to find any whales, they will give you as many free trips as it takes until you have gotten what you came for - whale sightings.
Island Adventures Whale Report includes reports of whale sightings from Port Angeles.
Whale Watching from the Washington Coast
The Whale Trail along the Olympic Peninsula coast is a main thoroughfare for migrating whales. The best viewing spots are Kalaloch, Rialto and Shi Shi beaches. Here's a great reference chart for when and where to spot them: https://thewhaletrail.org/where-and-when-to-see-whales
Enjoy your Port Angeles whale watching experience!


Have you Gone Whale Watching?
Please Share Your Stories and Photos With Us!
Whale watching can be a spectacular, awe-inspiring experience! We'd love hearing about your whale watching happenings here on our website. Please share your stories along with some exceptional photos if you have them. We know that other visitors will enjoy these stories and seeing the photos as well!

Just click into the title box below and go from there. When published, you'll have "your own" page on MyPortAngeles which you can share with friends or anyone who asks!

We're happy to ensure professional and amateur photographers get credit for their work. Leave us your name in the form below, and means of contact, website, or FB page info so we can link back to you.