Oak Table Cafe 
Oak Table Cafe is a charming breakfast and lunch eatery with a good reputation among the locals. It has a family friendly atmosphere, and fun, creative presentation of the meals.
It's very near downtown Sequim, making it a perfect way to start a day browsing the local shops and scenery. The regular menu has great variety, plus they also have specials and seasonal treats. Read on for more details, reviews, and photos.

Oak Table Cafe Info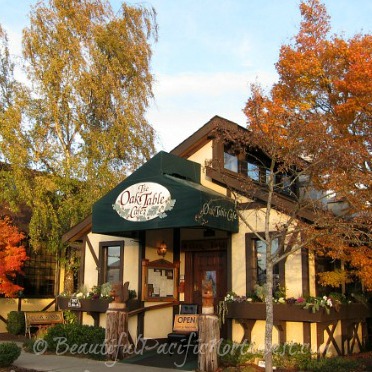 Oak Table Cafe 
Location: 292 W Bell St, Sequim, WA 98382
Directions: At the northeast corner of 3rd and Bell.
Parking: Limited on the street, plenty in back.
Phone: (360) 683 - 2179
Email: nagler @ olypen. com OR info @ oaktablecafe. com
Instagram: https://www.instagram.com/oaktablesequim/
Website: http://www.oaktablecafe.com/
Facebook: https://www.facebook.com/oaktablecafesequim
Menu: 
Hours: Daily: 7am-3pm
Tripadvisor: Oak Table Cafe in Sequim WA
Yelp: Oak Table Cafe in Sequim WA
Member of Sequim Chamber of Commerce
Oak Table Cafe in Sequim, WA
Mother's Day at Oak Table Cafe
This review was written by Suzi Scribbles, reporter at large, on Mother's Day, 2023.
On Mother's Day, our family took out our mother and sister to Oak Table to show our appreciation. Everything was terrific! 
Waiting time: I went early to secure a table for 8, and it's a good thing! Oak Table was the place to be, and the church crowd showed up en masse. The scent of their locally procured signature bacon wafted outside the door, promising good things to come.   

We had a 40 minute wait. The wait was made more pleasant by coffee being available for customers to help themselves. They also have ground coffee and mugs for sale so you can enjoy their bold brew at home.
Parking at Oak Table: there is some parking available on the street, but plenty more behind the restaurant. As busy as they were for Mother's Day, I resorted to "inventing" a parking spot. 
Restaurant layout: It is indoor dining only. However large windows provide plenty of cheerful sunlight. There are two dining areas. The entrance and inside have ramps/slopes instead of steps, so people with walkers can navigate well.
---
Charming upscale antique ambience.
Decor: The inside has a charming antique look of the early 20th century, such as heavy wood furniture, metal signs, stained glass, and various knicknacks. At the entrance, the wall over the concierge desk has this gorgeous display of antique plates.

(Fun Fact: Sequim is considered the Lavender capital of North America. They even host an annual Lavender Festival every July. See the Events page for more details.)

Kijafa Cherry Crepes - soo good!
The FOOD: The coffee I had was hearty and robust. For my entree, I had the Kijafa Cherry Crepes, "Delicate crepes filled with Montmorency cherries poached in cherry syrup and tempered with Kijafa cherry wine, a Danish favorite," according to the menu.
It was fabulous. The crepes were so tender that it was actually better to cut them with a fork instead of a knife. The mimosas were pleasant and a welcome side to sweet or savory dishes.
The service: Each staff member was pleasant and efficient. Orders were served in a timely manner. Requests for extra butter and other things were filled immediately. Coffee was refilled quite regularly. The staff is to be commended for performing so well on such an unusually busy day.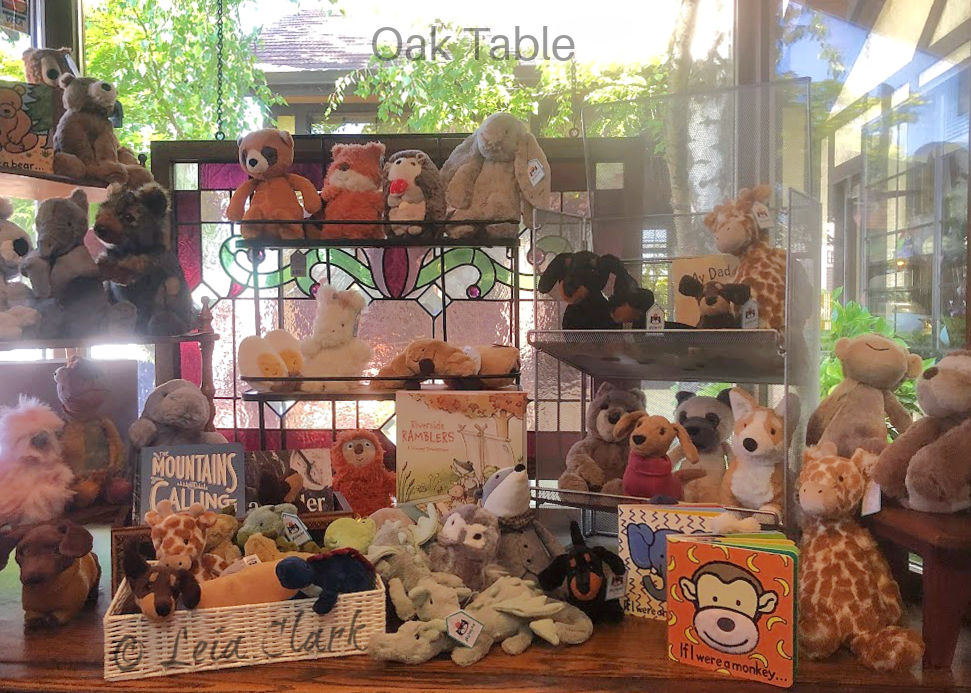 Oh the souvenirs one can purchase to remember one's visit to Oak Table Cafe and/or to Sequim on the Olympic Peninsula!
---
I don't know if Oak Table Cafe will feel a bit pricey to you. I do expect that you will get an excellent dining experience with gourmet food. Inquire about their daily specials plus seasonal favorites like their Hot Apple Cider and Eggnog Latte.

Based on the wonderful experience I had in Sequim, I would also highly recommend this restaurant's sister restaurants, owned and managed by the same family: Chestnut Cottage in Port Angeles and the Oak Table in Silverdale. 

All are delightful and have the same quality of food and same wonderful dining experience.

---
About Oak Table Cafe
From the Oak Table Cafe website:
"The Oak Table Cafe opened in 1981 when Mary and Billy Nagler started a second generation of hospitality tradition. Together, over the past 20 years, with their 3 children, Nikki, Kory and Casey, they have won the hearts and appetites of the folks in this beautiful river valley.
"After 5 years of working with and learning from both their parents, Henry, Ann, Joe, and Alice, in the Nagler's restaurant in Chicago, Billy and Mary came to Sequim and purchased a small run down house on Third and Bell and began remodeling. Four months later they put their hammers and paint brushes down, stood back for a moment to admire what they had built, opened the doors and never looked back."
It's been more than 40 years of taking care of the local community by serving delicious food. The family continue to keep the building and interior ambience up to date, maintaining its character and charm. We think you will enjoy your visit, from the initial greeting to the final goodbye.

---
What Customers Think About Oak Table Café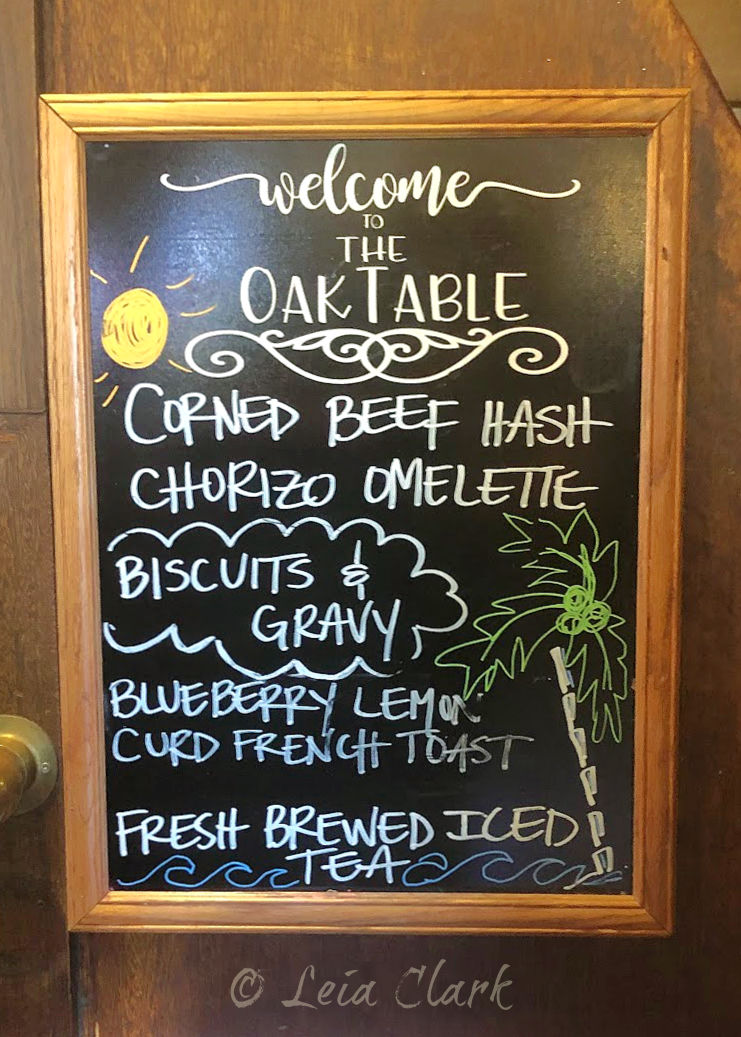 The "Specials" board at Oak Table Cafe.
On Tripadvisor, 94% of reviewers rate Oak Table Cafe as excellent or very good. 

One customer said that, after looking up restaurants in the area, Oak Table Café came up as the #1 restaurant in Sequim, so they decided to try it before their long drive back home. They were very happy with the 'outstanding' food and 'terrific' service and highly recommend this restaurant. They also enjoyed a Latte with almond milk.
Another customer said that Oak Table Café has the best breakfast and lunch on the Peninsula. They say that the atmosphere of the restaurant is lovely, the service is excellent and all the food is fresh. The bacon and eggs are 'second to none.'
Another customer comes to Sequim from Canada just for a delicious meal at Oak Table Cafe. They say that this is their favorite breakfast place ever and it has never disappointed. Their experience is that the food has always been great and the service: excellent. They recommend asking the staff for recommendations on what to order, which they mentioned have always made them happy. 



---
Have You Eaten Here?
What's your favorite on the menu at this restaurant? Care to share a great story or experience that happened here? Please add a review. Tell us about it in the form below! Be as wordy and as descriptive as you like. Include photos as well, if you have them; there is plenty of room for it all on our website.

Just click into the title box below and go from there. When published, you'll have "your own" page on MyPortAngeles which you can share with friends or anyone who asks!

We're happy to ensure professional and amateur photographers get credit for their work. Leave us your name in the form below, and means of contact, website, or FB page info so we can link back to you.