Log Cabin Resort
Log Cabin Resort. Photos and info about the Log Cabin Lodge Resort at Lake Crescent in the Olympic National Park, including lodging and dining options.
Nestled between trees and water, the Log Cabin Resort may not be called fancy, but the rustic accommodations are buoyed by location, location, location.
This beautiful and peaceful spot on the sunny north shore of pristine Lake Crescent is a perfect family vacation spot. Large green lawns sweep from the resort down to the lake making the ideal spot for lazing by the sunny shore while the kids run and play.

There's enough to do on Lake Crescent to keep a busy family occupied. Choose from boating, paddle boarding, kayaking, hiking, biking and more. And it's close enough for day trips to nearby attractions, like Hurricane Ridge, Hoh Rainforest, Marymere Falls, Sol Duc River Valley, Port Angeles, Forks and many coastal beaches.
Log Cabin Resort
3183 East Beach Road, Olympic National Park, WA 98363
+1 (855) 289-2638
Tripadvisor Reviews of the Log Cabin Resort, Olympic National Park
In the evenings, after the kids quiet down, relax in the main lobby with a glass of wine and the spectacular view. Or roast marshmallows over the fire outside and watch the sun dip below the mountains.

Along with RV sites and tent camping sites, there are five types of lodging to choose from. All are non-smoking:
Lakeside Chalets
Lodge Rooms
Camper Cabins
Rustic Kitchenette Cabins
Rustic Sleeping Cabins
Lakeside Chalets
Amenities: Waterfront, mountain views, private bath, double bed and double futon downstairs with double bed in loft. Mini fridge, microwave, and coffee pot but no cooking utensils. Close walk to restaurant. Max of 6 people. No pets allowed.

Lodge Rooms
Waterfront, mountain views, 2 queen beds, private bath, mini fridge, microwave, coffee pot; no cooking utensils. Max of 4 people. No pets allowed.

Camper Cabins
2 double beds, electricity, picnic table, fire ring. No plumbing; communal restrooms with showers are available nearby. Max 4 people. Pets allowed.

Rustic Kitchenette Cabins
Original 1920s cabins with 2 double beds, private bath, kitchenette with appliances but no cooking or eating utensils. Max 4 people. Pets allowed.

Rustic Sleeping Cabins
Primitive cabins built in 1928, lake and mountain views, electricity, private baths, with a variety of sleeping options for 3-4 people. Pets allowed.

Other amenities at the Log Cabin Resort include laundry facilities and general store. Internet access is limited.
Rates range from $85-$200 per night. The resort is open during summer only (mid-May to early October) so check the website for details on rates and dates.

Food: Sunnyside Cafe, Lakeside Deli
The Sunnyside Cafe, casual and comfortable, is situated in the main lodge with its wide open view of Lake Crescent. Enjoy the breakfast buffet between 8-11AM, children under 4 eat free. Lunch and dinner menus feature soups, salads, sandwiches, burgers, pizza, pasta and desserts. Reservations are not required but are recommended.
Lakeside Deli
The Lakeside Deli is a convenient spot for a quick take-out to enjoy on the lawn by the lake or in the boat on the lake.
Olympic National Park Restaurant: Lakeside Deli
Log Cabin Resort History
The Resort began as the Log Hotel, originally a two story log cabin built in 1895 by Mr. Saunders of Port Townsend, WA. The Log Hotel was the first hotel built on the shores of Lake Crescent. It was built entirely of peeled cedar logs, with an observation tower, main lounge with large fireplace and dining room with bedrooms on the upper level.

After it burned down in 1932, the current Log Cabin Lodge was built on the site in the early 1950s, which by then had become part of the Olympic National Park.
More on the history of Lake Crescent
More on the history of the Olympic National Park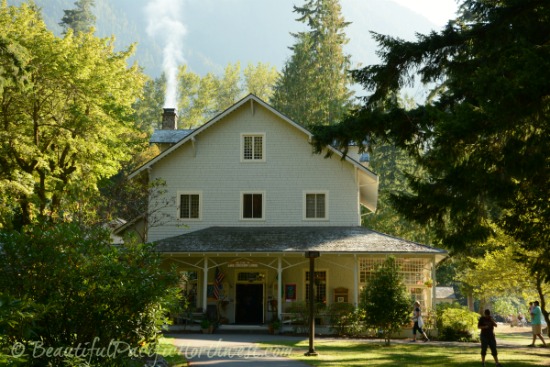 Lake Crescent Lodge
Across Lake Crescent on its south shore and out of view of the Log Cabin Lodge sits Lake Crescent Lodge, which is another Olympic National Park facility. Follow these links for more info on Lake Crescent, Lake Crescent Lodge, and associated food and lodging options.
Overview of all Olympic National Park Lodging Here.
More about Lake Crescent here.


---
Have You Stayed Here?
Tell us Your Story and Share Your Photos!
Have you had a relaxing, enjoyable stay at this accommodation here in the Olympic National Park? Do you have a great story or an interesting experience to share? We'd love to hear about it! Feel free to share it in the form below. Be as wordy and as descriptive as you like. Include photos as well, if you have them; there is plenty of room for it all on our website.

Just click into the title box below and go from there. When published, you'll have "your own" page on MyPortAngeles which you can share with friends or anyone who asks!

We're happy to ensure professional and amateur photographers get credit for their work. Leave us your name in the form below, and means of contact, website, or FB page info so we can link back to you.