Lake Quinault Lodge
Lake Quinault Lodge. Photos and info about the Olympic National Park Lodge at Lake Quinault, plus restaurant, Roosevelt Dining Room, and lodging facilities.
Getting to the Quinault Rain Forest from Port Angeles will require a 2.5 hour drive, about 123.6 miles (199 km).

The Lake Quinault Lodge is located within the Olympic National Park, a bit inland from the coast. It is situated in the Quinault temperate rain forest about half-way between Forks and Aberdeen, Washington.
The Lodge is a good base for day-trips to the southern regions of the Olympic Peninsula such as the Ocean Shores beaches or Aberdeen WA. The Kalaloch beaches are less than 40 minutes away.
Lake Quinault Lodge in the Olympic National Park in December - the weather was gray, but the Lodge was festive.
Lake Quinault Lodge
345 South Shore Road, Quinault, WA 98575
+1-888-896-3818
Tripadvisor Reviews of the Lake Quinault Lodge, in Quinault WA 
More info on the Quinault Rain Forest in the Olympic National Park

The area right around Lake Quinault offers many outdoor adventures, including hiking, swimming, boating, river-rafting, guided rainforest tours, guided boat tours, a sunset cruise aboard the Lady of the Lake and more.
If your travel bug has been satisfied, relax and swim in the indoor heated pool and sauna, or enjoy board games or ping pong in the game room. Take an evening glass of wine or morning cup of java in the lobby while sitting by a huge crackling fire in the grand brick fireplace. Nothing like quiet time for finding answers to the deeper questions of life. Or choosing what you'd like for breakfast.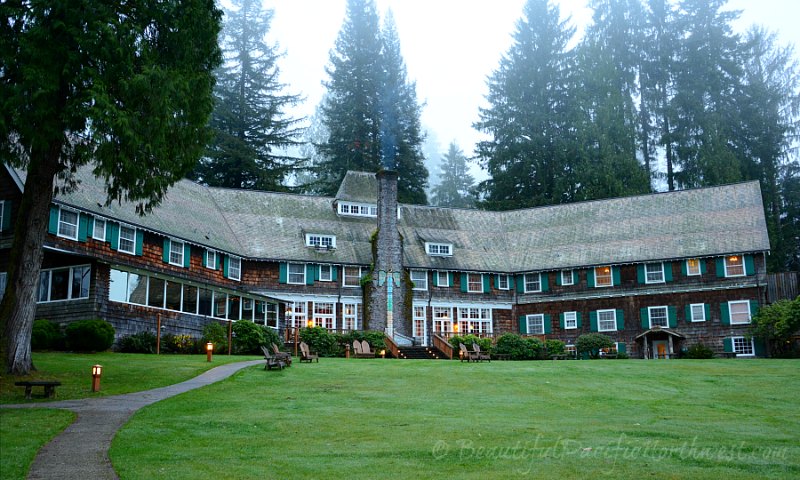 Back side of Lake Quinault Lodge
Rustic yet elegant, the Lodge gently embraces the lush green lawn that sweeps down to the edge of a serene Lake Quinault. Evergreen trees provide shade in all the right places. What could be more perfect? If mountain lakes nestled among trees is your thing then this will be the perfect place for a relaxing retreat.

Towns near Lake Quinault Lodge
Port Angeles Washington is around 123.6 miles (199 km) north of Lake Quinault Lodge, an approximate 2.5 hour drive. But, if Port Angeles is not your starting point, then... 
Forks is 67 miles (108 km) to the north, or approximately one and a quarter hours by car

Aberdeen/Hoquiam are 44 miles (71 km) to the south, or a drive of approximately 1 hour
Seattle is 148 miles (238 km) away via Tacoma and Olympia (no ferry needed), a drive of roughly 3 hours.

The main Olympic National Park attraction near Forks is the Hoh Rainforest. Hoh is an immersion experience, and quite different from the Quinault Rain Forest experience.
One Westport resident we talked to had made FIVE Hwy 101 loops around the Olympic Peninsula and had never once stopped to visit the Hoh! Her reason was that the Quinault Rain Forest was so excellent. And it is, but people! The Hoh is amazing, a completely different experience! We recommend not overlooking the Hoh if you have the time for it. 
Ocean Shores and Westport are each around 45 minutes to the west of Aberdeen on the Pacific Ocean. Or continue south for another 1.5 hours to Long Beach, Ocean Park, Leadbetter Point State Park, or Cape Disappointment State Park.

Of course, all travel times are estimates. There is so much to see that stops along the way may be inevitable.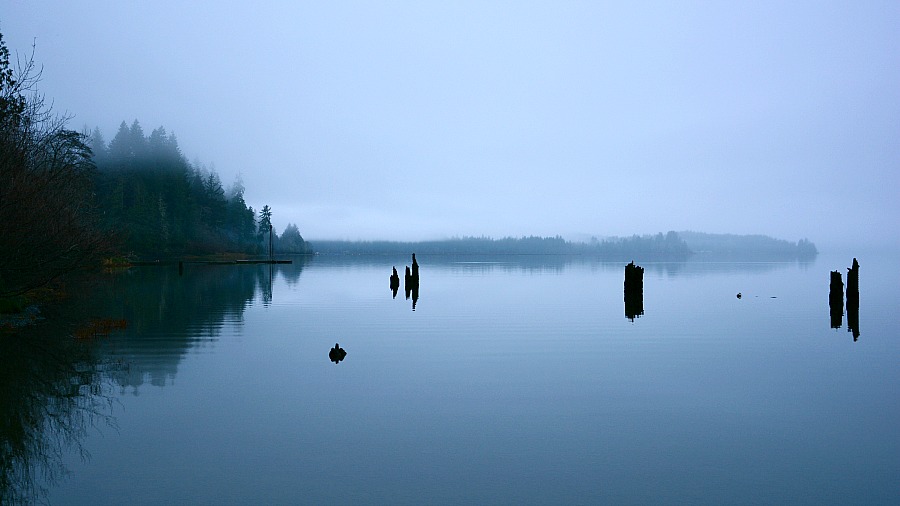 Early morning fog on a serene Lake Quinault.
Lake Quinault Lodge Rooms and Rates
The Lodge offers four types of rooms:

Main Lodge Room - charming and cozy with all the historic ambiance of the 1920s, these antique yet comfortable, hotel-style rooms have a lake or forest view, feature a king, queen or two double beds and private bath.
Fireplace Rooms - these are main lodge rooms, newly renovated with gas fireplaces, king beds, tv, heated bathroom floors, private patio or balcony. Each has a lake view making it nice for a special occasion.
Lakeside Rooms - contemporary in style, all have a partial lake view with patio or balcony, a king bed or 2 queen beds, and private baths.
Boathouse Rooms - built in 1923 with charming wrap-around porch, these eight first floor rooms feature either a queen bed or two doubles with a private bath, with or without lake views. The Beverly Suite comprises the entire top floor of this original structure. It has a panoramic view of the forest and lake and includes two bedrooms, bath, living area and mini kitchen.
Room Rates:
Rates vary per room but range between $122 - $339 per night. Check the website for details and special deals. Most rooms are pet-friendly, for a small fee. All rooms are non-smoking.
The Lodge provides a pool, sauna, and game room for the use of its guests.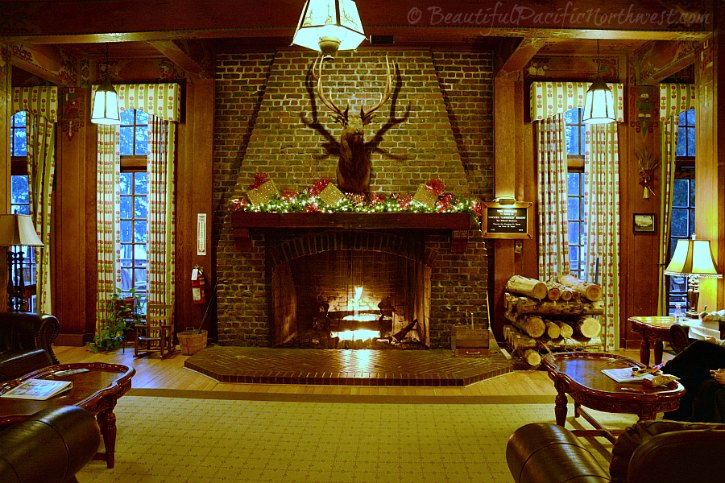 Lodge's massive fireplace serves as a point of gathering in the community area of the Lodge
Roosevelt Dining Room
The Roosevelt Dining Room enjoys panoramic lake views, comfortable seating and an excellent menu. Reservations are recommended. The establishment was so named in the years after President Franklin D. Roosevelt's 1937 visit to the area.

Breakfast, lunch, and dinner menus are linked at the dining room website above.
Breakfast includes a variety of egg dishes, omelettes, buttermilk and sweet potato pancakes and yogurt
Lunch features soups, salads, and a variety of sandwiches from beer-battered halibut to portobello mushroom
Dinner serves up baked brie in puffed pastry, corn dusted oysters, clam chowder, salads and Roosevelt's Classic pot roast, salmon, duck, chicken, seafood and pasta. 
A children's menu is also available and includes all the kid pleasing favorites.
Click here for our overview of all Olympic National Park Restaurants.
Click here for our overview of all Olympic National Park Lodging.
Lake Quinault Lodge History
Funded by lumberman Ralph Emerson of Hoquiam, WA, and designed by Seattle architect Robert Reamer who also designed the Old Faithful Inn in Yellowstone National Park, the Lake Quinault Lodge was built in 1926, in just 53 days. The Lodge sold in 1939, and then closed during World War II. After the war, the Walker family reopened and operated the Lodge.

In 1988, the Aramark Corporation purchased, and currently operates the Lodge. 10 years later in 1998, the Lake Quinault Lodge was placed on the National Register of Historic Places.
The Lodge still maintains all the charm of the grand National Park lodges built during the era.
December fog hangs over Lake Quinault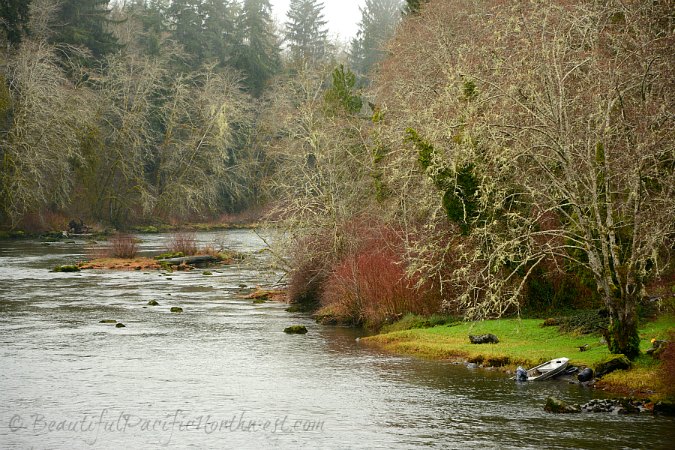 Quinault River not far from Lake Quinault Lodge. The Quinault eventually empties into the Pacific Ocean.
Have You Stayed Here?
Tell us Your Story and Share Your Photos!
Have you had a relaxing, enjoyable stay at this accommodation here in the Olympic National Park? Do you have a great story or an interesting experience to share? We'd love to hear about it! Feel free to share it in the form below. Be as wordy and as descriptive as you like. Include photos as well, if you have them; there is plenty of room for it all on our website.

Just click into the title box below and go from there. When published, you'll have "your own" page on MyPortAngeles which you can share with friends or anyone who asks!

We're happy to ensure professional and amateur photographers get credit for their work. Leave us your name in the form below, and means of contact, website, or FB page info so we can link back to you.