Lake Photos around the Olympic Peninsula
Lake Photos. Explore the lakes of the Olympic Peninsula and nearby regions through this collection of lake photos. Each is not too far from Port Angeles. Currently, lakes featured are Lake Crescent, Lake Pleasant, Lake Quinault, and Blue Lake (near Mount Saint Helens).
Clicking on any photo opens the photo gallery of full-size photos.

Lake Crescent
Lake Crescent is located in the Olympic National Park on the Olympic Peninsula. It is 22 miles (35 km or 30 minutes) west of Port Angeles and 35 miles (56 km or 40 minutes) east of Forks.
Devils Punchbowl
Lake Pleasant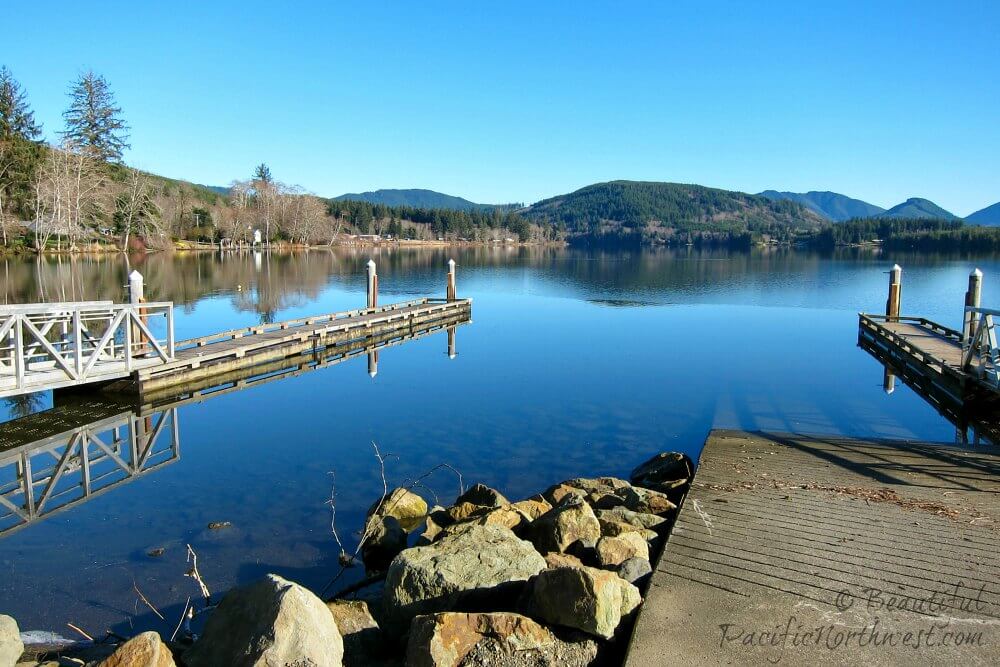 Lake Pleasant is located in Washington State 10 miles north of Forks. This beautiful little lake is completely surrounded by private property. Fishing, swimming, boating and motorized water sports are permitted year round.
The lake itself is 2 miles (3.3 km) long and 3100 feet (945m) wide, plenty of space for lots of fun.
This photo is taken from the vantage point of Lake Pleasant Community Beach County Park, a 2-acre park with grass and picnic tables, playground, piers, and boat launch.
Lake Quinault

Lake Quinault Panorama - Olympic National Park.
Lake Quinault is located in the southern region of the Olympic Peninsula in Washington State. Located in the midst of quintessential rain forest, Lake Quinault is bordered on the north by the Olympic National Park  and on the south by Olympic National Forest. It is 3.79 miles (6.1 km) long and 2 miles (3.4 km) at its widest point. The lake itself is part of the Quinault Indian Nation and is managed by them.

Blue Lake
Find Blue Lake at the end of an easy, 1-mile hike into the southern foothills of Mt. St. Helens National Volcanic Monument. The trailhead is located at the end of NF-8124, accessed by NF-81. Blue Lake or the trailhead to Blue Lake is pictured in each of the three lake photos above.

Blue Lake is tiny, but it is exceedingly scenic, a beautiful spot for hiking, picnicking, even camping. This lake is 930 feet (283 m) long, and 370 feet (113 m) wide at the widest spot. The entire area is covered by pumice stone, sized from boulders to pebbles, flung from the volcano over the span of many years and several eruptions.
Blue Lake is located within the Mount Saint Helens National Volcanic Monument. 

Consider including a lake in your vacation plans, and then share your lake photos at the bottom of this page!
Do You Have Your Own Lake Story or Lake Photos?
Do you have a great story or exceptional photos about Pacific Northwest Lakes? Share it! (We're happy to ensure professional and amateur photographers get credit for their work! We can do this if you leave us your name and online website or FB page info.)