Kokopelli Grill
Kokopelli Grill: Locally caught fresh seafood and locavore ingredients prepared from scratch to create southwestern cuisine. Located conveniently in downtown Port Angeles, a stop here at Kokopelli's will fuel the next steps of your vacation.

Kokopelli Grill Contact and Details
Kokopelli Grill Basic Info:
Location: 203 E Front St, Port Angeles, WA 98362
Phone: 360-457-6040 (take out)
Email: michael@kokopelli-grill.com
Website: http://www.kokopelli-grill.com/
Hours:
Monday-Tuesday - closed
Wednesday-Thursday 3 - 8 pm
Friday-Sunday 3 - 9 pm
Facebook: Facebook Page for Kokopelli Grill
Tripadvisor: Tripadvisor reviews for Kokopelli Grill in Port Angeles, WA
Yelp: Yelp reviews for Kokopelli Grill in Port Angeles, WA
Member of the Port Angeles Chamber of Commerce
Near Kokopelli Grill
Kokopelli Grill is situated at the northeast corner of Front and Lincoln Streets, and is very much a part of the Port Angeles downtown district. In conjunction with your dining experience at Kokopellis, a downtown walkabout is a lovely way to enjoy your stay in Port Angeles:
Look for and discover many of the murals and

Port Angeles art installations

along the downtown streets of Port Angeles

The waterfront and Port Angeles City Pier is one block north

The Port Angeles Coho Ferry terminal (sails to Victoria BC and back) is two blocks away, in case you are coming or going via the Coho
The Red Lion Hotel lines the waterfront and is a lovely spot to stay
Drive just 4 miles along the Port Angeles Marina to the tip of Ediz Hook ("the spit"), and enjoy the briny smells, the calls of seagulls, and the unique view of Port Angeles from the water. Vancouver Island and the town of Victoria, Canada, is easily visible across the Strait of Juan de Fuca.


About Kokopelli Grill
Michael and Candy McQuay came to Port Angeles by way of Texas. When they purchased and then reopened Kokopelli Grill in 2009, they brought a slice of the southwest into the kitchen. 
Chef Michael and his talented staff offer locally sourced ingredients, including seafood, meats, and produce from the Olympic Peninsula and infuse them with the flavors of the southwest, handcrafting meals that are truly spectacular. 

While Chef Michael is busy at work in the kitchen, wife Candy has focused the rest of the restaurant on ensuring that their guests are well taken care of. Whether you are served by Candy herself, or by another of their excellent employees, we think you will have a wonderful experience. 
I enjoy eating here.  See the photo below? That there is no Texas steak and taters. That is the best blackened salmon I've ever eaten. It was flavored to perfection, and the beans and salsa were definitely a nod to the Texan southwest. This lunchtime combination of Pacific Northwest salmon with southwest flavors was delectable.

---
What Customers Think About the Food at Kokopelli Grill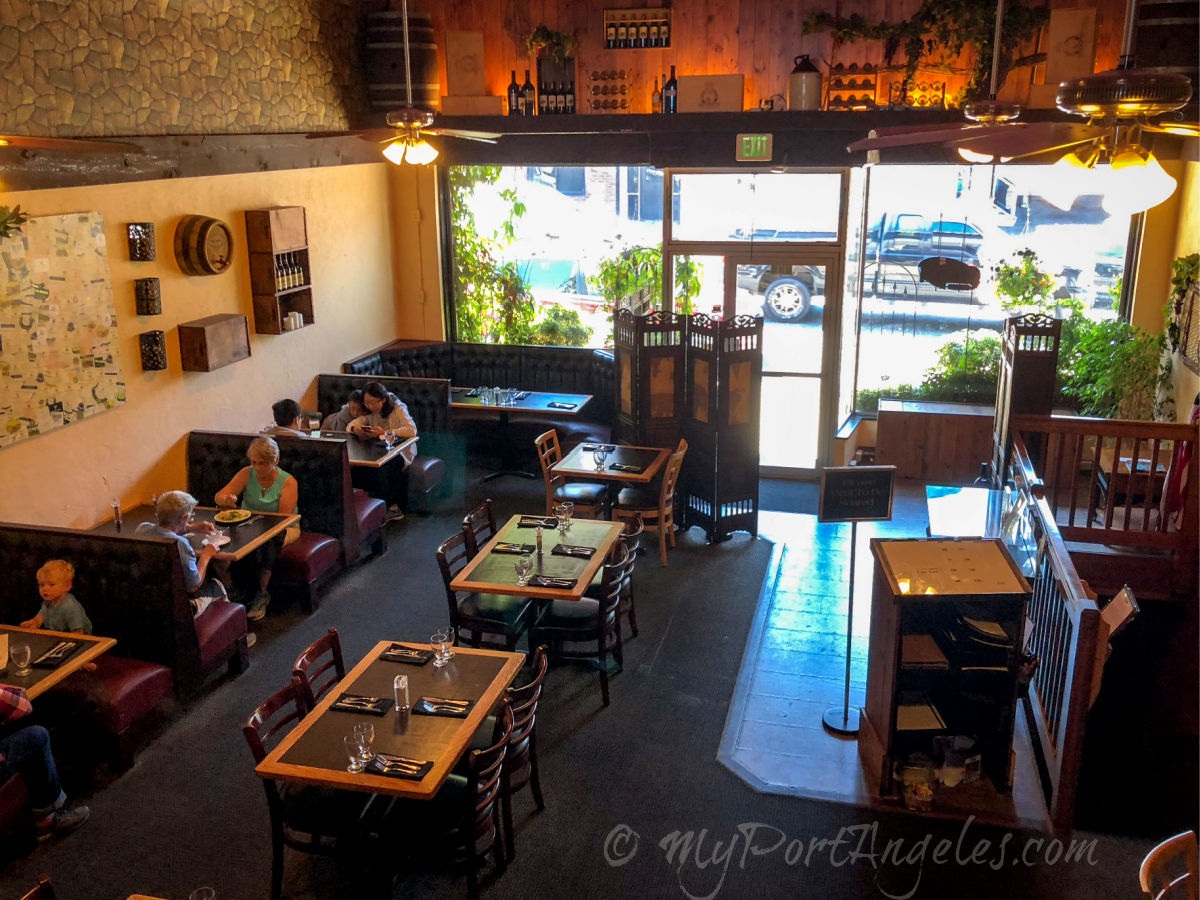 Kokopelli Grill's dining room, viewed from the upper dining floor.
Out of 1,453 reviews on Trip Advsior, over 800 reviewers rated Kokopelli Grill as excellent and 400 rated their food and experience as very good. 
One customer said that while traveling to and from Victoria BC on the Coho, they had lunch at Kokopelli Grill. They were exceptionally happy with the food and service. 
Another customer said that their family of four was not only extremely happy with their food, but also with the ambiance and the service that they received. They particularly loved the fresh seafood and the Bloody Mary cocktail. 
Another customer said that the service was both fast and delightful and that the food and atmosphere was amazing. 


Have You Eaten Here?
Do you have a great story or experience at this Port Angeles restaurant? Feel free to share it below! Be as wordy and as descriptive as you like. Include photos as well, if you have them; there is plenty of room for it all on our website.

Just click into the title box below and go from there. When published, you'll have "your own" page on MyPortAngeles which you can share with friends or anyone who asks!

We're happy to ensure professional and amateur photographers get credit for their work. Leave us your name in the form below, and means of contact, website, or FB page info so we can link back to you.

Washington State Covid-19 Status
As of July, 2021, Washington State is now generally open. However, current state mandates require masking for all indoor activity outside of ones own home. Additionally, there is a state mandate requiring restaurant patrons to provide proof of vaccination for indoor dining. Due to logistical difficulties, some restaurants are still open only for takeout/drive thru. HIPAA guidelines about privacy for medical information regarding indoor dining does not permit enforcement of covid mandates.