Hurricane Ridge Olympic National Park

Hurricane Ridge Olympic National Park. Hurricane Ridge Ski area, Info on winter activities at Hurricane Ridge, accessibility, winter photos of activities and wind-sculpted scenery at Hurricane Ridge near Port Angeles, WA.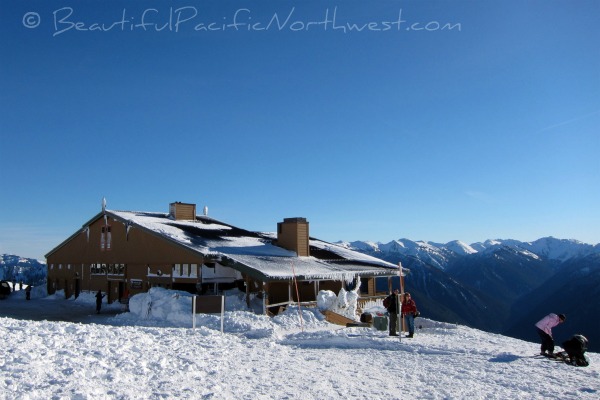 Hurricane Ridge Visitor Center in the Olympic National Park in winter
This is the Hurricane Ridge Visitor Center on a crystal clear and icy cold January day. That didn't stop anyone from coming up to enjoy the glorious day; the parking lot was chock full of cars, yet there was more than enough room for everyone to enjoy their skiing, tobogganing and snowshoeing surrounded by a true winter wonderland.
Winter or Summer, Spring or Fall – each season at Hurricane Ridge brings its own beauty, diminishing the awe not a whit.

This page is about Hurricane Ridge Olympic National Park during Winter. Perhaps after seeing the photos, you'll agree that winter in the Olympic Mountains is amazing. Hurricane Ridge in winter also brings an abundance of available winter activities - fun times! 
See Hurricane Ridge for everything you'd like to know about Hurricane Ridge.
See Hurricane Ridge Photos for our gallery of Hurricane Ridge pics during Spring, Summer and Fall.
---
Hurricane Ridge Olympic National Park near Port Angeles
Port Angeles, WA, is located only 17 miles (27.36 km) to the north of the Visitor Center at Hurricane Ridge, about a 37 minute drive. But, if Port Angeles is not your starting point, then here are other cities not too far from Hurricane Ridge:
Sequim is 35 miles (56.3 km), approx. 57 minutes
Port Townsend is 65 miles (104.6 km), approx. 1.5 hours
Forks is 68 miles (109.4 km), approx. 1.7 hours
Seattle via Bainbridge ferry: 100 miles (161 km), approximately 3 hours if the ferry wait is not too long
Below: Hurricane Ridge Road, the road that takes you to the Visitor Center. At this point, you're almost there, it's around just a couple more bends.
Hurricane Ridge Road. The Visitor Center is directly behind the pictured ridge.
The road is plowed as soon as possible after each snow fall.

Depending on weather, the road usually opens around 9 am and closes to uphill traffic at 4 p.m.
Since Hurricane Ridge is within the Olympic National Park, the entry fee is $30 per car (up to 15 passenger), which is good for seven consecutive days for the pass holder, vehicle, and all passengers. For that price, you may as well purchase the $55/year pass and come multiple time throughout the year.
Olympic National Park Fees Information
YourPassNow.com - Purchase your pass online here

Hurricane Ridge Ski Area
Get all the info on the Hurricane Ridge Ski and Snowboard Area at www.hurricaneridge.com
There's lots to do and see in winter:
3 ski lifts in the winter. The skiing is family oriented; the difficulty level is low.

Below Left: Skiers hitch a pull on a ski tow to the top of the ridge.

Below Right: Lunch time - the Ski Patrol personnel enjoy hot dogs on the barbeque while keeping an eye on skier safety.
Plenty of slopes to tackle if you're willing to walk back up.

Right: Two skiers are hiking back up the hill to the ski lift trail; see them down there in the shadows?

Below: Snowboarding in fresh snow. Does that look like fun or what?

Take the challenge of skiing or snowboarding the bowl behind the hiking trails. Warning – you'll have to get yourself back up; there are no lifts into or out of the bowl.

---
More Winter Activities at Hurricane Ridge WA
There's a great toboggan area for little tykes (above) just a stone's throw from the Visitor Center. It's just perfect for youngsters and beginners.
Cross country skiing
Ample opportunity to snowshoe the trails in winter, when the snow may be 20+ feet deep in places.
Hurricane Ridge Olympic National Park - Nature's Ice Sculptures in Winter

On New Year's Day, the hub and I took a drive up to Hurricane Ridge. It was a crystal clear day with temps in the 20's. The air was still, however hurricane-force winds had been howling across the reaches of the mountains over the prior few days. Snags were coated in fantastical ice formations on just one side, the opposite side being stripped clean of ice by the gales. Trees were bowed with the weight of icy snow.

The ice formations were remarkable; we hope you enjoy these photos taken during our winter outing at Hurricane Ridge.
Clicking on the photos opens them full size...
---
If you get a chance to drive up to Hurricane Ridge Olympic National Park in wintertime, by all means do so, and enjoy your visit!
Get additional information at Olympic National Park - Visiting Hurricane Ridge.


Have You Been to This Beautiful Place?
Tell Your Story and Share Your Photos With Us!
Nature can present us with unexpected, memorable, and breathtaking moments! Do you have a great story or an interesting experience that took place in this beautiful part of the Olympic National Park? We'd love to hear about it! Feel free to share it in the form below. Be as wordy and as descriptive as you like. Include photos as well, if you have them; there is plenty of room for it all on our website.

Just click into the title box below and go from there. When published, you'll have "your own" page on MyPortAngeles which you can share with friends or anyone who asks!

We're happy to ensure professional and amateur photographers get credit for their work. Leave us your name in the form below, and means of contact, website, or FB page info so we can link back to you.