Frugals
Frugals double-drive-through fast food restaurant: Popular fast-food with delish burgers, pulled pork, and more than the usual sides and sodas, very conveniently located in east Port Angeles WA. Some of the best fast food in the Port Angeles area, well worth your time, and also a convenient place to eat when passing through Port Angeles. 
Plus! Pre-order online and then pick-up your meal quickly at the on-site food truck.


Frugals Info
Frugals Information and Details 
Website: https://www.frugalburger.com/portangeles
Location: 1520 E Front St Port Angeles, Washington 98362
Phone: +1-360-452-4320. 
Menu: https://www.frugalburger.com/menu
Online Ordering: Order online and pick up your order at the food truck (see below)
Hours: Sun-Thurs: 10:30am-10pm; Fri-Sat: 10:30am-11pm

Facebook: https://www.facebook.com/frugalsportangeles/
Trip Advisor: Tripadvisor Reviews of Frugals in Port Angeles, WA
Yelp: Yelp Reviews of Frugals in Port Angeles, WA

Member of the Port Angeles Chamber of Commerce

Frugals Food Truck in Port Angeles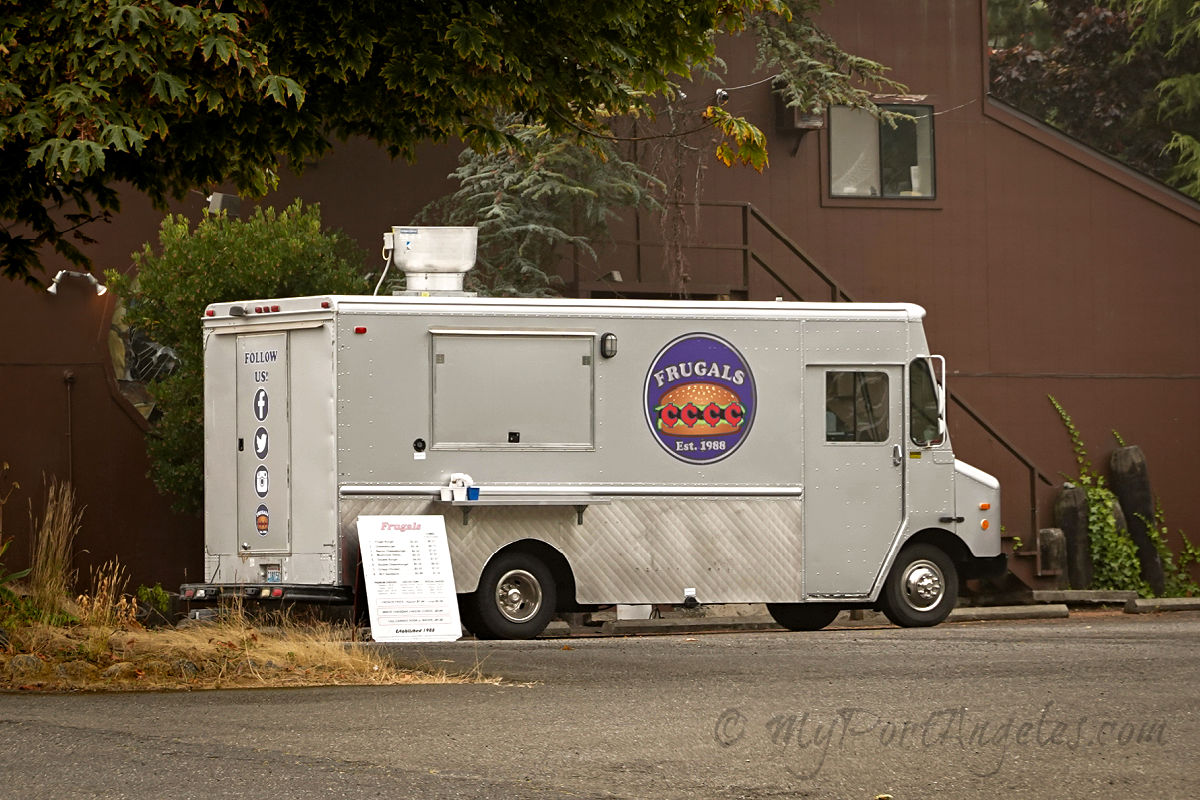 Frugals Food Truck in Port Angeles WA, parked at the same address as the Frugals Drive-through restaurant. (The brown building behind the truck is the old Bushwacker Restaurant building.)
Frugals Food Truck Port Angeles
Address: 1520 E Front St, Port Angeles, WA - right next to the drive-through restaurant in the upper parking lot. (You'll see it as you turn into Frugals.)
Phone: +1 (360) 417-3598
Hours: Every day 11:30am - 8pm

MENU: https://www.toasttab.com/frugalsonlineordering/v3
Online Ordering is not yet functional, so for now:
View the online menu 
Place your order by phone
Go pick up your order at the Port Angeles Frugals Food Truck. It'll be ready by the time you get there!


Getting to Frugals
Frugals is situated on the left-hand side of a one-way street at the east end of Port Angeles. So, if you roll into Port Angeles from the east, you'll enter town on Front Street, and nearly immediately find Frugals on the left side of the left lane less than 1/2 block after McDonalds. If you're already in the left lane as you pass the McDonalds, it is an easy matter to simply turn left into one of Frugals' ordering lines.
If you enter Port Angeles from the west, follow Highway 101 as it turns into Lincoln Road. Continue following the Highway-101-East signs onto First Street, which is two lanes both heading east. After passing the Ennis Road intersection, move into the left lane so that you can bear left at the connector road leading vehicles back onto the west-flowing Front Street. As above, Frugals is just a half-block from McDonalds on the left side of Front Street.


About Frugals
Frugals is a fast-food drive-through hamburger restaurant. Two lanes bring cars to two order-takers. The lane on the left of the restaurant results in conversations with the vehicle's passenger, which works great when there is a passenger.
People love Frugal's, if the long lines of cars at mealtimes are any indication! Yes, it is fast food, but it is a cut above the usual, and the shakes are really special.
Fun Fact: Frugals is actually one of a very, very small chain of drive-through restaurants. Five drive-through locations and one food truck, at six locations in the United States of America, bear the "Frugals" name. 

Frugals was first established in June of 1988 in our very own town of Port Angeles, Washington, by Peter and Shelia Stewart. The restaurant was immediately successful, perhaps because of the extensive market research that preceded their decision to open a fast food restaurant.
The second Frugals restaurant opened in Tacoma just two years later in 1990, followed by a third in Auburn, Washington in October, 2000. The remainder of Frugals locations are in Montana: in Kalispell, in Missoula, and in Columbia Falls which is the location of the Montana food truck. (Look for them if you're headed that way!)
According to the mission statement on their website, Frugals' mission is to provide the "highest quality product at the lowest possible price. The best consumer experience in the industry. Respect for our employees, business partners, and community." 

Attira's Review of Frugals 
Frugals is honestly quite good, I don't usually say that about fast food burger places but it is definitely worth your attention if you're interested in a fast meal. I am not saying that it is the absolute best place in the whole area because I would be lying, but for the price, it is good. My sister and I eat here quite a bit.
Their milkshakes are also really good. They have a seasonal lavender shake that is delicious.
But the most memorable thing for me is the fact that they offer raspberry tea to drink that is really good. My sister and I consistently get it with our food and we love it. It's refreshing and different from soft drinks and other drinks that you usually get with fast food. 


What Customers Think About Frugals
Out of 136 reviews on Trip Advisor, 56 reviews rated Frugals as excellent and 49 rated Frugals as very good. 
One customer said that they always look forward to eating at Frugals when they come to Port Angeles and commented on the great food, service and the fact that the wait is not excessively long but instead quite fast. 
One customer said that they would give the burger they had at Frugals a "A+++," and also commented how great the staff are both in dealing with customers and in performing their jobs. 
Another customer said that the burger and seasonal smoothie were both very good and commented on how friendly the service was, along with the service being great in general.


Have You Eaten Here?
Do you have a great story or experience at this Port Angeles restaurant? Feel free to share it below! Be as wordy and as descriptive as you like. Include photos as well, if you have them; there is plenty of room for it all on our website.

Just click into the title box below and go from there. When published, you'll have "your own" page on MyPortAngeles which you can share with friends or anyone who asks!

We're happy to ensure professional and amateur photographers get credit for their work. Leave us your name in the form below, and means of contact, website, or FB page info so we can link back to you.

Washington State Covid-19 Status
As of July, 2021, Washington State is now generally open. However, current state mandates require masking for all indoor activity outside of ones own home. Additionally, there is a state mandate requiring restaurant patrons to provide proof of vaccination for indoor dining. Due to logistical difficulties, some restaurants are still open only for takeout/drive thru. HIPAA guidelines about privacy for medical information regarding indoor dining does not permit enforcement of covid mandates.