Firehouse Grill
Firehouse Grill Burgers and Fries Take Out: One of the Best burger places in Port Angeles to get delicious gourmet To-Go burgers with fries. Seriously! The burgers are out of this world!
Firehouse Grill
117 e 8th st Port Angeles, WA 98362
Directions: Near the corner of 8th and Lincoln. As you come up Lincoln from Downtown, turn right onto 8th. It will be on the right, on the North/water side of the street.
Parking: There isn't really any parking, just a drive through. If you want to park, you'll need to use the empty lot or car wash next to Firehouse Grill.
Drive through: When you pull in to the drive through, as you get to the back of the building, an employee will take your order instead of a speaker.
Phone: (360) 504 - 3804
Email: firehousegrill360 @ gmail. com
Instagram: https://www.instagram.com/firehouse-grill
Tiktok: https://www.tiktok.com/@Firehousegrillburgers.wa
Website: https://firehousegrill.getbento.com/
Facebook: https://www.facebook.com/firehousegrill360/
Hours: 
Monday CLOSED
Tuesday 11:00 AM - 7:00 PM
Wednesday 11:00 AM - 7:00 PM
Thursday 11:00 AM - 7:00 PM
Friday 11:00 AM - 7:00 PM
Saturday 11:00 AM - 7:00 PM
Sunday CLOSED
Trip Advisor: Firehouse Grill Burgers Fries & Take Out in Port Angeles, WA
Yelp: Firehouse Grill Burger and Fries Take Out in Port Angeles
THE best take out burgers and fries this side of the Rockies, which might not be an exaggeration. Build your own burger from a long list of additions.

(Updated 23May2023)
Getting to Firehouse Grill
Firehouse Grill Burgers & Fries Take Out
Firehouse Grill is located on 8th Street just west of Lincoln Street on the north side of the street. It is a bright red fast-food-type building set back from the road.
If you're rolling into town from the west on Highway 101, the highway turns into Lincoln Street as you near the downtown area. At Eighth Street, turn left. The bright red restaurant is on the right (north) side of the road just 3 buildings from Lincoln. 


If you're rolling into town from the east on Highway 101, the highway becomes Front Street for west-bound traffic. At Lincoln Street, turn left and head south (toward the mountains). Turn right on Eighth Street. Firehouse Grill is 3 buildings from corner of Lincoln and Eighth on the right side of the street.
People Love Firehouse Grill!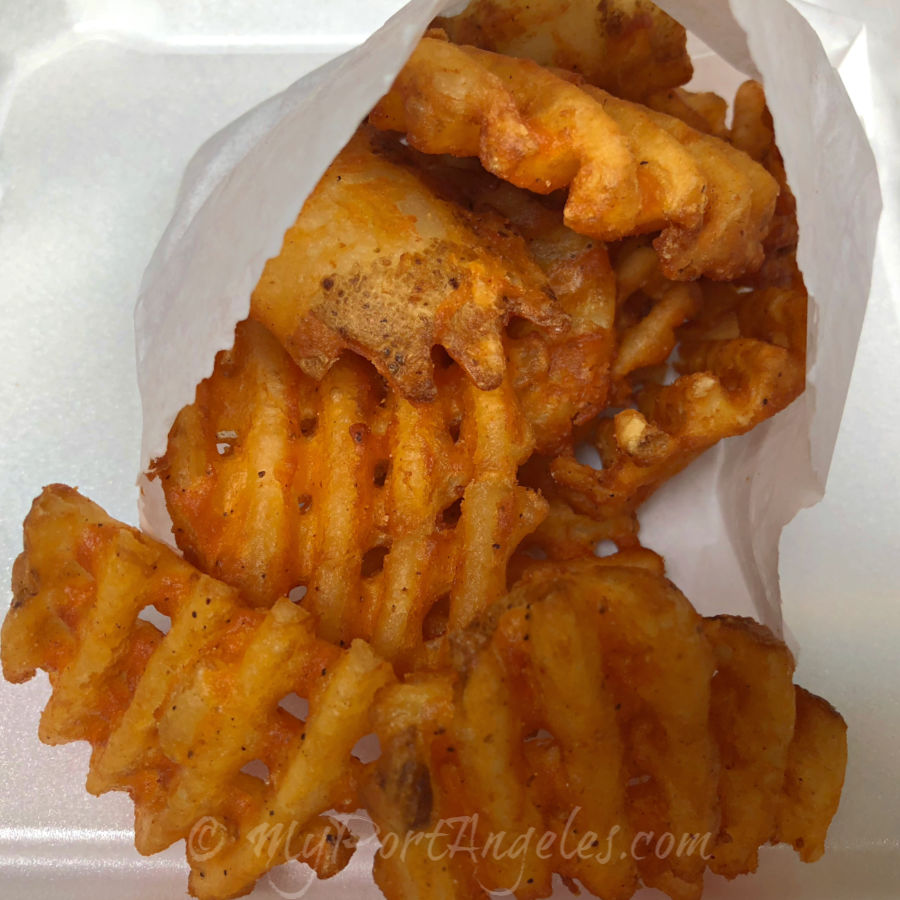 Delicious waffle fries from Firehouse Grill.
People LOVE Firehouse hamburgers! They taste gourmet. This statement from Belinda who lives in Port Angeles, pretty much sums up the general consensus:
"If you are a burger eater, go to the Firehouse Grill. They make a burger the way YOU want it, have lots of choices, and the burgers are fresh made, not pre-packed. Their fries and onion rings are delish also. But, the burgers are decidedly THE BEST in town. I love the smoke one best, but even their burger with only a couple toppings - cheese, tomato, onion, mayo - is YUM!! They are also quick and accurate, and a family owned, care-about-their-product-and-your-satisfaction, kind of place. I love Firehouse.
"Their burgers are better than Frugals even, or Fat Smittys, even Kokopellis. They really are delish, like homemade. I think that is why they are so good."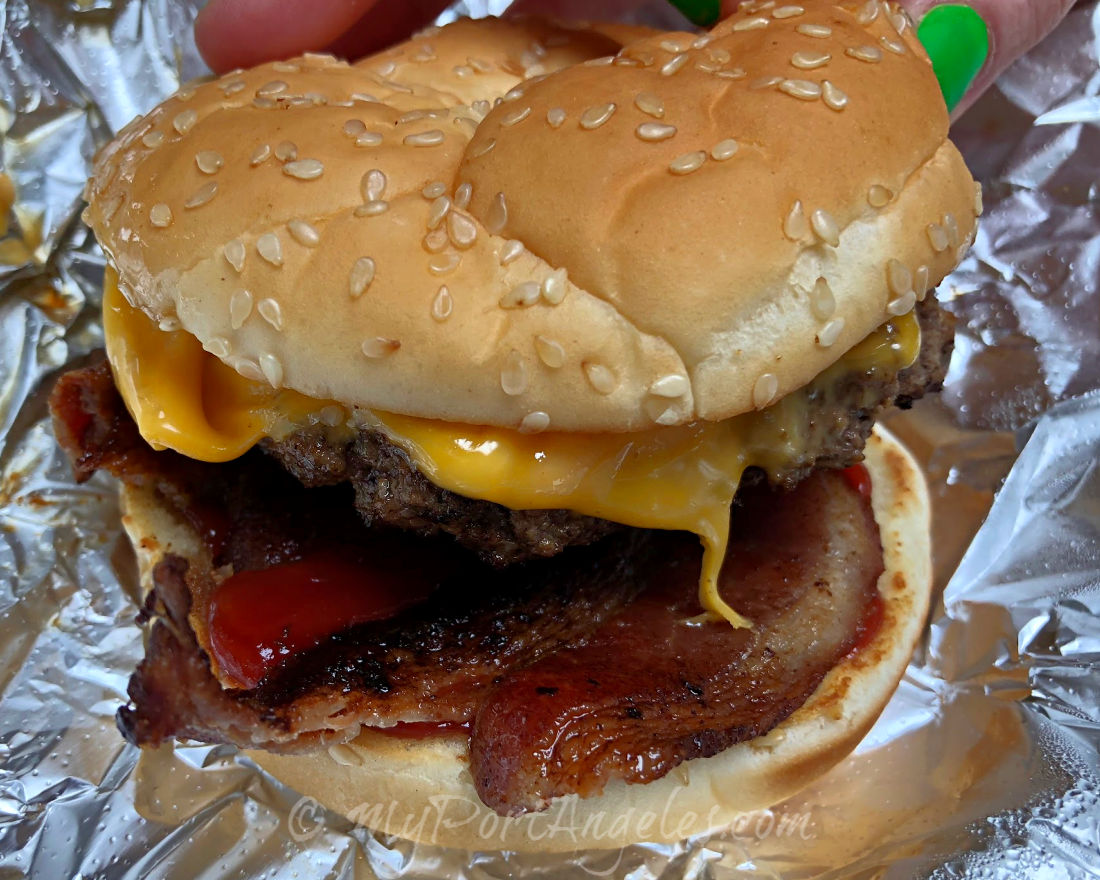 Bacon Cheeseburger from Firehouse Grill.
What Customers Think About Firehouse Grill
Out of 10 reviews on Trip Advisor, eight reviewers rated Firehouse Grill as excellent and one rated it very good.
One international customer from China was unimpressed after eating at a certain burger place on their way to Port Angeles, so they were hesitant to accept the good reviews of Firehouse Grill. However they loved the burger, as well as the fast and friendly service. 
Another customer from Washington said that this was very close to the best burger they had eaten in forever and that they also really enjoyed their chicken tenders and would definitely return if in the area. 
A customer from New Mexico said that one of the staff members promised that Firehouse Grill would be their new #1 burger place and this couple was not disappointed in the slightest. They described the burgers, a double and a triple bacon burger, as "juicy, perfectly cooked heaven," and also enjoyed the waffle fries and onion rings. They raved about how great the service was and how the quality of the food and service they received was worth the price. 


Hamburger as a lettuce wrap with my choice of toppings (tomato, pickle, mayo, ketchup, grilled mushrooms). I needed three hands and five napkins, but man, was it delish!!!
Have You Eaten Here?
Do you have a great story or experience at this Port Angeles restaurant? Feel free to share it below! Be as wordy and as descriptive as you like. Include photos as well, if you have them; there is plenty of room for it all on our website.

Just click into the title box below and go from there. When published, you'll have "your own" page on MyPortAngeles which you can share with friends or anyone who asks!

We're happy to ensure professional and amateur photographers get credit for their work. Leave us your name in the form below, and means of contact, website, or FB page info so we can link back to you.

This page was updated on July 14, 2021.
Washington State Covid-19 Status
As of July, 2021, Washington State is now generally open. However, current state mandates require masking for all indoor activity outside of ones own home. Additionally, there is a state mandate requiring restaurant patrons to provide proof of vaccination for indoor dining. Due to logistical difficulties, some restaurants are still open only for takeout/drive thru. HIPAA guidelines about privacy for medical information regarding indoor dining does not permit enforcement of covid mandates.