Fairmount Diner
Fairmount Diner in Port Angeles WA: Much better than expected casual and classic dining experience. Breakfast served all day, lunch and dinner specials, great family friendly environment. Details, reviews, photos.
Fairmount Diner Info
Fairmount Diner
Location: 1127 U.S. 101 Port Angeles, WA 98363 United States
Phone: +1-360-457-7447
Website and Menu: https://fairmount-restaurant.business.site/
Hours: Mon-Sat:10am-6pm (7am-8pm*)
Facebook: https://www.facebook.com/FairmountDinerWA/
Trip Advisor: Tripadvisor Reviews of Fairmount Restaurant in Port Angeles, WA
Yelp: Yelp Reviews of Fairmount Restaurant in Port Angeles, WA
Location of Fairmount Restaurant
Fairmount Diner is located directly on Highway 101 to the west of downtown Port Angeles. With the exception of Granny's at a distance in Indian Valley, it is the first Port Angeles restaurant you will find as you approach Port Angeles from Forks or Lake Crescent. It'll be on the left of the highway.
It is therefore the last restaurant you'll pass before leaving Port Angeles heading west, and there is a Shell gas station right there. You can tank up both your car and your tummies.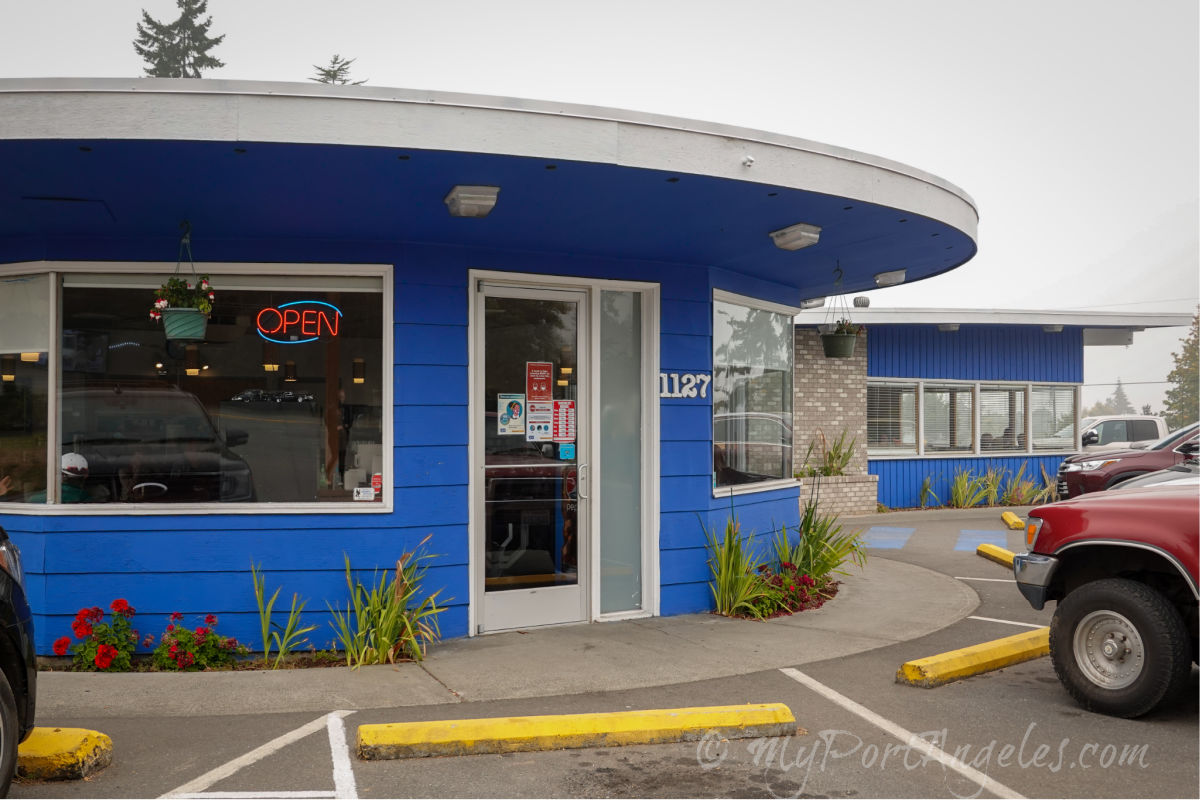 Fairmount Restaurant in west Port Angeles, Washington.

About Fairmount Diner
Photo on the back of the Fairmount Diner menu portraying the restaurant circa 1960. The nearby motel is readily visible, but the Shell station is missing.
Fairmount Diner has been ably serving Port Angeles residents and travelers since the late 1950's. A look at the photos on their website and menu reveals a restaurant virtually unchanged on the outside since that day, with the exception of normal paint and upkeep, and the makes and models of the cars parked outside. Even the sign out front is virtually unchanged.
Throughout the latter half of the 1900's, Fairmount Diner was the place to go for coffee and conversation. In the 1960's, there was no such thing as street corners taken up with coffee kiosks and coffee lounges as there are today. In those days, old friends came, savored their cups of joe, and chatted together for as long as the topics held up. 
Even today, the parking lot was nearly packed. The two booths next to mine were occupied with old-time well-acquainted friends engrossed in conversation, breakfasts partially eaten and coffee mugs no longer steaming. One woman had even brought a book to read in the off-chance that her visit would outlast the conversation. The wait staff were very attentive to customer needs.
Why would a restaurant be so consistently loved and patronized??
Fairmount Diner's newest sign along Hwy 101 is placed closer to eye level.
I'm guessing it might be due to great service and a commitment to good food.

Okay, granted, this is a down-home typical American cuisine restaurant. Like nearly all American restaurants, there is no comparison to haute European cuisine. But greasy spoon this is NOT. 
There is a magic that happens, even at American restaurants, when the chef uses butter on the grill. Impressive! That one small attention to important detail portends a passion to please the palate and subsequently excellent results throughout the menu. The biscuits and gravy were amazing, as was a cobb salad, made with ultra-fresh lettuce and ingredients. That is real butter on the accompanying garlic toast. So delish!
We recommend that you stop by! You can be sure we'll be back before long.
Just a little tip: If you're a coffee snob (like me) and heading west after your meal, drive less than a mile (1.52 km) to the west on Hwy 101 to the Coffee Cottage, a small but awesome coffee kiosk offering some of the best brew and snacks to be had. 

What Customers Think About Fairmount Diner
Fairmount Diner sign on Hwy 101 in Port Angeles, WA.
Out of 25 reviews on Trip Advisor, 6 of them rate Fairmount Restaurant as Excellent, and 10 of them rate the restaurant as Very Good. 
One customer said that the hospitality was great, the staff was lovely, the food was delicious and the view from the restaurant was very nice. They really enjoyed the atmosphere of the restaurant and commented on how wonderful the manager of Fairmount Diner was. 
One customer described the restaurant as very cozy and appreciated the helpfulness of the staff. They said that the hospitality was great, the view was amazing, and they thought it great that the manager gave high attention to the customers. 
A local said that they had been coming to Fairmount Diner every Saturday for breakfast for almost a year. They said that it was possibly the best breakfast in Port Angeles and they have been extremely happy with the excellent food, fast service, and welcoming atmosphere.


Have You Eaten Here?
Do you have a great story or experience at this Port Angeles restaurant? Feel free to share it below! Be as wordy and as descriptive as you like. Include photos as well, if you have them; there is plenty of room for it all on our website.

Just click into the title box below and go from there. When published, you'll have "your own" page on MyPortAngeles which you can share with friends or anyone who asks!

We're happy to ensure professional and amateur photographers get credit for their work. Leave us your name in the form below, and means of contact, website, or FB page info so we can link back to you.

Page updated on July 13, 2021.
Washington State Covid-19 Status
As of July, 2021, Washington State is now generally open. However, current state mandates require masking for all indoor activity outside of ones own home. Additionally, there is a state mandate requiring restaurant patrons to provide proof of vaccination for indoor dining. Due to logistical difficulties, some restaurants are still open only for takeout/drive thru. HIPAA guidelines about privacy for medical information regarding indoor dining does not permit enforcement of covid mandates.