Elk Pictures
Elk Pictures: Photos and images of elk in the Pacific Northwest, plus best ways to find Roosevelt Elk and wapiti in the ONP and PNW for photographing.

Wouldn't it be great to get some elk pictures during a visit to Port Angeles?
With roughly 5,000 Roosevelt elk living in the Olympic National Park and a typical herd size of 30-40 in total, this amounts to upwards of 140+ separate herds of elk within the Park, not to mention other elk herds out and about in Sequim WA and other areas of the Olympic Peninsula.


Maybe your chances of finding one of these elk herds aren't so bad! If you can just find some elk sign and then follow the evidence (sticking to trails in sensitive areas), you may yet go home with wonderful elk photos and terrific memories as well.

Some of our own elk photos are posted below, and also tips to help you find the elk herds.
Small Herd of Roosevelt elk in the dry portion of the Hoh river bed. You can see the bull with his massive rack in front, left of photo, bugling. (Photo credit: NPS)
Our Elk Pictures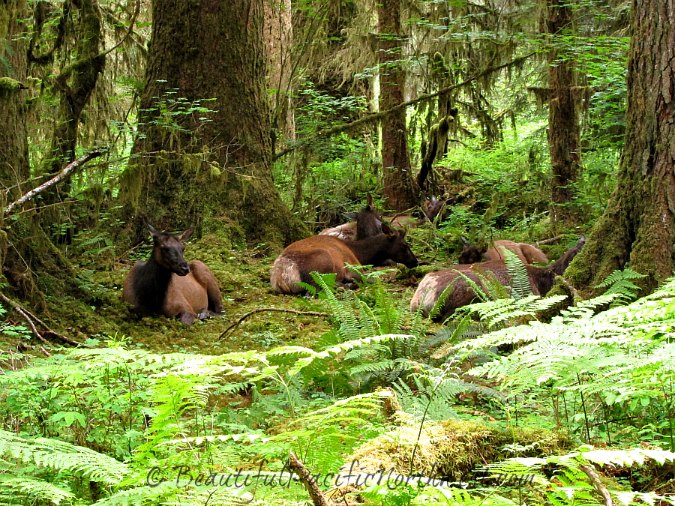 Roosevelt Elk herd in the Hoh Rainforest, resting on a May mid-afternoon
We encountered the local Roosevelt Elk herd chilling out along one of the circular hiking trails near the Hoh Rainforest Visitor Center. See Roosevelt Elk in Hoh Rain Forest (NPS). 
Roosevelt Elk herd buck in the Hoh Rainforest, Olympic National Park, in May
Cities near Roosevelt Elk Herds in the Hoh Forest, Olympic National Park:
Port Angeles is 88 miles (141.6 km) or approximately 2 hours by car from the Hoh Visitor Center in Olympic National Park. But if Port Angeles is not your starting point, then:
Forks: 31 miles (50 km) or approximately 47 minutes
Sequim: 104 miles (167 km) or 2 hours 19 minutes
Aberdeen: 112.4 miles (180 km) or approx. 2.25 hours


Best Way to See Roosevelt Elk 
You might get lucky! We encountered a large herd of elk in the Hoh Rainforest just 50 feet from Upper Hoh Road purely by accident (delightfully so!).
We found them in the late afternoon shortly after we left the Hoh Visitor Center. Pulling to the shoulder, we carefully deployed the cameras. The elk stared at us, and then continued to drift slowly from forage to forage.
Elk are most active at dawn and dusk, so plan to look for them in the early morning and early-to-late evenings. Or, you may find them bedded down during the day.
Look for signs of their prior presence to guide your search – trails, hoof-prints in moist ground, scat on the ground, etc.
Elk hoof-prints are roughly 4" x 3," larger than deer prints and smaller than moose prints. Elk scat is considerably larger than deer droppings, somewhat in the shape of an acorn. You'll likely see them in piles of 40 or more pellets.
Look for browsed plants or antler rub scars on shrubs or tree trunks. You might even find dried velvet draped over a shrub branch.
Expect to see elk in clearings or on the edge of the forest near open spaces. If your visit is in late fall or winter, the leaves will have fallen, providing a clearer view of the environment.
Beware of hunting season! If you're hunting for meat, you will know to wear bright clothing to alert other hunters. If you're hunting photos or memories, please be careful!
Do your homework; know the dates of open season, and if they coincide with your search for Roosevelt elk, take every precaution, such as wearing a neon-orange jacket so an overeager elk hunter won't confuse your movements for that of an elk.
For more ideas on finding elk, check this excellent webpage on how to find the secret spots loved by elk. This is a hunter's website, however the same tips may help you find elk for your elk pictures....  


Have You Encountered Temperate Rainforest Wildlife?
Tell Your Story and Share Your Photos With Us!
Nature can present us with unexpected, breathtaking, and memorable moments! Do you have a great story or an interesting experience encountering any of the many Temperate Rainforest Wildlife species? We'd love to hear about it! Feel free to share it in the form below. Be as wordy and as descriptive as you like. Include photos as well, if you have them; there is plenty of room for it all on our website.

Just click into the title box below and go from there. When published, you'll have "your own" page on MyPortAngeles which you can share with friends or anyone who asks!

We're happy to ensure professional and amateur photographers get credit for their work. Leave us your name in the form below, and means of contact, website, or FB page info so we can link back to you.