Downriggers Restaurant
Downriggers Restaurant: Delicious meals and drinks while enjoying a gorgeous view of the Strait of Juan de Fuca and marine traffic in the Port Angeles Harbor. Details, photos, reviews of Downriggers on the Water.


Downriggers Restaurant
Downriggers On The Waterfront Restaurant Info
Location: 115 E. Railroad Avenue, Suite 207, Port Angeles, WA 98362
Phone: 1-360-452-2700 (Reservations are accepted)
Website: http://www.downriggerspa.com/
Menu, Drink options: http://www.downriggerspa.com/menu
Hours: Sun-Tues: 11:30am - 8pm, Wed-Sat: 11:30am - 9pm
Email: downriggers@wavecable.com 
Facebook: https://www.facebook.com/downriggerspa/ 
Trip Advisor: Tripadvisor Reviews of Downriggers on the Water in Port Angeles WA
Yelp: Yelp Reviews of Downriggers on the Water in Port Angeles WA
Member of the Port Angeles Chamber of Commerce
Downriggers Restaurant is located in The Landing, a small tourist-friendly mall on the water in downtown Port Angeles. The restaurant is on the upstairs level located nearly over the water, with a fabulous view of the Port Angeles harbor. Also near Downriggers Restaurant: 
---
---
About Downriggers Restaurant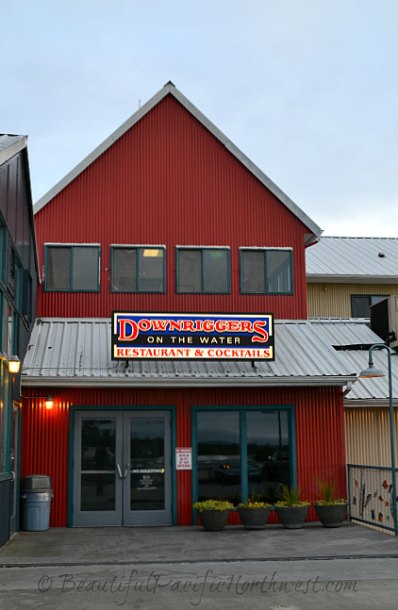 Downriggers Restaurant on the waterfront in Port Angeles, WA.

The convenience of its location near the Coho Ferry terminal means that ferry passengers can arrive well before the scheduled ferry sailing, get their tickets and space in line, and then dine well at Downriggers as you wait. If you prefer and time allows, there are art galleries, an arcade, and The Olympic Coast Discovery Center also located next door in The Landing Mall.

Downriggers Restaurant has been a popular and appreciated presence in downtown Port Angeles for years:
Twenty-five year history of award-winning food and service
Spectacular panoramic view of the Strait of Juan de Fuca that is truly breathtaking
The locals have repeatedly voted Downriggers Restaurant as serving the best fish and chips and clam chowder on the Olympic Peninsula. 
Downriggers serves "creative" cocktails, twenty-four beers on tap, and local wines, including wines from the popular Olympic Cellars in Port Angeles.
They can also accommodate large groups and provide for children with child menus. 

---
Restaurant Reviews
My sweet mother loves to go to Downriggers. She lives in Sequim, but every time she needs to go into Port Angeles, she calls and says, "Karen! Would you like to come with me to Downrigger's for lunch?!?"
What's not to like?! They serve a satisfying Crab Louie, and we already know their fish and chips are excellent.  According to Mom: "I love that Downriggers Restaurant is on the water. The view is wonderful. I like to watch the ferry come in or go out, as well as all the other boat traffic in the harbor."
Mom's favorite menu items are their clam chowder and soup-in-a-bread-bowl. But about the hamburgers, which she has ordered many times, she says, "Their hamburgers are really good, too, but they are too high to get your mouth around." She must not mind that too badly...!


What Other Customers Think About the Food at Downriggers Restaurant 
Out of 446 reviews on Tripadvisor, 100 of them rate Downriggers restaurant as excellent while 184 of the rate the restaurant as very good. 

In September, 2019, a customer from Wisconsin said that not only was the atmosphere inviting and warm but that the bar service was especially great. They were also especially happy with the hot crab dip appetizer, the clam chowder and the crab and shrimp fettuccine. 
In August, 2019, Canadian customers dined here while waiting for the ferry and needed a place to eat. All of their meals were excellent as well as the service, they said, and they would stop again while passing through. 
In July, 2019, another customer called this restaurant "a gem for seafood in Port Angeles." After a long day of hiking, they immensely enjoyed the the blackened salmon on Fettuccine and the hot crab dip. 


Have You Eaten Here?
Do you have a great story or experience at this Port Angeles restaurant? Feel free to share it below! Be as wordy and as descriptive as you like. Include photos as well, if you have them; there is plenty of room for it all on our website.

Just click into the title box below and go from there. When published, you'll have "your own" page on MyPortAngeles which you can share with friends or anyone who asks!

We're happy to ensure professional and amateur photographers get credit for their work. Leave us your name in the form below, and means of contact, website, or FB page info so we can link back to you.

Page was updated on July 14, 2021
Washington State Covid-19 Status
As of July, 2021, Washington State is now generally open. However, current state mandates require masking for all indoor activity outside of ones own home. Additionally, there is a state mandate requiring restaurant patrons to provide proof of vaccination for indoor dining. Due to logistical difficulties, some restaurants are still open only for takeout/drive thru. HIPAA guidelines about privacy for medical information regarding indoor dining does not permit enforcement of covid mandates.