Bella Italia
Bella Italia: Upscale Italian restaurant in downtown Port Angeles, WA, offering classic Italian dishes, with fresh caught seafood and fresh local produce, in a friendly ambience. Bella Italia was also one of the locations in the popular Twilight series. Click HERE to read more.
Bella Italia Contact Info
Bella Italia Website: https://www.bellaitaliapa.com/
Location: 118 E 1st St. Port Angeles, WA 98362-2903
Phone: +1-360-457-5442 
Menu: https://www.bellaitaliapa.com/menu
Hours: 
Sun-Thurs: 5pm-9pm
Fri&Sat: 5pm-9:30pm
Closed: Thanksgiving & Christmas
Email: bella @ olypen. com 
Facebook: https://www.facebook.com/BellaItaliaPA/
TripAdvisor: Tripadvisor Reviews of Bella Italia in Port Angeles, WA
Yelp: Yelp Reviews of Bella Italia in Port Angeles, WA

Member of the Port Angeles Chamber of Commerce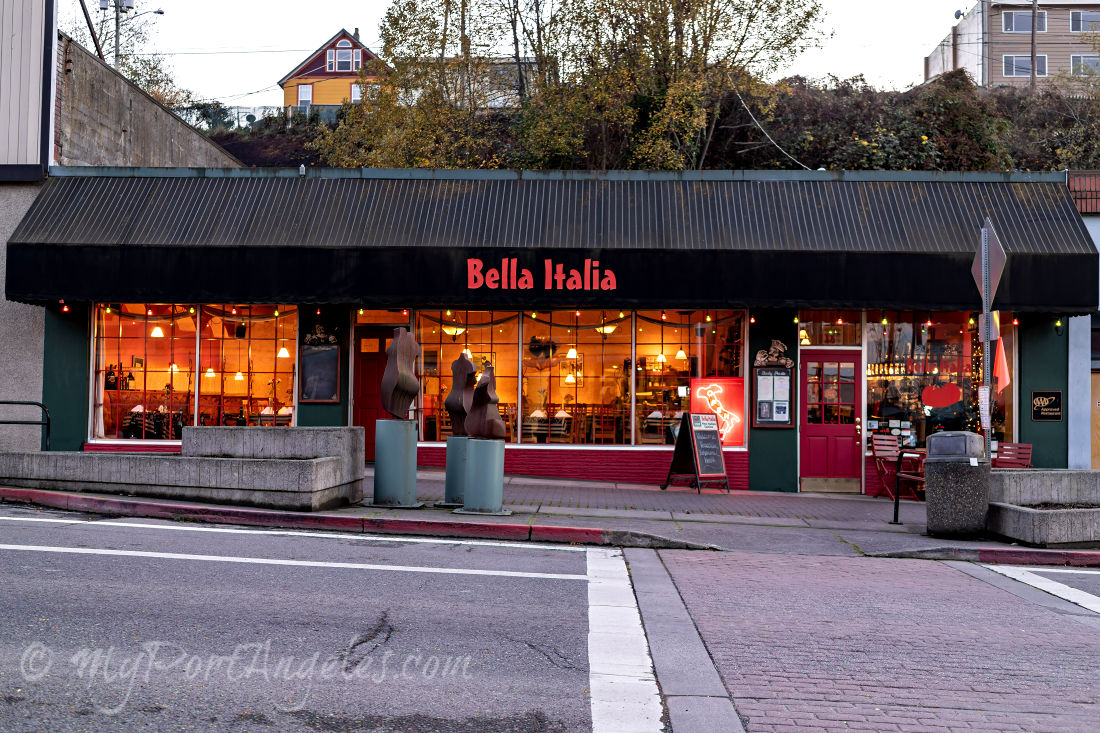 Bella Italia, fine Italian dining in Downtown Port Angeles, WA.
About Bella Italia 
According to the Bella Italia website, the restaurant was established primarily in order to "bring friends together around the table" in an atmosphere of "warm, gregarious Italian hospitality."

In the spring of 1996, Proprietor Neil Conklin reached out to friends in order to bring his dream of a restaurant to fruition. Instrumental in choosing the friendly Italian motif were friends Mirella Lorena Benedetti from Bologna and Mirella Hunley from Catania, Sicily. Mirella and Mirella provided the authenticity in Bella Italia's menu.
But since Bella Italia is located in Port Angeles in the heart of the Pacific Northwest, there are two other factors that Mr. Conklin and his friends have taken advantage of, and that contribute to the success of their amazing restaurant: Wines, and local fresh seafood and produce.

Extensive Wine Choices: Bella Italia's wine is both award-winning and widely popular among both locals and visitors from afar. Their list features over 500 labels of wine, from Italy, California and Washington, including it's 'House' wine, Bella Italia Sangiovese, made with the guidance of Walla Walla Vinters Myles Anderson and Gordy Venneri.
Wines from both of the popular wineries in Port Angeles, Olympic Cellars Winery, and Harbinger Winery, are included on the wine list.  
Fresh Seafood and Produce: Just like in the "old country," Bella Italia sources much of its fresh ingredients from as near to home as possible:
Fresh Olympic Coast Salmon from Neah Bay

Halibut from the Quileute Tribe in La Push
Local Dungeness Crab from Port Angeles and Sequim
Mussels and clams from the Hood Canal
Nash Huber's Dungeness Valley Farm provides local organic produce all year long.


What Customers Think About the Food at Bella Italia
I and my husband Francois thoroughly enjoyed a celebratory anniversary meal at Bella Italia. We arrived in the earlier evening. The food was exquisite. Seriously. Plus, the wait staff seemed to go out of the way to provide a perfect dining experience, maybe because they knew we were celebrating a great marriage. 
We are not the only ones to love dining here. Out of 692 reviews on Tripadvisor, 294 reviews rate Bella Italia as Excellent and 222 review rate this restaurant as Very Good. 
In March, 2020, a local Washington State customer remarked that they had not been here in awhile, and that the food was incredibly amazing. They loved the Chicken Marsala and Bella Italia's famous Portobello Mushroom dish. In their opinion, the wine tasting was rave-worthy, the wine excellent and also reasonably priced.


In December, 2019, a customer said that they made a return visit to Bella Italia because the food was so good 15 years ago. In their opinion, their recent visit did not disappoint. 


In September, 2019, a customer from the United Kingdom said that both the food and staff made their dinner very enjoyable. They had the chicken parmigiana which they said was fantastic and definitely worth it. 
Bonus for Twilight fans!
Bella Italia was one of the locations in the popular Twilight series:
"An authentic Twilight location and home to Bella's Mushroom Ravioli!
Bella Italia in Port Angeles was born out of a desire to bring friends together around the table. Established in the Spring of 1996, Neil Conklin gathered a group of creative, enterprising friends to create a restaurant that reminded those of warm, gregarious Italian hospitality.
Long a favorite in Port Angeles, the restaurant shot to global fame in 2005 when it was featured as the first date setting for author Stephenie Meyers' notorious love struck vampires, Bella and Edward. Bella herself ordered the now-famous Bella's Mushroom Ravioli™ dish as her entrée of choice. Since then, guests have flocked to the restaurant from around the globe to dine on the ravioli. Now, Bella Italia is making its iconic meal available as a high quality frozen entrée so anyone can enjoy an authentic "bite" at home."
(Text from the Bella Italia Facebook page.)
Have You Eaten Here?
Do you have a great story or experience at this Port Angeles restaurant? Feel free to share it below! Be as wordy and as descriptive as you like. Include photos as well, if you have them; there is plenty of room for it all on our website.

Just click into the title box below and go from there. When published, you'll have "your own" page on MyPortAngeles which you can share with friends or anyone who asks!

We're happy to ensure professional and amateur photographers get credit for their work. Leave us your name in the form below, and means of contact, website, or FB page info so we can link back to you.

This page was updated on July 14, 2021.