Waterfall Pictures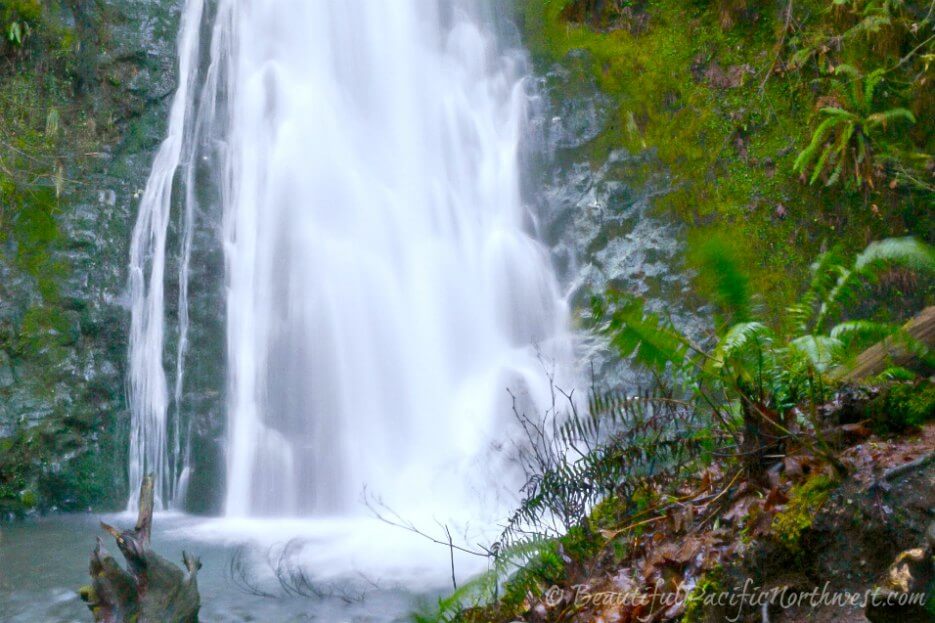 Waterfall Pictures: Photo gallery of landscapes dominated by beautiful forest waterfalls on the Olympic Peninsula in the Pacific Northwest. (Click on any photo to open a gallery of full size photos.)

Pictured: Madison Falls. Despite not being the tallest waterfall, the area surrounding this waterfall is very scenic. Water cascades over copious moss glowing an emerald green year round.
Niagara Falls they are not, but several of the waterfalls pictured here are impressive and very picturesque; perhaps you will agree when you've seen these waterfall pictures:

Bunch Falls

Merriman Falls
Each of these waterfalls is within the boundaries of the Olympic National Park, which is headquartered in Port Angeles WA. 
NPS website: Olympic National Park.
Waterfall Picture near Port Angeles: Madison Creek Waterfall
---
Madison Falls is located just a few minutes west of Port Angeles in the North Olympic Peninsula.
Technically the Falls are located inside the Olympic National Park, however they can be accessed any time without paying an entry fee.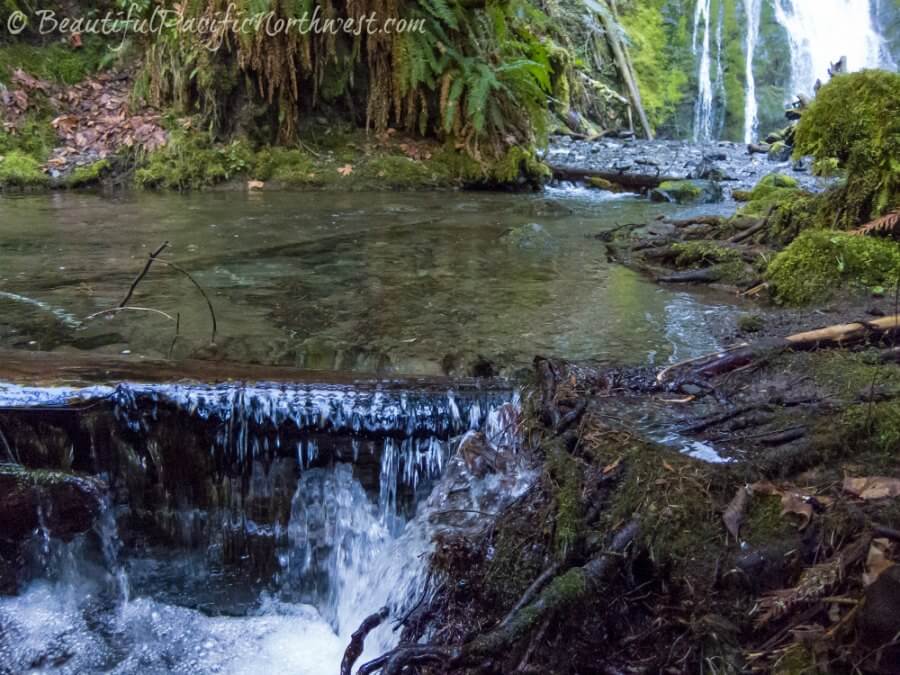 Logjam pool downstream from Madison Falls.
---
Waterfall Pictures:
Two Waterfalls near Lake Crescent
Marymere Falls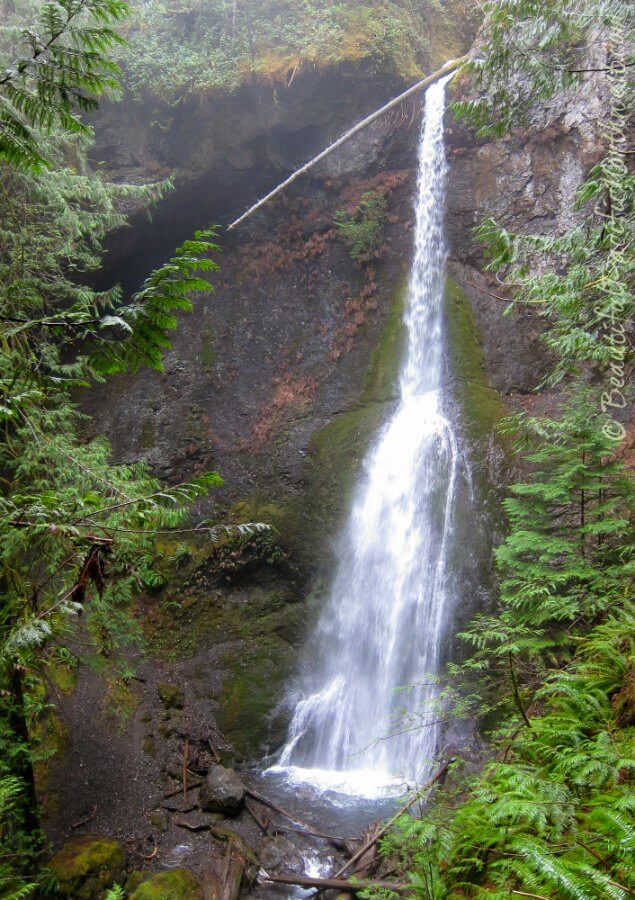 Marymere Falls, near Lake Crescent in Olympic National Park.
Marymere Falls is probably one of the most impressive of the waterfalls on the Olympic Peninsula. The creek drops 119 feet down the sheer rock face before continuing on its way to Barnes Creek and Lake Crescent.

Getting There: From Highway 101, leave the highway by following the signs to Lake Crescent Lodge. Once off the highway, follow the signs to Marymere Falls and Storm King Ranger Station. The trailhead is very near the Ranger Station, and hard to miss.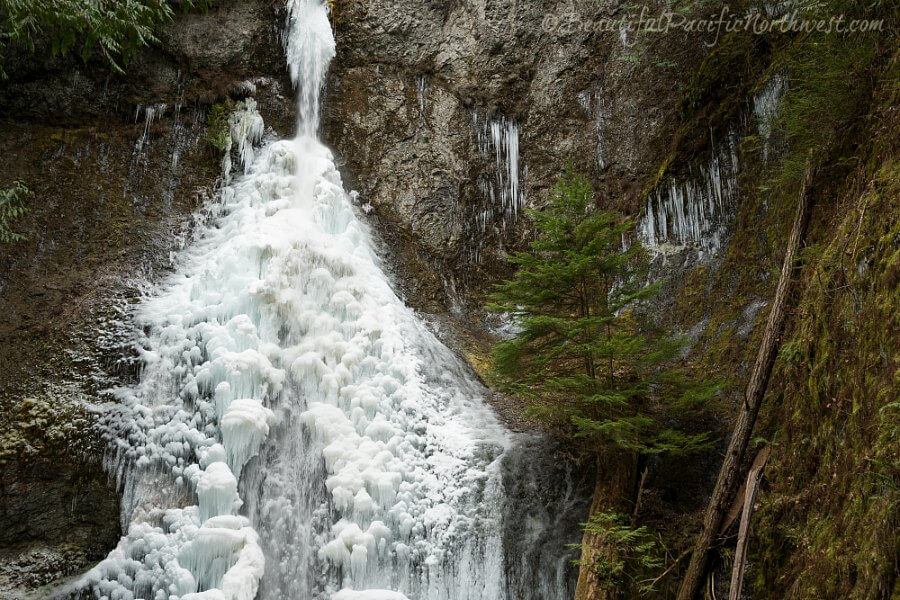 The usually mild winter temperatures dropped below freezing for over a week, resulting in amazing frozen waterfalls.
---
Sol Duc Falls
Sol Duc Falls is the reward at the end of the 0.8 mile (1.3 km) Soleduck Trail. The trailhead is located at the end of Sol Duc Road, you can't miss it because the road dead-ends in the trailhead parking lot.
If you prefer, you can also hike the Lover's Lane trail which starts at Sol Duc Hot Springs Resort, although this route will result in a 2+ mile hike one way.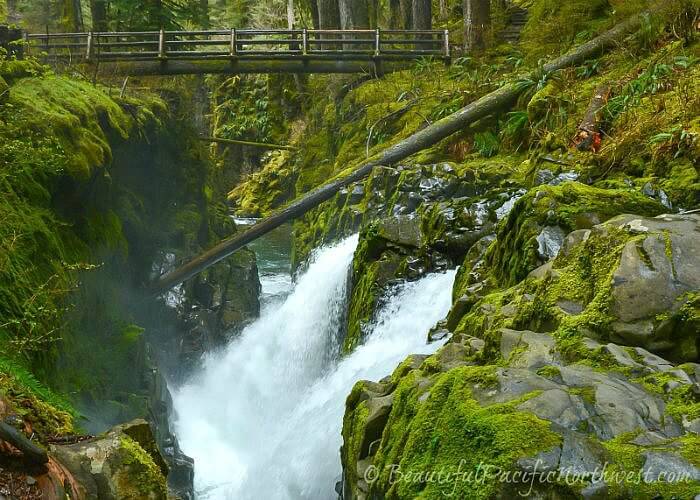 Sol Duc Falls in Olympic National Park.
Views from the bridge over Sol Duc Falls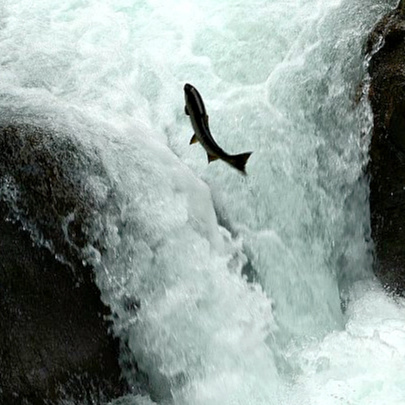 Above: The Sol Duc River tumbles through a mini-gorge and then widens into salmon spawning gravel-strewn shallows.
Pictured at right: Coho salmon leaping the Salmon Cascade on the Sol Duc River downstream from the Sol Duc Falls. These "falls" are just high enough for the salmon to leap.

Several species of salmon spawn in the Sol Duc River between the Salmon Cascade and the falls. 

---
Waterfalls near Lake Quinault
Bunch Falls and Merriman Falls are almost visible from South Shore Road along the Quinault River which drains into Lake Quinault in the southern parts of the Olympic National Park.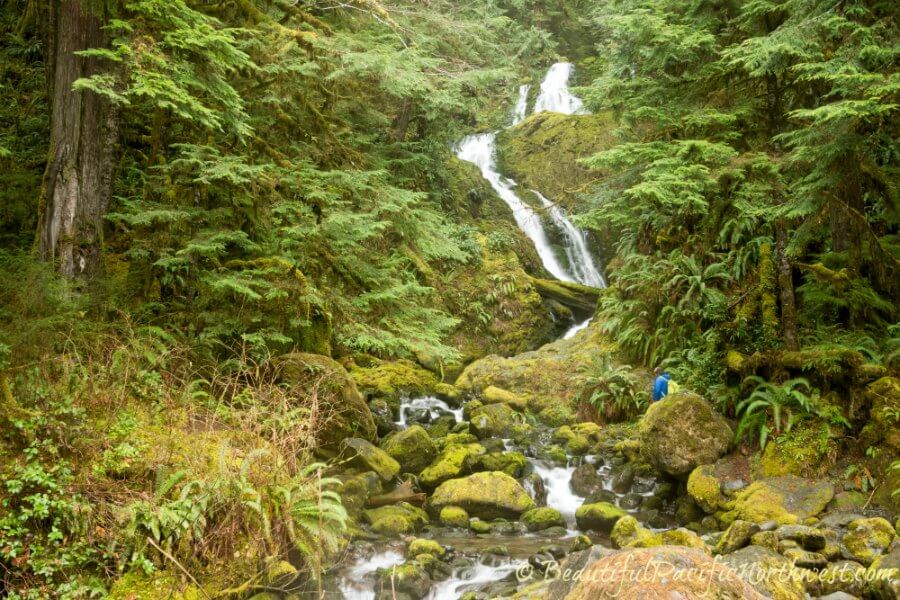 Bunch Falls on South Shore Road near Lake Quinault in Olympic National Park.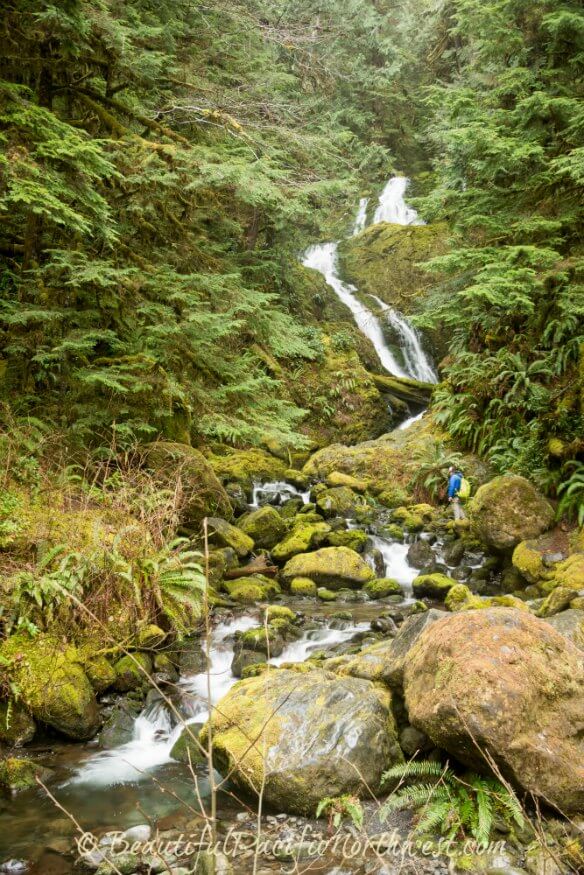 Bunch Falls
---
Do You Have Your Own Waterfall Story or Waterfall Photos?
Do you have a great story or exceptional photos about waterfalls? Share it! (We're happy to ensure professional and amateur photographers get credit for their work! We can do this if you leave us your name and online website or FB page info.)