Orcas Island Washington
Orcas Island Washington: Details about the island – history, transportation, attractions, restaurants, hotels, photos, so you can easily make your plans and reservations.

Welcome! Whether you're on the island for the entirety of your trip or just stopping by on the way to or from another of the San Juans, there is plenty to do and see.

Here's what you WON'T see: traffic lights, tall buildings, fast food, and chain businesses (aside from a lone Chevron station).
You WILL see miles of beautiful coastline, picturesque villages, native wildlife, beautiful vegetation, and lots of relaxed, smiling people. Also known as the Emerald Isle, Orcas Island Washington has much to offer: hiking, scenic drives, cycling, swimming, horseback riding, kayaking and whale watching, to name a few popular attractions.

See Orcas Island Activities for our list of recommended Orcas Island Washington attractions.
See San Juan Islands Vacation for details on attractions and activities on the other San Juan Islands.
See also Orcas Island Chamber of Commerce.
Sunset view of East Sound and Indian Island at the foot of the town of Eastsound, Orcas Island, WA. East Sound cleaves the island into two halves, helping to create its horseshoe shape.
---
Getting to Orcas Island from Port Angeles WA
Port Angeles is 152 miles (244.5 km) to the south of Orcas Island. Transit time will be around 5.5 hours as two Washington State Ferries will be required. I usually take the Port Townsend-to-Coupeville ferry, and then the Anacortes-to-Orcas-Island ferry.
(If a reservation on the Port Townsend ferry is unavailable, you can take the ferry from Kingston to Edmonds and then travel to Anacortes via Interstate 5 North and Hwy 20 in order to catch the Anacortes ferry to Orcas Island.)
Orcas Island is a part of the San Juan Islands of Washington State, which also include these main islands:
---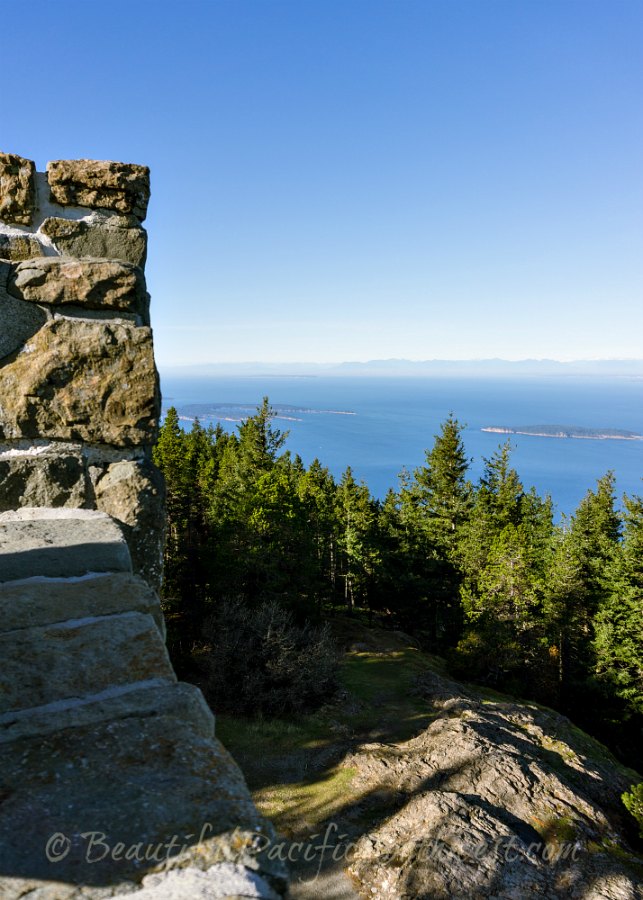 Stunning views from the top of Mt. Constitution on Orcas Island Washington.
Orcas Island Geography
Orcas Island is shaped like a horseshoe, with Eastsound located at the inside top of the horseshoe, right in the middle. It takes just 35 minutes to drive the 20 miles from Deer Harbor, on the western side, to Doe Bay on the eastern side.

The center of the island is home to rolling farmland. Sheep and horses graze in many fields.
The western side of the island is dry and rocky with scrubby vegetation. On the eastern side, Mount Constitution (elevation 2,409 feet) in Moran State Park is the highest point in the San Juan Islands.
Transportation
Arrival by Washington State Ferry at Orcas Village (one hour sail from Anacortes, WA) is typical, or schedule a private air or sea charter. Details are here: San Juan Islands Transportation

During the summer tourist season (late June through early September), a San Juan Transit bus shuttles passengers between the ferry landing in Orcas to several main destinations on Orcas Island, and back again, on weekends - Friday, Saturday, and Sunday. 
San Juan Transit - Schedule and Fares. Plus download and print the latest schedule in PDF form, linked there.
Nevertheless, many tourists find an auto, whether personal or rented, useful on this, the largest of the San Juan Islands.
See also: Washington State Transportation
---
Check Today's Orcas Island Weather
Orcas Island enjoys mild summers with temperatures typically in the high 60s and low 70s from mid-May to September. Clicking below opens hourly forecasts for the next 24 hours.
EASTSOUND WEATHER
EASTSOUND WEATHER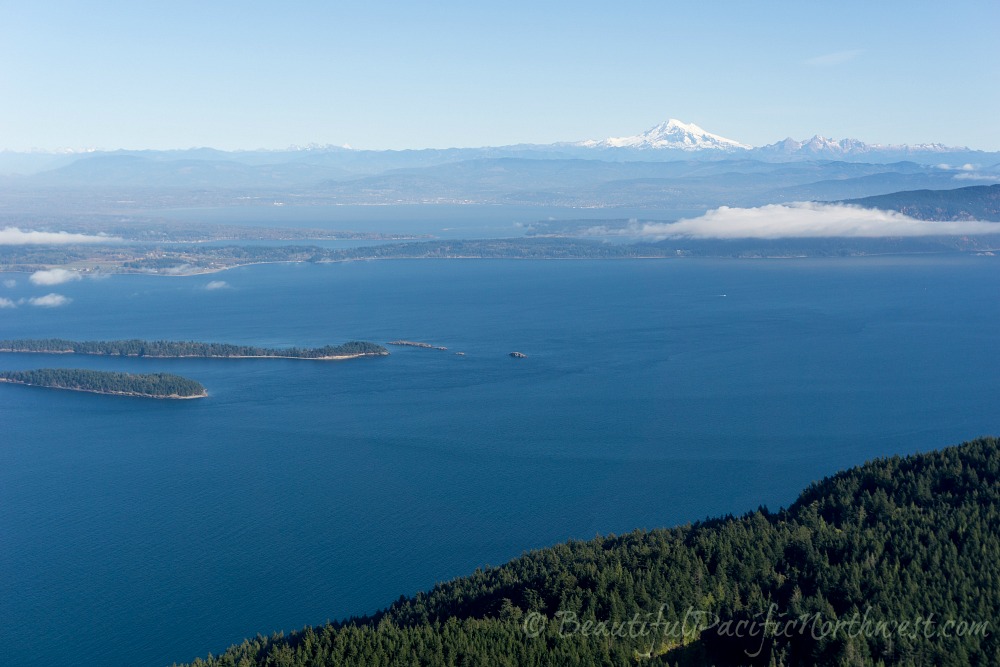 View of Mount Baker from the top of Mt. Constitution, Moran State Park on Orcas Island WA.
History
Contrary to common thought, Orcas Island is not named for the orca whale population so often seen in the area. "Orcas" is short for the Viceroy of Mexico, Juan Vicente de Guemes Padilla Horcasitas y Aguayo, who financed the exploration of Francisco de Eliza in 1791. The name originally applied to part of the San Juan Archipelago, not the island in particular. Orcas Island's name was made official as applying specifically to the island when the British Admiralty charts were reorganized in 1847.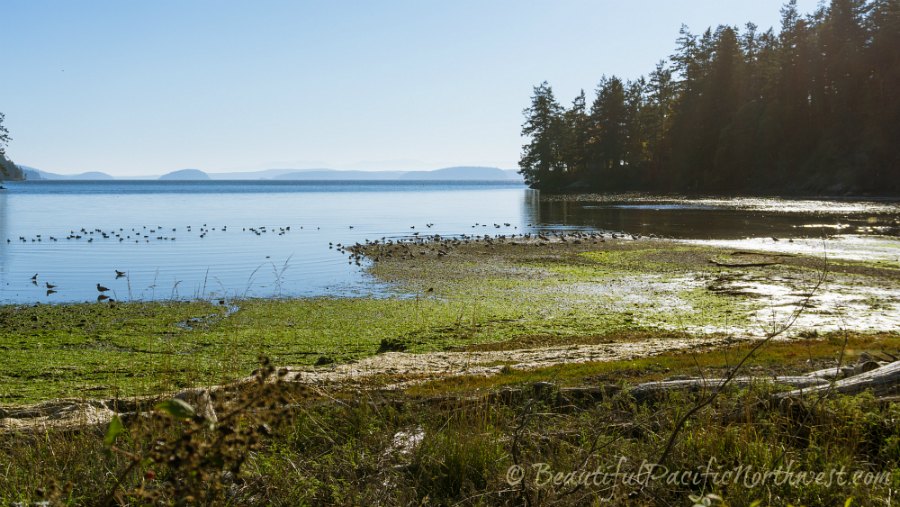 Prime oyster and shellfish harvesting waters in Buck Bay, near Olga WA.
Orcas Island Washington
Restaurants
New Leaf Cafe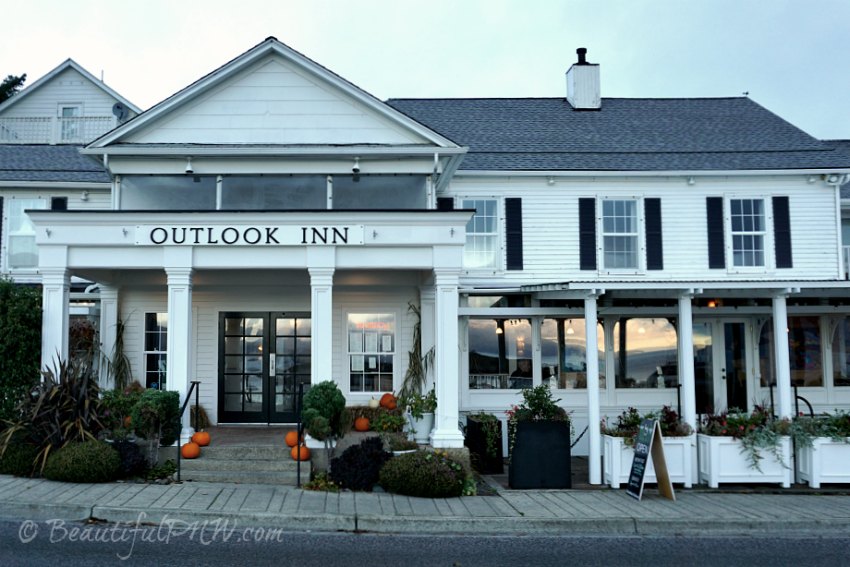 New Leaf Café
171 Main St., Eastsound, Orcas Island, WA 98245
1-360-376-2200
https://www.outlookinn.com/new-leaf-cafe/
New Leaf Cafe is located inside Outlook Inn, which is on the main drag entering Eastsound from the west side of the island. You can't miss it.
Be sure to check the hours (serves breakfast/brunch and dinner) and make a reservation at this top spot to eat. Savor delicious food with outstanding service while enjoying views of the bay. They also offer outdoor seating when the weather accommodates.

Rose's Bakery Café
Rose's Bakery Café
382 Prune Alley, Eastsound WA 98245
Cafe: +1-360-376-4292
Bakery/Shop: +1-360-376-5805
Cafe Hours: 8:30a-4p Tue-Sat
Bakery and Shop Hours: 10a-5p Mon-Sat


Mia's Café
Mia's Café
123 N Beach Rd, Eastsound WA 98245
+1-360-376-6427

Hours: 8a-3p Mon-Tue, Thur-Sat (closed Wed and Sun)
Eclectic little place with incredibly tasty menu choices.
Brown Bear Baking
Brown Bear Baking
Main & North Beach Rd., Eastsound, Orcas Island, WA 98245
+1-369-855-7456
https://www.facebook.com/BrownBearBaking/
Hours: 8a-4p, Thursday-Monday


Mijitas
Mijitas
310 A St, Eastsound, Orcas Island, WA 98245
+1-360-376-6722
https://www.facebook.com/MijitasMexicanKitchen
Hours: 4p-8:45p Tue-Sun (closed Mon)
For Mexican cuisine, this is the place to go!


The Inn at Ship Bay
The Inn at Ship Bay
326 Olga Rd., Eastsound, Orcas Island, WA 98245
+1-360-376-5886
www.innatshipbay.com/dining/
Fresh, local ingredients cooked to perfection. Only open for dinner. Seasonal hours, call ahead.
Catkin Café
Catkin Café
11 Point Lawrence Rd., Olga, WA 98279
+1-360-376-3242
www.catkincafe.com
Hours: Wed-Sun 9a-3p
This highly rated cafe offers fresh island grown meat and produce, and house-baked bakery goods. Drink fine coffee, tea, beer and wine.
Orcas Island Farmer's Market (Eastsound)
If you're here on a Saturday, you can grab fresh local ingredients from the Saturday morning Farmers Market in Eastsound and make your own meals or brown-paper-bag lunches. Or, you're likely to find many prepared meals. Eat and run, or take it to-go!

Orcas Island Farmer's Market (Eastsound)
N. Beach Road, Village Green, Eastsound, Orcas Island, WA 98245
+1-360-317-8342. http://orcasislandfarmersmarket.org/
May through September Hours: Saturdays, 10a-3p, at above address.
October through April Hours: Saturdays, 11a-2p, at the Oddfellows Hall on Haven Street just south of Main Street on the way to Madrona Point.


Orcas Island Washington Lodging
From renting a house to pitching a tent and everything in-between, there are many options for overnight stays at Orcas Island.


Outlook Inn
Outlook Inn in Eastsound
Outlook Inn
171 Main St., Eastsound, Orcas Island, WA 98245
+1-360-376-2200
http://www.outlookinn.com/home

Check the website if you're traveling in winter - they tend to take a 2-month break during December and January.


Rent a House
Buck Bay Getaway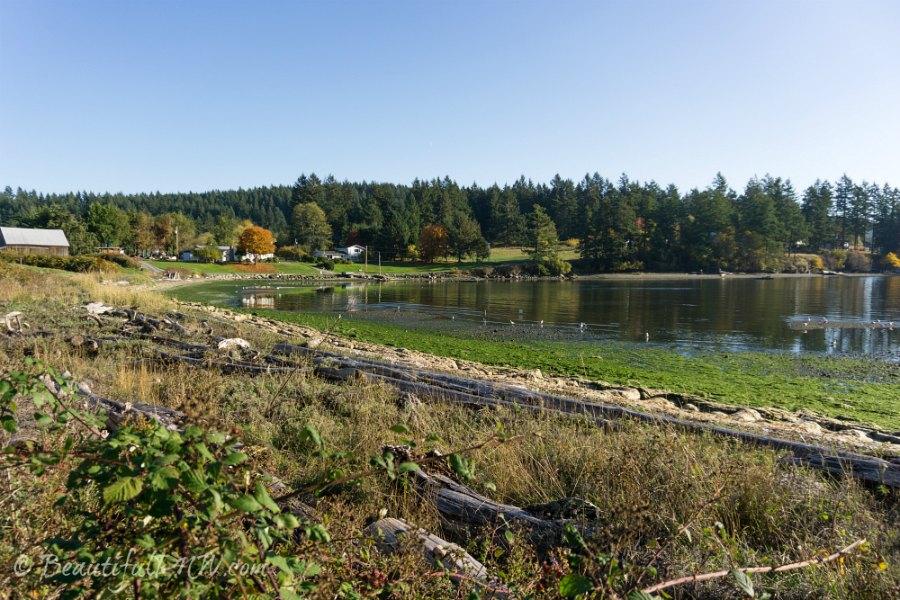 Scenic Buck Bay.
Buck Bay Getaway
117 E J Young Rd, Olga, WA 98279
+1-360-376-5280
www.buckbayshellfishfarm.com/services.html
Getaway cabin at the Buck Bay Shellfish Farm. 1 bedroom, many amenities, complimentary dozen oysters. Details at the website. Book through the website or through AirBnB: https://www.airbnb.com/rooms/4039937
---
More Cabin Rental Options
More Cabin Rental Options:

(Note: Cabins book solid very early in the year. Be sure you secure your reservations early.)
Orcas Island Washington Resorts
Rosario Resort and Spa
Rosario Resort and Spa
1400 Rosario Rd, Eastsound, WA 98245
+1-360-376-2222
https://rosarioresort.com
Be pampered at Rosario Resort and Spa, the island's largest hotel/resort. It is the former estate of shipbuilder and former mayor of Seattle, Robert Moran.
Doe Bay Resort & Retreat
Doe Bay Resort & Retreat
107 Doe Bay Rd, PO Box 437, Olga, WA 98279
Office: +1-360-376-2291
Cafe: +1-360-376-8059
Doe Bay Resort and Retreat offers a variety of accommodations (cabins, yurts, domes, campsites). Rich in views and in amenities. Open year round.
Farm Stays on Orcas Island Washington State
Pebble Cove Farm
Pebble Cove Farm
3341 Deer Harbor Rd, Eastsound WA 98245
+1-360-376-6161
http://pebblecovefarm.com/accommodations/
Four suites in the middle of an organic farm sleep either 3 or 4, and a "garden cabin" with loft sleeps 2. Facilities look upscale-rustic and comfortable.

Mount Baker Farm and Camping
Mount Baker Farm and Camping
706 Mt. Baker Rd, PO Box 2065, Eastsound WA 98245
+1-360-376-2425
https://mountbakerfarm.com/home/
This nice campground is situated on 80 acres just north of Eastsound. Bring your tent or rent their "lotus bud" or smaller "lotus belle" 16' or 13' tents.

Have You Traveled Around the San Juan Islands?
Share Your Travel Stories and Photos Here!
Whether you're a local who has lived here for years, or you've come as a visitor to our area, we'd love to hear from you! Do you have a great story or an interesting experience while in the San Juans? What was your means of transportation? And what about reviews? Did you take any exceptional photos taken during your travels around the San Juan Islands? Please, share your stories and photos with us!

We're happy to ensure professional and amateur photographers get credit for their work. Leave us your name in the form below, and means of contact, website, or FB page info so we can link back to you.