Goldstream Provincial Park

Goldstream Provincial Park, Vancouver Island, British Columbia, not far from Victoria BC. Here are descriptions and photos representing the beauty of the Pacific Northwest.

Goldstream Provincial Park is located along Highway 1 just north of Langford BC in the south of Vancouver Island, 18.5 km (11.5 miles) northwest of Victoria BC. (See Google map below.)
This is quintessential temperate rain forest, where you'll find a strong salmon spawn from mid-October through early December, along with giant old growth trees, gorgeous scenery, and lots of moss and moisture. See the websites below for more info on the many activities available and camping opportunities.
Address: Trans-Canada Hwy #1, Langford, BC, Canada
Phone: +1-250-474-1336
Website(s): http://www.goldstreampark.com/
http://www.env.gov.bc.ca/bcparks/explore/parkpgs/goldstream/
Tripadvisor Reviews of Goldstream Provincial Park
Goldstream Provincial Park in Photos
Goldstream River runs from the mountains northward into Finlayson Arm, an estuary, and then directly into Brentwood Bay before emptying into the Salish Sea.

The Park is an amazing place. The vibrant life cycles within the rain forest were evident during our visit: salmon, bald eagles, even those rats of the skies, the seagulls.
Below: A serendipitous view of Finlayson Arm after a rain squall...
Below: This is not two trees, but one positively gigantic one, probably 600+ years of age.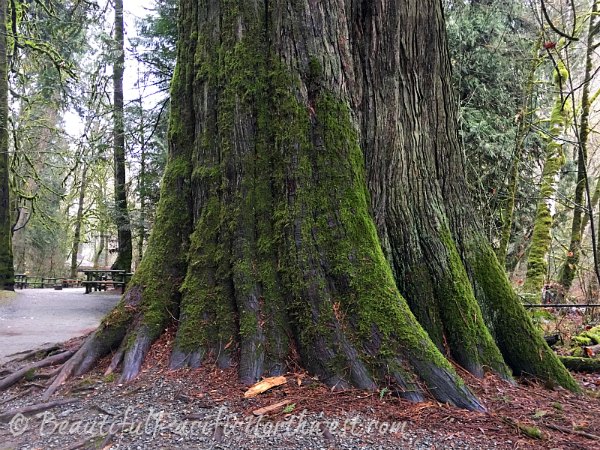 Massive trunk of old-growth cedar.
The following three photos were taken just a few steps from the parking lot encountered once you turn off Hwy 1 into the Park. From here, you can take the path to the Visitor Center past day-use areas and covered picnic tables.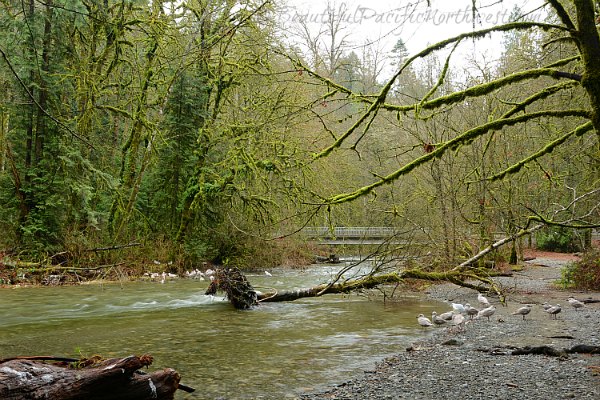 Goldstream River at the turn-off into the Park from Hwy 1 North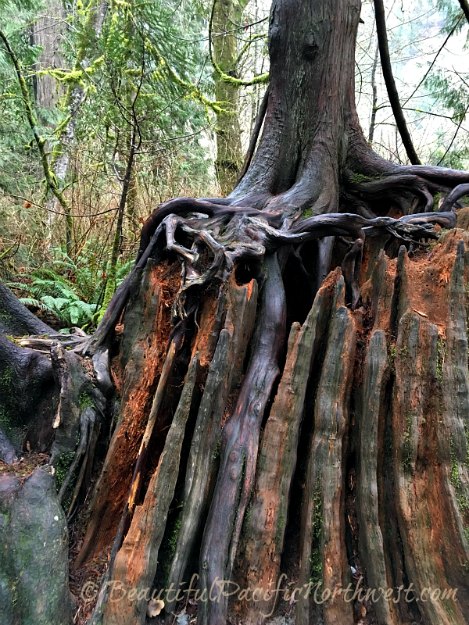 Good-sized hemlock growing on the decaying bones of an old cedar stump. This is a typical temperate rainforest scene.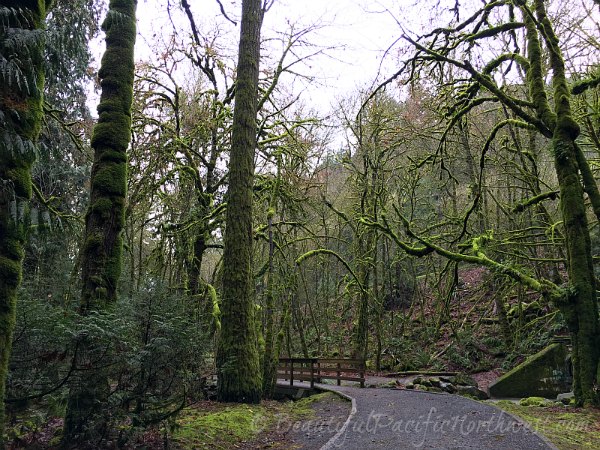 Excellent paths through the park all the way to the Visitor Center
The Visitor Center is an approximate 1 mile (1.6 km) hike on an easy foot trail. The path hugs the Goldstream River for much of its length, affording many lovely views. 
I visited in December. Despite the reds and browns of dead leaves and grasses and the barren brambles on the banks of the river, the color schemes of evergreens and their burdens of bright moss prevailed.
We missed the salmon spawn, but we saw (and smelled!) abundant evidence of it in the form of salmon carcasses everywhere, on land and in the water. Seagulls by the thousands and bald eagles by the hundreds were everywhere, feasting on the rotting salmon and calling raucously from perches in the trees and along the river banks.

(Good thing odors are not transmitted digitally. Submerged fish carcasses did not smell, but there were nearly as many deposited along the trails by birds and wildlife that required stepping over...)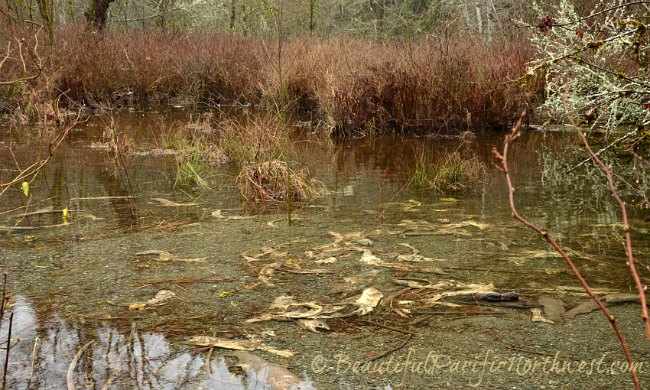 Hundreds of mostly chum salmon carcasses in Goldstream River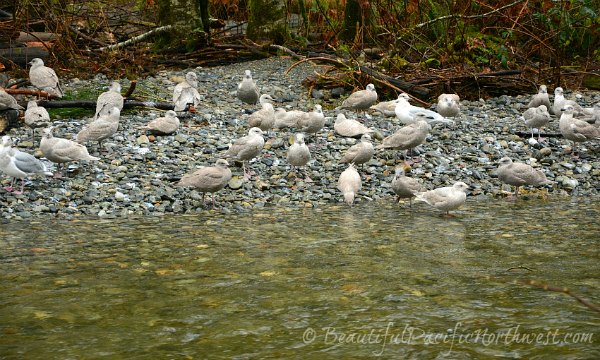 A fraction of the hordes of seagulls on the banks of the Goldstream River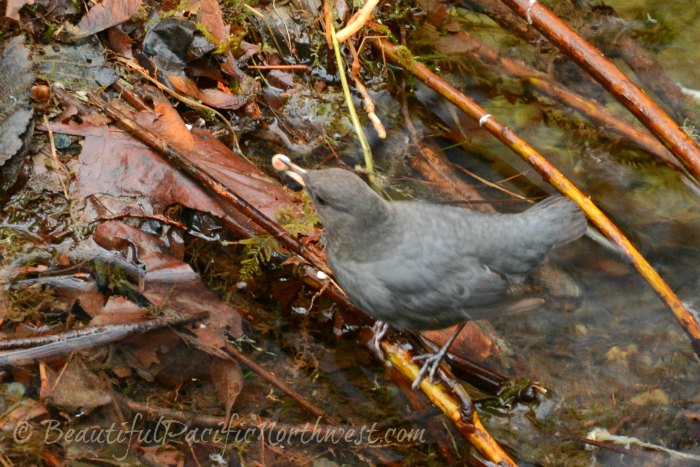 American Dipper dines on salmon roe snagged from Goldstream River
---
Goldstream Provincial Park Visitor Center
The Park's Visitor Center is both informative and commercial. You'll find many exhibits throughout, a big warm fireplace to chase the chill, a corner for kids' education, and many types of souvenirs, books, and t-shirts for purchase.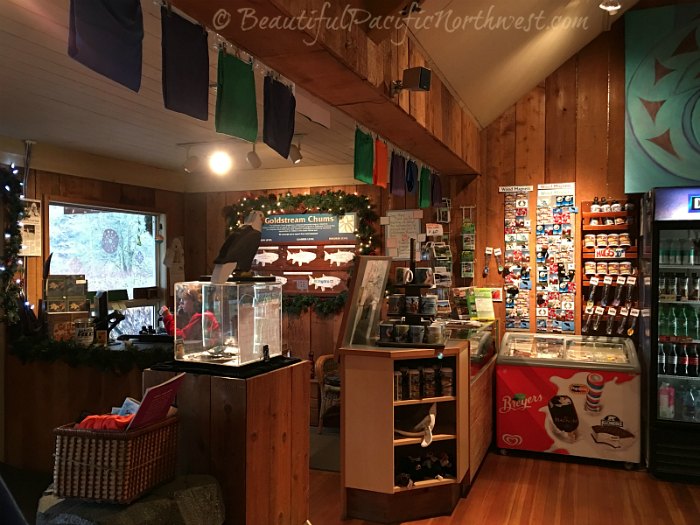 Visitor Center Souvenirs
The huge presence of bald eagles feeding on rank salmon carcasses was remarkable. They were everywhere, and especially near the Visitor Center. They filled the trees on both sides of the river, and even if not seen, could be heard calling to each other. One visit does not do it justice; we'll be back.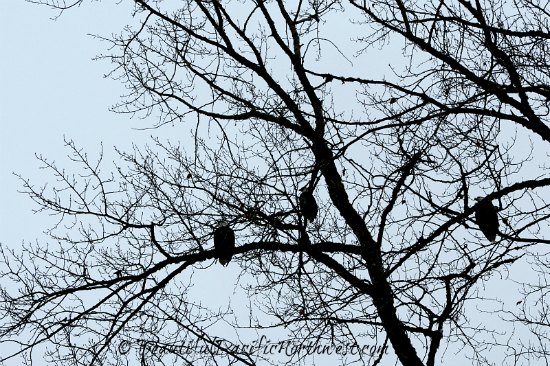 Three of many bald eagles resting in the trees near the Goldstream Visitor Center
Cities Near Goldstream Provincial Park
Goldstream Provincial Park

Victoria BC is the nearest city to Goldstream Provincial Park, which is only 18.5 km (11.5 miles) to the southeast on Vancouver Island, an approximately 40 minute drive via auto.
Port Angeles, Washington State is 37 miles (59.5 km) and a 90-minute Coho ferry ride away. Total transit time is likely to be around 2 hours 45 minutes, assuming you have your own vehicle.
Two other nearby cities are:
Vancouver, BC, in Canada: 124.1 km (77 miles), an approx. 3.5 hours drive, including a ferry to Vancouver Island.

Seattle, Washington, USA: 118.7 miles (191 km), an approx. 5.5 hour drive if you leave the United States from Port Angeles on the Coho Ferry.