The Blackbird Coffeehouse

Blackbird Coffeehouse is not far off the beaten path of Downtown and Hwy 101 in Port Angeles!
Stop by for a great start to the day or for a midday pick-me-up.

The Blackbird Coffeehouse Contact Info
The Blackbird Coffeehouse
---
About The Blackbird Coffeehouse
The Blackbird is a local coffeehouse, located very close to the classic Cherry Hill area of Port Angeles. Its location on 8th Street and Peabody means it is a matter of eight or nine blocks from the downtown area of Port Angeles, WA. There is available parking in front of the coffeehouse and along the west side of the building, as well as a couple spots on Peabody Street. They also have a little drive through window which is very popular.
If you need wi-fi, no problem. It's free - go on in with your laptop. The interior is comfortable, with tables and a couch. See photos below.
The décor inside is very "coffeehouse modern," lots of black and white with cheerful plants and quirky eclectic features. The large wall in the dining area normally displaying local paintings was conspicuously bare, a great field of white.
Blackbird was in the process of changing out their art display. Blackbird Coffeehouse displays collections from local artists throughout the year, which will be available for purchase.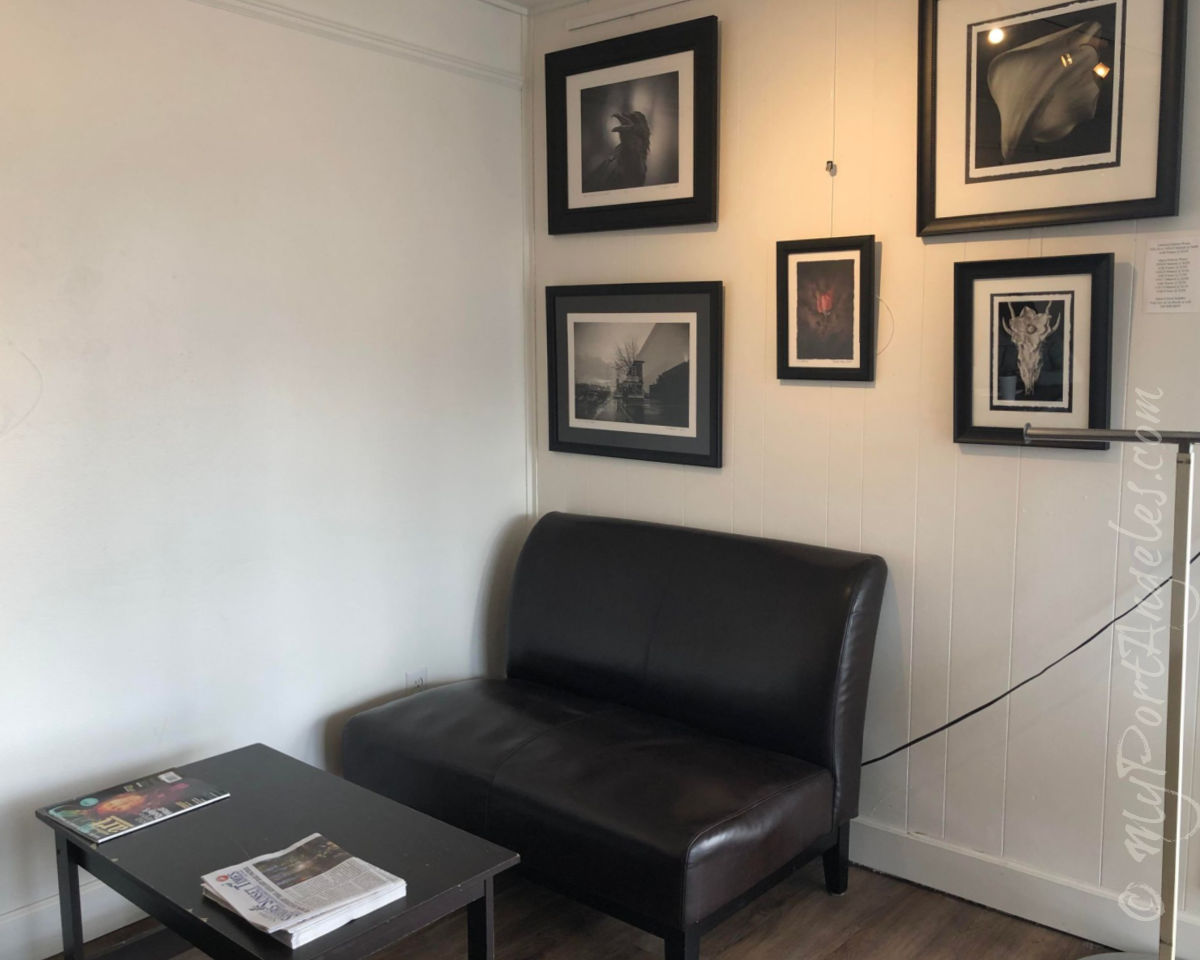 ---
The Coffee at The Blackbird Coffeehouse
The menu lists several handcrafted beverages. If you love sweet coffee and chocolate in the morning, the Mocha is delightful.
Their other star beverage is the Doppio, a straight double shot of espresso, for those who want to get revved up enough to thread a sewing machine while it's running! 

---
The Food at The Blackbird Coffeehouse
Sweet mocha coffee and a Black Forest ham and cheese sandwich.
They also offer food, the kind of light pastries and sandwiches that complement crafted coffee beverages.
The perfect accompaniment to the morning Mocha was a Black Forest Ham and Cheese Sandwich on the softest ciabatta roll ever.
Volumes could be written about the pillowy perfection of the roll. The menu has several gluten-free options plus a soup du jour, and healthy grab-and-go snacks and beverages. 
---
Soups, Salads, and Sweets at The Blackbird Coffeehouse
The coffee is great, and The Blackbird Coffeehouse provides soups du jour, salads and salad wraps, and sundry cookies and sweet satisfaction to complement your order of coffee or tea.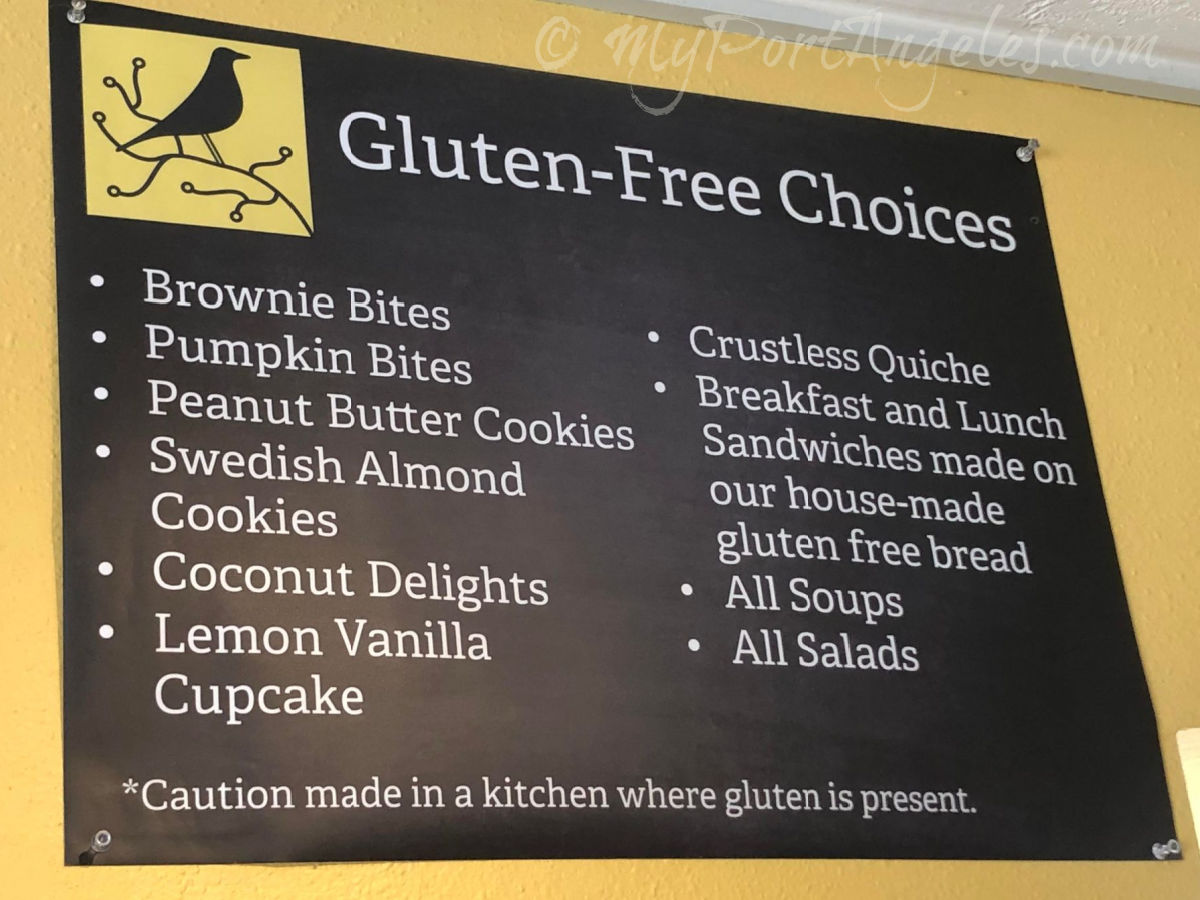 Yayy, gluten-free choices!

Get Gifts from the Pacific Northwest at The Blackbird Coffeehouse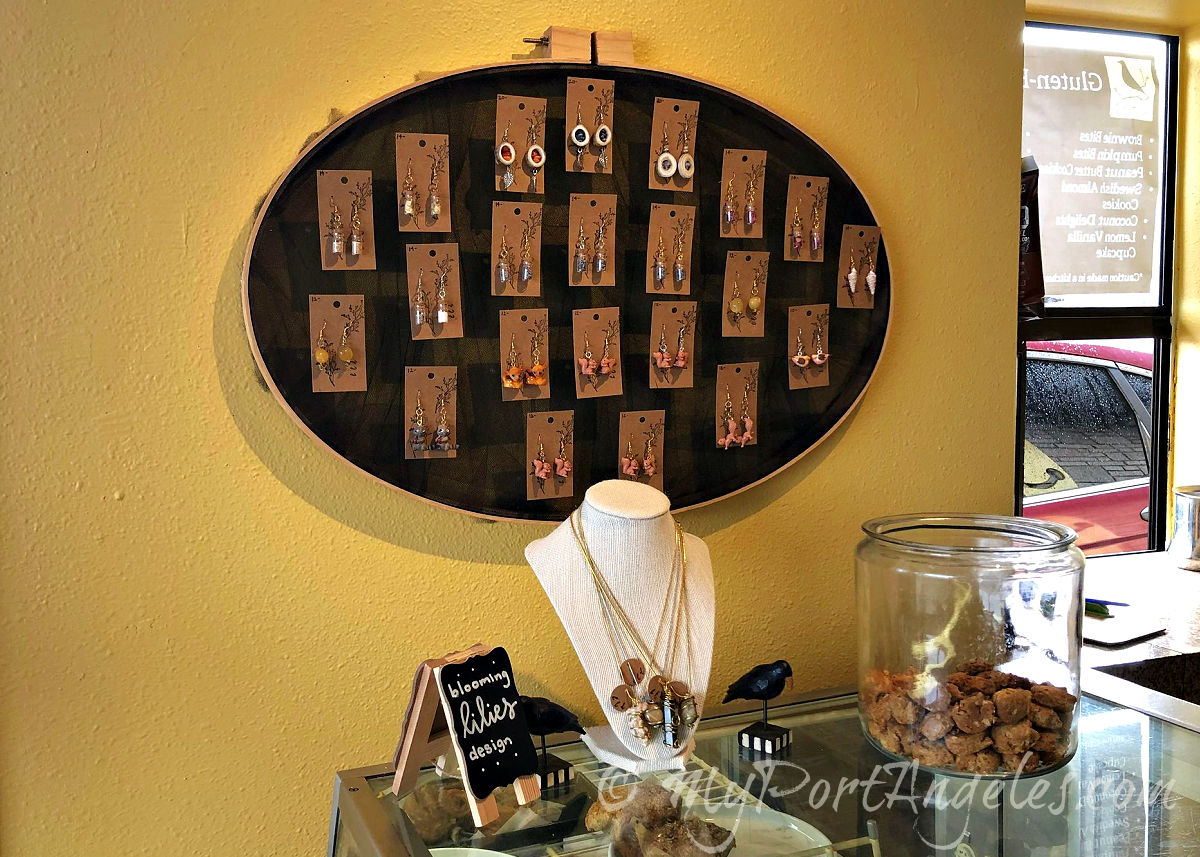 Have You Eaten Here?
Do you have a great story or experience at this Port Angeles restaurant? Feel free to share it below! Be as wordy and as descriptive as you like. Include photos as well, if you have them; there is plenty of room for it all on our website.

Just click into the title box below and go from there. When published, you'll have "your own" page on MyPortAngeles which you can share with friends or anyone who asks!

We're happy to ensure professional and amateur photographers get credit for their work. Leave us your name in the form below, and means of contact, website, or FB page info so we can link back to you.

This page was updated on April 13, 2022.